HOH: Tiffany
HAVENOTS: None
Nominations: Sb and Ky via HOH, Xavier Via punishment
Coin of Destiny Coup D'etat: Claire won and kept noms the same
Power of Veto Players: SB, Claire, Hannah, Kyland, Xavier, Alyssa
Power of Veto: Hannah
Power of Veto Ceremony: Hannah used the power of veto on Xavier. SB and Kyland remain on the block.
Big Brother 23 Houseguest Rankings – – RANK THE HOUSEGUESTS –
View the previous day ranks on the – Ranking Grid
Big Brother Spoilers – Sb going to be evicted unless Kyland continues to piss everyone off. Zzzzzz
Also feeds are cutting every few minutes so double zzzzz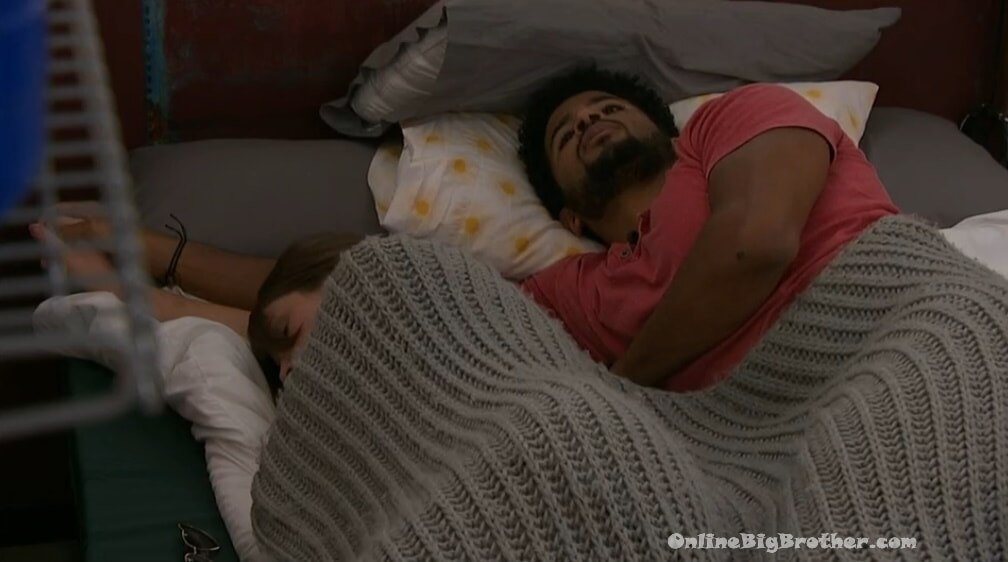 1:26 pm Feeds return veto used on Xavier.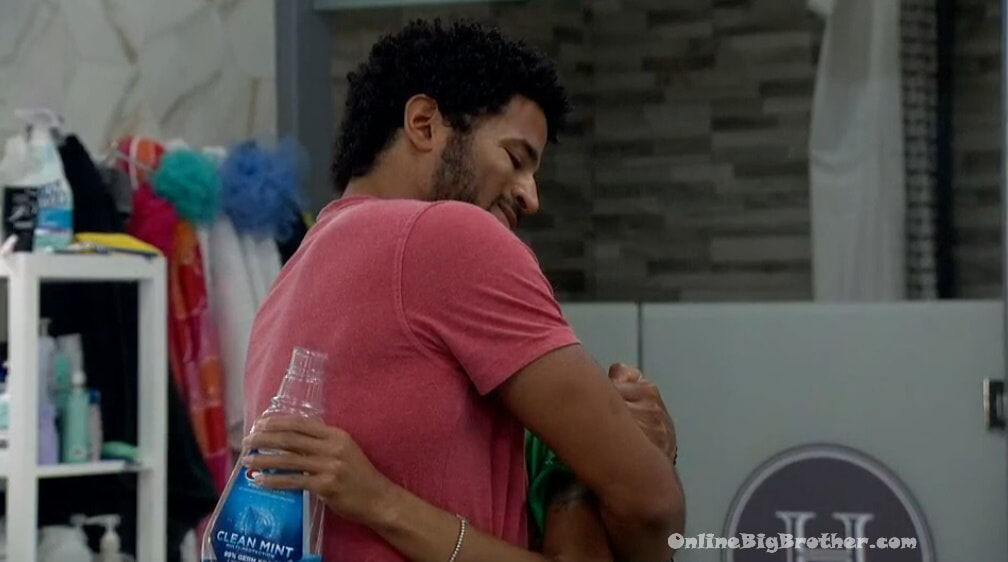 1:28 pm Ky and Tiffany
Ky says he told Sb that they'll get a good sense of where the votes are going on Wednesday night.
Ky says he's been tailoring the conversations with SB of she is misguided it's because of Claire and Alyssa.
They talk about two votes going to keep SB will be Tiff, and Xavier.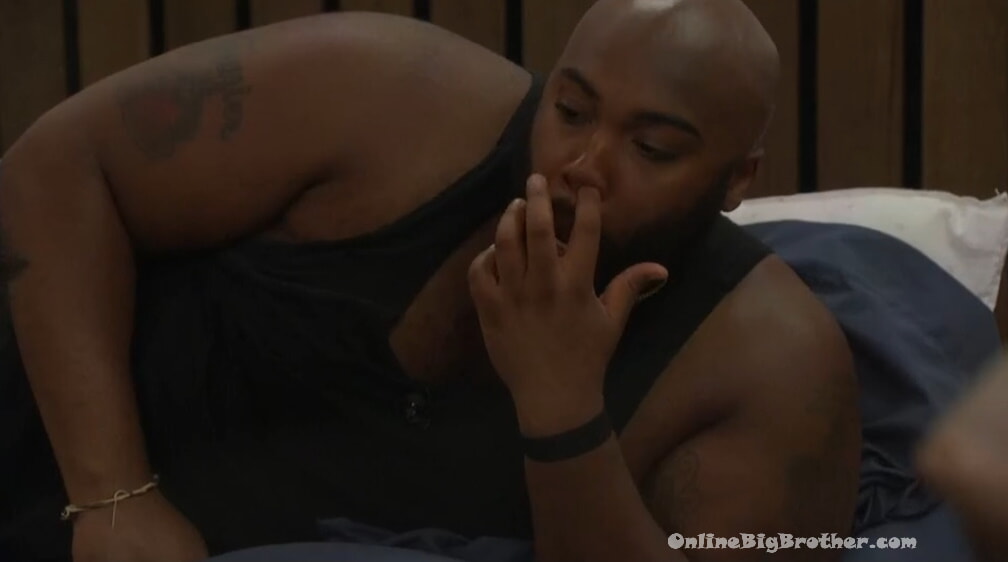 1:43 pm Azah and DF
Talking over who should go next Alyssa of Claire. Azah thinks Alyssa because she has proven herself better at competitions.
Azah is worried about going to Tiffany about this because it'll start another argument.
Azah – between you and me you are not her target
Azah says Claire said her target is X
Azah – BIGD, I have a very very good relationship with her I know people lie in this game but I have a good relationship with her.
DF says if he wins HOH he's putting up Claire and Tiff.
DF – you can never put up Alyssa and Claire at the same time if one of them comes down a cookout goes up.
Azah – for me putting up Alyssa and Claire at the same time. I'll tell you why and this is just for my game. My relationship with people in the cookout could use improvement.
feeds flip when we're back..
Azah is saying she wants to add something to her resume.
DF – I'm okay If I make it to final with nothing on my resume
DF points to his mouth "this here is dangerous so I'm not worried about it"
DF – I'm not worried about a resume
DF – Every move that everyone has made I played a part in the decision. Everything since the beginning I've played a part So I'm not worried about it
Tiff joins them. they ask her if Claire won next week what will she do
Tiff says Claire is very intelligent.
feeds cut.. when we're back..
Tiffany says Alyssa needs to be connected to somebody first it was Christian now it's Xavier. Whereas Claire is more her own person.
Feeds cut.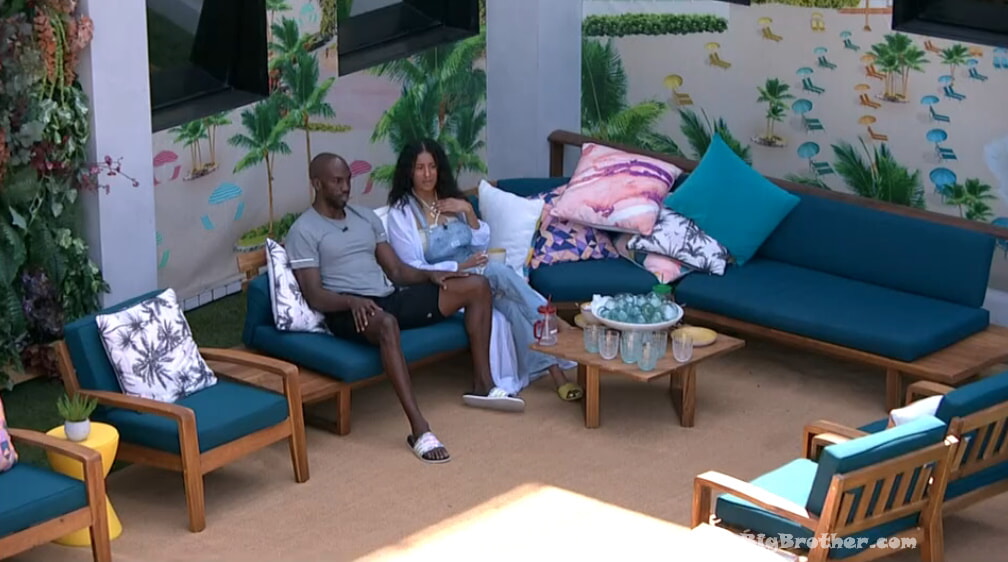 2:21 pm Hannah and X
Talking about who can or cannot win HOH next week. Tiff and X can't win because Claire and Alyssa are their people. Hannah doesn't want to but will to prevent Alyssa, Claire, or Kyland from winning it.
X says he doesn't trust Kyland "I don't want his ego to be any more inflated"
X feels Azah or BIGD would be best.
Feeds cut. When we're back they are talking about who goes when What happens if Claire wins HOH and Veto. The best case is Azah wins HOH then BIGD, Kyland, Hannah.
Hanan – even though Claire isn't my person. Me, Tiff and Claire are tight
X says if Alyssa wins the HOH he won't disclose the cookout. Hannah says if Claire won that veto one of them would go home.
They talk about Kyland's campaigning for the veto to be used on him
Hannah – to give Sb hope so that she wouldn't go out unanimously. She has self-esteem issues. I sympathize for her I really do but also I'm not responsible for 28-year-old grown woman's feelings and she took 5000 from DX and was cool enough to send him home two weeks later.
Hannah – so I don't care..
2:42 pm Claire and Hannah in the backyard putting up the window awnings. They are talking about what to do if next week is a double.
Hanna – I would.. I dunno if you go with the most obvious target or you take advantage of the fact that it's a week worth of Big BRotehr within an hour. (Save us all from Kyland campaigning please)
Claire- the most obvious pick is Ky
Hannah agrees says maybe Ky and Alyssa if veto is played, Backdoor X.
Claire – that is a good idea.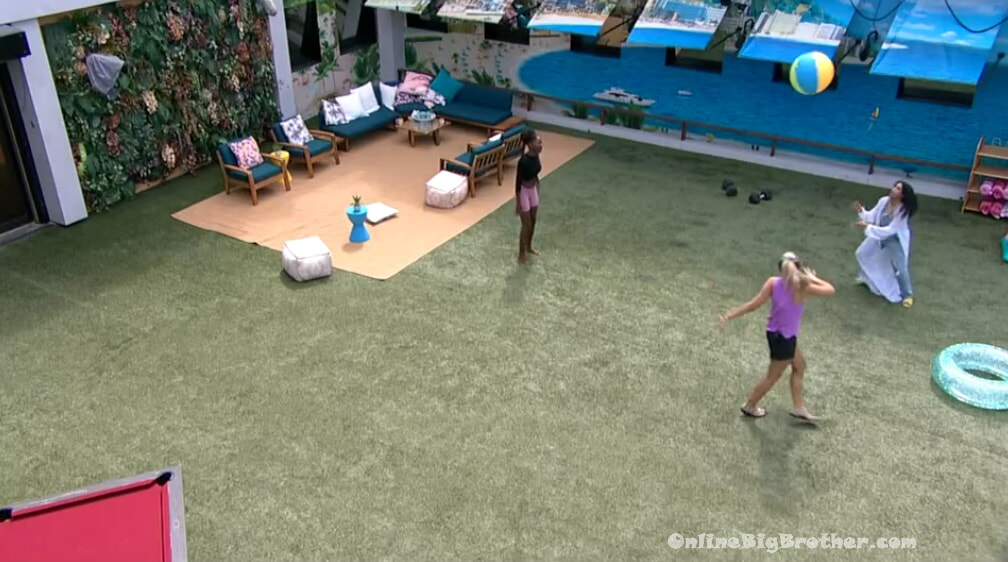 Azah joins them.. they play some ball.
(Feeds cutting every minute.. I'm avoiding Sb and Kyland conversations for Mental health reasons)
3:08 pm DF and Xavier
DF – we're going to get picked off
X – Picked off by who Tiff, Hannah, and Azah?
DF – the cards that were dealt the jury is filled with all women.
DF – in order for this to work we have to all be moving in the same synchronized swim or we're f***ed. If, not these girls are going to use it right against us and we'll be looking stupid
DF tells him if the two of them win HOH Claire is their target but the rest of the cookout it might be Alyssa
X says whoever wins the HOH should put up both. "There comes a point where we have to say f** it with that sh1t"
X – if both of them go up they will key on to the cookout.. I don't really give a f** at that point. They will realize they are the only two nonblack people left in the house and who put them up? A black person..
X – the nomination speech should be welcome to the cookout
feeds cut. When we're back the conversation continues if they should out the cookout next week.
DF says when they are down to their last "pawn" he will put up that pawn and Hannah.
DF asks if Claire is the last pawn and she's up against Tiff if Claire wins veto who is he putting up?
Feeds cuts. When we're back. X is saying they have to put up Azah or Hannah against Tiff to make sure Tiff doesn't go home. If they put up Kyland he will be evicted.
DF – I got no problem not winning sh1t at the end of the day I've played a big part in everyone's game.
Xavier says he has no idea where Kyland's head is at if he wins the HOH. "I would rather me not win but I would rather win and go ahead take my gamble with Claire than he win"
DF – I get that..
4:00 pm X and DF They've been talking about Kyland. X is getting very nervous about Kyland's game moves as of late. He feels that Kyland is making moves to help his personal game. (Feeds blocking every minute so fun times)
X – do you think this is the only agreement he has within the six
DF – he has something with Hannah and something with Tiff.. I don't know he doesn't have anything with Azah
X – he's trying to get assurances when we get to 6 he's the one taken..
X – we haven't seen him on the block since week one now he's reverted back to week one Ky that's where I have issues.. this is all coming at you in confidence do not share that with him.
DF – I know
Feeds cut when we're back Kyland has joined them. (This conversation is a classic wheels spinning in mud)
X – what do you think for next week
Kyland says he would love to win the HOH "it would be great after SB"
They begin the conversation about who should win the HOH. DF wants it to be him or Azah.
DF – no one is f***ing safe when it comes to me
DF – If I win HOH I don't give a f** I'll throw both of their a$$es up there
Kyland – that's fine too
X says there are pros and cons with putting up the two pawns or a pawn with a cookout.
Kyland says Claire is more likely to go "Rogue" and take down Alyssa
X doesn't think either of them will do it. He thinks the person to go up, is interchangeable.
Ky asks DF if he wins which duo would make sense for him.
DF – Tiff and Claire.. I don't have a problem doing Alyssa and Claire
X says the one thing the girls will want is for the three guys to take each other out
DF – That is my worst fear.
X says one thing he is trying to NOT have any of their names in his mouth in a negative sense.
Ky – I think I agree with that
X – once we get down to the six people are going to get cutthroat like you said it's all girls in the jury
X – we have to be transparent with what we are discussing with who
Ky says if one guy is up against a girl the other two guys need to support the guy. The vote only takes two.
X says in the final 7 if Alyssa wins the HOH he can direct her to take out a non-male.
Df – I dunno Alyssa might not do it
Ky says Alyssa is better than Claire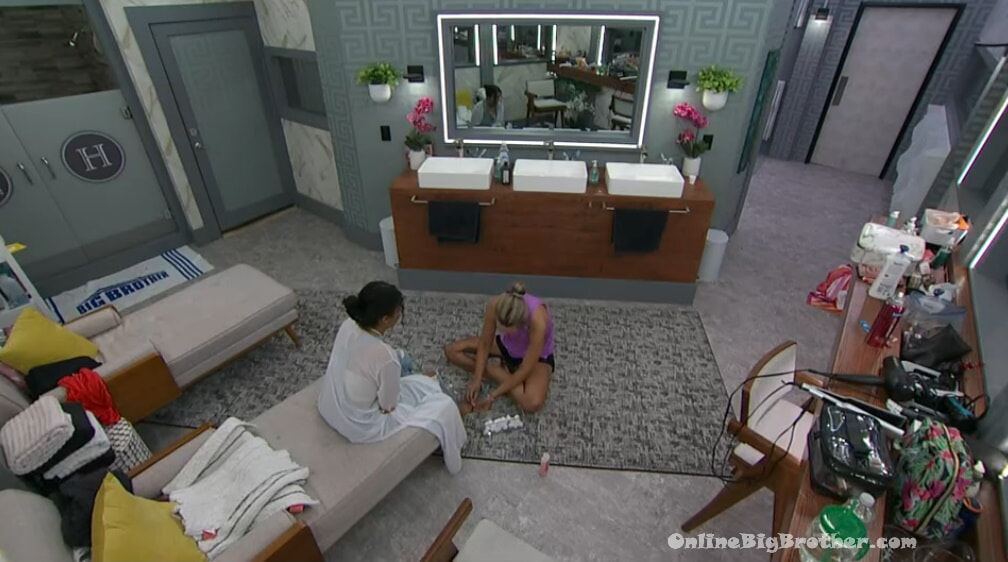 5:14 pm Claire and hannah
Claire says that X just doesn't trust her in this game. She thinks it's because she never gives him information.
Hannah – if I win next week my target will be Ky. I'll throw up Ky and Alyssa or maybe Ky and BIGD.
Hannah – or I would either throw up X send X home or throw up BIGD send Alyssa home.
Hannah says BIGD is ky's number two Ally in this game. Same with BIGD over Azah BigD number two is Ky.
They talk about double eviction. X and Alyssa are nominated if X wins veto they put up Ky and send Alyssa home. If X goes down they throw up BIGD and send X home.
Claire says Azah told her during her one on one that she is closer to "us" and X is closer to "them"
Hannah – she stands with BIGD and BIGD goes where the wind blows
Hannah – if it was you, me, Tiff, and Azah in the final four I would be okay ..
Claire – that would be sick..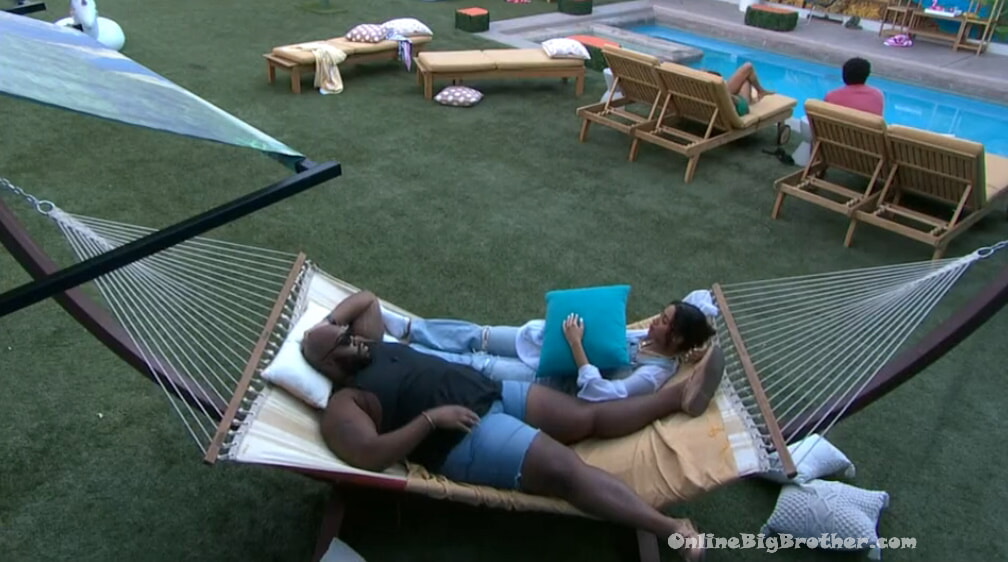 5:45 pm BIGD and Hannah
Talking about losing their person.
Hannah – this experience wasn't meant to be easy by any means.. that is why the process is so selective only a small number of people can handle this
DF says he hasn't had a chance to cuddle with Ky since he was HOH. "The longer and longer I'm here the longer and longer I'm looking at this man the more I want him
Hanna – do you think it will help if she leaves?
Feeds cut.. chit chat .. feeds cut.. chit chat.. feed flips.. DF talking about his tik tok feeds flip …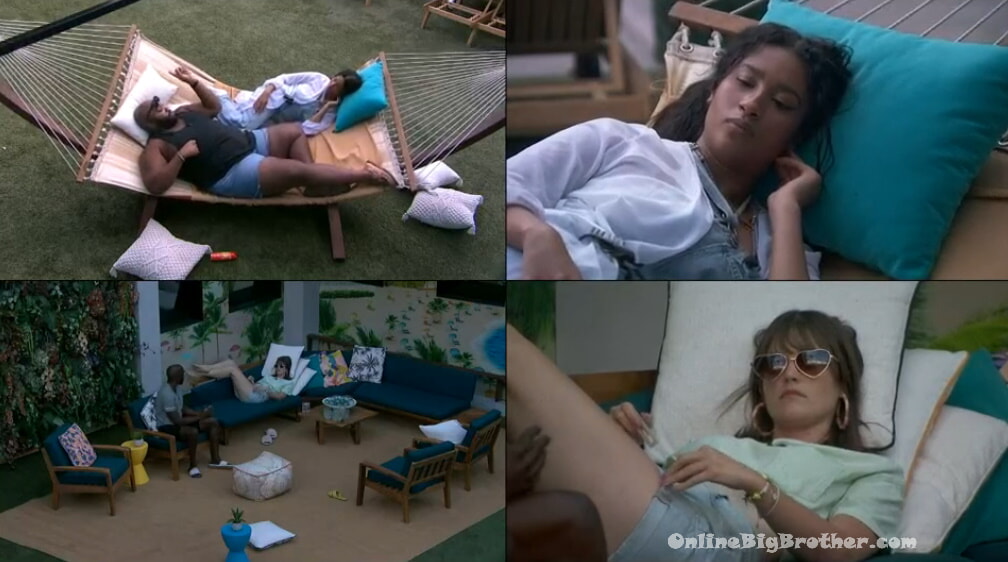 6:30 pm Chit chat, feed blocks and Zzzzzz
7pm Big Brother blocks the feeds..
7:33pm Still blocked..
10:04pm The live feeds returns..