HOH: Tiffany
HAVENOTS: BIGD, Alyssa and Claire
Nominations:
Power of Veto Players:
Power of Veto:
Power of Veto Ceremony:
Big Brother 23 Houseguest Rankings – – RANK THE HOUSEGUESTS –
View the previous day ranks on the – Ranking Grid
Big Brother Spoilers – Alyssa and X likely going up. Veto could bring some drama this week.
9:10 am X up eating an apple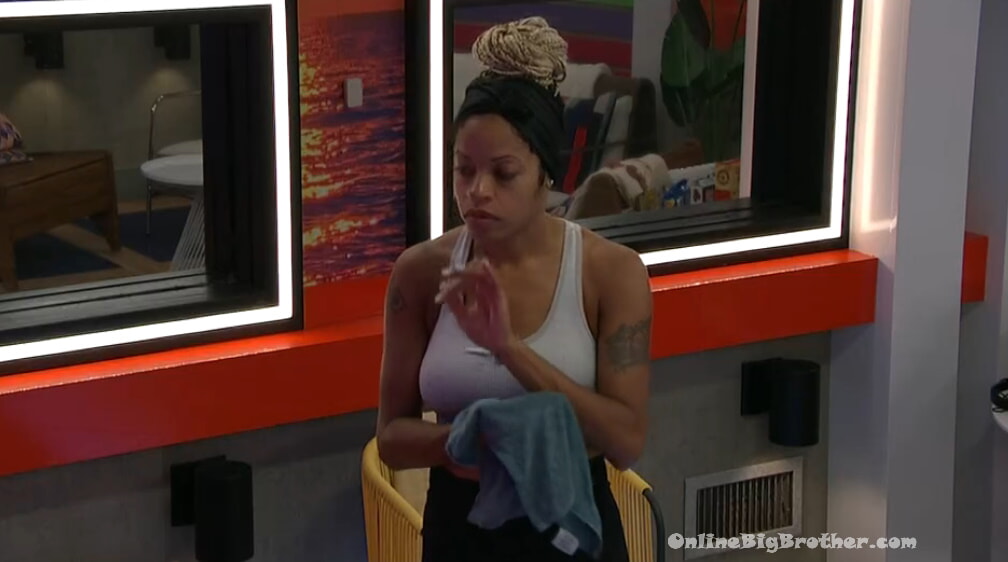 9:43 am Tiff and Hannah
Tiff says Ky is ok with Claire staying over Alyssa "the only person not happy about it is X"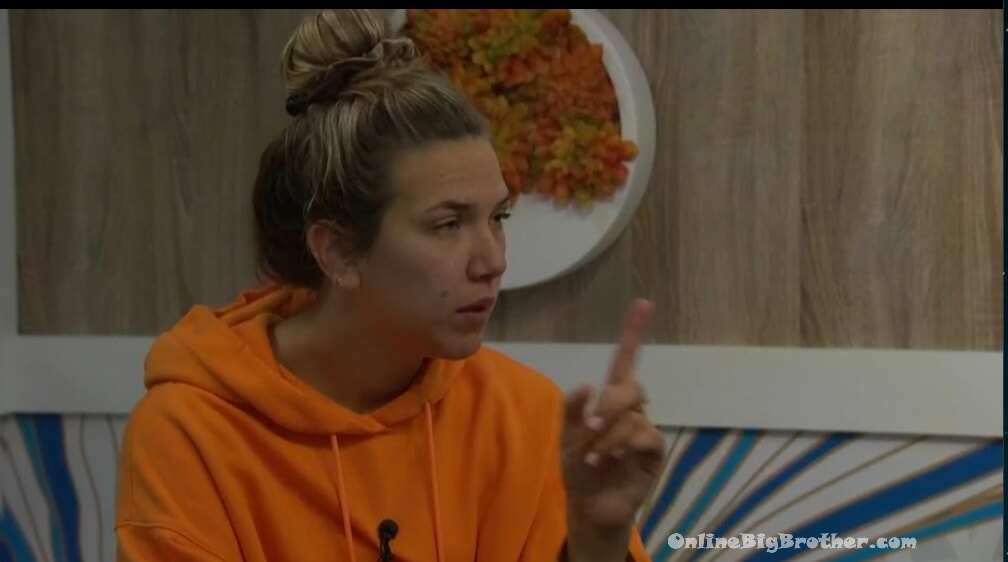 9:49 am Claire and Tiff
Tiff – next week why don't we take a swing at BIGD.
Claire – or we get rid of one of the guys
Tiff – we could we could.. We got some time
Claire – BIGD has to go
Tiff – he does..
Claire thinks it's better to get rid of one of the guys first than BIGD. Says they need to keep a guy as a big target but not both
Claire – one of them has to be here at 5
Tiff – Ky is so smart and so strong
Tiff – everyone plans to take BIGD
Claire – I would rather take Azah
Tiff – she is so loyal and honest if she has something with him she won't have anything with us .. she hasn't said anything about a final anything that makes me thinks she has something with BIGD and X
Tiff adds that they can convince Azah that the guys are against them.
Tiff – after weeks and weeks we finally got Sarah Beth out of the house


Tiff practices her nominations Speech "I think its the best move to split up the strongest duo"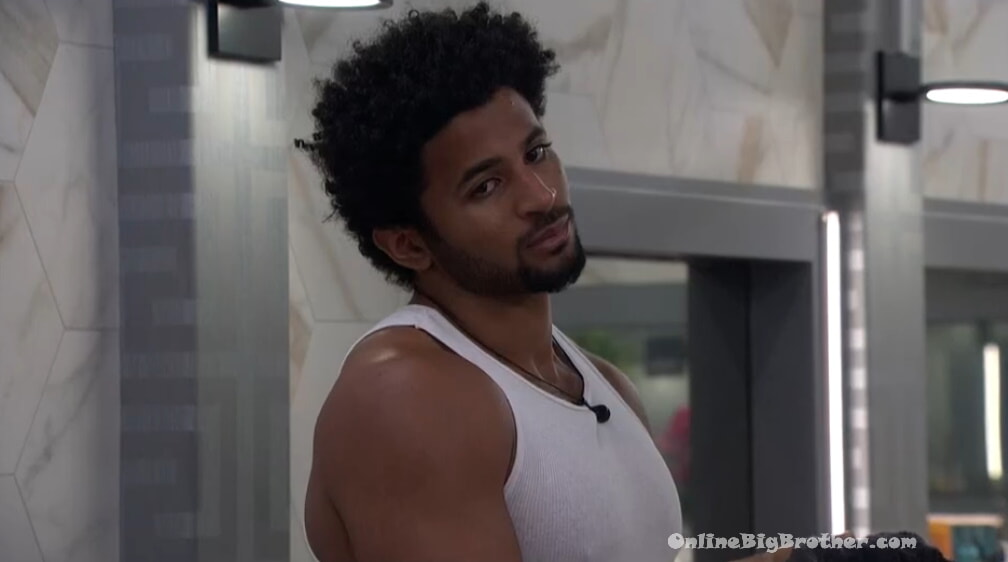 10:03 am Kyland and X
X – I expect the nominations will be me and Alyssa
Ky – that's what I expected.. it be weird if it wasn't
X – the only other potential move would be you and Alyssa
Ky – she will have to tell me
X said to her "If you put Ky up with Alyssa I win I'm pulling Alyssa off"
Ky – If I win I might pull Alyssa.. I probably would do that. the more I think about it if it came down to you two.. That maybe the most..
X pretends to hop out of the way implying that he threw the veto to Alyssa.. "Ohh no"
they laugh.
Kyland says maybe Hannah would be the only person that might have a problem with that.
Ky – some things to consider.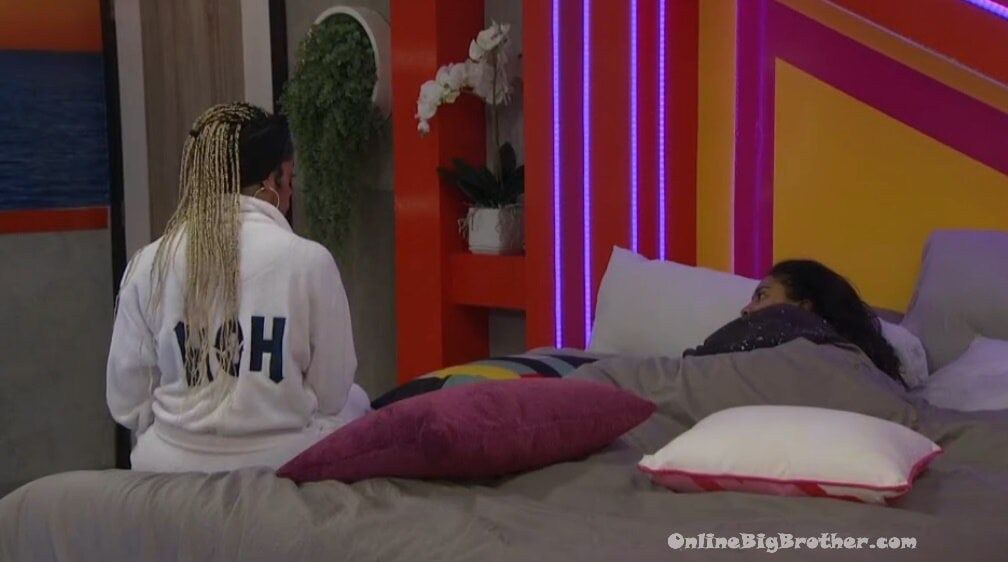 10:36 am Tiffany and Hannah
Hannah – everyone will want to bring BIGD. they can beat him in the final 2 and they can beat him in the final HOH. It's a JC situation.
Tiff agrees they have to get rid of BigD
Tiff – if Claire put BIGD on the block who does she put him up against..
Hannah – Azah.. you and I vote to keep Azah and the guys would keep BIGD
Tiff – then we hope to hell Claire votes out BIGD
Hannah – all-girls alliance we steamroll to the end..
Hannah – of course, this is only if Claire win HOH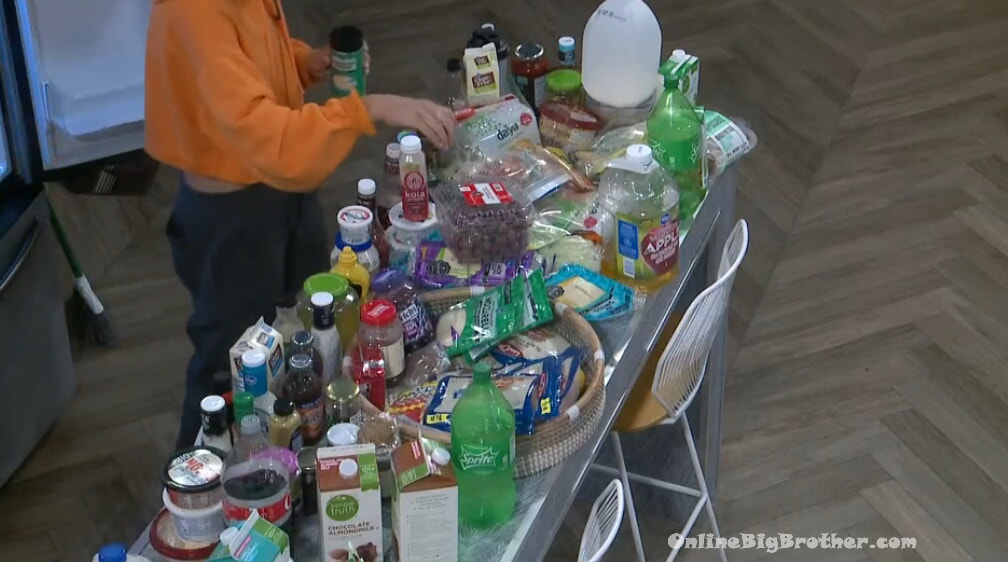 10:37 am claire is helping Kyland clean out the fridge..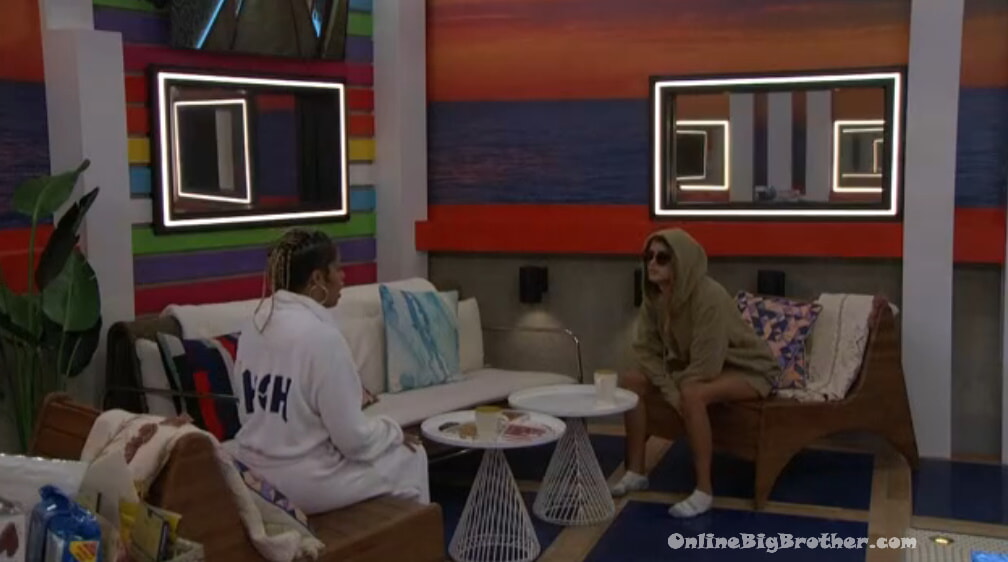 10:47 am Tiffany and Alyssa One on one
Tiff – I am weighing my options I want to be straight forward I am considering you and X I'm not 100% sure.. I love you to death and I respect the game and your game so much. I don't want you to be surprised if you are nominated
Alyssa – I won't be surprised.
Alyssa says she has a couple of pitches
Alyssa – if I were to win HOH I was 100% sticking with the deal not putting you up as a pawn. I can easily make that deal for next week.
Alyssa – the week before I was going after DX this week I was going after Kyland.
Alyssa starts talking about Jury votes. goes through the memory wall pointing out who has "Guaranteed" Jury votes. Alyssa says if she's sitting next to Alyssa she has DX, Hannah, Claire and Sb's vote locked
Alyssa- I Would guarantee have X's vote.. that is only one vote I will have next with you everyone else is even votes with you or taking away one of your guaranteed votes.
Alyssa says if she sitting next to Alyssa she's got 4 locked votes VS. Alyssa 1 locked vote.
Tiff – if I send Kyland home who do you target
Alyssa – claire or Hannah, BIGD or Azah.. it would be one of the other side.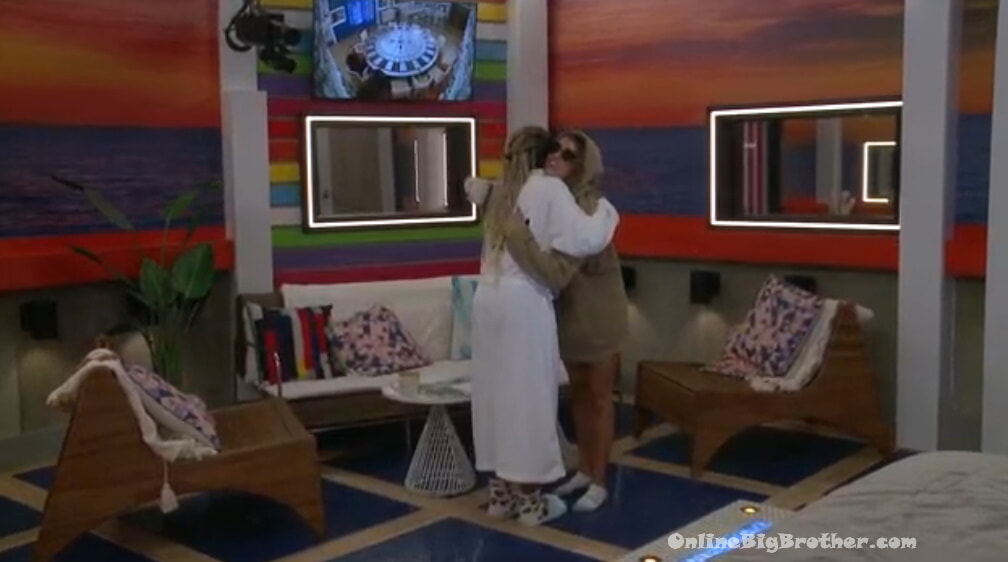 They hug it out. Tiffany says she'll mull it over Alyss had brought something up that she hadn't considered..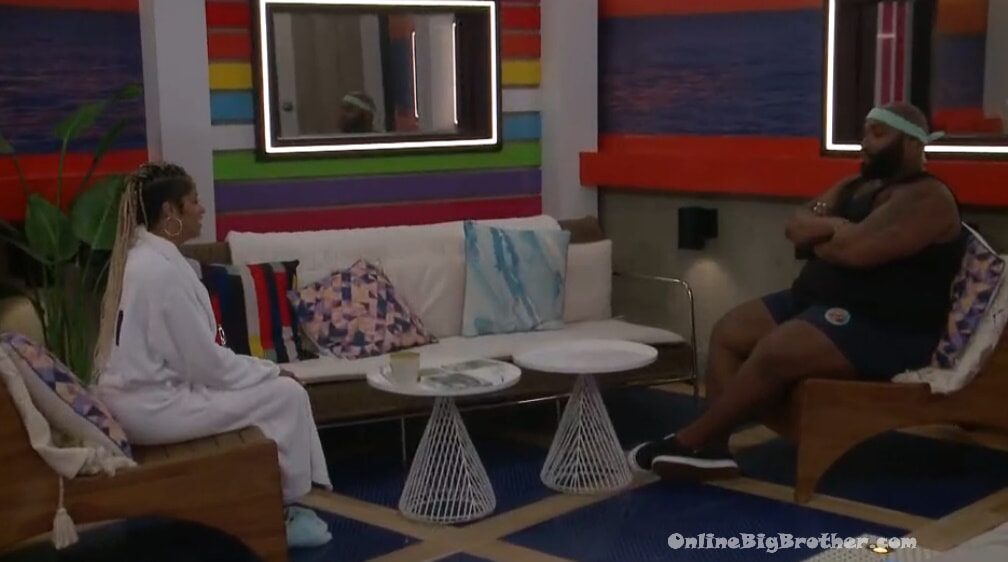 11:02 am DF and Tiff One on One
DF – I just don't know what the plan is.. I'm thinking Alyssa is supposed to go home. If she wins Veto or something crazy then who goes up?
Df – I was thinking of you and Jury do you want to lose a vote?
Tif f- I would have to I would not get rid of someone in the six and keep Claire. that is not the game I'm playing. If I have to lose a jury vote to get six ahead then I'll lose a jury vote to get the 6 ahead.
Tiff – If Ky would have fallen I would have fallen.. When Ky didn't fall I stayed up there. When Azah fell I had some options to consider.
Tiff lists off a bunch of reasons why she went for the HOH, the First Black woman to win two HOH's in her season. First-person to win two back 2 back HOHS, Having only spent 19 hours in the HOH room last week, etc etc..
(Wasn't Claire the final HOH so it's not technically Back2bacK)
DF says being a BIG DUDE these comps are not physically possible for him to do "I feel like a piece of sh1t"
Tiff – If I have to make a very tough decision for myself this is the bed I've made I'll lay in it.
Tiff says she feels like she's the first to go out of the six
DF – it seems like everybody wants Ky to be the first one out.. With everything that happened the moves that have been made since the beginning.
DF says the only deal he had was with Frenchie so when they get to six he's on his own "much like you"
Tiff asks him for clarity if he had the 6 then what was his deal with Frenchie..
DF – I know I know.
11:16 am feeds cut to pound Kittens..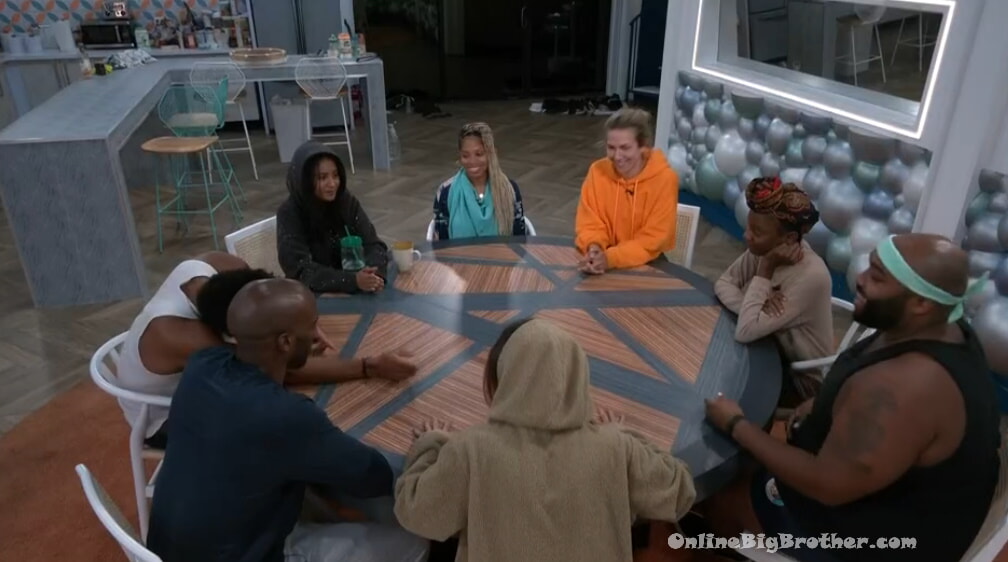 1:12 pm Feeds return they get a smaller table
support this site and these spoilers consider a donation
Please consider a donation to keep the madness going.