| | | | |
| --- | --- | --- | --- |
| POV: | Brett | Next POV: | Aug 18th |
| POV Used | ? | POV Ceremony | Aug 20th |
| HOH: | FES | Next HOH: | Aug 23th |
| Noms: | Brett & Scottie | Have Nots | |
A real easy way to support the site if you are an amazon shopper is to make your purchases through our link. You pay the exact same thing but we get a small % commission. It doesn't cost you anything and helps us out.
Amazon Canada
Amazon USA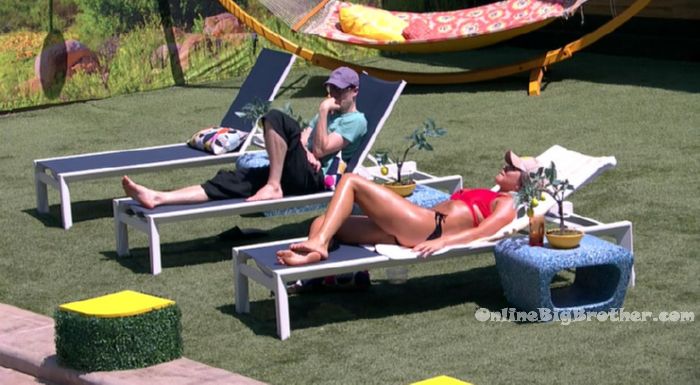 12pm Backyard. Angela and Scottie. Angela – I am going to play this game to what benefits me and not what benefits everyone else. Something happens and people forget. They're not even going to remember that you had their back. When it comes down to it all we have is our word. I've just tried to always keep my word to the people that I am loyal to. Scottie – did you eat sh*t (fall down) in that comp? Angela – no. Scottie – damn! Angela – I heard you poured vegetable oil on the floor. That's f**ked up but its hilarious. Scottie – yeah, if there was a liquid I could get my hands on I poured it all over the floor. I also broke the glass.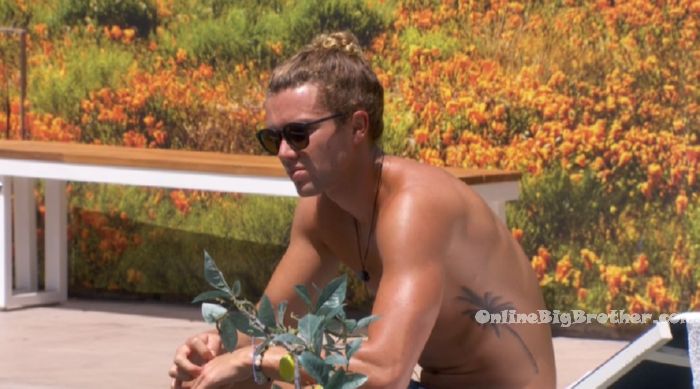 Watch the NEXT WEEK of the Live Feeds for FREE! Click here for your: 1 Week Trial

12:27pm Backyard. Scottie – literally the last two weeks she's (Haleigh) spent all her time with me and then the second he wins HOH she's been up there almost every second. Tyler – you guys had a long talk before the veto right? Do you think she knew what was going to happen (Scottie getting nominated). Scottie – he (Fes) claims and she claims that she didn't but I think that she did. Tyler – I figured you guys had hashed it out because that's why you picked her for the veto. Scottie – one because I knew I could beat her and two I'm still in the middle of extract my revenge plan. I don't ever want to think about any comp I came in second. I think they're still upset about what I said to you about the hacker thing when you got pulled off the block. They asked me what I would do if I won the veto and I said I was f**king pulling Tyler off. They didn't like that. They don't like my relationship with Tyler.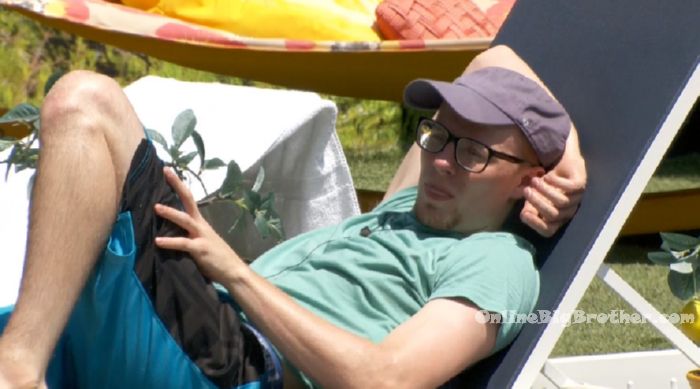 12:40pm Fes calls everyone to the living room. Fes – so house meeting guys! I wanted to let y'all know.. just kidding! Fes – as head of house hold I must name 3 house guests to be havenots for the week. I choose .. JC.. Sam – not Scottie! Don't pick Scottie. I'll do it. Fes – Sam, and … Tyler. They were like who are you going to choose? I'm like JC for sure .. well you cop'd out last time. Scottie to Tyler – welcome to the three time club.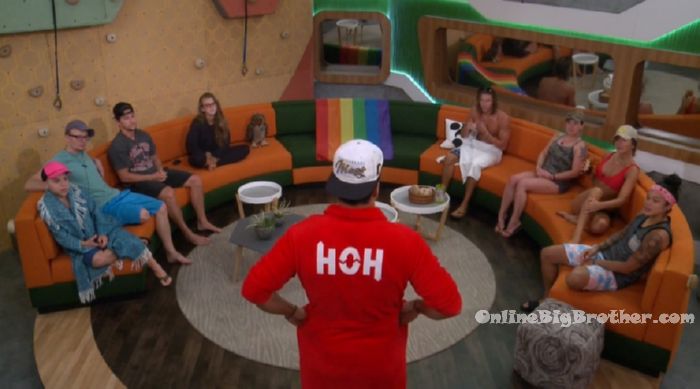 12:50pm Backyard. Tyler, Sam, Scottie and Fes. Tyler – I wish I would have eaten breakfast though. F**K! Fes – well we didn't know. We had that two week break. Tyler – I thought you were joking. I thought there was a new twist.
1:10pm Brett and Angela in the backyard. Brett – I just totally expected it to be me.. I was like oh here it comes. It sucks but it shows his cards. Angela – oh I know. 100%! Brett – I am honestly shocked right now. I was just waiting for him to say my name. How many times has she done it? Angela – 2. There was no way it hell I was going to be like pick me. Brett – yeah.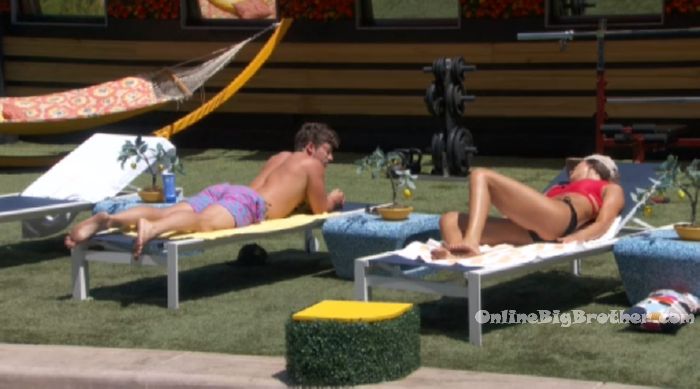 1:50pm Pool suntanning.. Fes joins Brett by the pool. They talk about how only 3 votes are needed. Fes – then I do whatever I want (break the tie). Fes – so you swear you voted to keep Rockstar? Brett – yeah. Fes – and its not even, I don't care. For the most part I haven't voted with you, which isn't a problem for me. If you wanted to keep the other person on the block more than that person. Whatever. It when you're saying you're voting a way and then you don't vote that way .. that's what I have a problem with. Brett – I know. When the Bayleigh thing happened I told you which way I was voting. Then the Rockstar thing we made amends and voting for Rockstar was my leap of faith with you. Fes – when both of you raised your hands I didn't know what to do.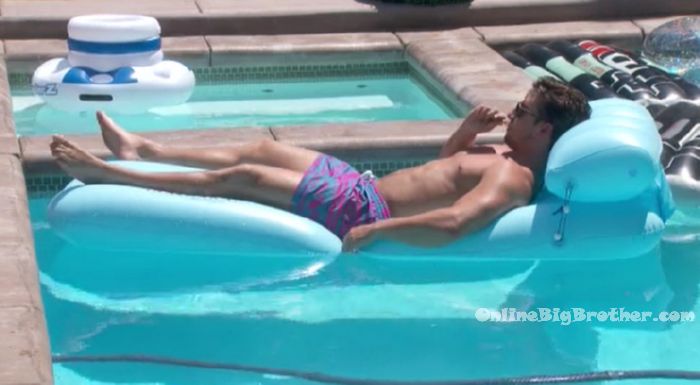 2:25pm HOH room. Brett and Fes. Brett – I could only hear every third word out there. And I didn't want to do that out there in front of everyone. I didn't understand what your plan was. Fes – my plan was .. Scottie's been turning everyone in the house against everyone. With the votes and whatever else. My plan originally was to put you up with a pawn. So that way it seemed like I thought you were lying. Now whoever I put up goes home. Brett – the only person I can think who is close to him is Sam. Fes – and Sam has been acting weird. Who do you think is my best bet. Brett – I don't, I don't think it matters. When I put you up you walked away like whatever and he started explaining things and throwing people under the bus. Brett – every time I get close to Scottie .. I get f**ked. In the beginning we were close and then he threw Winston and I on the block.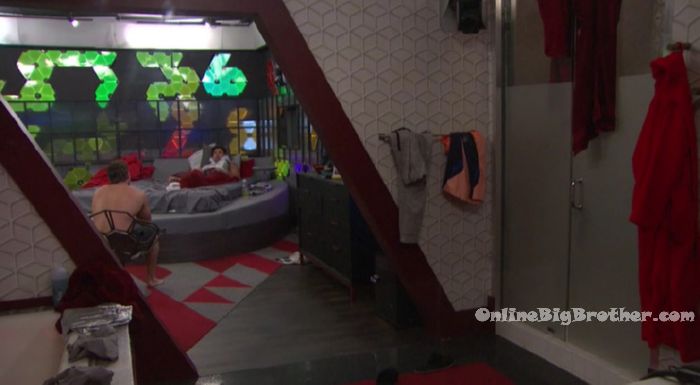 2:30pm – 2:55pm Bathroom. Tyler and Haleigh. Haleigh – I need to talk to Angela but I don't want her to feel like I'm coming at her.. Tyler – I already talked to her. And her and I are on the same page with that. Haleigh – okay good. I didn't want her to think I was coming at her with bullsh*t. People are coming up to Fes and I saying you're going after Tyler and Angela right. ..like literally point plank. Like not even a second thought. The good thing is when Fes says something he does it. No one is going to think Angela and I would work together. And once Scottie is gone… we've won the majority of all the comps. I am definitely on board. (final 4 deal: Fes, Haleigh, Angela and Tyler) I want her (Angela) to hear it from my mouth.
2:40pm Tyler, Kaycee and Angela. Kaycee – Scottie said that he's going to say some crazy speech tomorrow. Scottie said that there is pretty much one person that is behind all this… that's pretty much all I heard. Tyler – I don't say anything about Haleigh .. because this could just be his plan to get one of us thrown up on the block. Kaycee – I just don't trust the kid. Tyler – you know its justified when even Fes doesn't trust him. He is just sketchy. Kaycee – who do you think he will put up as a pawn? Any idea? Tyler – no.
3pm HOH room. Kaycee and Fes. Fes – which ever one of you three go up, you have the other two for sure over Scottie. Do you believe that? Kaycee – yes. Fes – you 100% have JC over Scottie. He doesn't trust him. Haleigh will respect what I want. That's four. And we only need three and I break the tie. Kaycee – but Haleigh put me up and her and Scottie are like this. Fes – Scottie just threw Haleigh under the bus to me. Kaycee – Scottie just told me he is going to have a crazy speech tomorrow. Fes – tomorrow.. oh sh*t! He threw her under the bus today so when I tell her that she will for sure vote him out. If I put Sam up she might go home. Kaycee – what no. Fes – Sam has been acting crazy too. There is no way he stays this week. You need three for a tie.. I am telling you which ever one of you I put up I am not voting out. Sam might vote for him to stay. (That's exactly why she should go up!) Kaycee – I have your back 100% getting Scottie out. Fes – and I've always been cool with you. Maybe someone volunteers? Kaycee – you mean we hash it out? Fes – if you want to bring it up to them?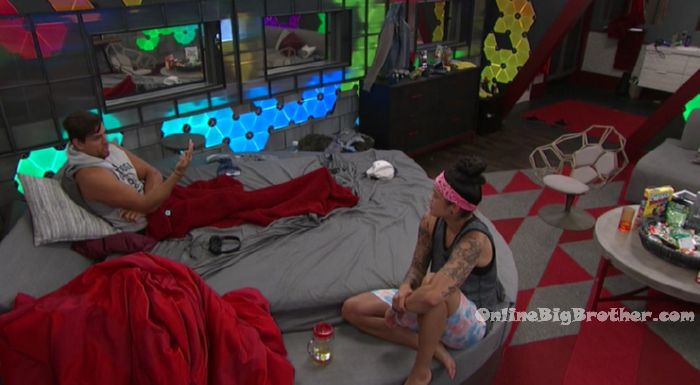 3:27pm Lounge room. Kaycee and Angela. Kaycee – its going to be one of us there and he said it can't be Sam because she will go crazy. He pretty much said if we can hash it out. Angela – so he's putting it back on us? Kaycee – no, just to bring it up. Angela – I just don't know where Sam's head is at or Haleigh's. He said Sam is pretty much voting to keep Scottie but that the others are solid.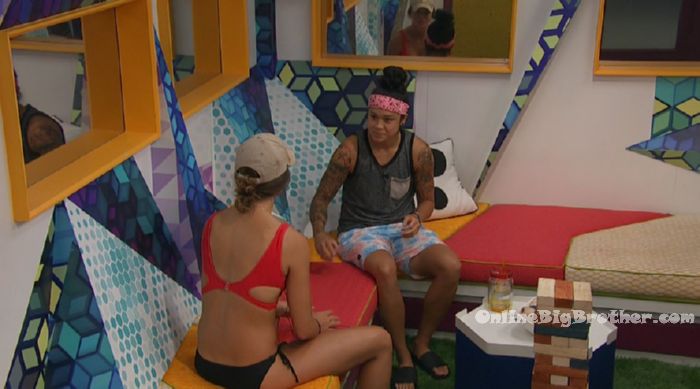 If you're enjoying our updates please consider making a donation. All donations go directly to pay the considerable costs associated with running this site. Any amount is greatly appreciated.
Rank the houseguests!
Easiest way to Rank the house guests use link below