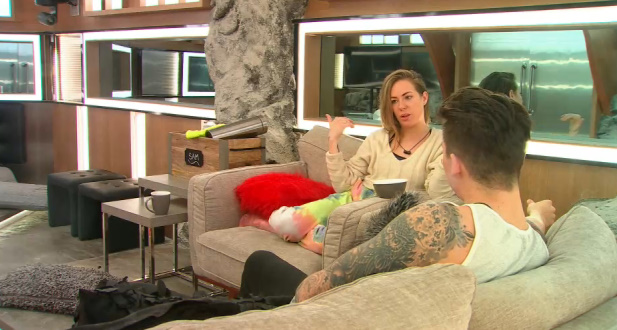 10:45am Damien and Sam HOH
sam saying if Adam goes up because of the blood veto the house will vote him out, "everyone will be like this is our chance"
Damien – doesn't he have the veto
Sam – yes, but it's void now Damien – holy shit
(I don 't think this is official)
Damien brings up that Kyra has mentioned Adam as a target before
Sam – I know they've said that to me
Sam says she's trying to get information out of Kyra about the veto but They aren't allowed to say anything.
Sam – are you going to gun for me next week
Damien – mmmhmmm
Sam – with that being said we can work together… I'm not that good at winning comps .. I just work hard.
Sam brings up the blood veto how chill Damien was, whispers "ESTI lost her mind"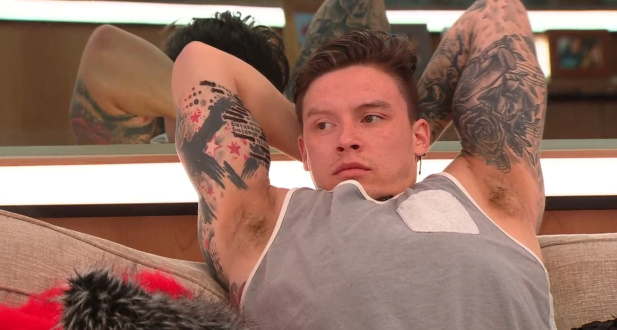 Sam – Esti and Kyra are not that close .. Esti talks sh1t about Kyra all the time
Sam – when Kyra came out of that room Esti jumped into her f*ing arms .. like for a minute and a half. everyone was like what..
sam – for me that behavior that over the top behavior shows me you are over compensating
Sam – Esti was up here and she said she's gunning for the guys Chelsea planted the guys alliance seed.
Sam – I think Girls are getting confused with like a bro.. cause lets face it girls have some insecurities that they have to fight through for them to bond because we're comparing each other.
Sam – I don't do that I'm open minded I know who I am I'm not very insecure. Guys don't have that so you are able to bond quicker..
Sam – I think Esti thinks there's some sort guys thing going on and for me even if there was it doesn't bother me at all..
(ZOMG)
Damien – even if there was we're all the same player. Why would you make your team (filled with guys and not more rounded) ..
Damien – yeah the guys are just being dudes..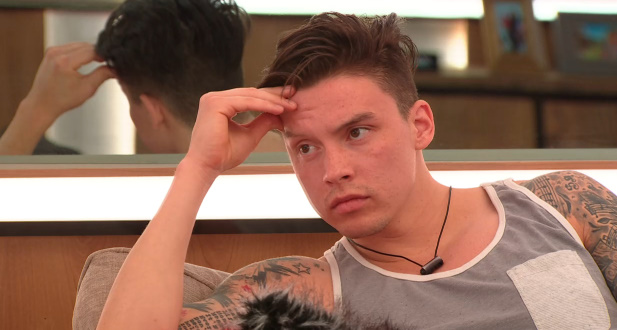 Sam – Esti keeps saying that but esti only has Dane in this game and KIKI whose walking out this door.. knock on wood..
Sam tells him if he wins HOH she's got "so much" (information)
Sam – I have a good insight i think I got
Sam says she wants to be close to people that can win competitions so they can go back and forth. Sam doesn't see this happening with Kyra.
Sam – Kyra likes to latch on to one particular person.. . Me on the other hand i'm completely independent (ZOMG)
Sam – I'm a fighter and Adam is a fighter but I do beat myself up quite a bit because that's not how I do things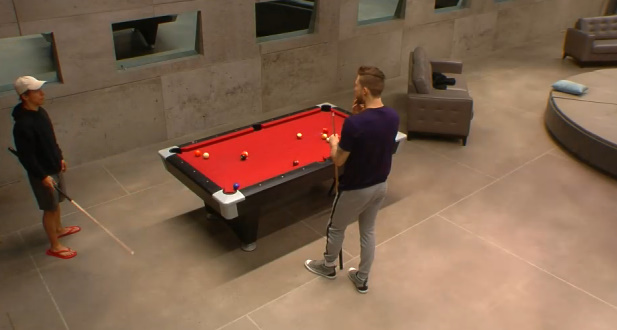 10:50am Pool Adam and Dane
Dane – f** it gotta do some dirty work and build your resume up. Say if I get Esti out myself or you get Sam out yourself.. that's just like John and Neda
Dane – John cut Neda. It's the biggest move in Big Brother history so far
Dane – it's shitty to think about ..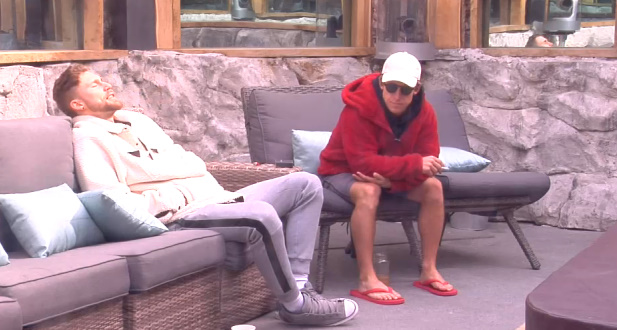 11:04am Dane and Adam
Dane talking about how good Carolines is he has two shots of it right before work. They laugh. (Carolines is like 16% irish cream)
Damien joins them.. chit chat..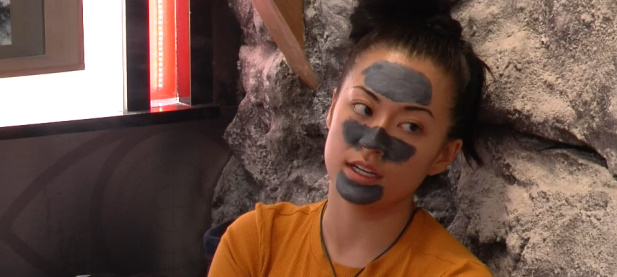 11:40am KIKI, Kyra, Sam and Esti face mask campaigning
KIKI and Esti going on about how people in the house clump to the person with power. They highlight Anthony
Sam – Anthony feels pretty comfortable in this game.
Kyra jumps in "i'm not here to talk about soemone else to be honest
They talk about KIKI's campaigning strategy with Anthony and Damien. Sam points out that "they" want Mark as a number
KIKI runs over her "points"
1) Big Pawn / target on her back. she's likely a person that will keep going on the block now.
2) Closer to a win. meaning she wants to create better relationships with people. Because she's been on the block she knows who is on her side and she will use that information when she wins HOH.
When KIKI gets to the 3rd point she asks for suggestions. Sam mentions people will want to know what KIKI would do if she won HOH.
KIKI mentions Sam's name
Sam – it's been done before.
KIKI – I don't want to say that becuase I'm building trust with you
Esti – shit this is something we need to talk to adam to he won't be happy to hear that..
Esti says how will they tells Adam without telling him about "this" (these girls)
KIKI says when campaigning she will not bring Kyra or sam's name up directly she will try to get information what they are thinking.
They go round and round practicing KIKI's campaigning.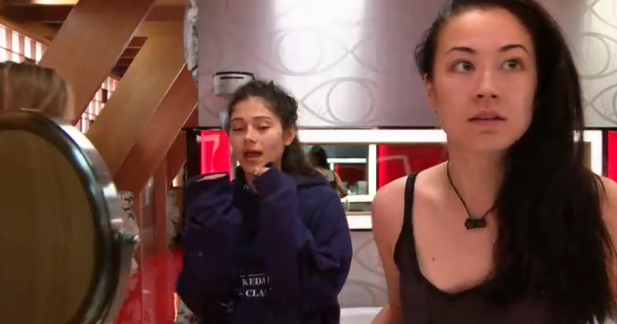 12:10pm KIKI, esti and sam
KIKI tells sam if she would to leave the house it would really bad for her game.
Esti – I'm 90% sure Kyra will run to Cory and Anthony and say what we told them.
Sam – they are going to stay with me and I'll make sure that doesn't happen. You should get to them sooner than later..
Sam – I'll keep them in here it'll be important they do that first..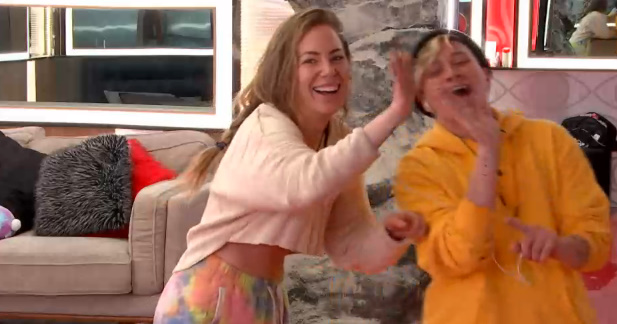 As KIKI leaves Kyra and Sam sing/dance to a pop song. Once KIKI is gone they wave goodbye to her.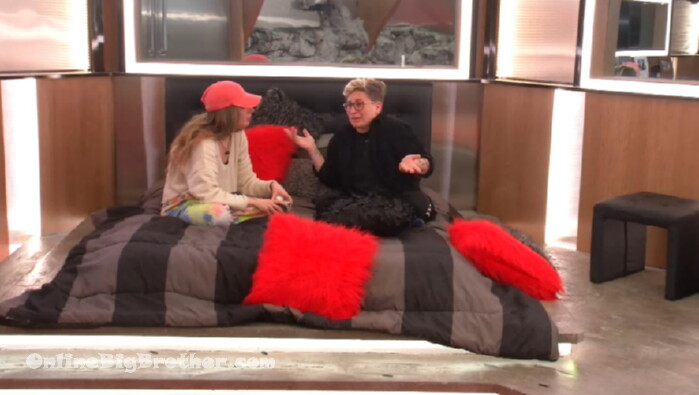 8:42pm Sam and Kyra
For the last while KIKI has been attempting to set the record straight about wanting Adam and Sam out to break up the showmances.
They both believe that KIKI and Esti 100% were dancing around saying to the camera they are breaking up the showmances.
Kyra impersonates KIKI when she was campaigning to her "uhh uhhh uhhh uhh"
Kyra – I wanted her to squirm a little all while I comforted her
Kyra says what she tries to do when talking to Kiki is to make her – Squirm Kinda paranoid.. comforted.. squirm paranoid Comforted..
Sam – you're hugging her and stabbing her at the same time..
(Kyra makes a stabbing movement)
Sam calls her a psycho
Kyra – BYE KIKI.. kiki's going home