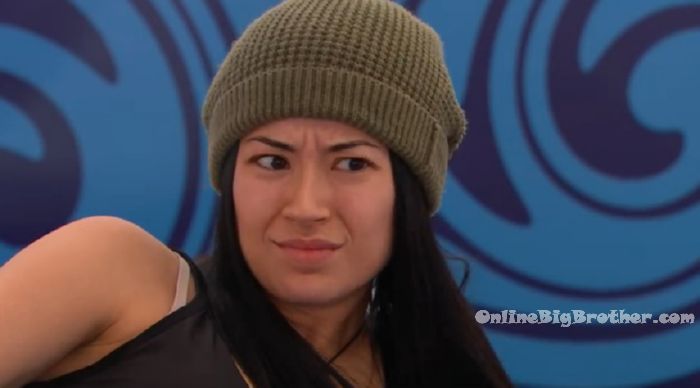 8:45pm Kiki and Dane. Kiki – what can Mark offer people?! Dane – Nothing! Except he has the mental game down pat. Dude! Kiki – you're smarter than Mark. Adam is smarter than Mark. Esti.. Dane – maybe I'm not smarter than him but he can handle pressure. Like I can't stay in the kitchen when its hot. Kiki – he told us he has a fricken photographic memory. And he didn't win that memory comp?! How does that happen Dane?! How does that happen? He is going to keep skating by. Hanging outside this house with Mark would be cool but inside this game I don't see how he is beneficial for anyone! Dane – true. Kiki – because I am always going to go up before he does. Kiki – why does Mark feel so confident? Dane – I'm not sure. Kiki – is he counting on you? The next comp .. probably endurance. I will have to be puking, bleeding or f**king dead before I let go. Dane – the only way I am letting go is if I pass out. Kiki – honestly keeping me is good for Sam and Adam. Dane – you won't put them up. Kiki – not only that if they were to win they would have less blood on their hands putting me up again as apposed to two new people. But I don't want to give them any ideas .. Like give me a break. 77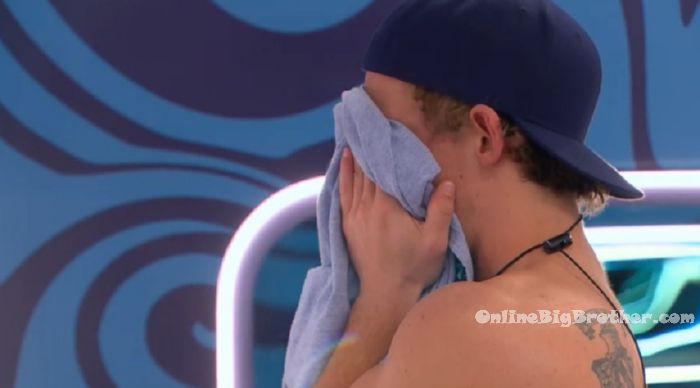 Kiki gets called to the diary room. After she leaves the room, Dane says to himself – I feel so bad! I'm sorry. Yeah I am 100% loyal to the deals I make. I made a deal 5 minutes into this game to 3 other guys .. unfortunately one of them is Mark. I'm a pretty boy.. F**K, F**K this game is hard. Please blood veto save Kiki and put up someone that is not part of the alliance. So I can have both my alliances here. Put up Cory or Damien. I love Damien but .. F**K!
Havenot glitter bombs with Kiki, Esti and Dane.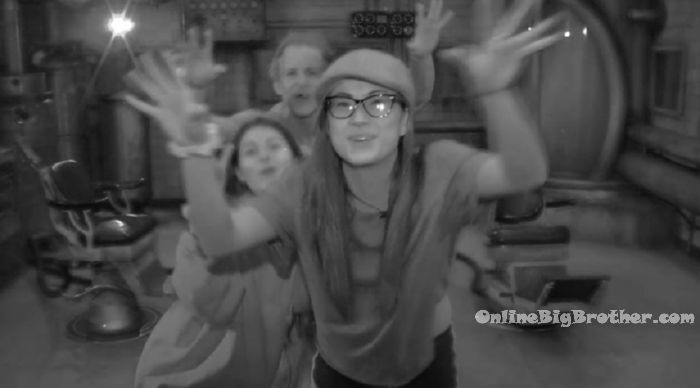 1:15am Kiki and Dane friend kiss. Esti – Dane would you rather make out with Chelsea or Sam? Big Brother switches the feeds.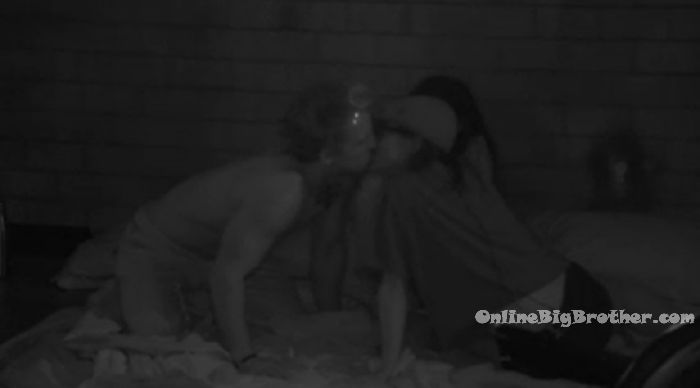 #BBCAN7 hooligans@bigbspoilers pic.twitter.com/I6AsP17rx0

— Dawg (@DawgsBigBrother) April 3, 2019
Help support OBB by making your Amazon purchases through our link below.
It doesn't cost you anything and we get a small commission of what you buy.
Amazon Canada
Amazon USA