POV Holder:
?
Next POV
May 15th
POV Used
?
POV Ceremony
May 17th
HOH Winner
Sarah
Next HOH
May 20th
Nominations:
? and ?
Have Nots
Brittnee and Zach
POV Players
?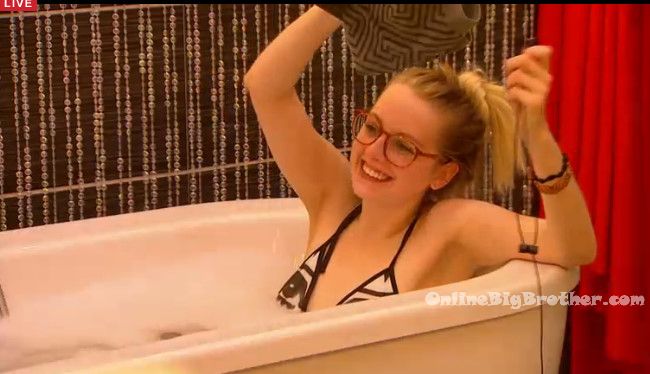 11:30am – 12pm UP in the HOH room. Sarah says I told Godfrey he needs to win it. Maybe now we'll see him finally win something. Britt says hopefully he doesn't win it and pull Zach off. Sarah says he wouldn't, he's wanted him gone. Brittnee says that was Bruno's logic. If Godfrey won and took Zach down .. you would put up Pili right? Sarah says yeah. Britt says and you would want Ash gone then? Sarah says good. Either way one of them are going. Sarah says if Pili wins and pulls Ash down .. we would have to put up Godfrey .. and then the girls choose to send Godfrey home. Britt says I am going to fight hard for it to keep the noms the same. You could win it too. Sarah and Britt comment on the task they're supposed to get today and how they're in teams (Sarah & Britt are together). Brittnee says she hopes its something we all win. Brittnee says I feel bad for Zach and Ash but they had their time and now we have ours …and they would have no problem putting us up. Sarah says if Pili was smart she would throw the veto. I can't believe she didn't listen to the rules (last nights HOH rules). It was 100 minutes of hell. Godfrey finishes listening to music and tells Brittnee that he is the only guy she hasn't nominated or voted out. He lists off all the guys Brittnee has nominated/voted out. Sarah calls Brittnee the man killa! Britt says he's right. Sarah says if its (veto comp) is a how bad do you want it .. I would shave my head! Brittnee says no. Sarah says why not infamy.. that would be talked about forever. They talk about giving up a portion of the 100k. Sarah says he (Zach) could give up 50K… its between staying and going. That's the one thing that I wouldn't put down too much .. like maybe give up 25k. Britt and Sarah talk about how close to the end they are. Sarah says I never thought in a million year we would get this far.

12:50pm Britt and Zach are sitting outside the bathroom chatting. He says he is going to get so wasted when he gets out. He says it sucks being so close yet so far away. 18 days! Brittnee asks that's how far it is away ..so crazy. It will be so crazy when it gets to single digits! Zach says so crazy! Britt says we'll be so close. I wonder what Bruno is telling them in jury? Do you think he would tell them good stuff or.. Zach says yeah he would spit it real. Britt says I wonder if my friends saw me kiss you .. and Bobby and Johnny.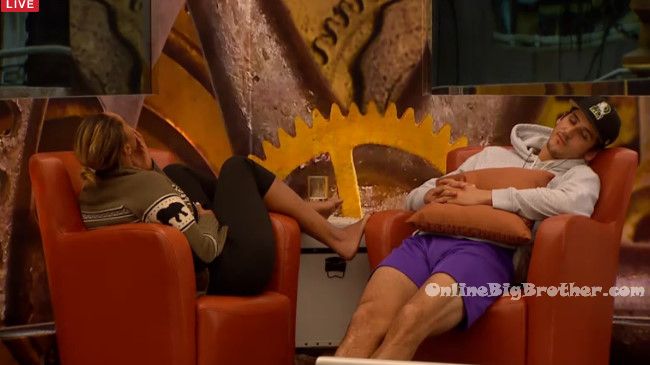 1pm Pili asks Do you think we're doing them a favor with taking out a strong player? Ash asks what? Pili repeats herself. Ash says Zach isn't coming after us. Pili says if we get rid of Zach they are coming after us next. Because they are sticking together. If Zach does leave we are going to have to win that (next HOH). Ash asks where do you think Godfrey lies? Pili says I think he's alone. Ash says is he more with us or them? Pili says more with us. Pili says but if he (Zach) is still here and it gets down to it. I could be thinking why didn't we get rid of him when we had the chance. The final HOH you choose and he wouldn't choose me. If its (HOH) a mental one I am screwed. If its a physical one I think I am also screwed. What do you think? Ash says I don't know.
1:40pm – 2:15pm Sarah pulls out her fake tattoos and does them with the other house guests. Zach gets one on his chest. Brittnee and Sarah both get one on their arms. Sarah says she wanted to put one on her face but big brother told her not to. Brittnee tells Sarah about how last night Zach said he's 50% into Ash and 50% its just game. Godfrey, Ashleigh, Sarah and Brittnee are in the bathroom putting on tattoos and talking about random things.
There was a live feed leak of the house guests upcoming task "PIZZA PIZZA" – Pre-season press releases stated "Pizza Pizza – Returns to sponsor a themed task where they will win a savoury reward if they successfully complete the task."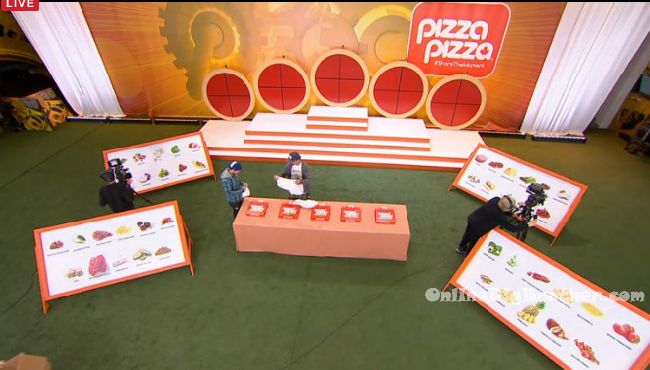 2:35pm – 2:45pm Zach tells Godfrey if you won the veto and took me off one of those girls would go up and then we would split them up. Just depends on what is best for you game. If you did I would be f**king loyal to you for the rest of the game. I don't have anyone else. Godfrey says if Pil's would win the veto and took off Ash I would go up. I am screwed that way. One of those pairs are going to cut me before they cut each other. Zach says its the same for me. Godfrey says if Pil's wins it I will go up. You haven't really felt the block .. you went up for a few seconds and then you're done. Godfrey says if I win it I would take you off. I know where I stand in this game. I know what's best for my game is if you or I win it. They're going to be pissed when I do that but I have to do what's best for my game. Big Brother calls all the house guests to the HOH room. The house guests think their task (Pizza, Pizza task) is starting soon.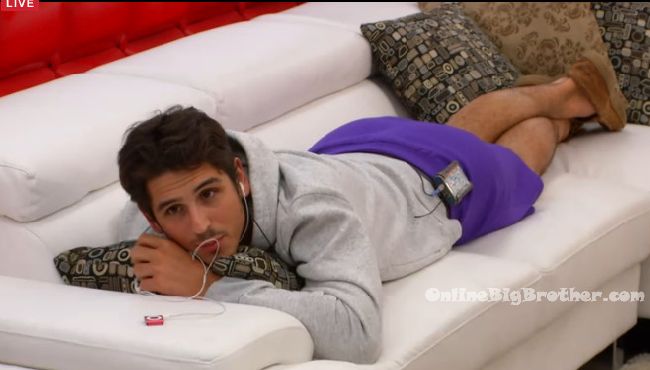 2:45pm Big Brother blocks the feeds.
5:50pm The live feeds are still blocked..
Please consider making a donation. This site is ONLY possible because of your support. (We received 1 cent in donations (Yes someone donated $0.01 cent) since April 27th.)
For other ways you can help – check out our How to support OnlineBigBrother.com page.
[polldaddy poll=8865390]