POV Holder:
McCrae
Next POV
Aug 31st
POV Used
POV Ceremony
Sep 1st
HOH Winner:
GM
Next HOH:
Sept 5th
Original Nominations:
Amanda and McCrae
Current Nominations:
Last Evicted Houseguest
Aaryn
Have Nots
8:12pm Backyard One of the best bodies to be on Big Brother.
McCrae is playing pool with Spencer you can hear music in the background.
8:17pm Spencer and McCrae
MC says he talked to GM about the nominations and she told him she's putting serious thought in putting Elissa up.
Spencer says he would hate to see Amanda go but they have to be prepared for that to happen. Specner want McCrae to know they are cool.
indoor lockdown from the wedding that is going on. The wedding is close enough that the music can be heard in backyard
8:20pm Spencer and Andy
Spencer pours water in Andy's ear while he sleeps.
Spencer says GM talked to MC before she went to bed and told him she was giving serious thought in putting Elissa up.
S- 'Why would she give him that kinda hope.. anyway I'm sure she was just bullshitting'
Spencer adds that he was trying to make McCrae feel like him, Andy and McCrae are "OK" going into next week. 'He was like of for sure for sure'
Andy -'If it's a double and I win HOH I need ELissa out… like I won't even put up McCrae'
Spencer – 'OK thats fine.. '
A – 'do you feel the same way'
S – 'yes that's fine.. put me up'
Spencer says his plan was to put up McCrae and JUDD and that way she would think she is not the target and won't try as hard for the veto. Spencer thinks when Elissa life is on the line she is able to win competitions. He adds if She wins Veto and Saves JUDD no big deal they would then vote out McCrae.
Spencer – 'She is looney f*** tunes bro' (See image below)
Andy and Spencer both agree they want Elissa out as soon as possible.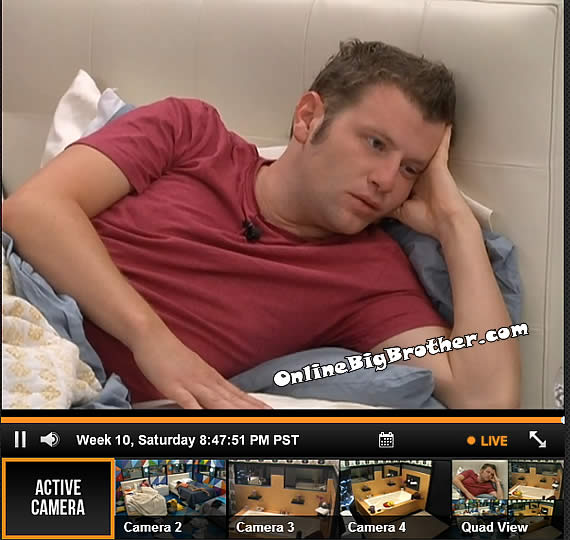 8:47pm JUDD and McCrae Bedroom
JUDD asks him if he's still putting up Elissa and him if he wins HOH
McCrae says he has a real good reason to put up Elissa and GM
JUDD – 'If I won it I wouldn't have put you up'
McCrae tells him that GM was telling him she was going to put up JUDD and Elissa. McCrae doesn't know what will happen to him
JUDD thinks that MC won't be seen as dangerous anymore because he's not a couple.
MC – 'Once she goes me and Andy will not be close at all'
JUDD says he's nervous about GM's replacement nomination.
MC tells him not to worry it';s going to be Spencer or Andy.
JUDD – 'How can you be so sure'
MC – 'I just want f*** elissa out of here so bad'
Andy joins them asks them what they are chatting about.
MC – 'What i'm going to do after this week.. I don't know what is going to happen.. I feel like i'm easy pickings'
JUDD – 'no'
Andy – 'no'
MC – 'If Elissa wins HOH… I don't know what she will do'
JUDD and Andy both have no idea what Elissa will do. JUDD says Elissa makes no sense when playing this game.
They start talking about who is going up. Andy and JUDD play dumb both saying they are worried about going up. JUDD tells Andy he would be surprised if it was him.
MC – 'I hope we get booze tonight'
JUDD – 'I'm sorry about taking them all I didn't think you all wanted them'
Spencer rolls in "What's the good word"
8:59pm Kitchen Andy and Amanda
Andy – 'Don't f*** say a word to anyone but I Threw that to you'
Amanda – 'Thank you'
Andy – 'I felt pressure to pick one of you and that is the only thing I could do.. I don't want that to get out'
Amanda- 'GM said she's thinking about putting up Elissa.. but I don't know'
Andy – 'I know I know.. She said her head is all over she's weighing all the options'
Andy says he gets along with GM on a personal level but they never talk game with her, "You know".
They go to the Cockpit. Andy says he thinks GM has it set in her mind that she wants to break up Amanda/McCrae. Amanda asks why does she go up to McCrae and tell him she is considering putting up Elissa. Andy – 'She went up to him' Amanda – 'Ya'
Andy – 'I feel that part of me thinks she's going to put up Elissa but part of me doesn't' Amanda asks him to try and influence GM.
Andy tells her that JUDD does not have Amanda/McCrae's best interest in mind at all. Andy – 'I want Elissa the f** out of here I feel if she wins the hOH i'm going up if I leave at the hand of ELissa.. ' (groans)
Amanda – 'If I leave by the hands of Ginamarie'
9:10pm Andy and GM
GM talks about McCrae and Amanda campaigning. She say regardless of what Amanda says she is not going to put up Elissa. GM says it's not the end of the world if McCrae or Elissa win next weeks HOH. They just have to make sure one of those two go next week.
GM – 'We have a better Chance now that it's three against two'
Andy – 'The odds are in our favour'
GM – 'you only need two votes.. lets say McCrae wins HOH and he puts up me and Elissa… we have Spencer, JUDD and you"
Andy – 'Bam bam bam.. thats three'
Both are convinced that Thursday is a double eviction. GM assures him she will not be putting up Elissa she wants Amanda gone.
9:31pm HOH GM and McCrae
GM talking about Nick..
9:39pm Random chit chat in the HOH, JUDD, Amanda, MC and GM
Amanda brings up MTV true life getting married GM does a impersonation of "F*** charlie"
GM – 'You better get here before I gut you like a fish'
GM – 'Yo Charlie,.. Yo Charlie.. relax charlie.. we got it charlie'
GM – 'It was so funny with the Guidos.. OMG Charlie I just got my period'
9:45pm Andy and Spencer Kitchen
Andy says he knows if JUDD and Elissa win HOH they will target McCrae but they want to target Elissa.
9:52pm Cockpit Andy and Spencer
They are going over their plan to put McCrae and JUDD up if they win HOH. They want POV to be played so they can put up Elissa. Andy wonders if GM wins the veto if she would use it. Spencer says they will have to call an exterminator meeting and tell her ELissa has got to go. Spencer mentions that JUDD is starting to lay the groundwork for a final 2 by saying nobody likes him in the jury. Andy thinks the entire Jury likes him. Andy's choice for final 2 would be Spencer, GM and JUDD last. Spencer says that the same with him.
Andy – 'My hatred for Elissa will fuel me in the HOH'
10:10pm Amanda, McCrae and GM They are campaigning to GM to get Elissa put up.
Amanda starts to cry says she just wants to know if GM is even going to consider it or if she is just bullshiting them.
GM – 'I'm going to think all scenarios On my own.. I will let you know Sunday night'
10:37pm HOH Everyone Having a drink.. random chit chat
Amanda takes most the wine..
Elissa comes into the HOH asks for wine.
Amanda – 'I didn't have any today or yesterday so no' (They were given beer earlier in the day.. It was post POV)
Elissa – 'OK'
McCrae tells her to give some "Spill some of it'
Amanda – 'I just back washed into the whole thing'
ELissa – "Amanda drank the whole bottle of win production can we have another one'
Amanda says she gave JUDD a glass of wine and he traded it for cigarettes so she didn't drink the whole bottle.
11:02pm Kitchen Everyone playing cards having a good time
11:46pm Cards
Cards, pretzels, win and laughs. Still on indoor lockdown because of the wedding.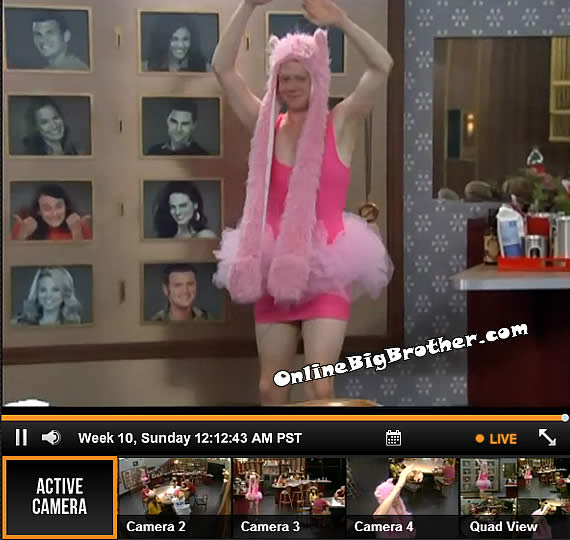 12:10AM
Every time production tells them "You are not allowed to talk about production" Andy has to get up and twirl around saying "I'm a pretty little princess"
12:19AM everyone in the living room Arguing about black jack rules.
After 10 minutes of GM and Amanda arguing they figure out the rules.
Share it YO!!
Tweet