POV Holder:
?
Next POV
?
POV Used
?
POV Ceremony
?
HOH Winner
Ashleigh
Next HOH
May 13th
Nominations:
Sarah & Godfrey
Have Nots
Canada gets to vote
POV Players
VETO PLAYERS PICKED: ASH, Sarah, Godfrey, Zach, Brittnee, BRUNO
HOST is PILI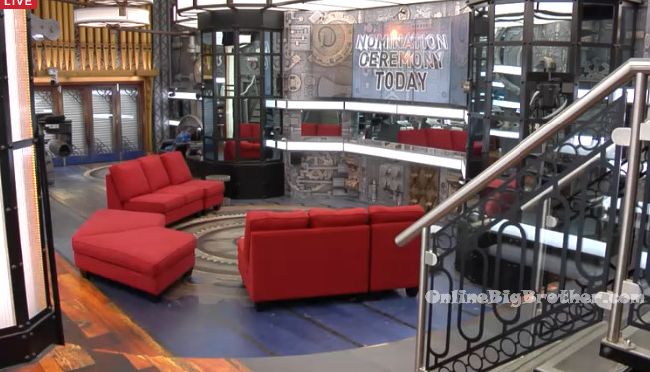 8am – 8:45am Big Brother starts waking up the house guests and then blocks the feeds. When the feeds return the house guests are in the HOH or heading there for a lock down. On the living room TV screen it shows that the Nomination Ceremony is Today. Brittnee comments now that its Ashleigh's bathroom its nice and clean. The other girls agree. Ashleigh and Brittnee start getting ready in the HOH bathroom. Big Brother blocks the feeds.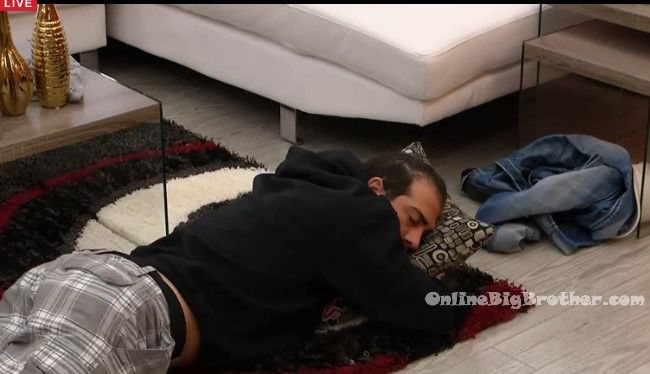 8:45am – 12pm The feeds have been blocked. When the live feeds return – Ashleigh has made her nominations. She has nominated Godfrey & Sarah.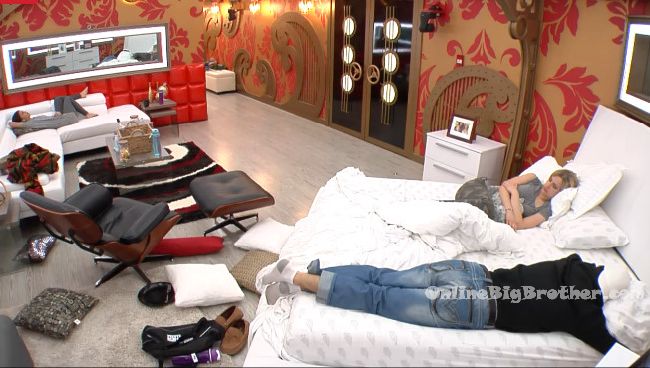 Up in the HOH room – Zach is taking a bath while Ash paints her nails. Bruno and Pili are on the HOH bed. Ash joins Bruno on the bed. Ash says that the POV competition is today.

12pm – 12:15pm In the bedroom – Godfrey, Brittnee and Sarah are talking. Godfrey says if I win they will probably put you (Britt) up and if you win they will probably put me up. Sarah says hopefully its something we can do together like gathering letters. I would give you everything. Godfrey says I would too. Britt asks really. Godfrey says that speech told me everything. Usually if you are told you're a pawn you're the target. Brittnee says I was a pawn four times. Godfrey says when I was told I was a pawn I was actually the target. Godfrey calls Bruno an idiot. He gave Zach 100K by taking him off. Sarah says you're going to win this and take me off. Ashleigh would then have to choose between Bruno & Pili as the replacement. Godfrey says if I'm on the block and you take her off I don't think you could convince her to put up Pili. Brittnee says I don't think Zach could convince Ash to put up Pili. Godfrey says I really hope its one were we can help each other out. Brittnee says I really need to win this one. Godfrey says if its an elimination one .. I will eliminate them first. Brittnee says I want to win it.. I want to save all of us.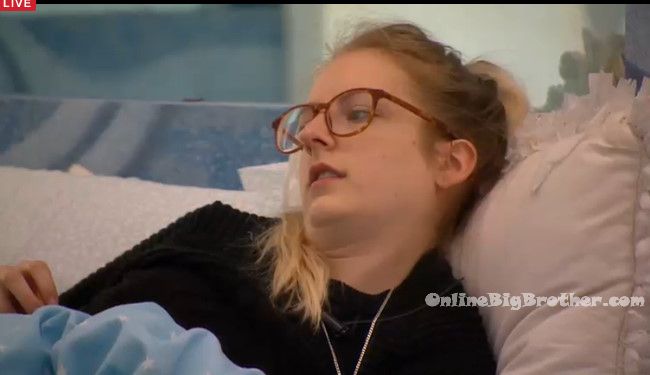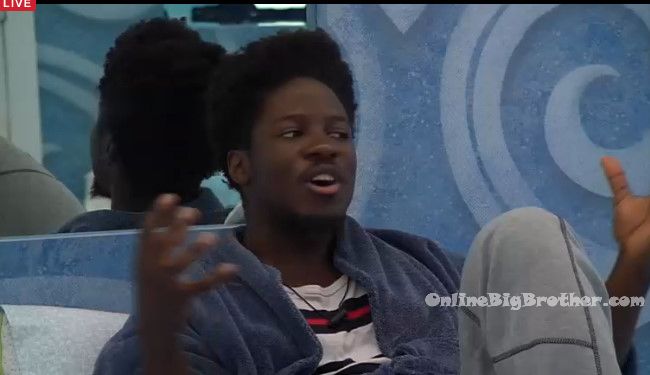 12:25pm – 12:40pm Brittnee says I honestly want one of you to win but as soon as he (Bruno) gave Zach the veto I feel like he just won 100K. Godfrey says he doesn't even have to win the POV! People will give it to him. Sarah says its like you're in a race with him and you tell him to climb on my back … then 2 meters to the end I'm exhausted and he sprints to the end. Godfrey asks is he just so charismatic or are people just that stupid. I feel like he did that casting himself. You think I'm good looking, okay you're in! They agree that they thought of everyone Bruno would have been able to see it. Godfrey says as Willow would say "Something is up!" Sarah says I wish I could have ripped the veto out of Bruno's hands right before he used it. Like physically ripped it out of his hands. Godfrey says I didn't even get to talk to him before. I didn't think he was going to use it. Godfrey gets called to the diary room and leaves. Sarah says sure you did God.
12:45pm HOH room – Pili says that Bruno is up Zach's a$$! When I don't like someone I notice everything! When I talked to Zach yesterday he wants Godfrey gone before Bruno. Pili says he's a great guy and I love him but Bruno's game is just getting to me. How he looks at people. How he follows Zach around.

12:55pm Big Brother blocks the feeds.
1:50pm The live feeds return after the house guests have picked veto players
VETO PLAYERS PICKED: ASH, Sarah, Godfrey, Zach, Brittnee, BRUNO
HOST is: PILI
If you enjoyed this site's content please consider a donation or checking out our How to support OnlineBigBrother.com page. Any help is appreciated, this site is only here because of your support.
[polldaddy poll=8849979]
[polldaddy poll=8853897]