Quick Big Brother Spoilers
Head of Household:  Hisam
Nominees: Reilly & Cameron
POV Players: Reilly, Cameron, Hisam, America, Matt, Blue
POV Winner: Hisam
Veto Ceremony: veto was not used.
Havenots: 
Lock your ranks in before midnight
The situation Veto was not used. Nominations stay at Reilly and Cameron. Feeds seem to be cutting a lot this afternoon this will impact the conversations. Reilly doesn't have the votes.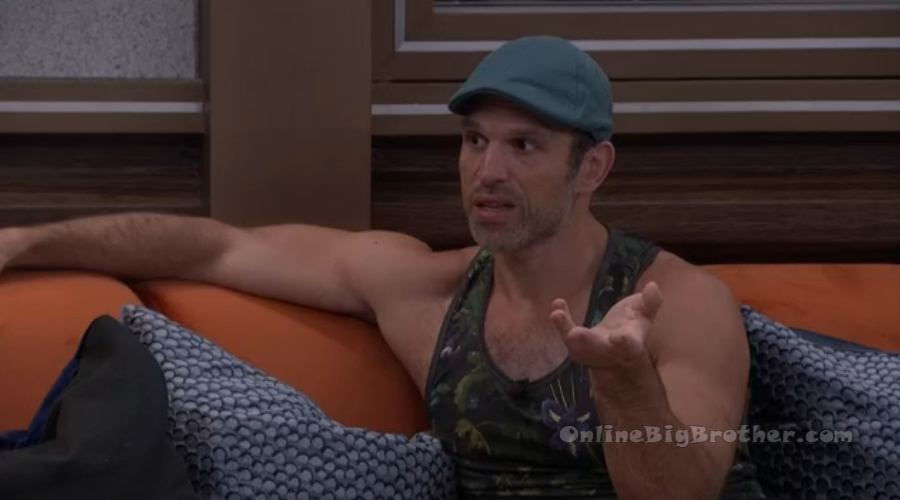 7:05pm HOH room – Hisam, Jag and Blue.
** WARNING – Read at your own risk – Hisam has blown a gasket. Reilly is going to need a restraining order after she gets out.**
Hisam – its not as if she has no awareness of what happens in this place. She know this f**king game. So I was like why would you.. why would you do that?! So those are the things that have been on my mind. That I have been keeping under wraps. The last thing I want it to be is .. this is about a race thing. This is about this.. but like it just happens like and this happens repeatedly in my life. Like where we see this constantly. For whatever reason white, pretty, heterosexual people get a pass. When they make mistakes we find them redemption. We give them everything we can to save them. And I was like what about everyone else? What about f**King everyone else!? Right?! Like, what about us?! And I thought I could be in my mind.. I was like I am going to give you your very best shot at saving yourself and redeeming yourself. Right?! Like this is about you finding your own redemption! Right?! But its not going to come from me.. this has to come from you! Right?! Its not my job to redeem you. Its your job to redeem you! Right!? So I didn't backdoor her on purpose. So that she could play. So that she could have a shot. And I told her that. I said I am giving you, your shot to win which lots of other people wouldn't have done. I AM GIVING YOU YOUR SHOT TO REDEEM YOURSELF! Right!? Same thing with the vote. I am not going around campaigning against her. Right!? That's her job to redeem herself. Its her job to find connections. Its her job to to do that work. Right?! Its her job. And at the end people basically find redemption for her .. would it surprise me? No! Because it happens ALL the time. Blue – yeah. Jag – yup. Hisam – and I will just deal with the consequences of what happens. But I felt like I needed in my heart to make a stand. That you CANNOT do this! Right?! And if it was anyone else in BIPOC community they wouldn't get this chance. Right, we would already be voting them out which is what in my mind happened to Kirsten. We already made up our mind. There was no redemption story for Kirsten. Right!? And I tried when I talked to her about the veto.. but you have to stop lying! Right!? You're not going to win this game my lying! Right!? And you're not going to win this game by telling me things that are not true! Like I know.. I know that didn't happen. So don't tell me it happened. And I told her.. and if you got to talk to Kirsten we sat in the hammock for 3 hours and when she said something I was like that is a lie. And you know its a lie! And you think I am too stupid to know you're lying to me!? And you're trying to create this chaos and I won't allow it! Right!? So give me the truth! Give me the f**KING truth! Right!? If you want the veto used on you, then tell me the f**king truth. You have nothing to lose but to give me the truth! You know?! And I feel like I have been more than fair with Reilly.. I do. I told her exactly what the plan is and was clear about my intention. I haven't lied to her. I gave her the option to save herself. I am basically not actively campaigning to get her out of the house. I said my speech. I said what I said and now the house gets to decide and I am fine with that. Big Brother switches the feeds. Hisam – accepting that this is how things are and then I come into the big brother house and its still f**King happening!!! Big Brother switches the feeds again. Hisam – the truth is she is on my radar screen because I am f**king tired of this stupid f**king story.. this narrative. And I know what is going to happen. I am going to walk out of this house and people are going to be like that Arab guy went after that cute white girl. Right?! That's what the narrative will be. Which is why in my speech I wanted to be clear about WHAT SHE DID! And why these are the consequences! Right!? Was it too much, yeah. I agree, I went too far. But I just wanted to make it clear when I had a chance to make it clear like she did things. There are consequences to those things and I am hoping there is a new world for us. That's what I am hoping. That's what that speech was about. And I know that hurt her.. which is why I was like I am so sorry. Right?! I don't want to hurt her. I don't want her to feel like sh*t. I don't want her to feel like Hisam is this mean vindictive dude. But the narrative for Arab men is that they're mean to women. We're mean to women, we take away their rights. We basically go after them. We devalue them. And I just want to make it clear that there was a logical explanation for why this happened. And I don't think America is going to look at the tapes and say she didn't split that house. But you have to call a spade a spade. The spade here is that she did it.. whether she intended or not. It happened. Right!? Originally she might have been thinking this is smart game playing, I am doing a really smart thing here.. Right!? But in the process of doing what she thought was smart she drove that wedge between us. I didn't have a wedge with you. I wasn't against you. I just wasn't on the same side as you and because of that .. now we're enemies?! Blue – right. Hisam – I was like F**K THAT! I WAS LIKE F**K THAT!! And she had no consideration of that.. like if felt it was going to be the Marvel versus the superhero's conflict. Like are we now the two brown people against each other?!!? Like are you and Izzy now the two QUEER people against each other?!?? Like is that what the f**K we did!? And I was like I don't feel f**king good about that!! And I won't feel good about that. Like I did not come in this house to be antagonist against the other brown person. That was never my goal! BUT she forced that on us because then you and I can't talk game. And I f**King resent that! I f**king resent that she chose for us!! I am so f**King tired of people choosing for me. Like I am an adult, I can choose for myself. Like I didn't get here because I didn't make any choices. RIGHT!? Anyways.. its been a very emotional 12 days for me and that's what's been weighing on my heart and on my mind. And I am watchin her try and maneuver the world and I am watching people try and save her and I am like just like honestly. Can't we just hold her accountable!?!?! Can't we just basically say that you have wronged us?! We weren't against each other. If any thing we should be aligned with each other. And you decided we weren't going to be. And that is Okay!? Its not okay!! And that comes from where and I am tired of that coming from someone that basically has the privilege to do that.. That is too much for me. Big Brother blocks the feeds. (WOW he is on a downward spiral! I really do not understand how Blue and Jag can sit there and listen to him.)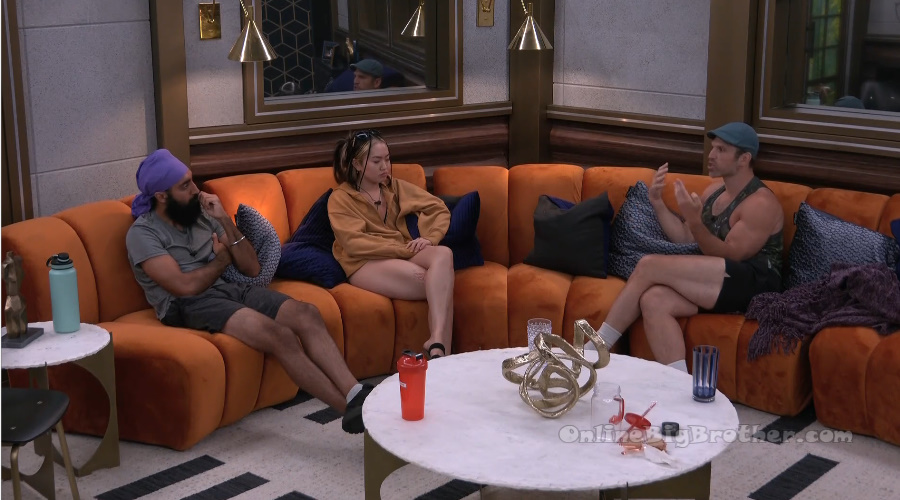 Hammock – Izzy Cirie and Reilly
Reilly – I want the chance to build with you. Izzy – yeah, yeah. I do too. Reilly – because we do these group settings and all that.. Personally I want to. Izzy – I do too. Reilly – even if it is my last two days here. Izzy – I am not promising you anything or Hisam anything. Unfortunately this hurts me but unfortunately no matter why things happen there are always consequences. You know so I am just weighing that for myself. At the day, the most honest thing to say is I am looking out for me. Reilly – absolutely. You should be. Izzy – so you know if there is a path forward for you to help me of course that is a conversation I want to have. Reilly – yeah, and I am completely open to that too. I don't want to leave here and regret missed opportunities. Friendship wise and even game wise. You know where I am at and you know that I love Miss Cirie. I love Miss Felicia. And I really think that we could do something down the road. Izzy – yeah. Reilly – and so it is going to be on your terms obviously but just know that is where I am at mentally too. Izzy – I appreciate that.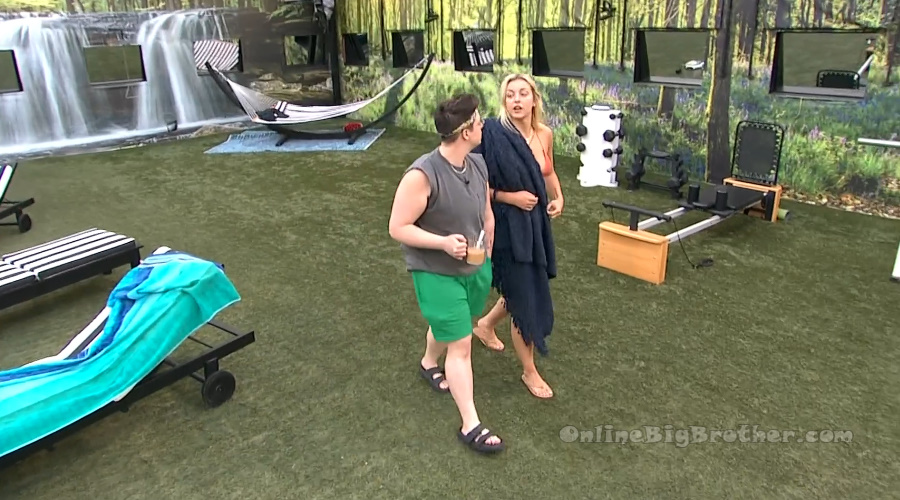 Upper Level Backyard – Jared, Izzy and Cirie
Cirie – Hisam is eliminating the threats to himself. He is a major threat and how did it change from a hate Cameron to Cam. I am thinking about us. Like who do we want to compete against? I know that Reilly is a beast but so is Cameron. She didn't win when she needed to. I think we have more of a chance at beating Reilly than we would ever have of beating Cameron. Cameron is going to go to the death. And I think .. I think .. we would still have the numbers if Reilly were to stay. All she would have got is Matt, Blue and Jag. We still have our numbers. I just think we would have a better chance and she would owe us. And if she was to come after you .. she don't want to lose me. She don't want to lose miss Fe. I think she would owe us. Think about where we would be right!? So now Reilly owes us and Jag and Blue can't come after us. We still go me, you, Jared, Cory, Meme, Miss Felicia. Izzy – you think Jared will be able to convince Meme to keep Reilly? Cirie – I don't think it will be hard.. only because Hisam f**king up. And Cory wants Hisam out! But talk to me and tell me why that is wrong?? Izzy – I worry that the power of this.. after giving her the power of keeping her here.. is going to be like crazy fuel. And crazy bonding for those four. For Matt, Jag, Blue and Reilly. To have the power to bring more people in. Like look we did it against all odds. She stayed. Cirie – but who are those people. Izzy – I don't know.. Like Bowie loves working out with Jag and she is all wishy washy.. Who knows what Red is going to do if we can't win comps and he is like well I need to be protected. I worry about our floaters with Reilly .. more than Cameron. I don't trust that she will honor what she owes us… at least for me. Cirie – okay.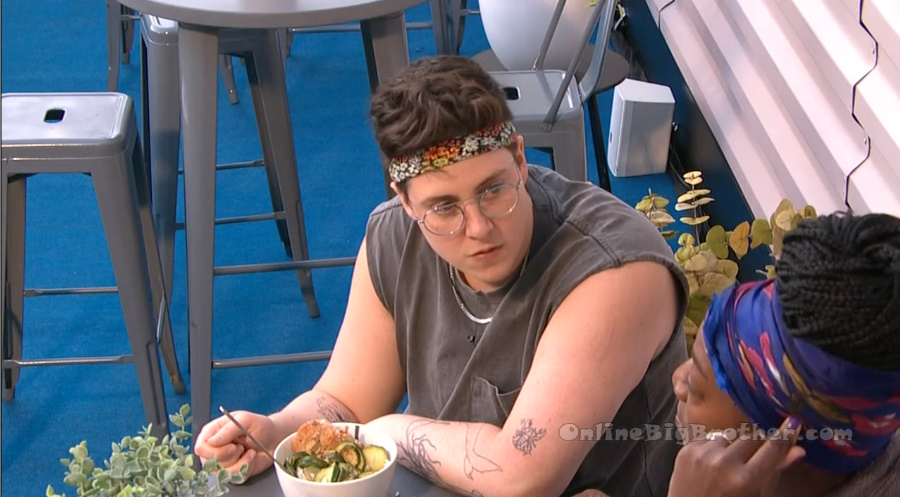 Bedroom – Reilly and Matt
Reilly – I was like also I am .. I can protect you. I can win competitions. I will have your back if you have mine. That is how I operate. I am a very simple person. You help me, I help you. That is it. And I was like you don't have to be scared of him because as long as I am in this house and he is in this house. I go as long as I am here, I am always going to be the person that he comes after .. not you. I literally told her I am a human shield. I told Meme I am a human shield. He (Hisam) will never come after anyone but me as long as I am in this house. He will never stop trying to get me out. Matt – he will come for me next week if I don't vote you out. Reilly – no he wont, he will come for both of us. She laughs. Matt – Its a move that we need to take next week. Reilly – oh yeah no, I want to backdoor the f**k out of him (Hisam). If I am HOH .. if either of us are HOH .. it is OVER! Matt – 100% I will make a move. You just have to risk it. Reilly – risk it for the bisket! It might work.. we're almost there.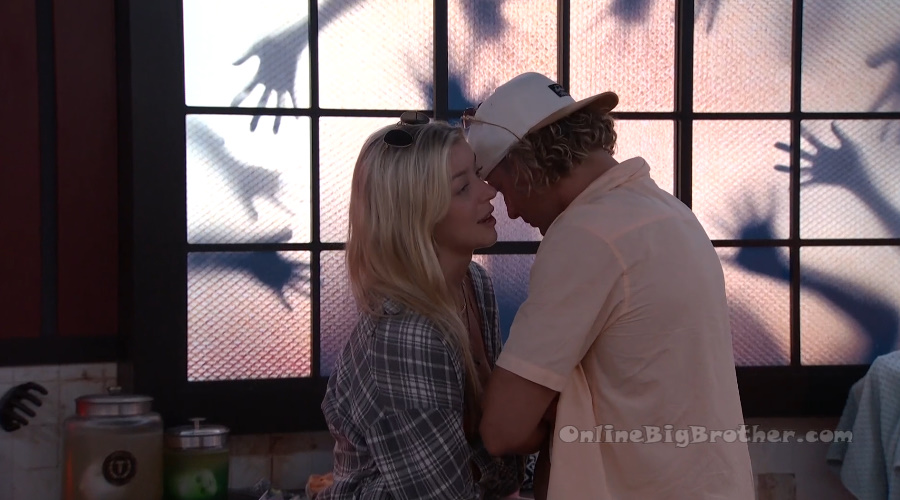 7:55pm Upper Level Backyard – Cirie, Izzy and Cory.
Cory – he (Hisam) doesn't give a sh*t about the consequences he is just trying to get everyone in his pocket for next week. Izzy – the same language the he is starting to say where like a clean slate with Reilly and all that sh*t. That is what Reilly is trying to say to me. Cirie – what scares me is that if he is insinuating us to Cory, then he is insinuating us to Jag and Blue so if they will I won't be offended or fight. Cory – he also talks to America about like yo all of us downstairs we're not that close .. and America is of the mind that they're trying to create a new group. That's a bullsh*t group. I don't know who is in it.. I think its basically just him in it saying I am the new Reilly. I think he is realizing that, that speech did not.. Izzy – do we keep Reilly!? Do we keep F**KING Reilly!? Cirie – I am telling you! I am telling you. Izzy to Cory – if you just tried to manufacture that I am going to be so mad at you Cory. Cory – what?! Cirie – to keep Reilly? Cory – yes! And then we're going to hook up next week… no. Izzy – but what do you think? Cirie – what do you think of the possibility of us keeping Reilly?? Cory – I looked at Hisam and he asked for my word that I would vote out Reilly. Izzy – who f**king cares! And what did you say? Cory – of course I said yes! Izzy – do you care about your word? He is lying to everyone. I am just curious? Cirie – you owe Reilly .. she took you down. Who do you owe more Hisam or Reilly? Cory – if it was my choice of saving Cam or Reilly. Who do you think I am saving? Izzy – REILLY. Cory – F**K YEAH! I am saving Reilly. Are you kidding me. Cirie – and you said that to Hisam. Cory – he f**king lied right to me. Cirie – f**K that. Izzy – I know I know. Cirie – because he (Hisam) is already working to pull Jag and Blue over with him once Reilly is gone. And making people feel like we are f**king expendable. Izzy – I agree.. yes. Cory – but if Reilly is not gone do you think she would just go back to Matt and Jag and we wouldn't hear from her till next time she is on the block. Cirie – no I think Reilly will spend her life's blood trying to get rid of Hisam. Cory – oh yeah that is obvious. Cirie – and she will owe us. Izzy – and frankly Reilly has shown that she is beatable. Which Hisam has not. Cirie – he (Hisam) is going to spiral even more if Rielly stays. Izzy – exactly he is going to go bizzerk. Cory – if Reilly wins HOH .. there is not a world we're in any sort of trouble. Cirie – exactly. Cory – but next week if anyone else wins.. would everyone target Hisam? Cirie – absolutely. Izzy – I want to do whatever is good for the four. I trust both of you.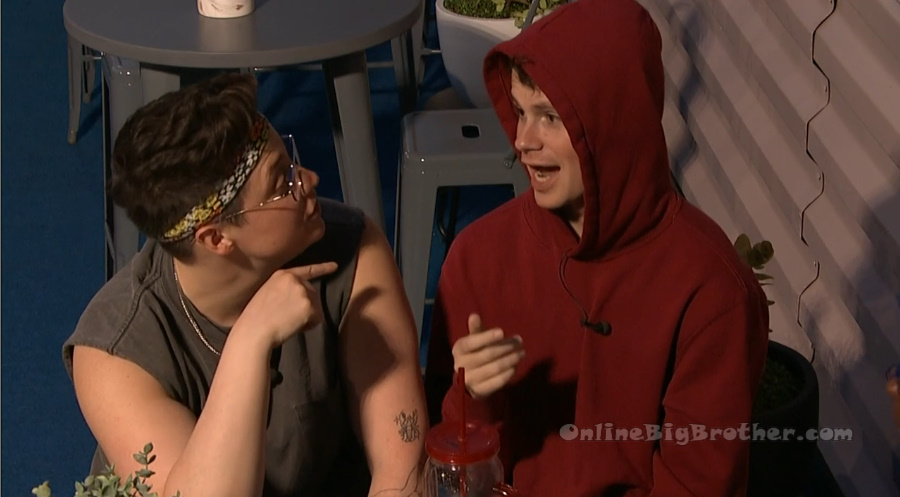 8:05pm Living Room – Reilly and Felicia.
Reilly – that was hard for me to feel completely publicly humiliated. Felicia – after Hisam came in the bathroom and said I think I need to do damage control. I said I am just going to be honest, I think you went over board. I said I know that you're a direct person but that kind of felt mean spirited. You went into her hard and you didn't have to do that because if you said that you already had a private conversation then there was no need to do that. Everyone was just like Okay. And if everyone gets the same reaction then it means it hit everyone the same way. I said that came out of no where and that was not necessary. I just felt like I had to say that to him. I don't think all that was necessary. Reilly – I don't either. He came to me too and apologized too which I appreciated. I just don't want to go out like that. I don't want someone to treat me like that. I didn't know what to do. I am not the kind of person that is going to stand up and be like well screw you! So I just kind of like took it. Felicia – I feel bad not saving you because you saved me. Reilly – don't feel bad, you have to do what you have to do. You and Cirie are near and dear to me. I don't ever want to guilt you or make you feel bad. I think of you moving forward and now I can help and protect you. I understand why Hisam is good for you guys.. he is a comp beast, he is a physical threat, he is very strategic person but he is not the all mighty king of the world. Felicia – no. Reilly – and that are more people that can help and protect you and I am one of those people. I always think of you guys and that will not change moving forward. I hope after today people looked at what happed and see that maybe a dictatorship might not be the best way to go about this game. Felicia – right. Reilly – and I don't believe in making decision for other people. I will never force you to do anything. You're not going anywhere, Cirie is not going anywhere.. but Hisam .. see that door right there? Felicia laughs. Reilly – I am not the only person that thinks he is going to be a problem if this isn't taken care of. Do not be afraid of him. Felicia – oh I am not afraid of him.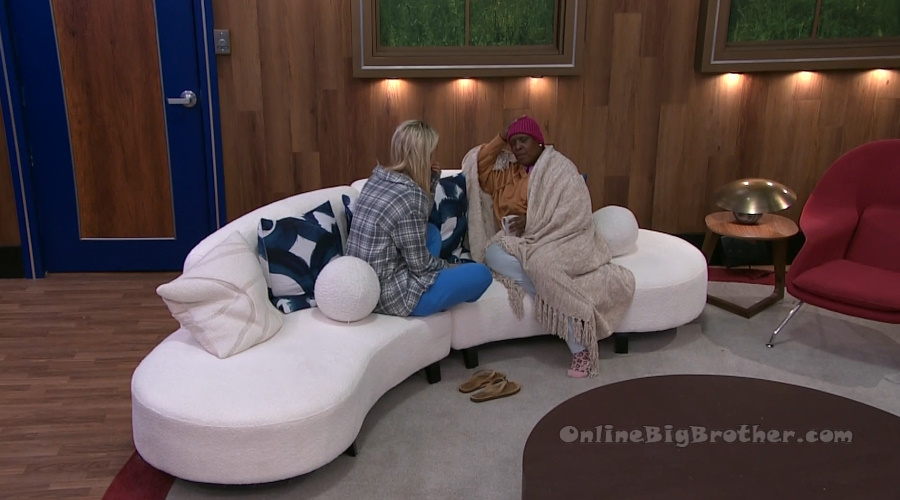 8:25pm Backyard Couch – Felicia, Meme, Jared.
Jared – I know that Red is saying that he is with us now.. but I don't trust Red. He has said that he is going to play the middle till jury… then he is going to start performing. Felicia – see I don't like the people that are just going to slide under the radar. The first week we go for them and then we go for the under the radar. Meme – I think this week still go to be Reilly. The shot is there.. its got to be taken. I don't think it helps any of us.. like what does it do for us. Felicia – although honestly I could get rid of Cameron just as easily because he don't do nothing for me. Meme – right, right. Jared – I agree. The one thing is .. Cameron don't got an army. Reilly got an army. That's what's scary. I was thinking about this, this morning .. she is so self righteous and she has people that are willing to support her self righteousness. That is what is so dangerous. They are just so die hard for her that she is dangerous. Either we get rid of the troops or we get rid of the leader. Felicia – you got to get rid of the leader and then the troops fall. Jared – exactly. The army is going to crumble. Meme – we have the votes and I think we got to keep it that way.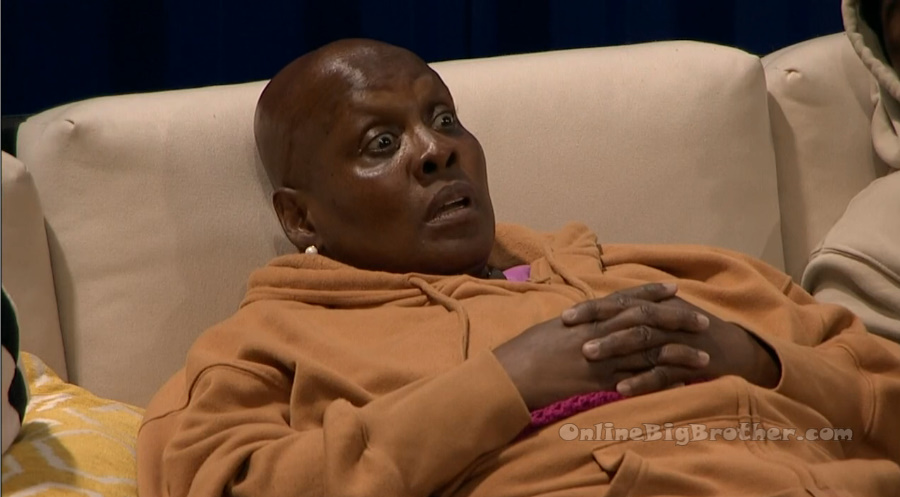 Upper Level Backyard – Cirie and Izzy.
Cirie – He said that he wants to work with people that can compete and that broke our hearts because we feel like everyone looks at us as people that can't compete. And to hear that come from you.. that is why. So we got a reason. We just got to think with clear heads though before we make any moves.. before we talk to anybody.. Is this the right thing? Izzy – yeah. This would.. and I am not saying I don't want to do it.. I am leaning towards what I want to f**king do.. but this would blow it UP! Cirie – it is going to make for great TV. Izzy – I mean I am excited! Cirie – it is going to make for great tv because the world is probably like are ya'll stupid!? Are ya'll letting Hisam. Izzy – and we're not. And we have been a step ahead of him this whole time.. and lets f**king stay that way. Cirie – he will have no place to go.. and he can be mad if he wants.. Izzy – and his anger will just continue to dig his own grave. Cirie – HE is going to spiral. Izzy – and we will not. He can yell at me. People yell at me all the time and I just look at them.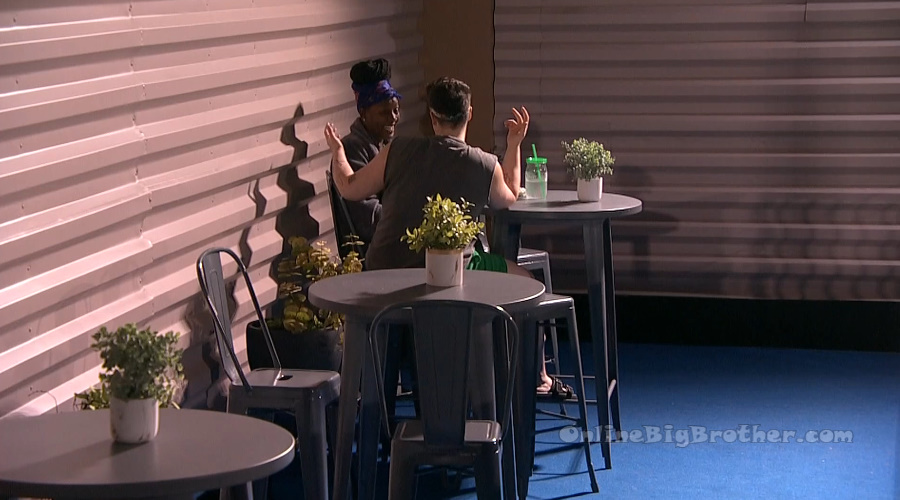 9:28pm Havenot room – Reilly and Izzy.
Izzy – I just want to say if Cirie trusts you, then I trust you. Reilly hugs her. Izzy – I want to say that I know you were saying my name as a target. I am not an idiot trying to build something moving forward. Know I was not happy with how things went down. And yes I don't want to be dictated my game. I just want to say whatever we say right now stays with us. Reilly – perfect. Izzy – and I will know. I will find out. Reilly – yeah, yeah perfect. Izzy – the door for me is not closed. I want you to know that for Thursday. I felt like today having a little bit of an ice breaker was good. I am still weighing everything. I will want to know tangible ways of protecting myself if.. I vote a certain way. Reilly – 100%. Izzy – because I couldn't be going out more on a limb if I vote a certain way. Reilly – I know. Izzy – I just want to open that door. Reilly – I really appreciate you and again.. please don't feel pressure. I know that you're in a tough position. I completely understand that. And like I said before I wish I could wipe the first week away because I was acting so uncharacteristic of myself. I am so sorry. Izzy – I think that this brings out weird things that we don't know. Reilly – I am so sorry for how that went I was acting out of stress, paranoia, anxiety and I have learned from that.. and I can assure you that you are protected moving forward. I really appreciate you opening that door for me. We will continue to talk. Izzy – absolutely.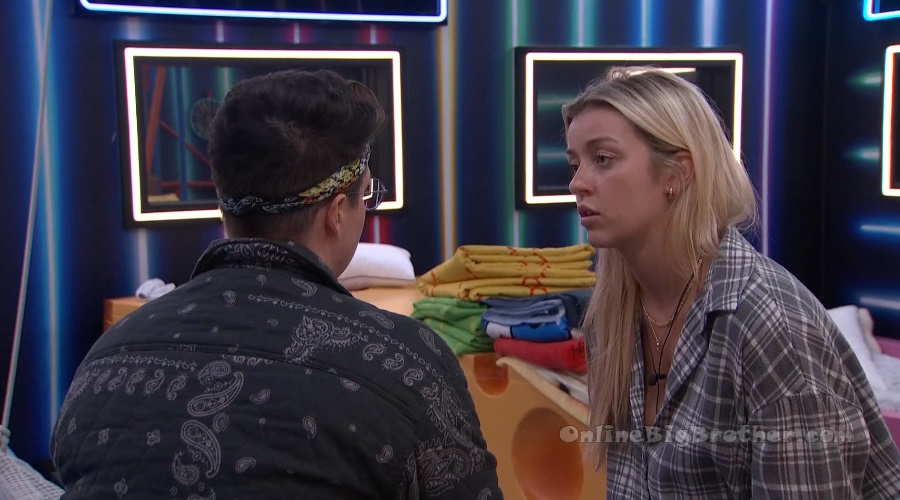 10:30pm Backyard – The house guests are chatting about random things on the couches and by the hot tub.
Izzy, Felicia, Red and Cameron. Izzy – All day Jared has been flexing. Izzy leaves. Felicia to Red – that is funny I was actually thinking maybe Blue and Jared. Red – oh not that is definitely a thing too. Cameron – oh come on that is obvious. I actually said dude, stop ..just stop. Red – I think she would go along with it for as long as it benefited her. That girl is cutthroat. Its just her personality. Felicia – she loves everybody. Red – but also wouldn't have any problem removing herself from any situation. She even said those words.. I don't care about a showmance. I'll throw my showmance under the bus. Felicia – oh really?! Red – I ain't walking across the line second. And I believe her. Felicia – wow so there is a lot going on under our nose. So there is Jared & Blue, Cory & America, Matt and Reilly.
Help support all the free content we provide by giving a donation. Any amount is greatly appreciated!
If you enjoy OnlineBigBrother, please consider donating to keep the madness going. Thank You!