Quick Big Brother Spoilers
Head of Household:  Hisam
Nominees: Reilly & Cameron
POV Players: Reilly, Cameron, Hisam, America, Matt, Blue
POV Winner: Hisam
Veto Ceremony: veto was not used.
Havenots: 
Lock your ranks in before midnight
The situation Veto was not used. Nominations stay at Reilly and Cameron. Feeds seem to be cutting a lot this afternoon this will impact the conversations. Reilly doesn't have the votes.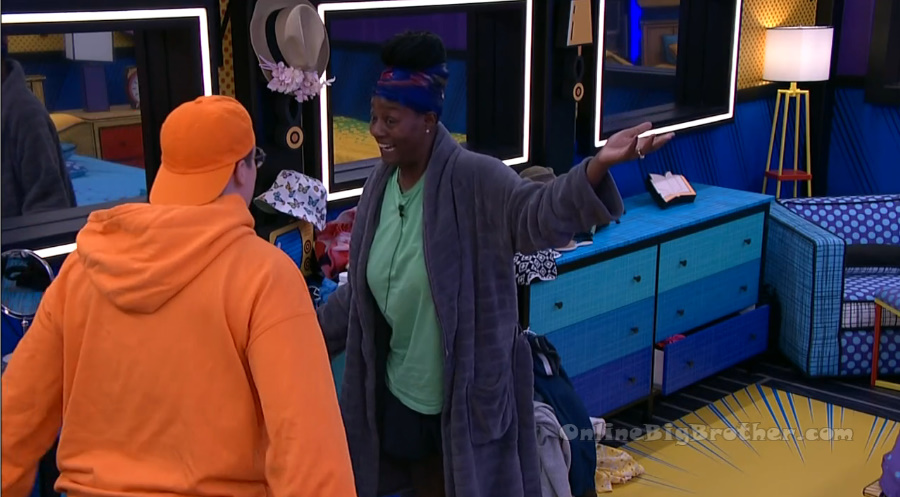 10:24pm Comic Bedroom – Izzy and Cirie.
Cirie – I do trust Cory. Izzy – the sentiment, I don't disagree with but HISAM is out of control!! Cirie – and this is who we aligned ourselves with.. we are no better than them. Izzy – exactly! Cirie – F**K! Izzy – also I just want to kill Cameron. I want to vote him out because I want to f**king KILL him! Cirie – but we can't play emotionally. Izzy – talking about your experiences.. he is like my target really responds to disappointment. SHUT THE F**K UP! Cirie – He always has to add. I just tune him out now. Izzy – AHHHGGHHHH!! Cirie – we got to think. Izzy – we got to think.. what is the sense that you were getting from Fel.. I mean what do you think? Cirie – Jag is waiting to talk to me.. I don't even know what to say to him. Izzy – I talked to Reilly. We had a moment. I brought her upstairs and said exactly what you said to say. I was like.. Big Brother switches the feeds and then after a few minutes switches back. Izzy – I was like if you like Cirie, then the three of us should talk. We were sitting on the f**king wiener in the havenot room. I said lets go to the havenot room.. This is .. I am trusting you. Cirie – I still don't know what to do. Izzy – I don't know.. I don't trust Reilly and I don't trust Cameron. I don't trust either of them. The problem is how do you feel with Jag and Blue? Jag and Blue wouldn't have a problem putting you up. Cirie – Blue has never had a conversation with me and I tried the same way I tried with America. Izzy – so my thing again is even though Cameron doesn't engage.. there is no one else to worry about that hasn't engaged with you. Cirie – right. Izzy – with Reilly she doesn't engage with me but Blue and America don't engage with both of us. So maybe there are more people that don't engage with us on that side so maybe that is more concerning .. I don't know. Cirie – I 100% agree with that.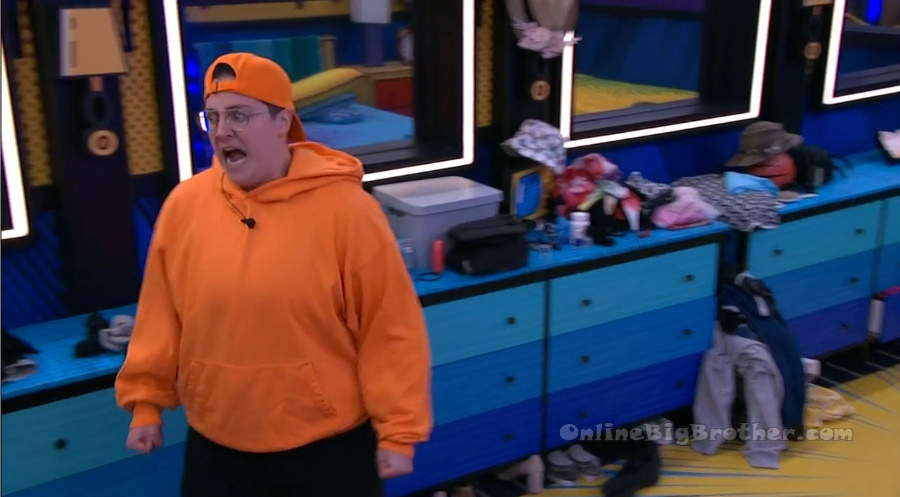 11:12pm Comic Bedroom – Cirie and Izzy.
Cirie – There is only four. Will Red then go over there? Will Bowie then go over there? That gives them six. And what will Hisam do? Izzy – I mean he might be so mad at us that he might try. Cirie – if he did that would give them 7. That only leaves me, you, Jared, Cory, Meme and Felicia.. Izzy – who knows Cory might be like f**k it I am going. Cirie – I don't think so. Cory knows his best bet.. I mean if he votes for Reilly then maybe he would safe with Hisam. Izzy – I was all fired up. Cirie – I know! Izzy – because also ultimately just thinking about as much as I want to see Hisam face and hear what he would say everyone is already gunnin' for Hisam. Cirie – right. Izzy – we don't need any more ammunition. Cirie – but will they continue.. I know Matt will continue to come for Hisam. We don't know what they're going to do especially since we don't know what he is telling Jag and Blue. That Brown people bullsh&t. Izzy – I mean they're going to come for me. Cirie – that's what I am scared of. Izzy – f**k like I don't want to f**k up your game. Like if I am out of the picture there are paths forward for both of you and Jared. Then what are they going to do especially since we don't know what they're telling Jag and Blue. That brown people bullsh*t. Izzy – I mean they're going to come for me. Cicie – right, that's what I am scared of. Izzy – if I am out of the picture there are paths forward for both of you. I am not saying I'm protecting you. Like F**k, I am the problem for you two. F**k.
12:25am Hammock – Cory and Izzy.
Izzy – I saw ya'll talking to Jared, what were ya'll talking about? Cory – just seeing where we are at because it seems like a big reaction and it seems like it might be settling a bit. Izzy – yeah but where are your instincts right now? Cory – My instincts say Reilly being here would be good for the short term but it would get really f**king messy and I don't know if its worth it. Izzy – interesting. Cory – and I am just worried about Cam being in the house for you and Cirie. And Reilly being in the house the only thing that scares me is we could get some sh*tty comp out comes for a while and there is not much we can do about it. The other way we would still have a little more control. But straight up, I think it is fine either way. Izzy – I think it is interesting because my instinct lies there but me and Cirie were talking a lot and I don't think she is wrong either. Cory – try and backdoor Hisam next week. We could be okay if we vote out Reilly. Because if I put up Red and Bowie and say I don't talk game with you guys.. I don't know where your heads are at. And then Hisam wins the veto and one of them goes. He could win HOH the next week and we would be fine but if we vote out Cameron and then we miss .. then we're dead. Izzy – that's exactly what I said to Cirie. I don't want us to miss our opportunity to kill two birds with one stone. Because if we vote out Reilly, everyone still wants to target Hisam. Hisam is still a target and we've gotten Reilly out. Cory – it is almost like keeping Reilly is just a f**k you to Hisam and what is the point. Izzy – I know that is where I am leaning.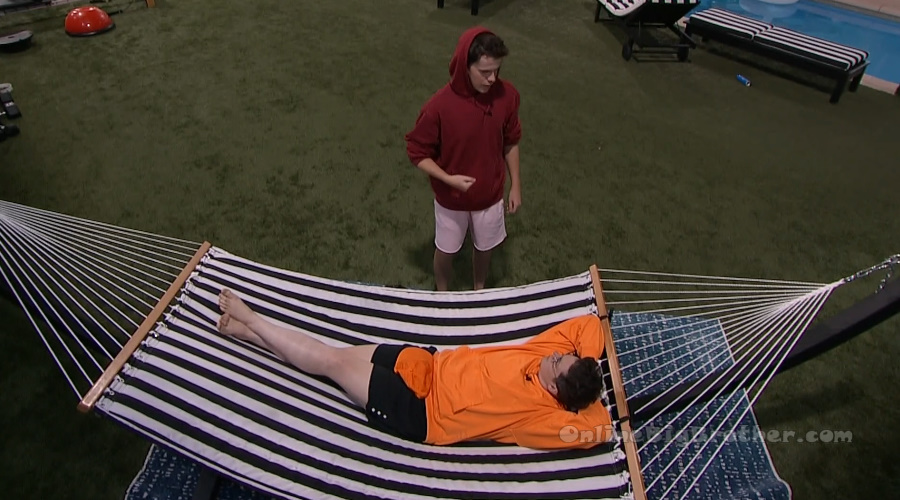 12:40am Hammock – Matt and Izzy.
Izzy – I think everything he (Hisam) is blaming Reilly for he is doing himself. He is blaming Reilly last week for running the house. He is doing the same thing this week so that gives me pause. Matt – and last week it could have been anyone and it would have been the same situation. Its the same story but someone has to be HOH you know what I mean. Izzy – someone has to be HOH and someone has to go home. I mean you're obviously voting to keep her. Matt – yeah. Izzy – do you think Jag and Blue will do the same? Matt – I don't talk much game .. just with everyone. I can't hear the whispers. I just need the one on ones. Izzy – between me and you Matt, you're not someone I would want to target. Matt – same. Izzy – which ever way it goes I hope we can find ways to work together.
1:35pm – 1:50am Bathroom – Jag and America
Jag – it makes sense he (Hisam) is in power right now and he can't play HOH next week so he is trying to cover his a$$. America – but we're all going to be in a huge alliance with Hisam next week? Jag laughs and says yeah. He talked about unity and all of us being chill and the best way to be chill is if we're all in the same team. America – a 14 person alliance. Its never been done before in big brother .. he is a genius. Jag – that would be fun. No for real though we will have to see what happens this week. A lot of what happens next week will be dictated by.. America – who wins HOH. Jag – well who wins HOH of course but how voting goes this week. If she stays that is going to change the dynamics for the next however many weeks. Like if they start going after each other .. that is very different than if Reilly leaves and Cam is in it is just going to look really different. I do think we have to be able to get along with that side as well. We will try and get the votes and if we can't .. then there is no point.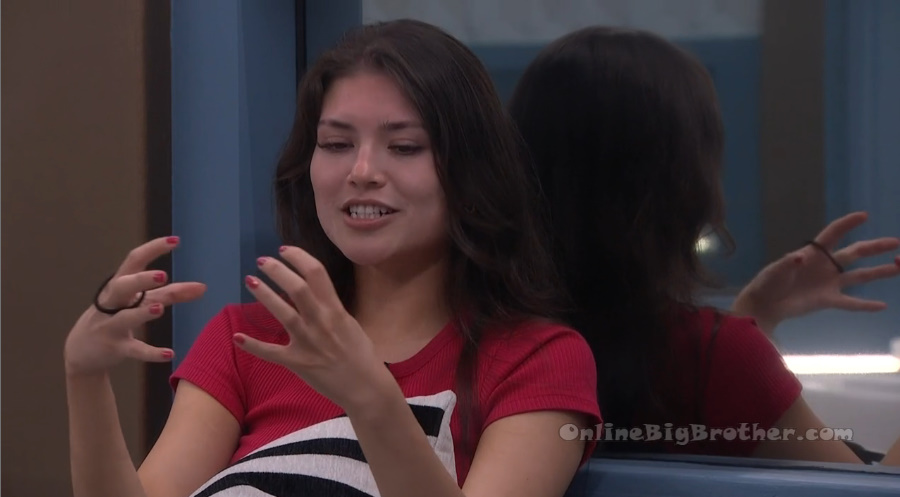 2:08am All cams on HG's sleeping.. even though others are still up..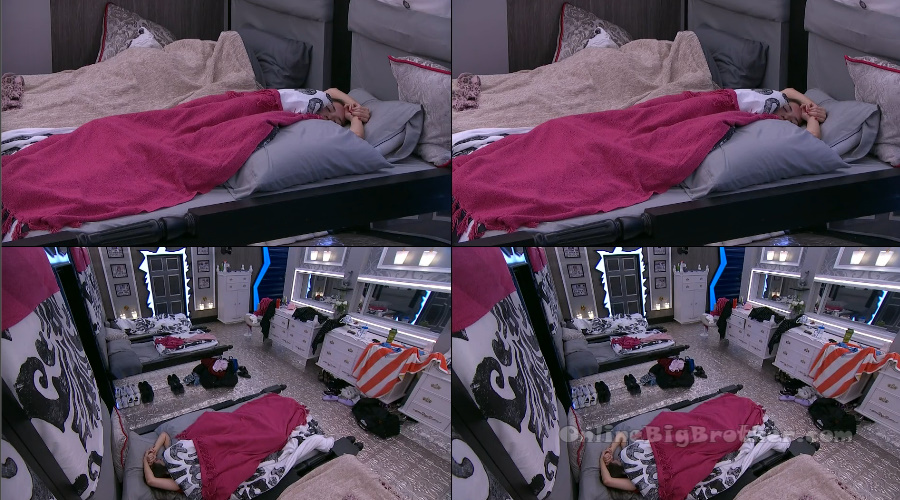 Show your support. Donations help us pay for the site costs to run this site. Any amount is greatly appreciated!
If you enjoy OnlineBigBrother, please consider donating to keep the madness going. Thank You!