POV Holder:
?
Next POV
April 17
POV Used
?
POV Ceremony
April 19
HOH Winner
Zach
Next HOH
April 22nd
Nominations:
Godfrey and Jordan
Have Nots
Godfrey, Sarah, Jordan, Bruno
POV Players
?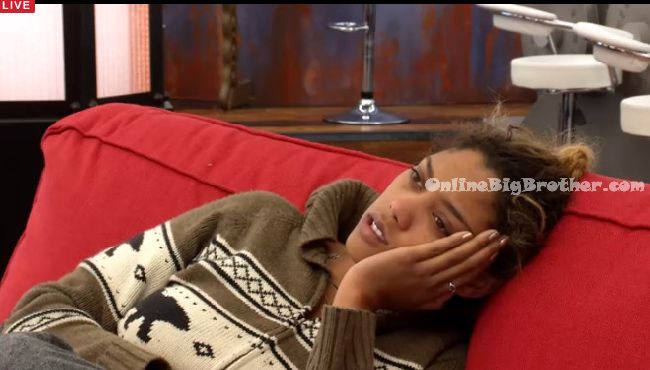 8:30am – 9:10am Big Brother wakes up the house guests. Brittnee starts passing out the new batteries to everyone. She talks to Sarah about how all last night people kept getting up and opening/closing the bedroom door waking her up. She said that Kevin and Pilar kept getting called out by Big Brother too. Sarah comments on how Big Brother also locked the havenot door during the night and says it was scary. Up in the bedroom – Britt talks about how Big Brother was in the house last night. Willow says a 3 day POV comp great! In the living room – Sarah says when I couldn't get out of there I kind of panicked. Brittnee says that JP asked me if he gets house guest choice can he pick me. I don't know why he wouldn't pick Kevin. Jordan comments to Bobby how they're (Big Brother) still working on that comp in the backyard. Jordan says it must be the greatest comp of all time.

9:15am – 9:45am Up in the HOH room – Ashleigh, Zach, Jordan, Brittnee and Sarah are hanging out. They talk about what cars they drive and accidents they or their friends have been in.


9:45am – 9:55amBrittnee asks Sarah if she thinks the POV will be today? Sarah says yes. Brittnee says yeah it makes sense now why he (JP) would pick me now. You don't think they would backdoor Kevin do you? Sarah says no, but our deal is we have to get close to Kevin. Sarah comments on how pretty Zach is sitting. Brittnee says its working fine now but it sucks we're stuck with girls that are incompetent.. well not incompetent but.. Sarah says maybe not, maybe they're just doing what they think they have to. Sarah says right now Parhar listens to Zach way more than he listens to us and I have no idea why.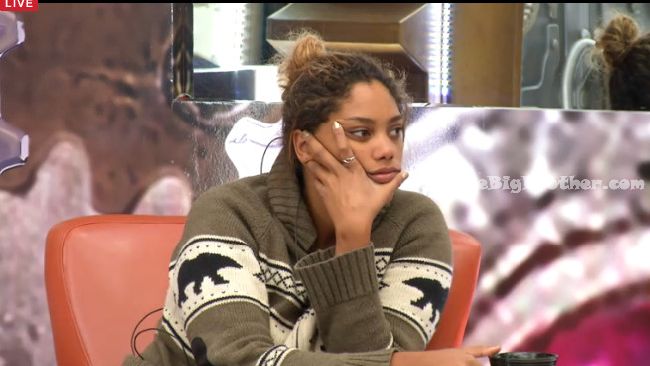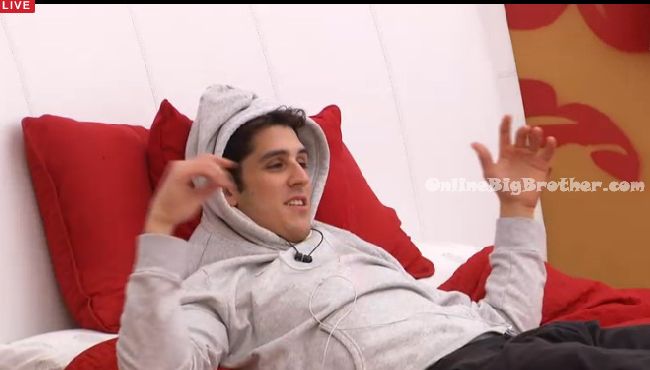 10am Zach tells Kevin – this is a tough move for me. Bruno and Bobby were like ride or die. Saying We have to get the little Canada's player (Kevin) out of here. Zach says now I have to put a knife in their backs. It's going to be hard but I'm with you. You and me will have to go hard. We can kill comps. Kevin says we've got this. They're so in the dark. Zach says it's pretty hard for me right now but we've got it. We're on the same page.
10:15am In the kitchen – Willow comments to Sarah that she has to stop making slop for people. Sarah says I made it the other day it took 45 minutes, I left the room and it was all gone. Willow tells her not to make it. Someone else will make it. Sarah says not for me. Willow says ask Jordan. Sarah says I'm not going to tell him I'm hungry. In the living room – Godfrey and Jordan are playing the game Kevin taught them.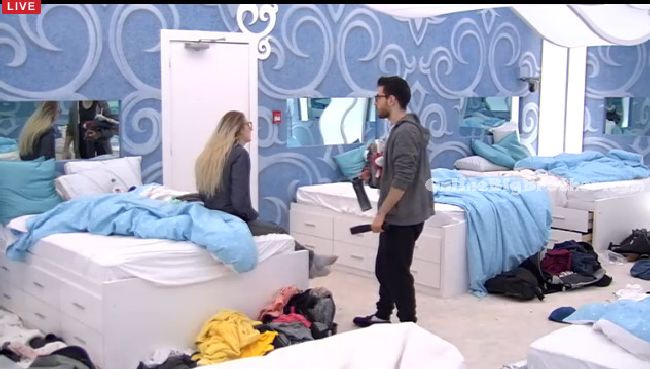 10:35am – 10:55am Sarah and Jordan talk in the bedroom. Sarah asks Jordan if Ashleigh knows about the "Purple Cobras" (Hexagon alliance) and Jordan says no, as far as I know she doesn't. I don't know if Zach has told her everything. Sarah says so Ashleigh is under the assumption that you and Zach are just super super close. Jordan says yeah. Ashleigh joins them. Sarah asks how Zach is doing. Ashleigh says he's nervous but he knows he has to do it. It's going to be a weird 3 days. I just keep telling him that this move he's making is going to gain him so much game respect. Sarah says and you know if he didn't make it he would be next. And when you're HOH everyone kisses your a$$ so hard so you think you can trust everyone. Ash says I honestly wish it was an Instant because 3 days of living with a backstab. I feel bad even complaining because it's Zach that needs to deal with it. Zach just needs to pull him (Bruno) aside and explain to him why. He's level headed. They talk about how close Godfrey was to winning the HOH and how they don't know what he would have done. Ash and Sarah laugh about how Zach's speech to Godfrey being nominated was "Godfrey Nap Time is Over". Sarah asks if the POV will even be today. It doesn't say on the board. Sarah says its gross to say this but the logic is there that if he's not going to win.. only one person can win.. Ash says that he needs to go home to his family before jury. He has an emotional connection with everyone in here. There is no way he wouldn't win if he made it to the end.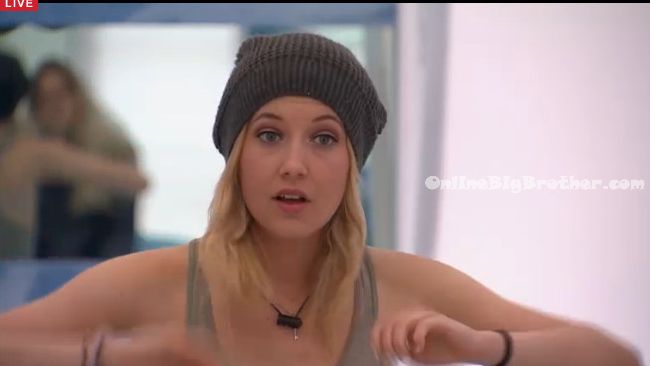 11am Up in the HOH room – Sarah and Willow are hanging out. Sarah says I miss Johnny. I miss Naeha … I even miss Graig. Willow says I don't miss anyone! They're all dead to me! Sarah then brings up how Graig made her cry.
11:30am
Willow helps Sarah take the hoodie off so that her boobs don't pop out.
Up in the HOH room – Kevin, Britt, Zach and Willow. Willow talks about how she wished she could have been in season 2 with Jon. It would have gotten messy with Neda and him having a girlfriend at home. They talk about all the kissing they've been doing. Zach says if you're a confident guy you can kiss another guy and it not mean anything. Zach brings up Godfrey blacking out when he was drunk. He was so hungover the next day.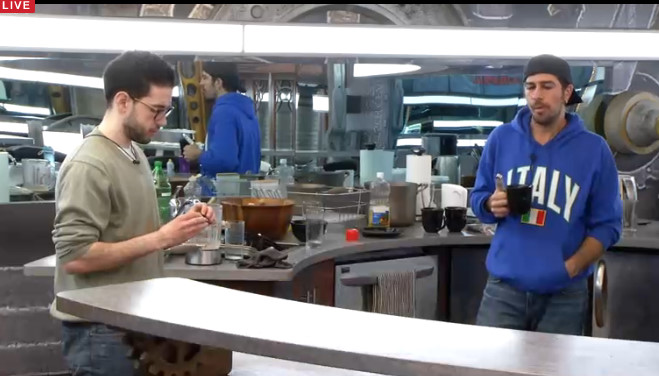 12:20pm In the kitchen – Bruno says if he (Kevin) doesn't get drawn that would be perfect. Jordan says this could be the one that he doesn't get drawn. Jordan says yeah because if he doesn't get drawn then no one is even going to care about winning it. Bruno says either way you're fine. I kind of get why he picked you but did he not want blood on his hands? Jordan says yeah that's how he explained it to me. I asked if that's what he wanted to do so I said if thats what you want. Bruno says I was just so surprised. I thought it would be the two girls. Jordan says maybe he thought it could be a mental one that maybe I could win. Everyone has to go up at some point. Bruno says I would love to get this draw done.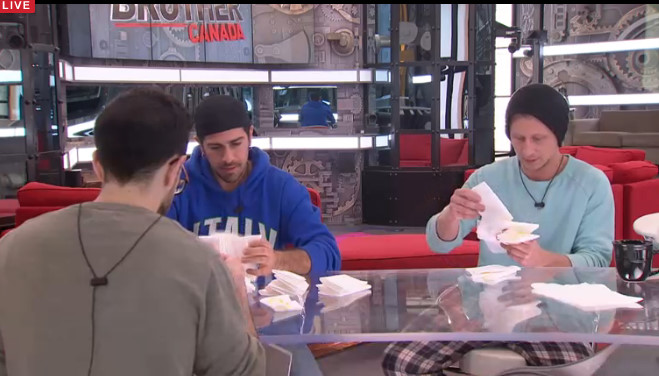 12:50pm Bobby, Bruno and Jordan start playing cards at the kitchen table. Meanwhile up in the HOH room – Pilar and Ashleigh are taking a bubble bath together. Pilar says she really wants to host the POV. Ash talks about how its nice to have the HOH room and not have people comment on them kissing. Pilar asks Ash if her and Zach did anything else. Ash says no. Pilar says would you tell me if you did? Ash says yes. Pilar asks no more of this. She makes hand gesture. Pilar asks do you like him? Ash says I feel like you're in the same situation as I. Its a weird situation to be in. Pilar says I really like him too. Ash says its hard for me to let down my walls let alone playing a game. Pilar says I trust you, Kevin and Zach. Ash says me too. I trust JP too but not as much. Pilar says so everyone knows we are backdooring him (Kevin) but I wonder if they know I know? Ash says I don't think so. It is going to be so awkward. Ash says next week it has to be me you, me, Kevin, JP or Sarah that have to win HOH.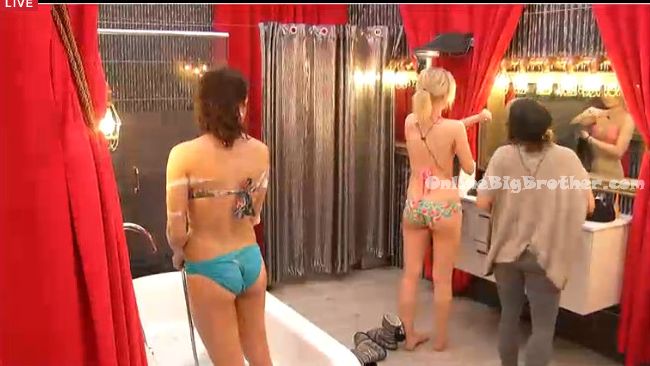 1:10pm Kevin asks does will know? Zach says in the alliance there's Bruno, Bobby, Willow, Ashleigh and me are in the alliance. When we blow this up …right before I will pull Willow aside and talk to her. Bobby enters the storage room and interrupts the conversation.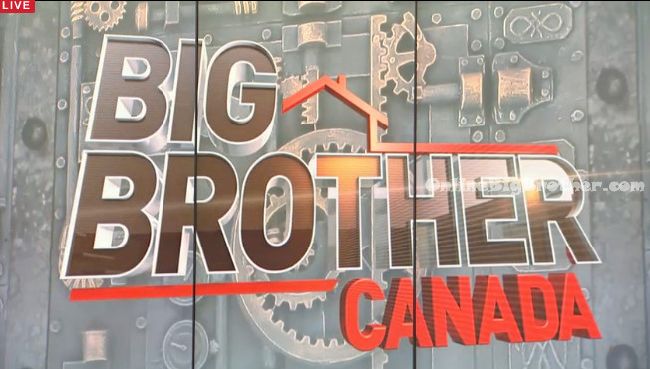 2pm
The house guests hear the construction still going on in the backyard. Sarah comments "I can't believe they're still building! Willow says I know its scary. It's going to be a crazy set up.
ALLIANCES IN THE HOUSE
There are always a lot of Alliance but we've tried to make sense of it all.. Read our alliance help guide
[polldaddy poll=8803897]
[polldaddy poll=8797487]
[polldaddy poll=8803903]