Head of Household Winner – Memphis
Have nots – Cody, Christmas
Nominations –
Power of Veto Players are –
POV Host: –
Power of Veto holder –
Power of Veto Ceremony –
Powers – Christmas, Dani, David
Live feeds —-> Grab your Live feeds here. Try it free.
Rank the houseguests —-> Big Brother 22 Ranking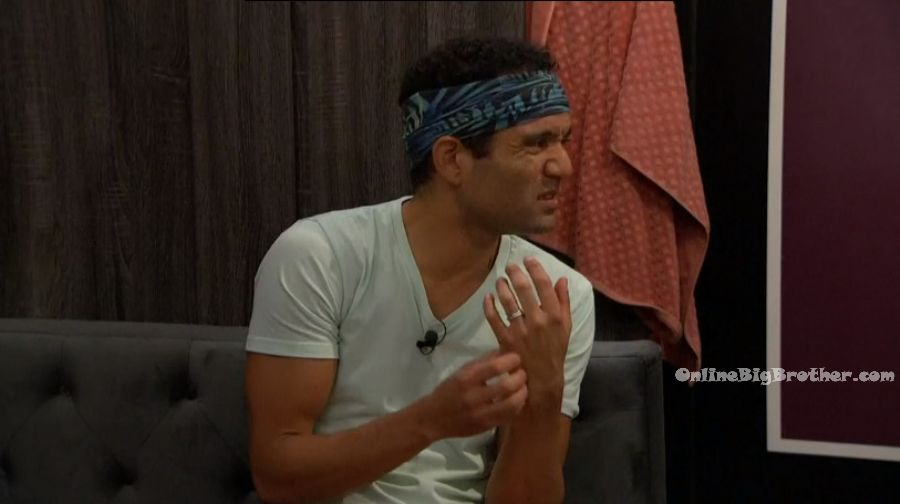 9:12pm Bedroom. David, Enzo, Kevin.
David – there is no justice in this game. Emotions are high. Emotions are low. Couldn't win HOH. Tried! It is what it is! Enzo – YO I sucked at it too! F**k me! Yo he demoralized me winning the way that he did! Kevin – me too! I was like am I that terrible of a person! Enzo – he is going to win the whole season. Enzo – I am demoralized right now .. it is going to take like two days to get over that. David – got me yelling. I never yell in this house. Enzo – yeah I didn't know what you were saying. I didn't know what that meant. I didn't know what the f**k was going on. Kevin – there was a lot of tension. Enzo – I don't want you to feel like that. Kevin – why do you think Christmas was mad too? Just because of being havenot? Enzo – just because of being a havenot. And I think there is tension between her and her. David – I thought Christmas would expect that. Enzo – I thought all week she was saying she was going to pick you. They talk about how Ian was threatening to not give people his jury vote if they didn't vote to keep him but changed his mind about it. Enzo – two HOH's right now .. that's big!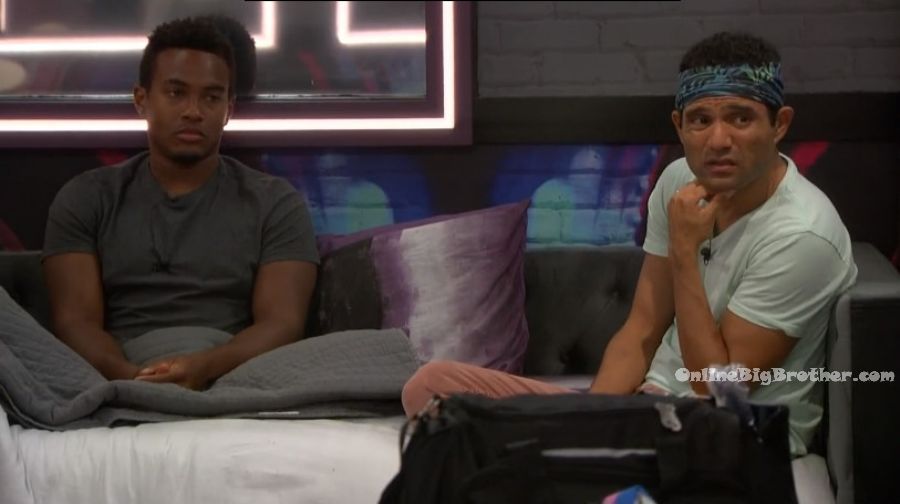 Bedroom Cody and Dani.
Cody – picking Enzo again would have been almost perfect. You were a havenot and then Enzo was the next one he would pick. That would have been easy .. and Enzo is Enzo. Dani – did he say anything to you. Cody – he tried to say something to me but I walked right past him. It was a minute and a half after he picked me and I was like YO I don't want to talk to you right now. Dani – Christmas is furious. Cody – I was like can you just calm down and not do any of that. Like just don't do it. Please don't do it. Dani – she is painting such a big target on herself lately. She is f**king annoying everybody. Cody – whatever! Dani – me included. Cody – Memphis is winning comps. Am I still the one doing everything. Dani – what were you guys talking about. Cody – all I want is for Memphis to not target David this week. It would be such a waste of a week. Dani – I think he will put up Kevin and David. Think about it there aren't that many people outside of the committee. Cody – if they're sitting next to each other ..there is no way I am sending David home. Dani – if it comes Thursday I think Kevin needs to go. Dani – 100%. Cody – if he has a relationship with Day .. I would understand but why wouldn't he put up Day and Kevin. Dani – but David has been actively coming after Memphis. Cody – on a million different scales David is the wrong person to go home. Dani – Memphis literally thinks that he is a mastermind.. the best player all around ..like a big brother god. Cody – he is a really dangerous competitor. Cody – out of 7 HOH's we've gotten 6! That's insane! I want to talk to David .. like what caused that yelling.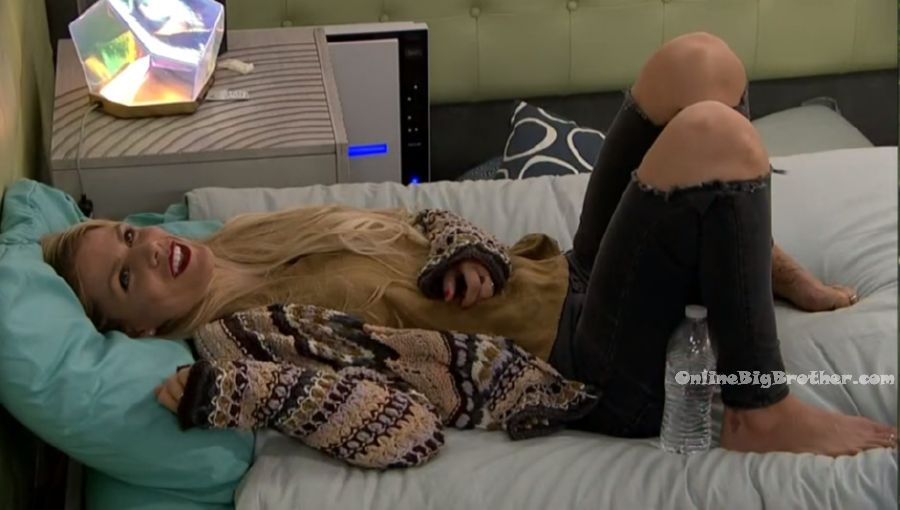 9:57pm Bedroom. Cody and Nicole.
Cody – I don't think Enzo would want to send David home this week. That would be such a f**king waste. DaVonne or Kevin have to go home. Nicole – who do you want? Cody – Day or Kevin. Day preferably over Kevin but like one of them two have to go. I am just tired of the constant.. like Kevin is spiraling. And Day is the one that pin points and gets different things. Nicole – she is smart. Cody – and she knows all the sh*t. Nicole – David went up to Memphis like three days ago and said can we keep up this charade of you and me not liking each other. Cody – oh sh*t that's a good thing. I want to keep him off the block. I am just going to drive home all the points of if .. David going home is not the play. Kevin and Day are super tight .. why would we not split them up. Nicole talks about lying to Ian and how her mom is going to kill her. Lying is hard to do. Sometimes it better to not know what the hell is going on. BB16 was more fun.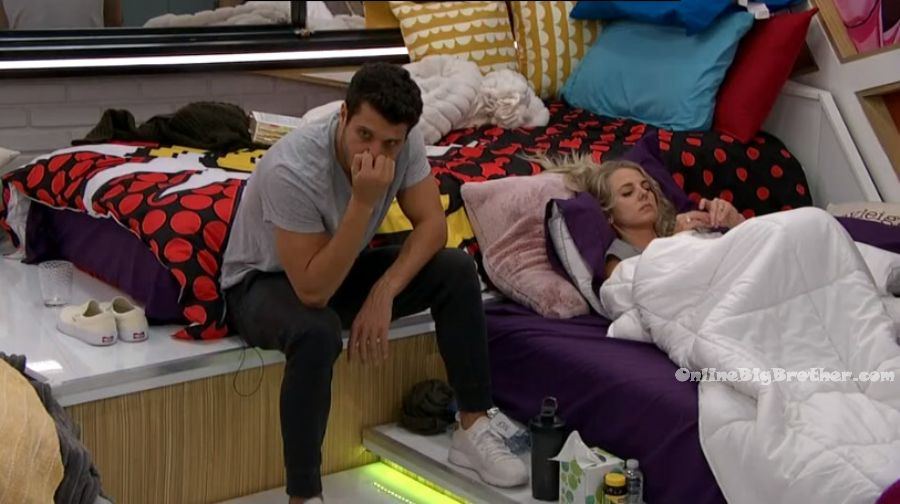 10pm – 10:20pm Bedroom. Kevin, Christmas and Memphis.
Memphis is talking about the night club and restaurant business..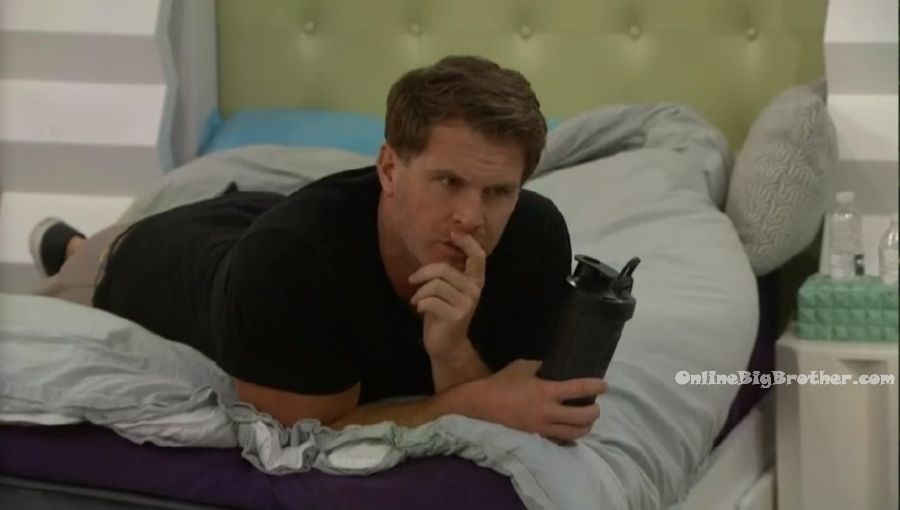 10:22pm -10:50pm Lounge room. Cody and David.
They talk about havenots. David – I see myself working with you. Cody – yeah bro! You keep dogging me! What the f**k! David – no one would ever see that I'm working with you. Cody – yo! F**K that! We're past that now! David – you think so? Cody – yeah. You keep dogging me bro! David – I dogged you once! Cody – I'm a havenot! Yo, I didn't know what was going on last week. Like you were all over the place. Like about this vote and sh*t. Like I was hearing different conversations.. where is he at?! I wanted to come grab you and be like what is going on here? David – when you're on an island people keep pulling you. Cody – you're only on an island because you choose to keep yourself on an island. You need to go to people that you feel comfortable with.. and I thought I was one of those people. David – I don't know what Memphis is going to do. Whatever happens happens. Cody – I think you should play up the whole thing to him about like people are going to think that we're after each other.. He cannot f**king target you. He put you up in the second week.. and didn't win HOH for another 5 weeks. There could have been something that you mended. That's what I would always tell you.. go and mend relationships. Putting on a face.. so f**king put on a face. David – I don't know what is going to happen.. I'll just talk to him and whatever happens happens.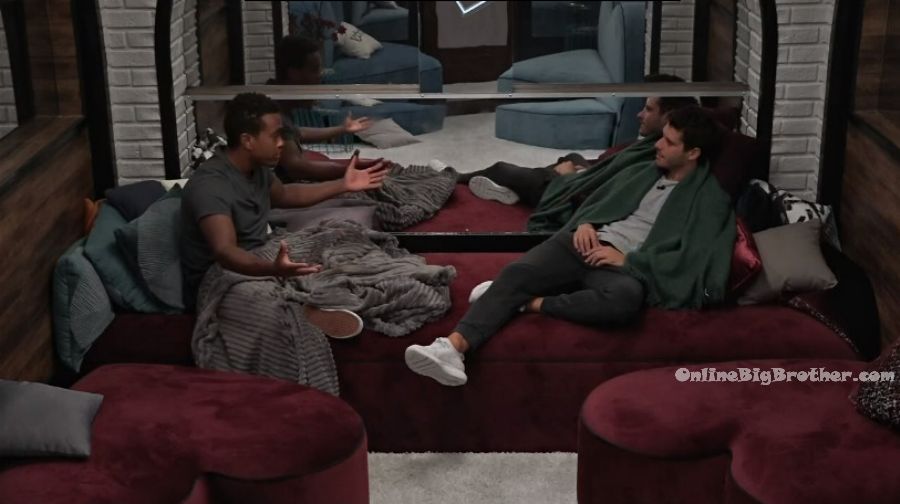 11:14pm – 11:20pm Bedroom. David, Christmas and Nicole.
David apologizes for yelling and stuff. The chat about random things and then David leaves. Nicole – I want him to stay. I want one of the others ones to go (Kevin or Day). Christmas – I don't think he is his target anymore. I think its between Day and Kevin. Nicole – good. Kevin. Christmas – yeah, I mean obviously its one of those three (Kevin, Day, David). Nicole – yeah. Christmas – I am going to talk to him (Memphis) tonight once he gets his HOH. They're (Kevin and Day) are.. Nicole – too close. Christmas agrees. They need to be split up no matter what. Nicole agrees. Christmas – and Memphis sees it. Nicole – he listens to you. Just tell him. Please tell him that they're really close. Christmas – I know .. he'll see it. Nicole – I want Kevin gone but if one of them wins the veto then we'll get the other one out. Right!? Christmas – got you. I think he would pick Kevin. Nicole – I think so too. I need to get a win so I can feel confident.
11:42pm Big Brother blocks the feeds for Memphis HOH reveal…
12:06am The live feeds return.. Memphis is in his HOH room reading his letter. Tyler brings up his HOH basket food / alcohol. Tyler – you're jumping with 4 tall boys.. you better not show Enzo that! Your HOH letter gets me every time! Congrats brother!
Meanwhile in the bathroom – the other house guests sing Kevin Happy Birthday.

12:23am Bedroom. Enzo and Cody.
Cody – DaVonne or Kevin have to go. I would prefer DaVonne but one of them have to go. One of them has to go but Kevin is saying so much about me. I was talking with Dani and she said she wanted Kevin out. I'm like no Day. The four girls (Day, Dani, Nicole, Christmas) have an alliance. Christmas doesn't give a f**k about us. Enzo – if Day is on the block .. you, me and Tyler .. (3 votes) she is gone! Cody – I was telling David to mend his relationship with Memphis .. then we can use David to target Memphis. Even if David is on the block next to one of them.. they're going! Enzo – yeah. I want Day out YO! I think Dani is going to get in his f**king head YO! Cody – I'm going to be in.. I'm going to be all over that. Enzo – Memphis wants to work with me and you. Cody – 100%! Memphis said he wanted to make a final 3 .. so watch sometime he is going to try to seal in a final 3.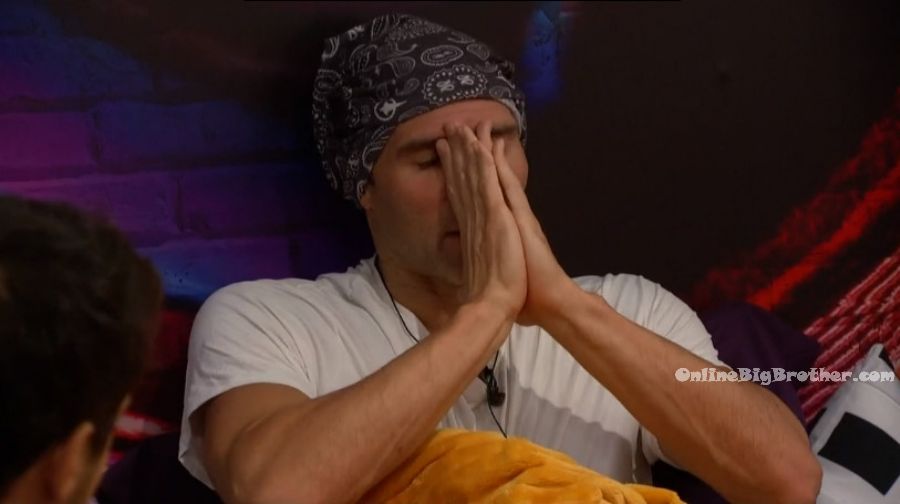 12:35pm Bedroom. Tyler and Day.
Day – first of all congratulations. Tyler – I thought I was done! Day – So who do you think were your votes? Tyler – you, Kevin, Dave, Enzo and I think Cody. Day – are you sure David voted for you? Tyler – I don't know why people think he didn't. I think there is something weird with him and Memphis. Day – he told me that there was a plan to split the votes so that Dani would have to break the tie. He was like I have 3 .. I need you to be the fourth. Tyler – to vote me out? Day nods. I asked to vote out Tyler to be clear and he said yes. I asked who are the other two votes and he said he couldn't say. Something about this vendetta he has with Dani. He was like I want Dani to get blood on her hands. Since that thing between me and you his word doesn't mean sh*t to me. After when we were in the kitchen and you were high fiving him … then I said don't be giving him credit for my vote. Tyler – I need to ask around to find out who the other votes were. Day – just be careful with that one. Don't tell him.. because I don't need that drama.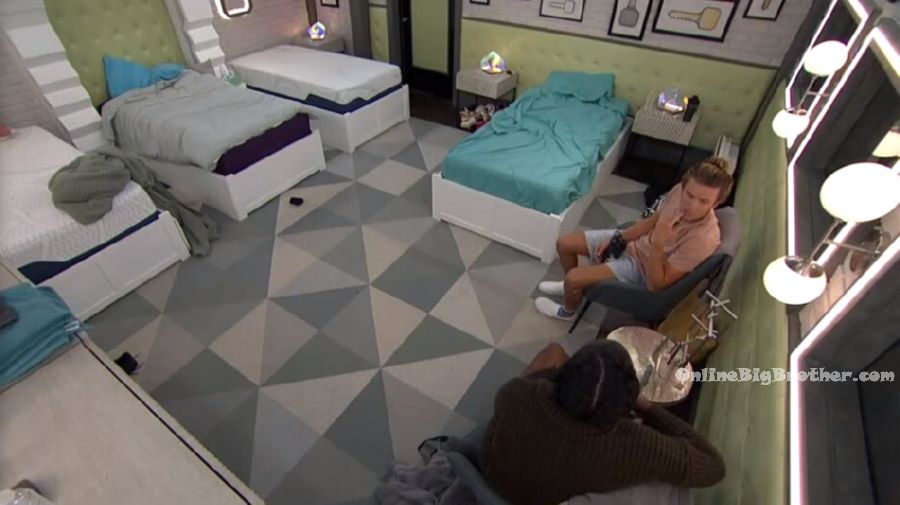 2am The house guests chat about random things in while lying in bed…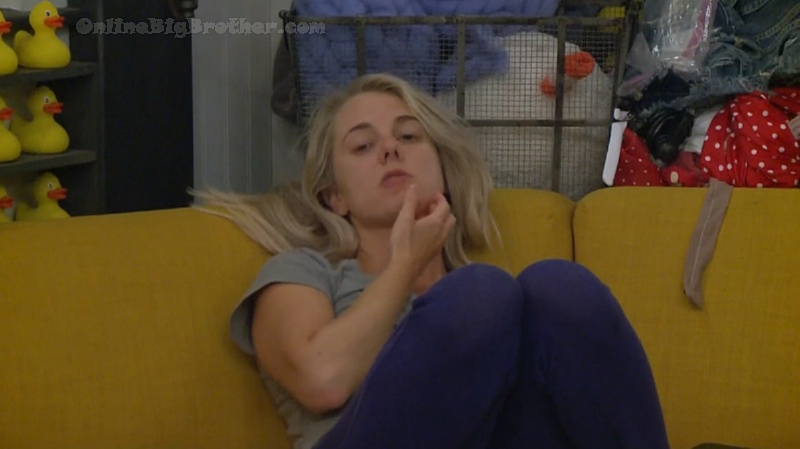 2:25 am Nicole and Dani
Nicole saying she doesn't want to feel like this again. Adds she doesn't think there was a way to prepare for this.
Nicole – I'm just trying to figure out how to avoid it.. what to do that way we can live with ourselves
Dani – it's hard to say it's just a game its more than that. trust me I feel all of it. It's killing me.. killing me.
Nicole goes on about not wanting to Hurt people's feelings "I don't want to do that"
Coins – I'm trying to be over cautious of as many things as I can I get blindsided so many times by things that I feel.. I feel .. I'm trying to think of the words I'm thinking of. I feel defeated because I want to.. I want to be myself in this game and like I haven't been able to.
Dani – we have to be ourselves as much as possible but you can't be yourself in here because we're not freaking liars and deceivers in our real life. It's so weird for me I'll sit around the day time like today and i'm ready my bible and just feel like.. it's so weird to me and like praying at night to keep my strong give me wisdom in this game.
Dani – I'm literally praying for god to help me be a liar . it's so weird.. so weird..
Dani – it's really hard for me to separate game from personal. it's really hard.
They agree this will be a good week.
Nicole whines that her family saying they are proud of her but they aren't she knows it's a lie
Nicole – Da'Vonne is in here, My mom was so grateful because she voted for me to win she said don't you ever cross her
Coin slot cries…
Dani – Yes we set her up to an extent also at the same time who were we trying to get out.. Kevin then David. we're not trying to get her out make her feel guilty
Dani – i'm trying to save my butt with her, with Ian with everyone else at the same time i'm literally not trying to destroy her game. I was begging her four days ago to not use the veto to help her save her game she wanted to use it because she thought it was better everyone was like that's the worst game move hwo she put a huge target blah blah blah
Dani – I've literally done everything I can to try and help her like this last week.. (ZOMG)
Nicole – that's true
Dani – there's only so much you can do ? (You made another fake alliance with day and tried to convince her not to use the veto so you can send her number 1 ally out the door. Sure it was Kevin but it's all she's got.)
Coin slot – it's true
Dani – I don't want her on the block and I don't want her to go neither
Coin slot – I don't want her to go neither BUT if she catches wind about that.. she so smart we're doomed..
Dani – she won't OK
They laugh that people think they are doing things to help themselves but they are really helping them.. (them trying to convince Day/Kevin.David to vote out Ian)
Coin slot – people are so clueless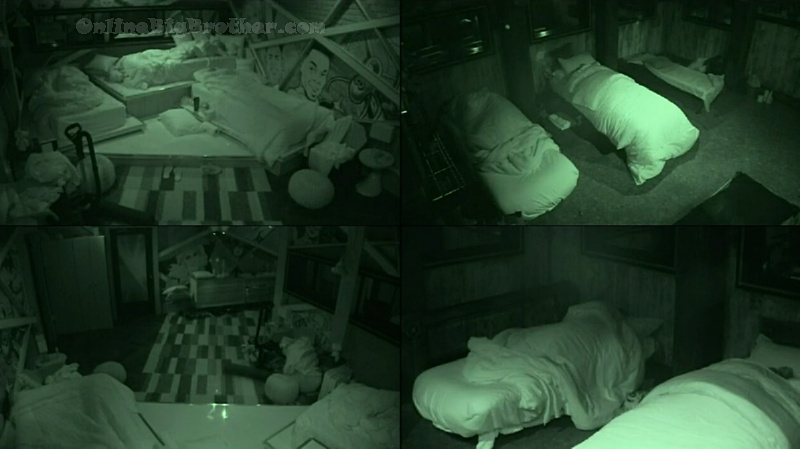 7:32 am sleeping yo
Show your support by making a donation.
If you're enjoying our live feed updates this season, please consider donating.
Any amount is greatly appreciated! Your donations go directly to paying the fees required to run this site.