HOH Part 1 WINNER: Tyler
HOH Part 2 WINNER: Kaycee
HOH Part 3: Tyler Vs Kaycee
10:30am zzzzz
11:11am crafts..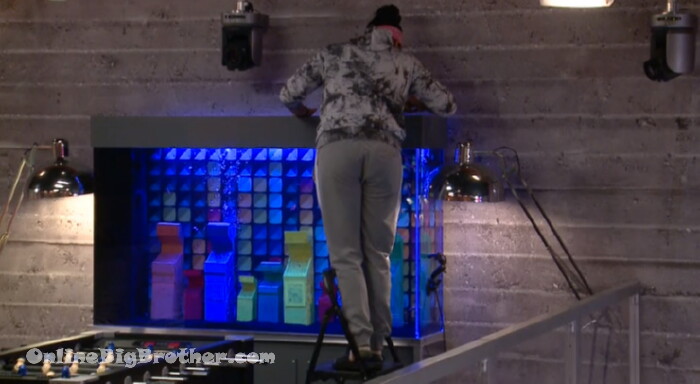 11:34am last feeding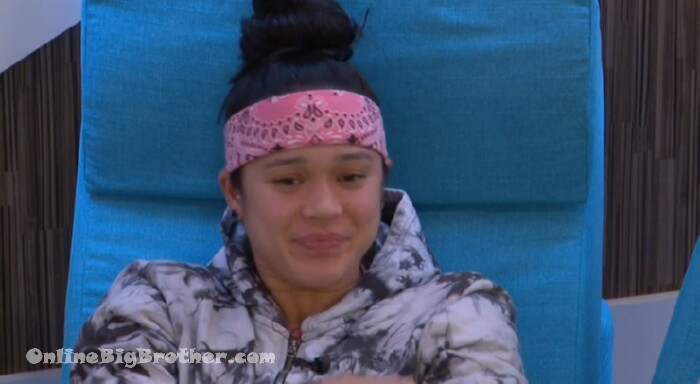 12:49pm chit chat..
Jc – I see myself hanging out with.. of course with you.. Rachel and Angela..
Kaycee – not Kaitlyn? Haleigh?
Tyler – you live just down the street from Kaitlyn don't you
JC – Kaitlyn lives right around here I live in west hollywood
Kaycee – I think you would hang out with her
JC – if she wants to .. she took off my f*ing sweater.. that tells you a lot sometimes you don't need someone to tell you I don't want to hang out with you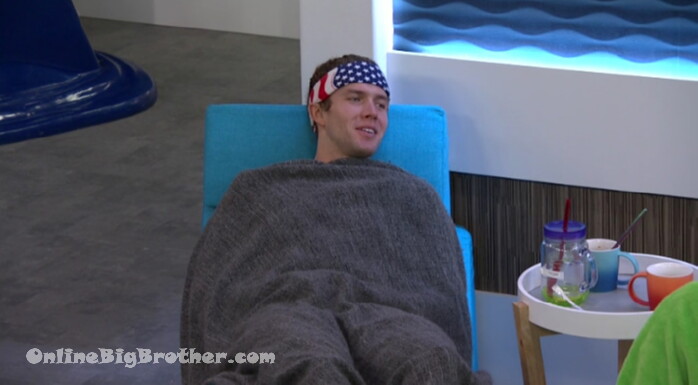 2:23pm kaycee and Tyler
Kaycee talking about Jeff from Big Brother 11 and Big Brother 13. Kaycee mentions that Jeff flipped out on someone during BB13 and he was "in the wrong' (the time he flipped out about Dumbledore being gay and a teacher. Jeff didn't think that was something appropriate)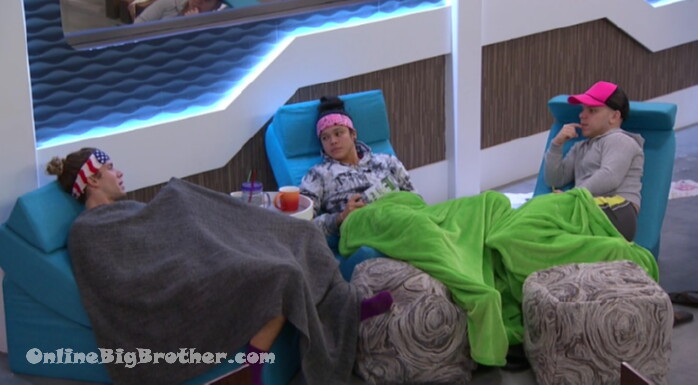 2:49pm Kaycee, Tyler and JC
Talking about Kaitlyn running around telling everyone she fallen in love with them (Fes, Brett and Tyler)
Tyler brings up that KAitlyn thought Brett had a power and was able to flip two votes. this was during the "Winston and Brett vote"
T – I just looked at the camera..
Kaycee – they probably show her following you around
T – yeah
Kaycee – like on your a$$… on your a$$
T – all the time constantly
JC – poor Kaitlyn, do you think she feels played
Tyler – Yeah
JC – do you think she'll talk to you
Tyler – Yeah
Tyler says he likes Kaitlyn as a person, " I enjoy her company.. she's fun she's crazy"
Kaycee and JC agree she was funny.
Kaycee – she'll be cool at the club and sh1t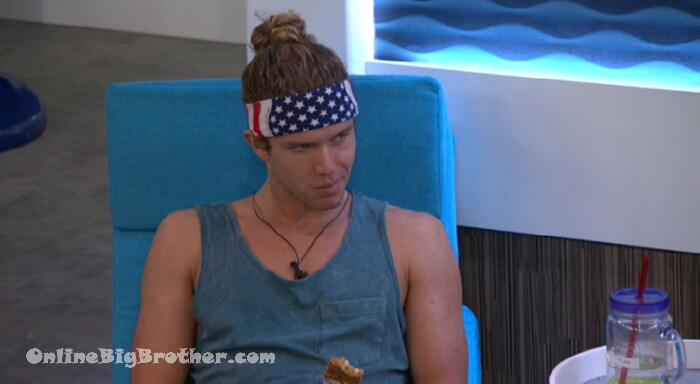 3:13pm Tyler and JC
JC – I'm getting really scared just thinking about getting out of here
T – I know, I was really scared yesterday but now I feel good
Tyler – it'll be fun
JC – I'm getting out of here in a limbo (I thought he said limo at first.. lol)
Tyler in a LIMBO?
JC – in the limbo .. that means getting out of here literally not knowing what to do with my life
t – me too
JC – it f*ing sucks
Kaycee joins them.
JC – I wonder if Rachel will follow us on Instagram
They start talking about the wrap party and how their parents will be there.
Kaycee says her dad doesn't drink "I never drink around my dad"
Tyler mentions his mom doesn't drink as well
Tyler says he left home at 18 his mom has never known him as an adult.
JC – my parents don't know me at all. like at all
JC – if my dad knows what a gay plug means and me going around gay plug this and that he's never going to talk to me again.. that's a no brainier like never talk to me again.. I never told..
Feeds cut..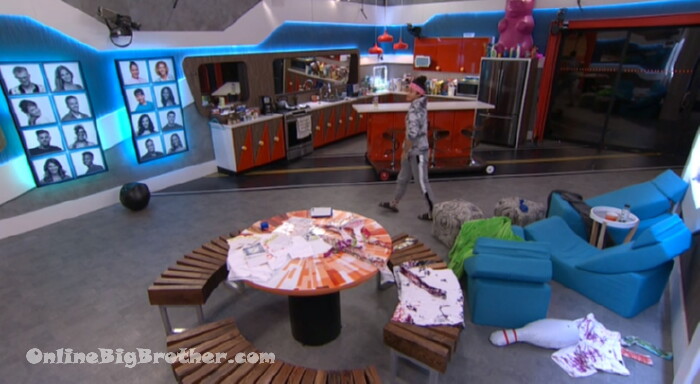 4:10pm It's like Sam's still in there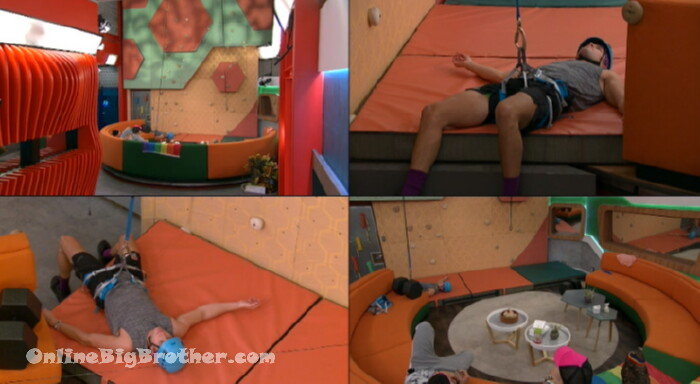 Final Climb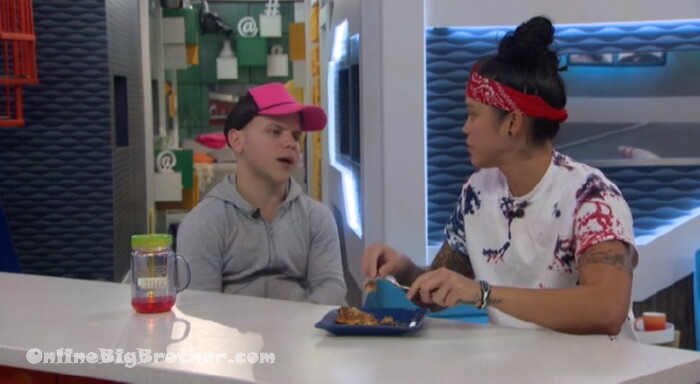 6:35pm Kaycee and JC
JC says he doesn't want to be blindsided
Kc – I have no idea what is going to happen
JC – I feel really down just leave it at that
KC – Yeah.. I need to win this that's all (final HOH)
JC – I don't know if I am cool with you or not just I told you.. It's better for your game
JC – If you think you will win with him than go for it..
KC – I know dude it's so sh1tty I love both of you guys..
JC says he's really not that good with the jury. JC says after Angela told him he's not good "with them"
JC adds that Angela is probably campaigning hardcore for Tyler.
JC – just have these things in your head.. whatever happens we'll all be friends..
JC says they think he's the "little guy that everyone loves" but he's not they all hate him
JC warns that Angela is very smart.. "putting in a good word for him.. she's had 1 week to talk to all those people" (Tyler)
KC – yeah.. yeah you're right
KC – we both did wrong to her
last couple hours…. 9:30pm

10:30pm spending time in every room.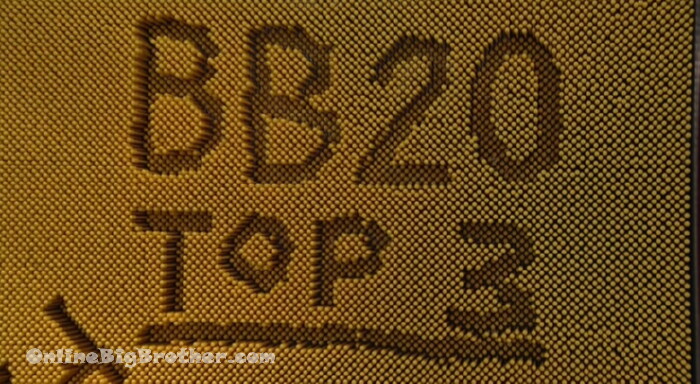 10:50pm JC and Kaycee sing and drum their song. Tyler is their number 1 and only fan.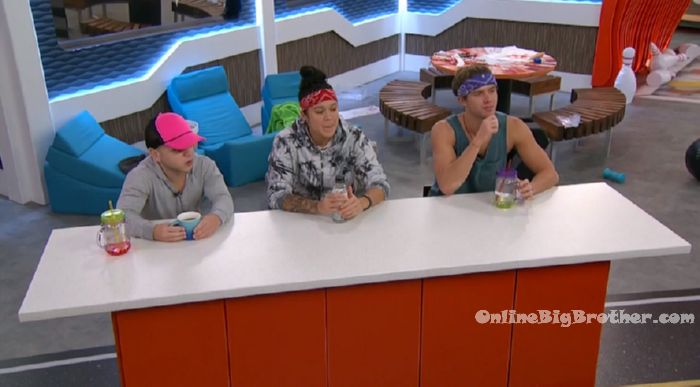 11:08pm
Kaycee – lets tell them something. Tyler – JC tell the live feeders something .. one last time.
JC –
Well live feeders this was the best summer of my life. I am so grateful for this experience. Thank you for watching me doing random stuff for the last 3 months. I hope you guys were able to understand me at least at the end of the season. That's pretty much all I have to say. It was my pleasure to make it to top 3 with these two ladies. I couldn't have asked for any better top 3. Maybe Rockstar and Steve instead.
Kaycee – Well live feeders I really do appreciate you and I hope you guys enjoyed the peanut and all the health nut workouts. And don't be afraid to call me peanut if you see me out on the streets. Its okay ..and I love these two! I love these two girls and I'm glad we could be top 3 together. I can't imagine it with anyone else. And you know what big brother is the sh*t and I love this show. And thank you to all of you amazing people out there.
Tyler – Live feeders .. this is tough.. thank you for watching every single day.. every day for whatever reason .. to watch JC destroy everyone.. mainly me. I really appreciate you guys watching because if you guys weren't here there wouldn't be a show and you guys see it all. So you guys know the real deal. If the show is a little bit different .. you guys know the real deal. And we appreciate you guys for watching us everyday. Its sad to see you go but I love to see you leave. If you see me or any of these two.. make sure you tell me you're a live feeder because there is totally a difference.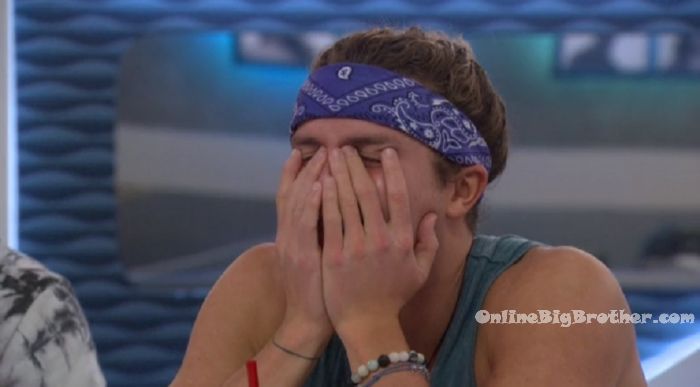 11:25pm – 11:40pm Bedroom. Kaycee and Tyler. Kaycee – are you ready? Tyler = maybe we should tell him tomorrow. Kaycee – we can. Tyler – right before the live feeds go up. Kaycee – yeah, probably do that. Tyler – if you want to? Kaycee – so that we can talk to him about it. So its not a shock. Tyler – I feel like we should. Kaycee – I'm down. Tyler – he's going to be pissed. Kaycee – at least then we can talk to him about it. Tyler – he is smart though.. he will throw out anything. Kaycee – so when do we tell him? Tyler – like 3:30pm or 4pm? What do we say exactly .. like day 1? Kaycee – yeah. Tyler – I think we owe that to him. He doesn't deserve to be blindsided. Kaycee – I'm down. Tyler – as close to the show as possible. He said that he has Angela campaigning hard for him.. to vote for you. Tyler – I hope she isn't .. they don't like Angela so it would work against us. Kaycee – he is going to be so pissed. Tyler agrees. I think he actually expects me to pick him more than he expects you to pick him. He is going to know regardless so we might as well tell him. Kaycee – we made it. Lets have fun in this part 3. Win or lose we both accomplished so much. Tyler – we made it. I am not even worried about jury sh*t… just say my speech and whatever happens, happens. Kaycee agrees. Kaycee says her speech will just be general sh*t. I am going to say something about me and you. And Level 6 + JC. Its going to be good. Lets just get it over with.
They agree they want to walk outside (walk out of the house on finale night) together holding each others hand up.

JC to Tyler – I am so nervous. If she wins and picks you .. that is okay. You know you have my vote. I would do anything for you. Tyler – same for you. JC – I told her to do what is better for her game. I just feel like I should have won that. Tyler – don't beat yourself up. That doesn't get you anywhere. JC – I really think you're going to win tomorrow. Kaycee joins them.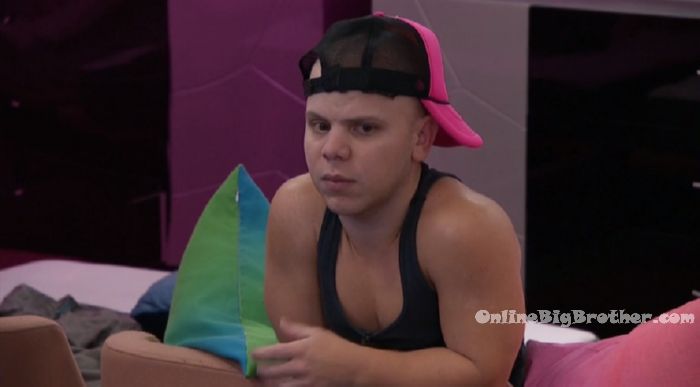 12:20am The house guests go to sleep for the last time in the BB house..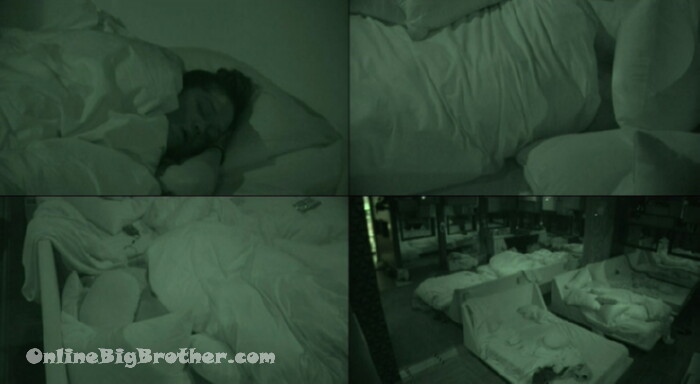 7:50am zzzzzzzzz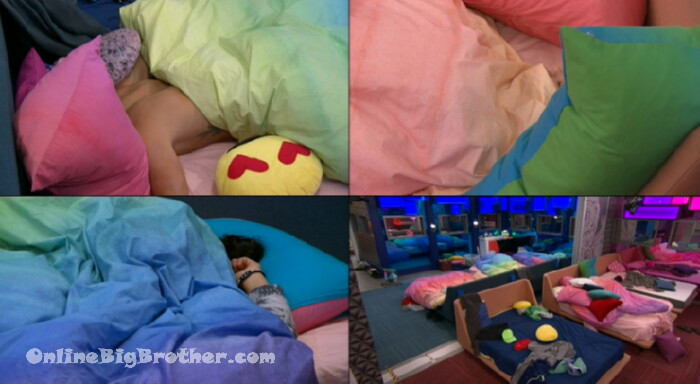 9:27am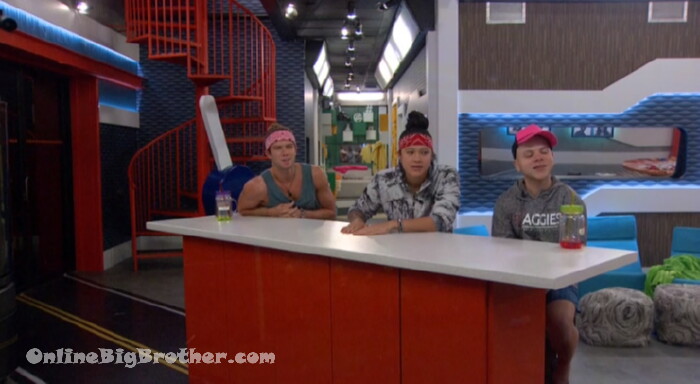 9:58am Final 3 saying goodbye to us unwashed live feeders.. \
JC – it was my pleasure giving you guys a show every single day I hope you guys are happy with top three we're doing the best we could
Tyler – we appreciate you watching us because it makes us feel loved.. Even when you guys are probably hating on us hardcore all the time
Kaycee – We love all the haters we love all the lovers.
JC – thank you so much for supporting my relationship with Tyler..
Tyler – thank you so much for tuning into my life being destroyed (poor baby wounded bird)
JC – hashtag JAYLER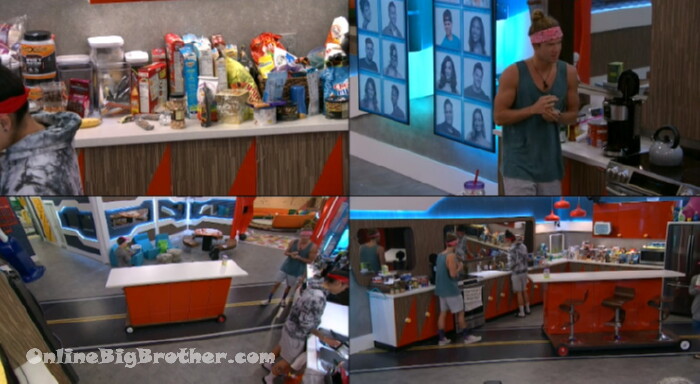 Last shot of the feeds…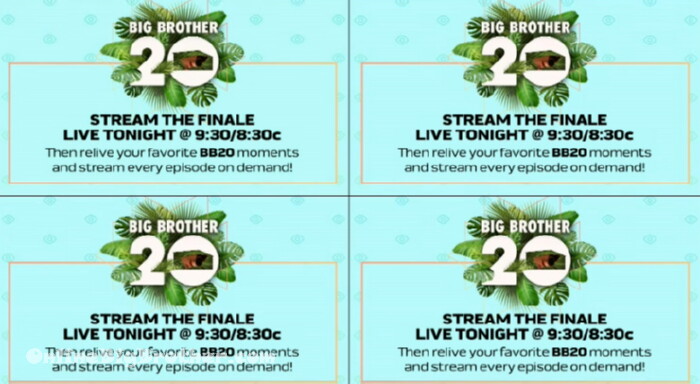 Thanks everyone for supporting this site we couldn't do it without you. Great season!
One easy way to support the site if you are an amazon shopper is to make your purchases through our link. You pay the exact same thing but we get a small % commission. It doesn't cost you anything and helps us out.
Amazon Canada
Amazon USA