HOH Part 1 WINNER: Tyler
HOH Part 2 WINNER: Kaycee
HOH Part 3: Tyler Vs Kaycee
Not Much happening.. Kaycee and Tyler are going to the end. Finale is Wednesday. Let us know your predictions in the comments. AFP, Winner, who will be the most annoying on Social media, Who will get the most hate who will get the most love?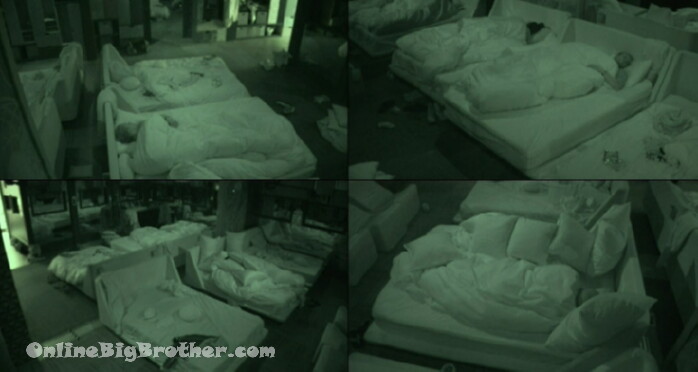 9:06am zzzzzz
10:05am Wake up time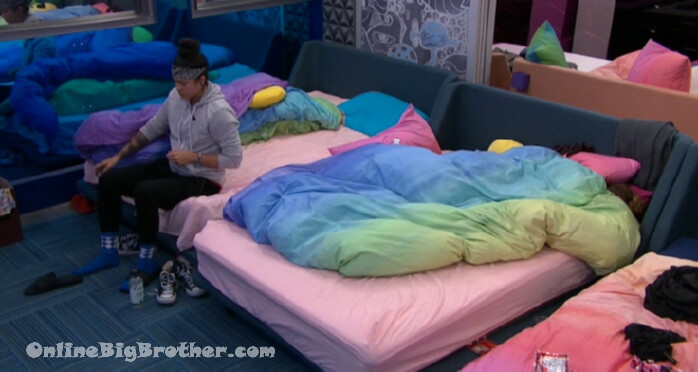 10:24am Kaycee up and about.. This is usually Sam's time. it's now Kaycee's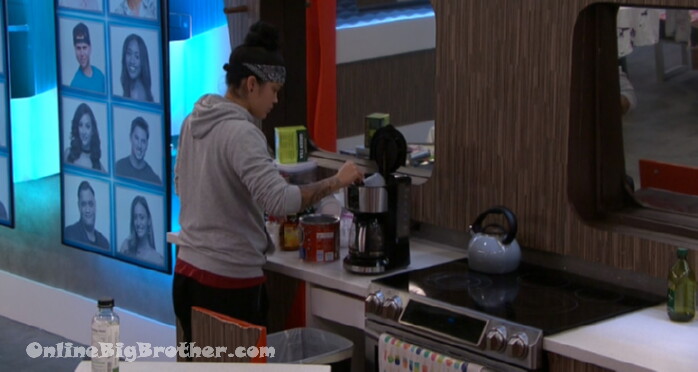 (Ugh Folgers.. This is enough to keep me off the show.. )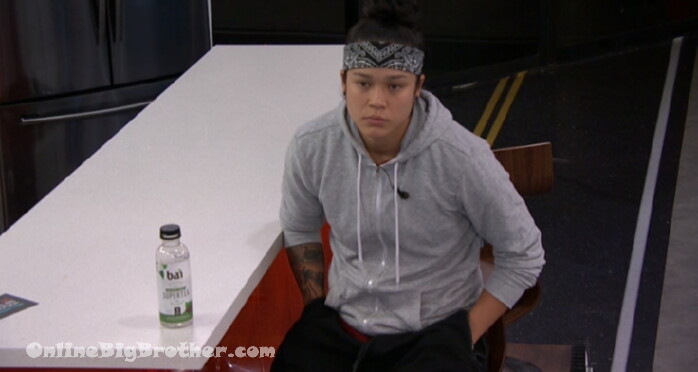 Waiting for Coffee…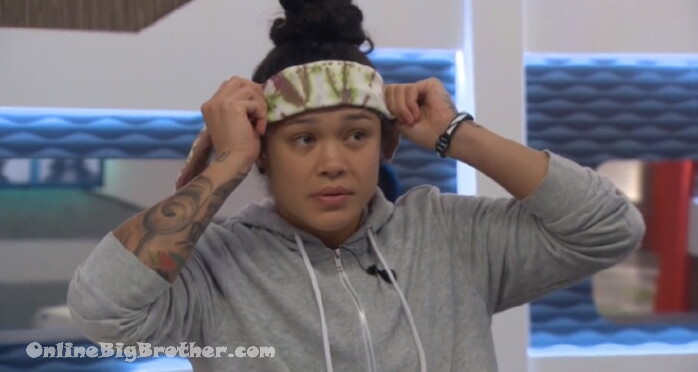 Tie dye bandannas
11:40am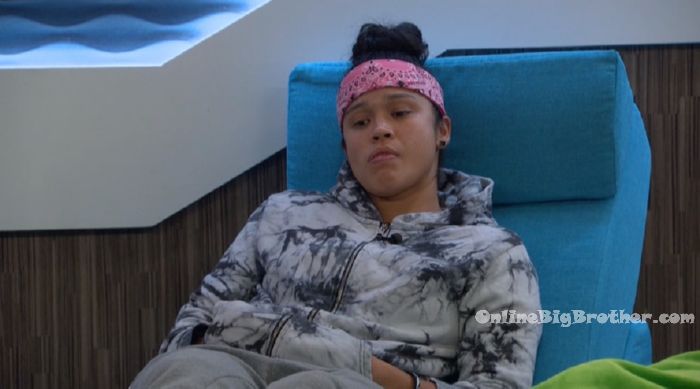 9:10pm Tyler and Kaycee comment on the house guests that have secrets. Tyler – so the secrets are that Rockstar and Scottie are related. Kaycee – I wonder if there are any secrets that we don't already know. Tyler – for sure. Kaycee – because we found out a lot of secrets. Tyler – without a doubt there has got to be more. Sam is probably ex-military. Winston is a twin. Kaycee – I know one of Haleigh's. She had to tell us undercover. Tyler – oh so its not really a secret. Its not a for tv secret. So its not a tv secret. Kaycee – its a family secret. Tyler – that's not a part of the show. Kaycee – she told me and Angela but she had to secretly do it. Tyler – without her mic, you know that they hear everything. Kaycee – she mouthed it and put her head down. I got it at first and Angela couldn't get it. I'm like what?! Its so simple. Tyler – her family is famous? Kaycee – I want to tell you but I'm just trying to figure out how. Tyler – so no one knows about it in the outside world? Kaycee – not many people. Kaycee grabs a juice bottle and points at letters to spell out something. Tyler – her? Kaycee – yes, but different situation. Tyler – I was reading the words .. I southern bud developer. (I have no idea what she was spelling out.)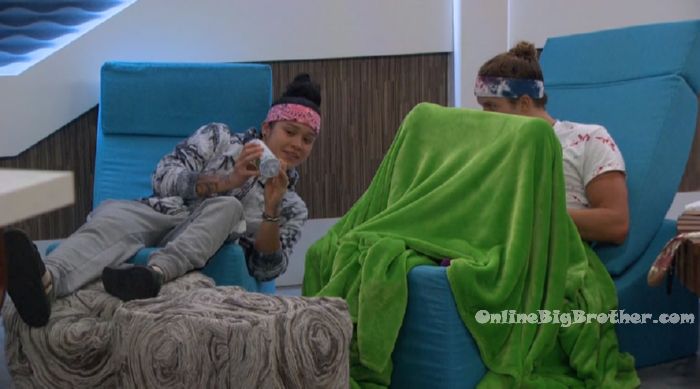 9:42pm Kitchen. Kaycee and Tyler. Kaycee – has he been extra.. Tyler – yeah he is playing all angles. He is really confident that I will take him. Kaycee – really? Tyler – yeah. He's like if you change your mind just let me know. I don't want you crying during the live show and telling me to go. I'll be a man. I don't know if he is just trying to say that so he can have time or whatever. Kaycee – he is trying to covering all angles. Tyler – he is going to know eventually … I am not going to have him sit there in final 2 and be like yeah JC I would have taken you. I am not going to do that. Kaycee – yeah. All you can do is be vague and not make any promises. Tyler – yeah, in his head its just been him and I .. like he didn't know about Level 6. Its going to be such a shock to him. Kaycee – it is.. its going to be such a shock. Tyler – I am prepared for that. Kaycee – everything is going to be okay. Its just a game. He will respect it. Its not like your friendship isn't real. We had something from the beginning. He will understand. He will be pissed either way but he will get over it. Tyler – he will be fine. Its all going to make sense. Kaycee – it will. He is going to feel so left out and feel like he did so much work. Tyler – in his head he was pretending to work with the other side and I was pretending to work with you guys. I needed him to keep him thinking that. He will be pissed when he knows that I was only really with you guys. Kaycee – but he has to respect that we had an alliance since day 3. It will all make sense to him. He is smart. Tyler – he has always played it up that we are a team.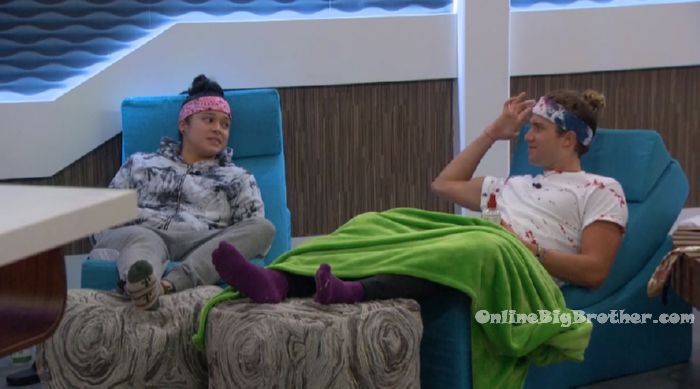 10:20pm The final 3 head to bed. Tyler – I'm not going to entertain you .. go to sleep. JC "I'm not sleepy"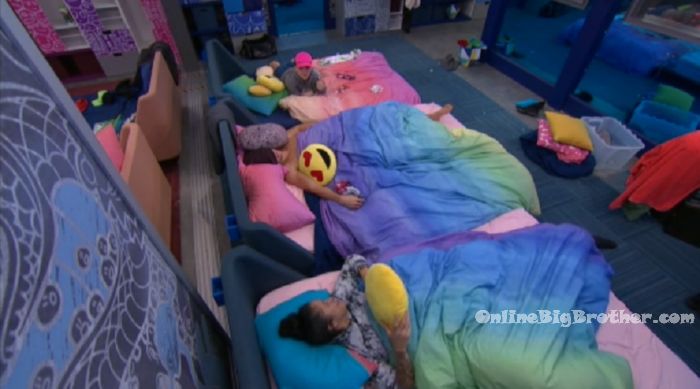 10:50pm The final 3 are now sleeping..
One easy way to support the site if you are an amazon shopper is to make your purchases through our link. You pay the exact same thing but we get a small % commission. It doesn't cost you anything and helps us out.
Amazon Canada
Amazon USA