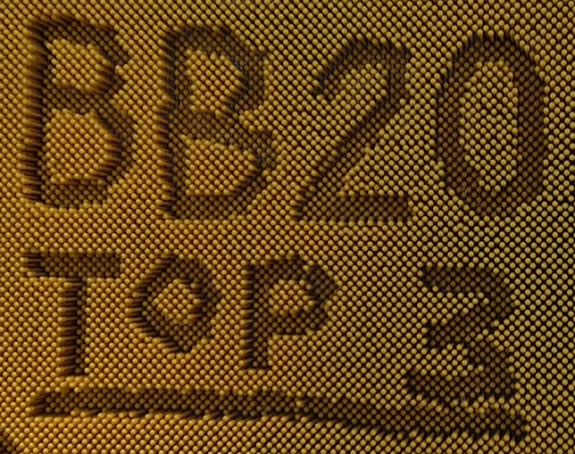 So glad we finally got a fun season to watch. Did call it Kraken once and if you've been around this site a lot you'll know this almost never happens.
1) High Quality cast. generally: all likable, entertaining, game players
2) Limited production tomfoolery
3) Comical blindsides and game play almost weekly
The final three turned out to be JC, Tyler and Kaycee. Tyler and KAycee being members of level 6. JC being one of the players playing the middle. The HIVE alliance AKA FOUTTE was totally evicted. They filled the Jury and basement couches at home.
Tyler won the first HOH Kaycee won the second. The winner of the third will most likely take the other. I'm confident the final 2 will be Kaycee and Tyler. A quiet end to an exciting season.
Special thanks to all the contributors to this site it was another great year!
Results from the Finale
First off they show us the first two HOH competitions. tyler wins part one Kaycee wins part two.
The Jury Segment featuring Will is horribly scripted. Bayleigh is still biter. Angela tells them about Level six and the Tyler/Kaycee final 2 day two. The HIVE is shocked They had no idea. Angela starts fighting for Tyler to win. They debate over this. Rockstar says JC. Bayleigh calls Tyler a "little punk"
Third and Final HOH
First question – Both get it right
Second question – Both get it right
Third question – Both get it right
Fourth question – Both get it right
Fifth question – Both get it right
Sixth question – Both get it wrong
Seventh question – Both get it wrong
Eight question – Both get it wrong
Julie – in seconds how long was the jet pack attack competition from the official start to when Kaycee made contact with the ground making Tyler the winner.
Tyler – 2002
Kaycee – 3400
Correct – 3413
Kaycee wins final Head of household
Kaycee picks Tyler to go to the final 2 with.
During Haleigh's question Tyler tells them about the second power app.
During Sam's question he tells them he's a super fan
During Scottie's questions Kaycee says she's been a fan of the game since day 1 ..
Final Vote
Vote order.. Bayleigh, Rocks, Fes, Scottie, Haleigh, Brett, Sam, Angela and JC
Pre-Jury houseguests
Swaggy proposes to Bayleigh (is this Kraken?)
After Show Shwomances revealed.. Tyler/Angela, Fes/Haleigh
Votes..
JC – Tyler
Angela – Tyler
Sam – Kaycee
BRett – Tyler
Haleigh – Tyler
Scottie – Kaycee
Fes – Kaycee
Rocks – Kaycee
Bayleihg – Kaycee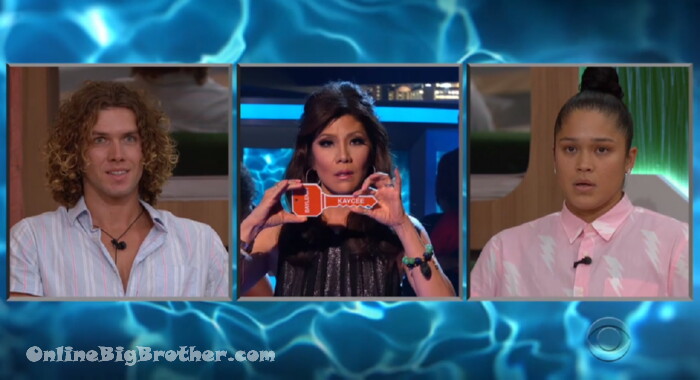 Kaycee wins Big BRother 20
America's favorite player is Tyler
Haleigh, Brett and Tyler were the top 3 for votes.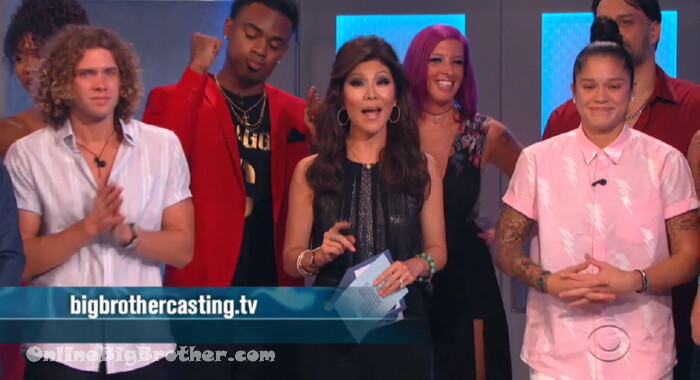 One easy way to support the site if you are an amazon shopper is to make your purchases through our link. You pay the exact same thing but we get a small % commission. It doesn't cost you anything and helps us out.
Amazon Canada
Amazon USA