4:05pm POrsche and Rachel They are making potato and Macaroni salad and Adam is outside grilling up Steaks wrapped in bacon and Chick breasts.
Rachel: "This is enough potato salad for 10 people "
Porsche: "This is enough macaroni salad for 15 people"
They try each others dishes and like them both. POrsche says the potato salad tastes just like potato salad. Rachel is glad she says she put A LOT of mayonnaise in it. Rachel asks her what she put into the the macaroni salad. Porsche says Caesar, Italian and some creamy ranch. Rachel: "It's good REALLY GOOD.. one of the best macaroni salads I've ever had" Porsche: "THANK YOU"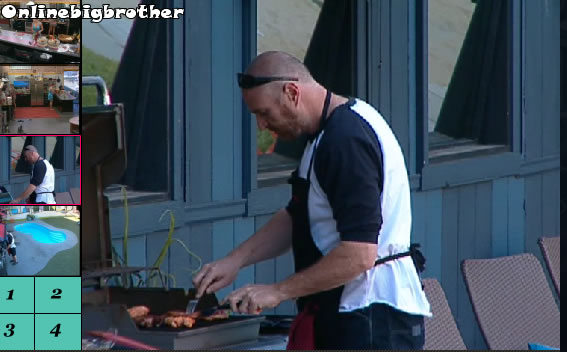 4:20pm Adam comes into the kitchen takes a look at all the food they made and said "HOLY SHIT THERE'S ONLY 3 OF US"
Porsche: "Do other final threes do cool stuff like us
Adam: "NO"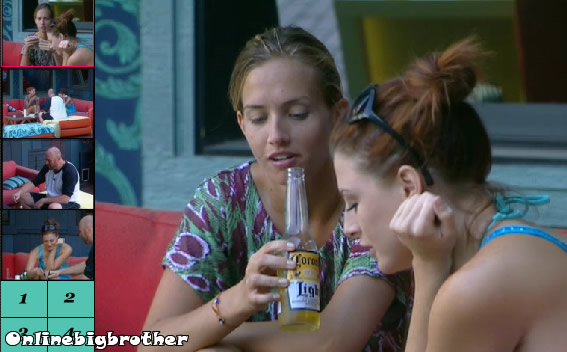 They head outside to eat and do other "Cool Stuff" They all have a toast "Cheers.. Final 3 BBQ"
Adam like the potato salad more than the macaroni salad. The girls both compliment Adam on grilling the meat, Rachel: "Good final 3 BBQ" Adam: "Thats the way we roll" Porsche loves the bacon wrapped steaks she says it makes everything taste "bacony"Adam: "Bacon makes everything taste better… Maybe I should get a shirt that says that"
Rachel: "Whatever you guys do.. do not go on the internets and read stuff about yourself"
Adam says he doesn't care what people think of his game or what he did in the house he played it his way. If anyone approaches him on the street he'll tell them to get on the show play the game then come back to him. ADam: "It is the truth.. I DO NOT CARE what people say". Porsche doesn't care either.
Rachel says that she cried a lot when Brendon left and Dani would say "Oh My God She's Acting like someone died.. I think not seeing my fiancee for 6 weeks is a travesty" Porsche points out that Rachel and Brendon must of known before they enter the game that they might be separated. Rachel knew she was going to get separated because people always target them.
Adam brings up how throwing his goggles in the last HOH Comp screwed him. POrsche asks him why he threw them why he didn't just place them on the ground. Adam says he was pissed about the googles filling with water and fogging up. Porsche says you should spit on inside of the goggles it helps with the fogging up.
WATCH the last few days of Big Brother 13 for FREE!
Click here for your: SUPERPASS – 3 DAY Trial!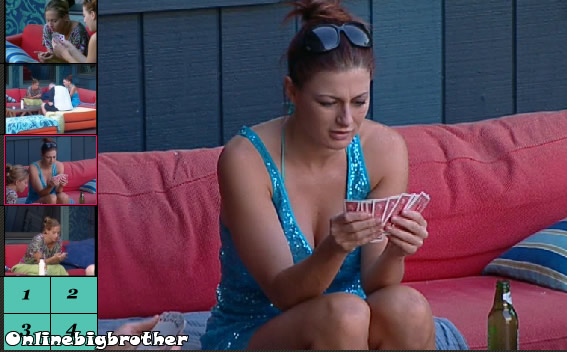 4:50pm Backyard Final 3 Playing Cards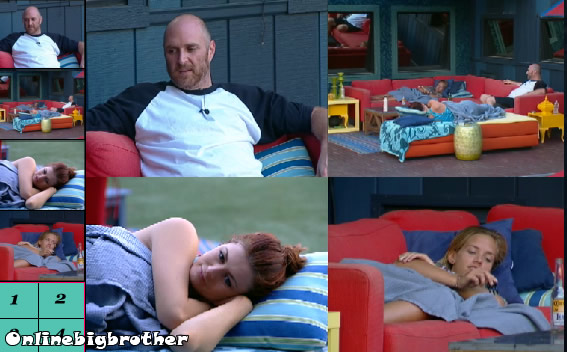 5:30pm RAP POrsche talking about how she'll need to wear a long dress on finale night because her legs are all busted up with cuts and bruises. Adam suggests she try coverup.
6:00pm Final 4 Napping
6:30pm Final 4 Napping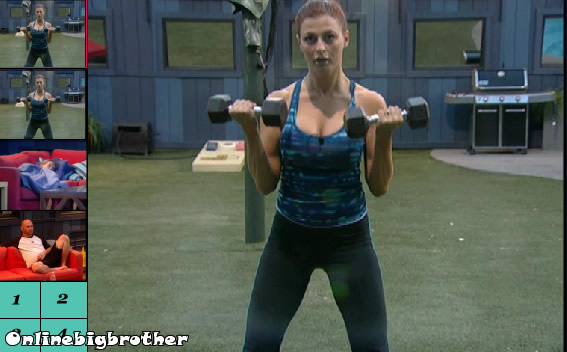 7:08pm rachel working out Adam smoking POrsche sleeping
8:04pm Adam on hammock talking to camera Adam is thinking that his last ditch effort will be to tell Rachel and Porsche separately that he will not vote for them unless them take him ti final 2. He's been really pushing them the last 2 days telling them he's the swing vote this year..
Rachel joins him they start talking about what they need to do when they get out of the Big BRother house. Adam says he'll have to get back to work, Get to the gym and generally get back to live. RAchel says she needs to find a job.
(He's going to tell them separately a couple hours before the Finale )
9:00pm Adam and Rachel eating. Adam thinks it'll be funny if Shelly is trying to be BFF's with Jordan in the jury house. Adam: "Jeff won't allow"
Rachel: "Shelly drank too much of Dani's coolaid"
Adam: "No everyone I spit it back up"
Rachel: "So did I In her face"
Porsche joins them.. Rachel gets called to the DR.
9:08pm A moment of silence for 911 victims
(Rachel is in the DR)
9:24pm Adam and Porsche talking about the HOH comp. Adam says ad one point his hands were covered in blood and his thumb was pounding. They both agree the water was a nice temperature. Adam was worried it was going to be cold. They both think that Shelly and Kalia would not of done well in that last HOH comp.
9:31 Rachel out of DR. Porsche is saying she really dresses up in the "real World". Ada,: "So in other words you're slumming it" Porsche: "Yes.. you know everyday doesn't have to be a fashion show.. Real world is like a fashion show" (Real world = life outside the big brother house) Porsche: "I'm much more rachelfied in the Real World"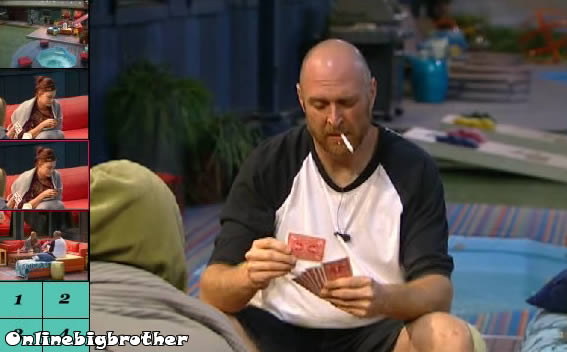 10:10pm cards
10:50pm Adam is telling them about the first time he was arrested, He was 17. This guy he use to work with was Prank calling his new job and was trying to get him fired. Adam saw that guy one day kicked the window in on his car. At the time Adam didn't know but he had actually hit the guy in the face and broke his glasses. Adam add he has to turn himself in They arrested him and his father had to come get him from jail.
11:33pm camera operators are having fun flipping the feeds to pictures of Jessie that are throughout the house.
12am -12:50am Porsche helps Adam out by pouring hydrogen peroxide on his cut up hand. Adam asks if its going to hurt. Porsche says no. Adam starts yelling and saying I thought you said it wasn't going to hurt AWWWWGHHH!! Porsche tells him to hang in there. Both Rachel and Porsche are surprised it hurts and think he's acting like a baby. Porsche and Rachel talk about needing a beautification day soon. Adam and Porsche head to the bed room. Soon after Rachel joins them. They shut off the lights and start playing the what character am I game. The houseguests go to sleep…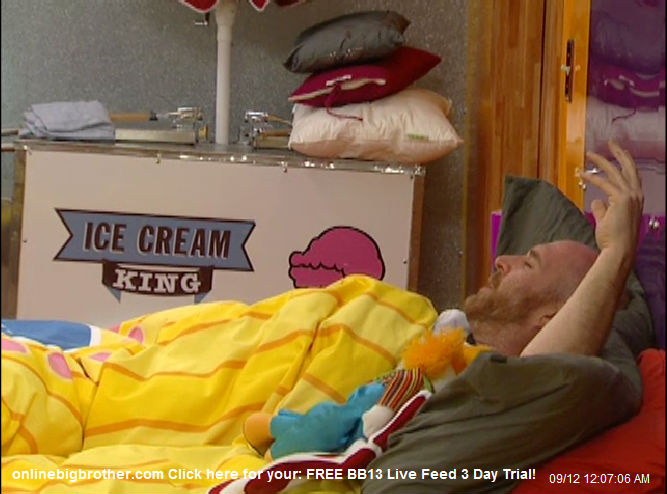 5am The houseguests are still sleeping..
7:47am Sleeping all 4 cams
8:50am Sleeping yo
9:28am Sleeping yo
10:01am Sleeping yo
10:24am Sleeping yo
WATCH the last few days of Big Brother 13 for FREE!
Click here for your: SUPERPASS – 3 DAY Trial!

Check out the Big Brother 13 Polls