WATCH the last few days of Big Brother 13 for FREE!
Click here for your: SUPERPASS – 3 DAY Trial!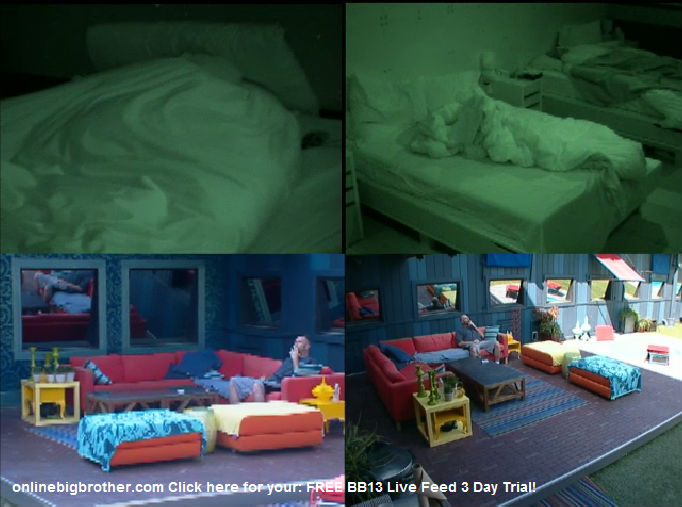 Simon and I work 24/7 all summer long to bring you all the live feed updates and spoilers, please consider donating. Any amount is greatly appreciated, your donations go directly to paying the server and bandwidth fees. Donation Link
10:50am – 11:45am Adam wakes up and heads out into the backyard for a smoke. All the other houseguests are still sleeping. At 11am Big Brother cuts the live feeds to wake up the other houseguests. When the live feeds return, Porsche and Rachel are in the bathroom getting ready for the day. Adam is in the backyard folding laundry. Rachel talks about working out. Porsche starts to think she will go back to sleep ..then changes her mind and thinks she might get in the hot tub because its cold outside. Rachel and Porsche talk about doing their nails, hair and teeth. Adam start cooking up two trays of bacon .. one regular and one maple bacon. Adam gets called to the diary room. Porsche says it's for the medic ..have fun! Adam comes back from the diary room and says advil and ice for now till it gets better. Rachel is getting ready to wash their tie-dye clothes. Rachel, Porshce and Adam compare their cuts and bruises. Rachel and Porshce head out side and they all decide to sign their names on one of the t-shirts and final 3 …so that they can give it to the biggest fan the night of the finale. Rachel and Porsche are cleaning the tie-dye clothes with the hose. Rachel asks them if they want her cow costume.. she says she can't take it because her and Brendon don't have much room to store stuff. Porsche says that she'll take it or that maybe a Brendon/Rachel fan would like it.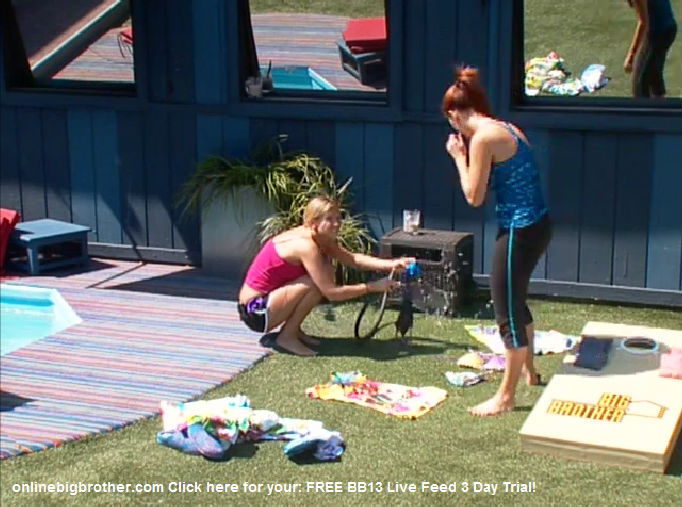 SuperPass: Flashback and rewatch BB13 and BB12
Click here for your FREE 3 Day TRIAL: Big Brother Live Feeds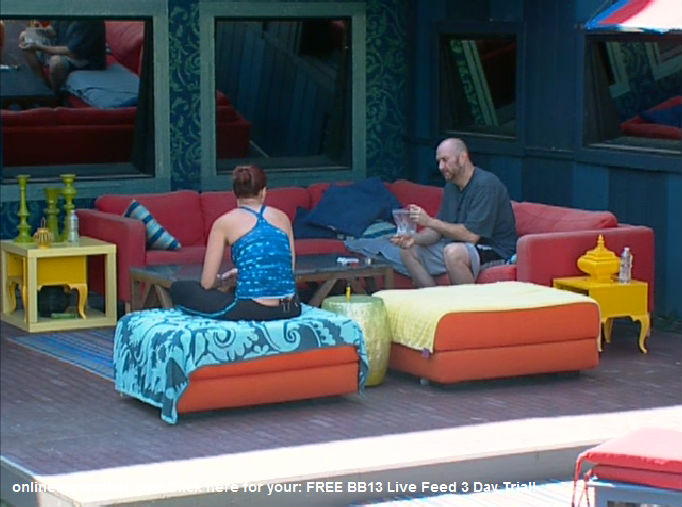 11:45am – 12pm Rachel tells Adam that she seriously cant wait to see Brendon and jump on him. Adam says that when he saw Tori come into the house he thought she was coming in to plan Rachel's wedding. Adam says that if Rachel takes him to the final two he will get Tori Spelling to plan her wedding. Rachel says oh you got connections. Adam says yeah ..she came to see me. Rachel thanks Adam for saying that he will vote for her… she says that she hasn't decided what she is doing yet but that she first has to win the next HOH to make that decision. Rachel and Adam go over the jury votes. Adam says that it will take him a long time to get over losing his chance to win. Adam says just think about this I never nominated you … Porsche did and you were her target. Rachel says I know … jerk! Rachel starts going over the questions she might be asked in the final part of the HOH. Adam gets up and goes inside and realizes he forgot his bacon in the oven. He says oh shit.. sorry big brother. When Adam opens the oven door a big cloud of smoke comes out. Rachel comes in and says good thing we don't have smoke detectors!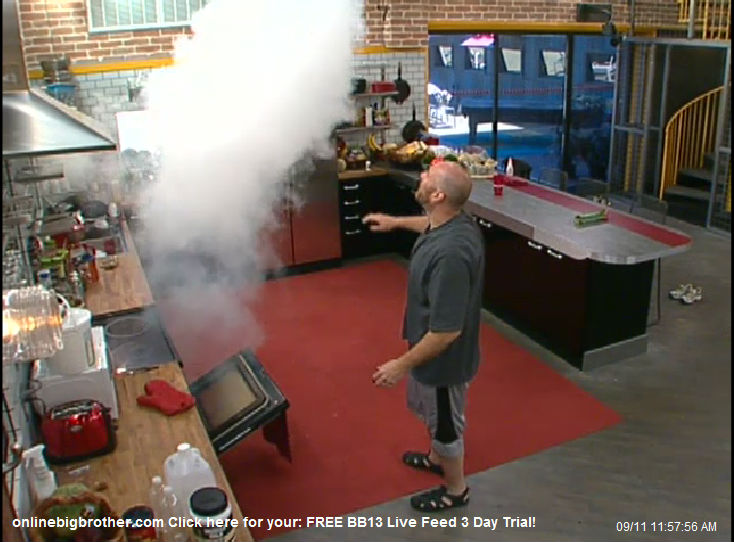 12pm – 12:10pm Adam says that today is the 10th anniversary of September 11th. Porsche says we should do a moment of silence tonight. Porsche tells Adam …like at 11:11 tonight we should have a moment of silence. Adam says no at 9:11 tonight. Porsche says yeah that's what I meant.
Watch the Big Brother 13 live feeds on your Android and iOS devices. Sign-up for the 3 Day Free Trial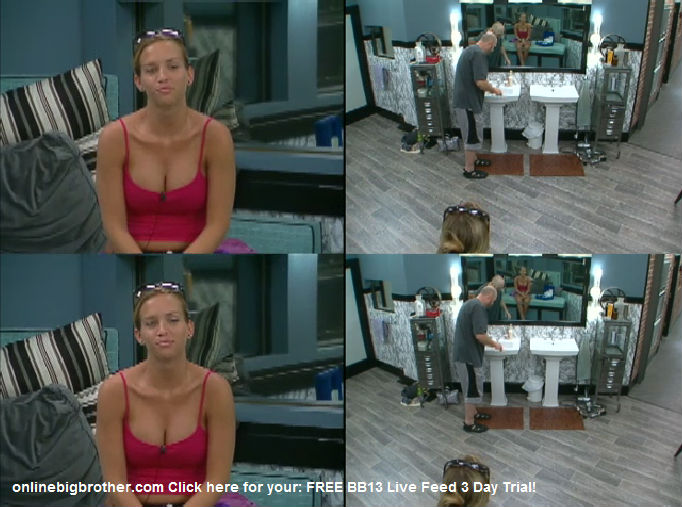 12:10pm – 12:30pm Adam says that he can't go down without a fight … newbies to the end?! Porsche laughs a bit and asks if he asked Rachel the same thing. Adam says that he asked her what she was doing. Adam says that all Rachel had to do was answer a phone to get on this season. Adam says that he hates doing this .. Porsche says that if she was in that position she would be grovelling. Adam says that isn't him though. Adam tells Porsche if he had won he would have taken her to the final two. They start talking about the jury votes. Porsche says that over Rachel she has Dani and Kalia's vote for sure. Rachel comes in and the conversation ends. Adams hand is really banged up and Big Brother calls him to the diary room. Rachel and Porsche go out in to the backyard to make more tie-dye shirts. Rachel asks …so Adam hasn't talked to you yet?! Porsche says that he did just make a little plea… but he has too. Rachel says yeah I would be too. Porsche says that he said we had to do a lot more than answer a phone call. Rachel says whoa …whoa, whoa…. I had to do a lot more than that… it took a lot for me to be here too.. I had to fight to be here and I gave up job opportunities to be here. Rachel says that she understands that Adam has to campaign. Rachel tells Porsche that she is taking her to the final two if she wins part 3 of the HOH …and that Porsche has earned her spot to be there. Porsche tells Rachel that Adam told her he would take her. Rachel says that he said the same thing to me too. Porsche says awe Adam! Porsche says its funny he told us the same thing. Rachel says well good for Adam for playing the game.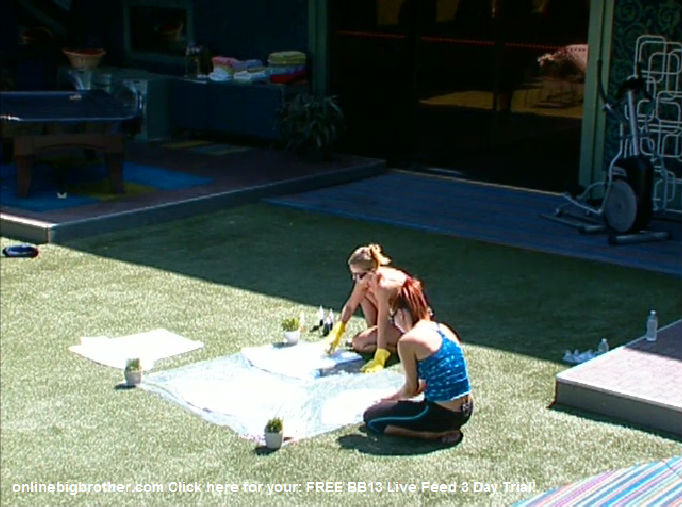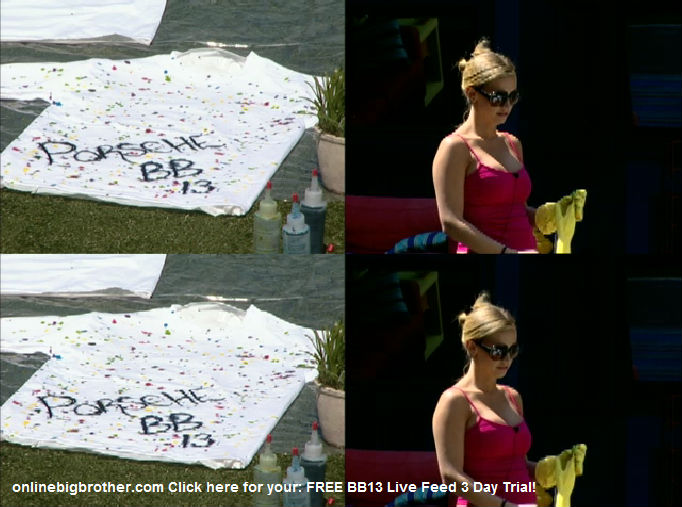 12:30pm – 1:10pm Porsche says that she doesn't even really want to hear the campaigning …she wants to just think about how she at least has $50 G's and that me and you have a bunch of fancy lunches to go to. Adam is now out of the diary room again. Porsche tells him to come back outside to see their tie-dye jobs. Adam finishes putting bandaids on and joins them in the backyard. All three of the continue to make tie-dye shirts for fans.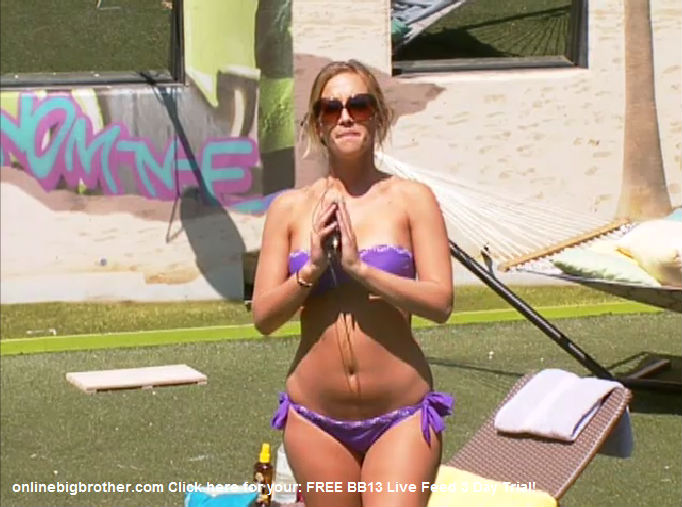 1:10 – 1:40pm Porsche and Rachel continue to design their shirts. Adam talks to Porsche about the last competition and how he figures he lost about a minute because of his goggles. Rachel and Posche keep adding more to their shirts. Adam asks Porsche if what she did was a spider? Porsche says no ..it's a sun!! Prosche then goes to suntan in the lounge chair. She pleads to the camera for them to put some music on while she lays by the pool. Rachel is working out on the elliptical. Adam is in the kitchen eating.
1:55pm They start playing the what Disney character am I game. Rachel and Porsche start to talk about wanting to just watch a movie. Adam says this isn't meant to be mean …but if you want to go watch movies ..go to the jury house. Porsche says whoa! Adam says I've got three days to get the last of my sarcasm out.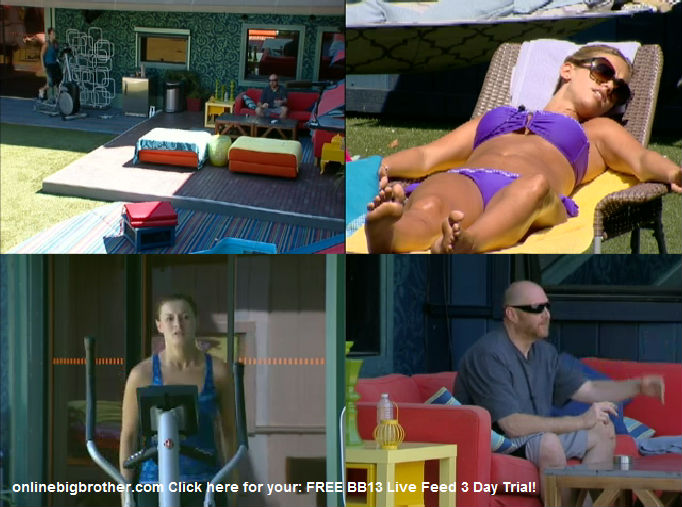 2pm – 2:15pm Adam says that when he gets out of the house he is going to continue to work out so that when he comes back for all stars he is buff. Porsche says me too …I am going to come back and look like Rachel. Porsche tells Rachel that she had a dream that she was laying on the bathroom floor naked …and that she was so upset that people saw her naked.. that she had spent all this time to shower with a bathing suit on and now everyone saw her naked.
2:30pm – 2:45pm Adam, Rachel and Porsche recount the events of the house and all of the alliances. Rachel says that Shelly and Brendon had the morning coffee alliance. Rachel says that Shelly also wanted to make a couples alliance with her, Brendon, Jeff and Jordan with her being the mom. Adam says that of everyone in the cast …the person he will talk to the least will be Kalia. Anyone else can come to me for anything or talk to me. Rachel says that coming into the house she was so scared that some girl was going to be in the house that was going to be up all on her man … and it would be on. Porsche says maybe that was supposed to be me. Rachel says listen if any girl would have come up on my man …I would have been so pissed. Rachel says who wouldn't have wanted Brendon ..he is the hottest man in the world! Adam says UMmm..!? Adam explains that Brendon is a good guy and wouldn't let anyone come in between them. Adam says that you two are meant for each other. Porsche says do you know he sometimes makes out with her with her retainer in … Adam says that is love. Rachel says and he used the veto on me. Rachel says awe Brendon I get to see you in 3 days…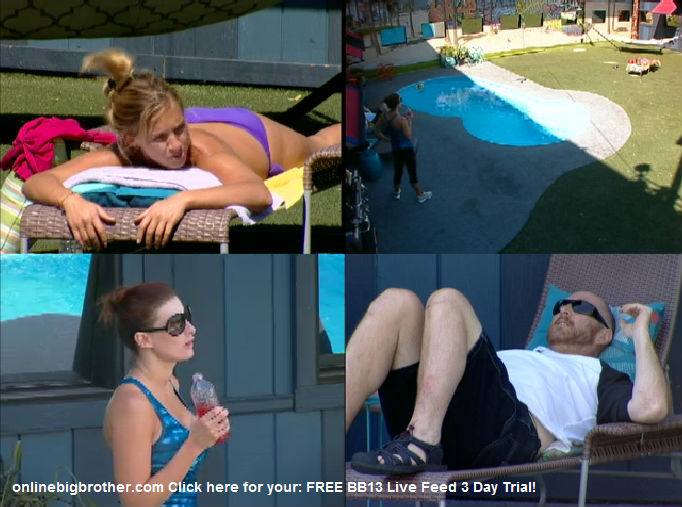 WATCH the last few days of Big Brother 13 for FREE!
Click here for your: SUPERPASS – 3 DAY Trial!
3:46pm Cooking Bacon

Big Brother 13 Live Feed Image Gallery
Follow: @BigBspoilers and @Dawgsbigbrother on Twitter for recent crazed out spoilers. Theres also our Facebook page.
Big Brother 13 Spoilers POLL CAST your VOTE!