| | | | |
| --- | --- | --- | --- |
| POV: | Brett | Next POV: | Aug 18th |
| POV Used | YES | POV Ceremony | Aug 20th |
| HOH: | FES | Next HOH: | Aug 23th |
| Noms: | Brett Kaycee & Scottie | Have Nots | |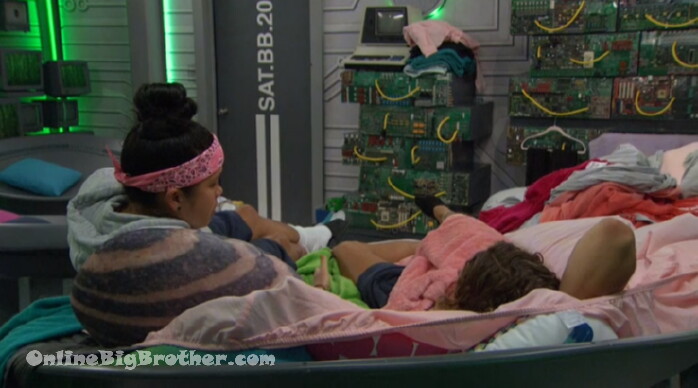 11:25am Kaycee and Tyler
Kaycee says Fes isn't getting a tie obviously
Tyler- if he does Fes is voting him out for sure
Tyler says last night Sam was talking to him and saying some "weird sh1t" like "imagine if I was a millionaire here to help other people out"
T – talking like she's america's player.. I dunno.. there's something more to it.. I think she's going around making final 2's with everybody that's what Brett said
Kaycee – that's crazy.. there was one day I think it was nominations day.. Sammie grabbed my shoulders and said do you love me more or Angela more
k – I was like what do you mean.. Sam what are you talking about
K – in life..
T – in LIFE!
K – I was like Sammie I've been close to you since day 1 and I gave her a hug.. and she says well she's (Angela) fit and beautiful and I'm fat and not..
T – she says the same thing to me
K – she's asking if she's been replaced .. it was the weirdest thing
T – I hate that
Kaycee doesn't know if it's game or not, "giving people the guilt trip"
T – I think it is
K – it's hard because there's so much stuff going on in her head.. and it's strange she's creating all these stories and it's like what the f*
They agree Sam is WAY TOO flippy floppy
Kaycee points out that Sam has been really worried about jury votes she gave one vote to bayleigh and then got super close to Rocks, "Who knows what her motives are"
K – she's all over the f*ing place
T – what if she can't be evicted
K – she can be evicted. What is JC saying who will he put up
T – basically he doesn't want to win (hoh)
K – He probably wouldn't do haleigh because that's fes' girl
T – fes will target him.. Sam
K – maybe Sam and Brett?
T – keep this between us but apparently Brett has been going to JC for a final 2
K – JC told you that?
Tyler isn't sure if JC is telling him that so he goes after brett.
Kaycee will figure out the truth, "JC is smart"
t – he's smart.. I did find them talking
T – I was talking to Brett and he's like I only have level six, the girls are going to pick each other every time
Kaycee and Tyler say they both trust Brett. They talk about how they've kept their alliance quiet this entire game.
T – I don't want him to start distrusting us.. It works out that nobody knows about us (the Kaycee-Tyler alliance)
Tyler says BRett wants Fes out..
Tyler says Brett will put up Sam and Haleigh BAckdoor fes
T – he was saying its better to there being a chance he won't play in veto
Kaycee – what if Fes wins Veto and takes haleigh off
T – if they are both up they both play only one can win and one is on the block for sure..
Tyler tried to make that point to Brett but he said there's still a better chance to not have Fes play in the veto.
JC comes in ..
Some new Sam creation
There's a fire!
Everything is burning today #BB20 @DawgsBigBrother pic.twitter.com/O5BgwGTsFh

— OnlineBigBrother.com (@bigbspoilers) August 22, 2018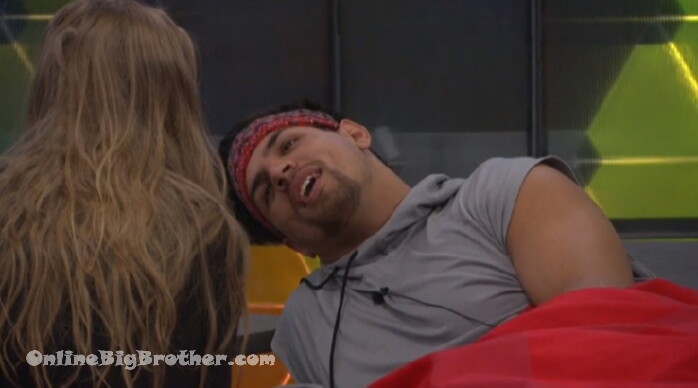 2:00pm HOH Feeds, Tyler and Fes
They're talking about the Angela, Tyler, Fes and Haleigh alliance that will get Sam out next week. Fes says JC is going after "I know it" he wants JC to win HOH and take the shot so the following week all four of them play in the HOH.
Tyler – that's like more than half
Fes – we're solid now
Haleigh – we're all on the same page
T – I want to get to the end as much as you guys, I don't want to do anything stupid
Tyler says that SCottie keeps pitching to him that Halegih thinks Tyler getting closer to her after ROCKS left was bullsh1t.
T – i Know you never said that..
Haleigh tells him that Scottie is going around saying Fes is his target.
Tyler – if kaycee wins Angela will be in her ear big time
FEs – Even though I put her up I'm not putting her up as a target…
FEs says Sam knows she's the next target up that is why she's going on about the no smoking thing..
Tyler leaves..
Fes – I was expecting a wake up call.. nothing..
Fes saw her outside talking to Scottie thought she was going to bed she didn't so we went to sleep "you still mad"
H – I'm not even mad.. I'm in this weird spot emotionally .. Obviously you had your own sh1t before coming into here but this makes me question is this (showmance) game play right here
Fes – this is so stupid what kind of game play is that
H – what do you expect when I was sitting her listening about a girl you were talking to before you came in here
fes – I was trying to make it very clear that I hung out with her for a week… I hung out with this girl that was almost on the show.. she wasn't so..
Fes – this isn't game play this is the opposite of game play.. I sit up in this room with only you all week long that's not game play..If that's gameplay I don't know what gameplay is and for you to question that it's game play. WHAT!
Fes – you like me
H – not really
F – you like me
H – not really.. not really at all..
Fes – I've never lived with a girl let alone for 61 days without being able to do anything else if that doesn't let you know how strong my feelings are
H – that doesn't show me how strong your feelings are it shows me you are locked in a house with me
Fes – you think when we got out here I'll be like OK Hlaeigh
H – I don't know what you are going to do
Fes – just believe it that's all you can do just believe it you have no other option
H – If you flipped on the vote would you tell me
Fes – yes
H – this is your one opportunity to tell me you flipped
Fes – I don't know what Scottie is telling you.. NO… swear to god swear on my mamma swear on anything
Haleigh "this is fake it's not real"
Fes – it's not fake Haleigh it's the realest thing
H – is it.. you made a deal with Angela and Tyler (without talking to her)
Fes – that is why you can't f*ing talk to Scottie for 2 f*ing hours.. are you serious I'm making deals for you..
FEs – C'mon I played this game good.. C'mon Haleigh (ZOMG)
FEs – that's why I don't like you talking to this kid for so long, C'mon Haleigh.. you got to pick one and go with it.. who do you believe
FEs – this isn't fake haleigh.. this is real That kid puts too many thoughts in your head.. he's the kid that came up to me and told me to put you up.. what is that man it was his plan all along so you guys look like enemies.
Fes – no he's trying to stay and when he found out he wasn't going for it he had to change his plan. I'm not saying he did flip all the votes..
H – we need to go over days..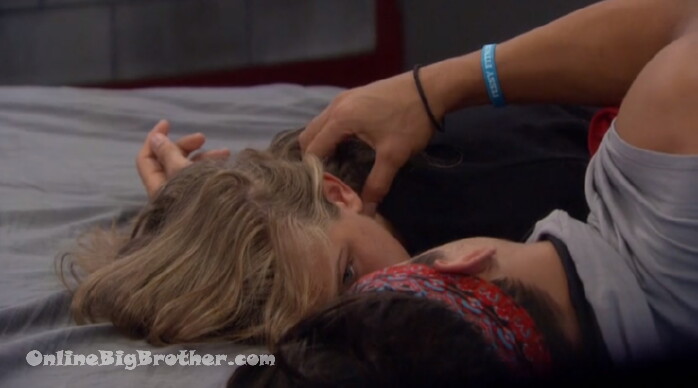 2:27pm
Scottie has been taking as many consumables as he can.. Toothpaste stuff like that.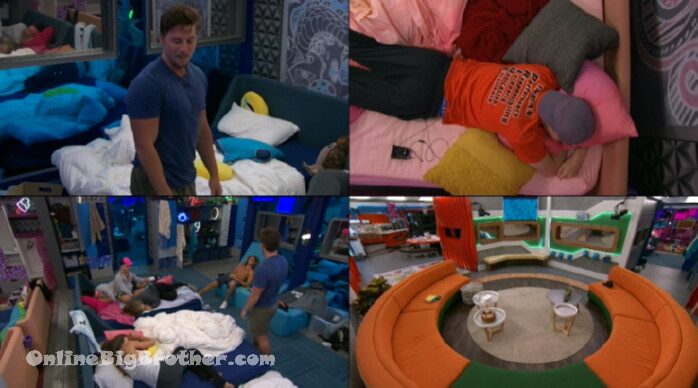 4:30pm zzzzzzzzzzzz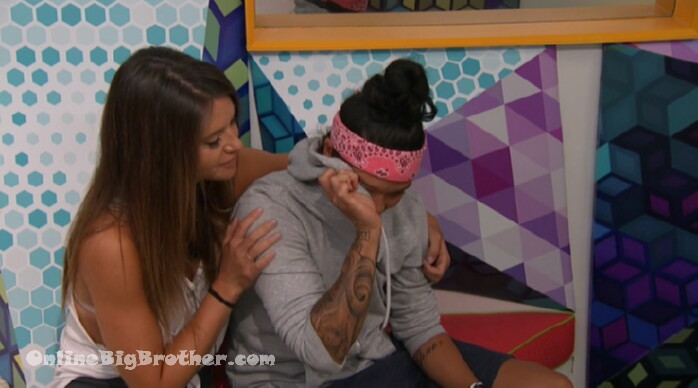 5:48pm Kaycee crying says she only came out a year and a half ago.
Kaycee – she always known..
Kaycee is crying because her and JC had a conversation about coming out and they brought it up in the DR. She started to cry and says it will now make the show for sure.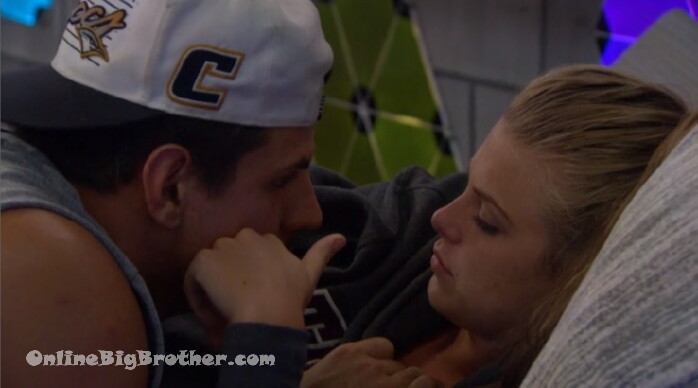 5:58pm Fes and HAleigh
Fes is going on about her talking to Scottie for 2 hours, "you're all I thin about all day"
h – it's because you're in this house
F – it's not going to change outside this house haleigh
F – this is as real as I have ever felt.. this is more than a game there are feelings involved.
F – there's not going to be anything when we get out here other than you .. it'll be so great..
6:43pm Haleigh says she'll put up Brett and Sam wonders what JC is doing.
fes – he's not putting up me, you, Tyler
Fes says Sam will go up for sure.
Fes – Rockstar was good socially
Fes to haleigh "you're so pretty, can't wait to show you off"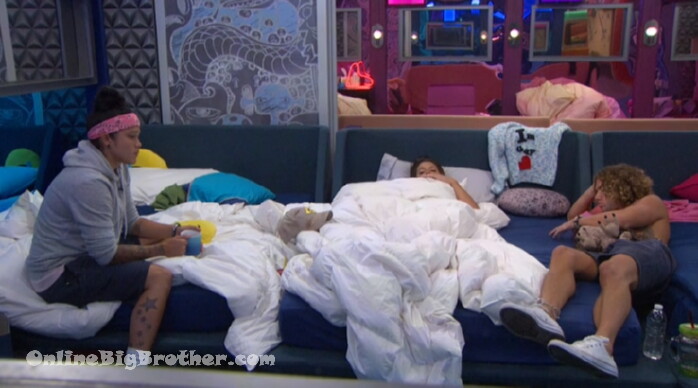 6:55pm Kaycee, Tyler and Angela
Talking about putting Haleigh and Fes on the block together that way they can make sure one of them goes next.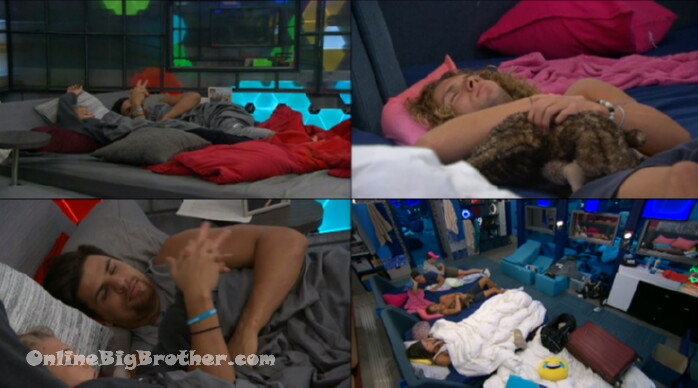 7:25pm Studying or chit chat..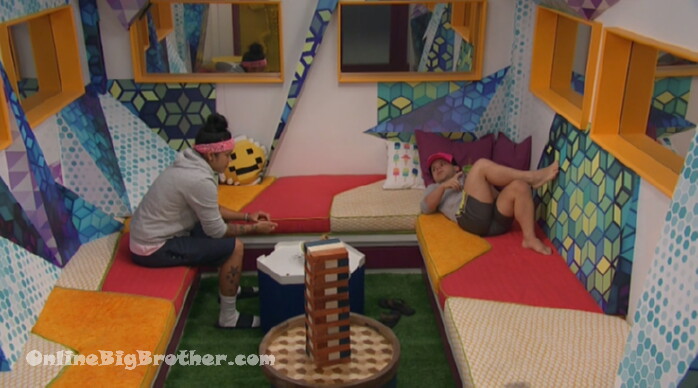 7:38pm JC and Kaycee
JC is complaining that his stomach is very sore.
akycee brings up she hears from random people that Sam is making final 2 deals
JC – from who
Kaycee – random people
JC – keep you eyes open.. you have my vote no matter what..
They are agreeing that there's a good chance for a double eviction tomorrow.
JC – I bet Fes is shitting his pants..
Craziness on the pin wall today.. .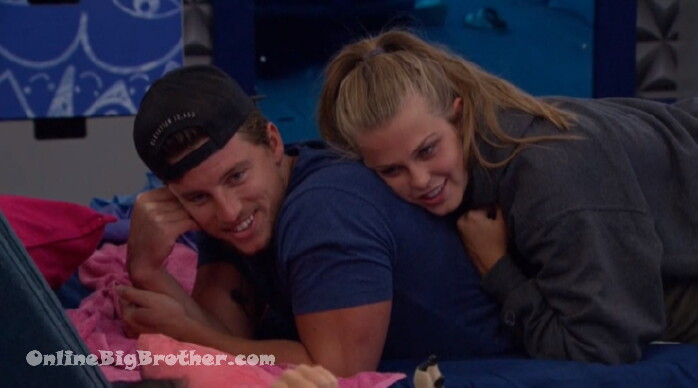 7:46pm Fes gets called to the Diary room
7:55pm Something Scottie did
List of Zings from the show 456
ZingBot- Haleigh you were so good reading Hamlet, but the real Shakespearean tragedy was your Head of household reign
ZingBot – Brett, you always seem so fresh and clean, which makes sense because you are a a giant douche.
ZingBot – Faysal I was surprised to learn that you are a part time teacher.. considering that you are a full time moron!
ZingBot – Sam, you love to tell everyone how real you are. You are real real F**** crazy!
ZingBot – I'd like something extra greasy, burnt to a crisp, with a side of zits. Tyler! Zing!
ZingBot – Kaycee you have all the Big Brother viewers shouting .. let's go to another channel
ZingBot – Haleigh I have a question for you. What do you call someone who's blonde, blue eyed and has a crush on Brett? it's Scottie
ZingBot – People say robots are heartless, emotionless and soulless.. Did I say robots? I meant Angela
A real easy way to support the site if you are an amazon shopper is to make your purchases through our link. You pay the exact same thing but we get a small % commission. It doesn't cost you anything and helps us out.
Amazon Canada
Amazon USA