| | | | |
| --- | --- | --- | --- |
| POV: | ? | Next POV: | Aug 25th |
| POV Used | ? | POV Ceremony | Aug 27th |
| HOH: | ANGELA | Next HOH: | Aug 30th |
| Noms: | Fes & Haleigh | Have Not | ? |
A real easy way to support the site if you are an amazon shopper is to make your purchases through our link. You pay the exact same thing but we get a small % commission. It doesn't cost you anything and helps us out.
Amazon Canada
Amazon USA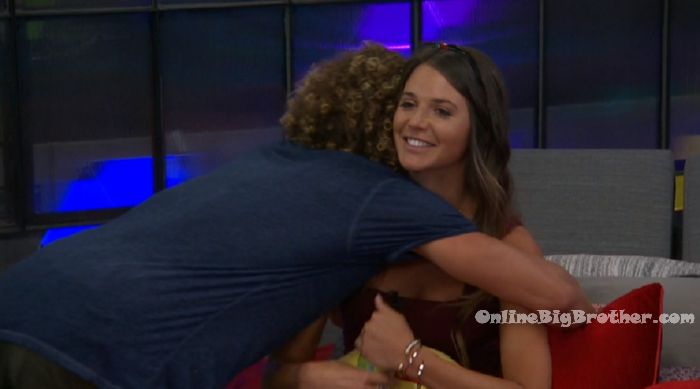 4:45pm – 6pm Big Brother blocks the feeds for the nomination ceremony.
Angela Nominated: FES & HALEIGH
The live feeds are going to be extra juicy this week! Don't miss a minute of the action. Sign up for your 7 day free trial. CBS All Access Free Trial

6pm Angela in the HOH room by herself. Angela – AHHHHGGGGH… I hate Fridays! I hate Fridays! Tyler joins her. Angela – My heart is beating so fast! Tyler – that was incredible. That was so well spoken! It was perfect! Angela – did it make sense. Tyler – yes, 100%! You crushed it. Angela – do you think he (Fes) expected it? Tyler – not at all. Angela – I walked into the storage room and laughed .. this was so evil! Tyler – this was the exact move that you should have done. Welcome to the block Fes! Tyler — what did you say? Angela – Angela a day late and a dollar short. I would rather explain it to everyone than them one on one awkwardly to them. Why did you do that? I just told you, don't ask any questions. And I am glad what you told me about Haleigh .. think about the timing. Angela – I wanted to make them feel stupid too… Like trying to pitch something to me .. I have had people that have been loyal to me for like ever!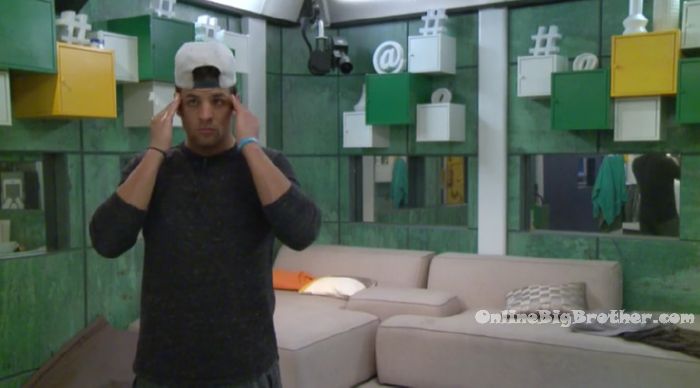 6:10pm Bathroom. Fes and Haleigh. Haleigh – I am not shocked! I am definitely not shocked! So now what? One of us has to get off the block and we go from there. Fes – well one of us will win. Haleigh – you're not the target.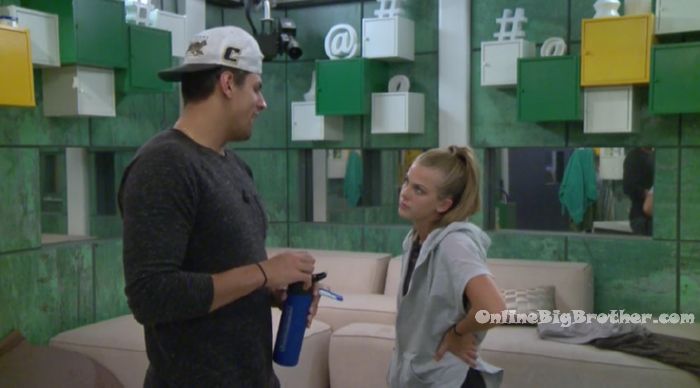 6:25pm HOH room. Angela and Tyler. Tyler – I wonder who will get picked to play in the veto tomorrow. I hope I get to play. Angela – you always get to play. Haleigh gave me that I knew you were going to do that smile. This week is going to be so awkward. They watch Haleigh on the spy tv starting to run. Angela – that's right wear yourself out for that veto comp! Kaycee joins them. They comment on how Fes and Haleigh probably won't be up here any more. Haleigh had said she didn't want it to feel like she was stalking you. Tyler – then stop stalking her?! Angela – even if he (Fes) does win veto and take himself off.. we will put up Sam and make her feel super comfy.. Then we'll send Haleigh home. Just hope Fes doesn't win HOH next week. Kaycee – I have a feeling he (Fes) is going to go this week. Kaycee – do you plan on telling JC what Fes said? Angela – yes. And then Fes also asked me what JC said. I just said that he was just seeing what I was thinking. Kaycee – that's smart. You be making moves on your HOH girl! Angela – I really wasn't trying to. Its scary. Kaycee – its a game .. if you were by yourself. .. but you have a team. Kaycee – did you hear Sam in the competition she was trying to buy promises. She said it to Haleigh, if I give you some chips, you have to promise you won't put me up. Angela – are you kidding me? That's such a Sam thing to do.
6:30pm Bedroom. Fes and JC. Fes – regardless if I sit on the block against Haleigh.. I go home. JC – why? Fes – because I'm a better competitor. I am not going to campaign against her. JC – did they tell you she was going to put you up? Fes shakes his head no. JC – I don't think you're going to go. You can win the veto. Fes laughs. JC – why are you laughing? Fes – because being on the block is funny. JC – I thought you were in here crying .. but you're having the time of your life. JC leaves the room.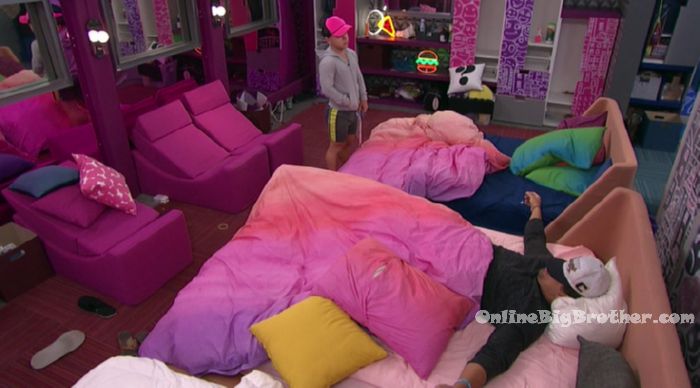 6:40pm – 6:55pm Haleigh joins Fes. Fes – you made it 66 days without going on the block. Haleigh – you're only there because of me. I'm her number one target. Fes – since Scottie left .. whatever that meant. (Angela brought up Scottie in her nom speech because they sent home their own alliance member so how could she trust a deal with them.) Haleigh – I told you we couldn't make deals with them. Fes – I know. That means one of us probably leaves this week even if one of us takes ourselves down. (Duh!) Haleigh – yeah. I know. Fes – you fell? Haleigh – yeah last night in the comp. I should have just won. They used your HOH to get rid of someone against them and now they're getting rid of us. Fes – I know. Haleigh – I take two shots at them and I miss. And they take one shot and they will probably get of us out. Fes – who do they put up if one of us come down? Haleigh – Probably Kaycee. (Nope, Sam). Fes – lets just have fun this week. Fes laughs. Haleigh – its not funny. Fes – if were on the block together, I am going home. Haleigh – no you're not. I am. We just have to get you off the block, I am not winning this game. I knew we couldn't make deals with them. IF you take yourself off .. there is you and JC voting .. and maybe Brett but I think he is working with them. Fes – its just a game. Haleigh – I really wanted one of us to win though. This is like worst case scenario. I figure they will get one of us out, whoever stays will go next and then Sam and JC. Fes – can we enjoy this week… it might be a couple weeks before we see each other. Haleigh – yes. Fes – can we just say f**k it. Haleigh – no because if you stay here I don't want them knowing this was a thing. I want you to make it farther than them. Haleigh – if there are havenots this week we are totally going to be havenots.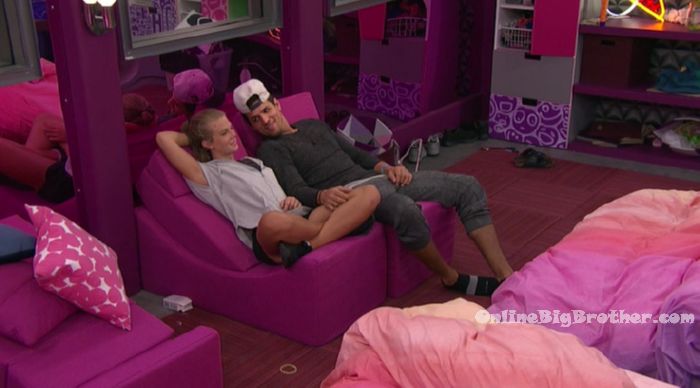 7pm HOH room. Angela, Kaycee, Brett, Tyler. Angela – if I have to pick havenots this week .. guess whos going to be a havenot!? Tyler – it is their turn! Savage! Angela – if I have to pick three people.. Haleigh, Fes… Brett – and JC! Its not that we're upset with you JC, its that we know you'll upset them.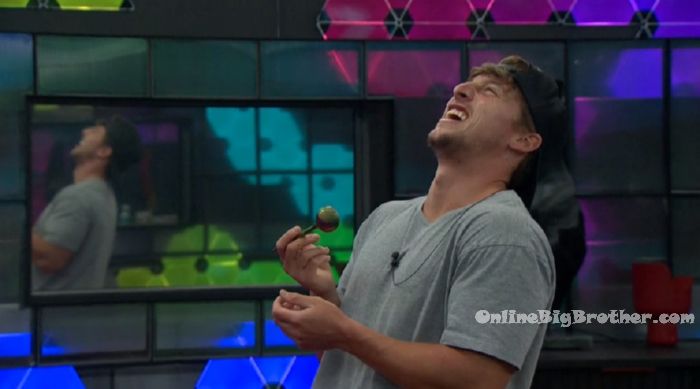 7:26pm – 7:35pm Haleigh – I was thinking of talking to Angela. Fes – to say what? Haleigh – to see at what point that became a thing.. if this was something she was planning to do the whole time or what? I don't want things to be weird between us. You don't think it matters? Fes – its weird. Fes – I need to think about my exit walk. Haleigh – no you don't. Fes – I told you I am ready to leave this motherf**ker… as long as you're there waiting for me. Haleigh – I will be .. you need to prepare yourself for not leaving though.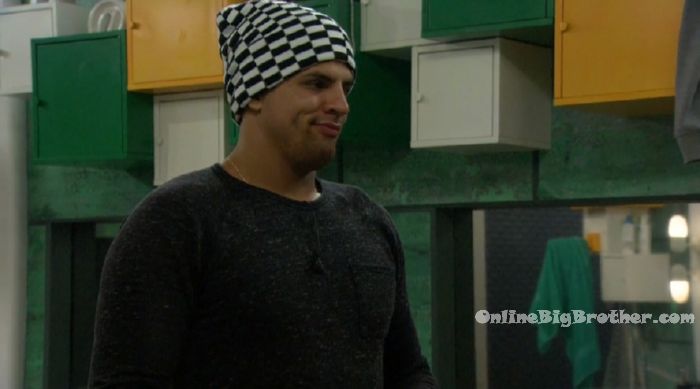 Without your support this website wouldn't be possible. Please consider making a donation. Any amount is greatly appreciated. All donations go directly to paying the considerable costs associated with running this site.
Rank the houseguests!
Easiest way to Rank the house guests use link below