| | | | |
| --- | --- | --- | --- |
| POV: | Brett | Next POV: | Aug 18th |
| POV Used | YES | POV Ceremony | Aug 20th |
| HOH: | FES | Next HOH: | Aug 23th |
| Noms: | Brett Kaycee & Scottie | Have Nots | |
A real easy way to support the site if you are an amazon shopper is to make your purchases through our link. You pay the exact same thing but we get a small % commission. It doesn't cost you anything and helps us out.
Amazon Canada
Amazon USA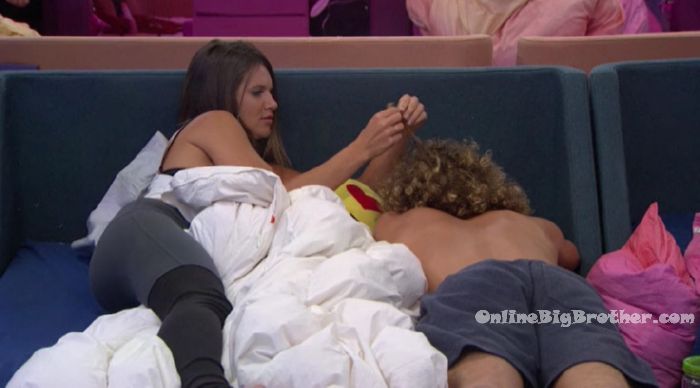 8:05pm Bedroom. Angela and Tyler. Angela is twirling Tylers hair. Tyler – they (production) asked me about some other fun stuff. Angela – oh yeah? I think I might know. I think I have a feeling I know what it is. And I am hoping they don't ask me the same because I am going to plead the fifth. (Production asking them about liking each other) I am going to say I am heartless and emotionless .. Big Brother blocks the feeds. Tyler – are you still entertained? Angela – MMMHHHhh. Why are not? Tyler – I am. This is the highlight of the day right here. Angela – this is the most boring day. F**king Faysal and Haleigh .. its all their fault. We need Brett to win and put Haleigh and Fes up. Tyler – MMMmhhh. Angela – so that we don't have to do it. I really don't want to do it but I would.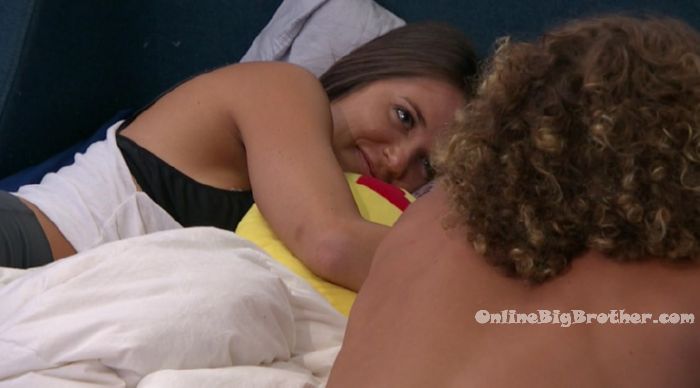 Tyler – we have to. Sam comes out of the havenot room. Angela – she didn't even look over here. She is so crazy. What could she possibly be mad about? Tyler – I don't know. They were also saying to get Sam out. Angela – I said that to Haleigh. Tyler – Brett and JC were saying that in there with me. They asked where did Haleigh even get that information from? Did I say that? Angela – I think I did. Tyler – that's good. Angela – I said I think everyone is on board. Kind of like what we talked about upstairs. I didn't say Sam's name. Tyler – that's good. Angela – just as long as its not two of us (going up on the block) then we're good. Tyler – I don't really see many scenarios that it could be. Unless Sam wins. Angela – do you think Sam would put two of us up? Tyler – maybe.. like if she put Haleigh up and Haleigh won the veto. Angela – I think she would put me and Haleigh up. Tyler – yeah. You would be fine though. Angela – why does she hate me? Tyler – because you're beautiful and perfect. That's why I hate you. Big Brother blocks the feeds. Tyler – JC said he would never put you up because you've always had his back. He didn't say he wouldn't put me up though. Angela – he would never put you or Fess up. Angela – I feel so bad for her (Kaycee) for that coming out thing. She doesn't realize how big of a .. like how amazing she is. And how her story is going to be so empowering to so many people. She is going to be so many peoples hero. Tyler – I think Kaycee might be America's Favorite or JC. Angela – no, he's been way too political. He's said some stuff and I'm like you better shut your mouth now. Tyler – yeah but it depends on how they're spinning it. Brett joins them. Tyler – Or Brett might be America's Player. That's what he's going for.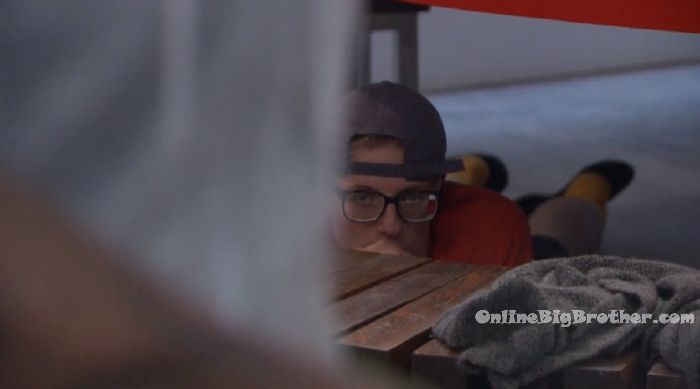 10:12pm Kitchen. Brett and Scottie. Brett – I was just complaining about the calm .. but I think everyone will be wishing for the calm back after tomorrow. Scottie – I'm wishing last week would have been calm. I've spiraled. Brett – you're alright.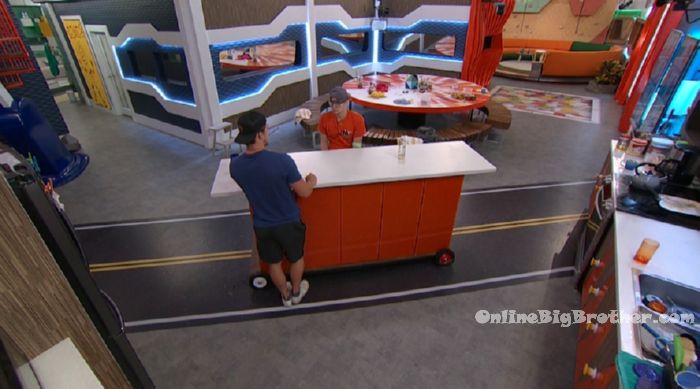 10:25pm Bedroom. Tyler, Fes, Haleigh. They talk about past seasons of Big Brother and about Janelle Pierzina and Britney Haynes. They bring up survivor. Haleigh – I think I would be good at survivor.
Haleigh "I really think I would be good at survivor.."#BB20 @bigbspoilers pic.twitter.com/7TBVmcU0PF

— Dawg (@DawgsBigBrother) August 23, 2018

11:16pm – 11:40pm Havenot room. Brett and Tyler. Brett – She starts getting snappy with me. Like starts freaking out on me. Dude I am like so far past the point of trying. Tyler – I know. Brett – I am done! I don't care. Like you want to mope around and pout like this? You can leave. Tyler – Yeah, seriously. Brett – you'll make the decision really easy. Tyler – I don't get it dude. Brett – Like one day she acts like we're the only people she has and then the next minute she turns on us. Dude I am like trying. Like in reality you're not my girlfriend. Like I am not going to try and fight to .. I am trying to be here as a friend and that's about it. And she wants to be snippy with me all day and then randomly she will be like .. I don't know. Its really starting to get under my skin. She acts like everyone else has a problem… but you're the only one that acts this way. Tyler – she makes you feel bad for doing anything. Brett – Like I came in here and asked her what are you making that for (see photo below) and she was like myself ..just like everything else! JC joins them. Brett – dude what do you think will happen tomorrow? I really think its going to be a double eviction. JC – that's too predictable. Brett – I don't think they give a f**k.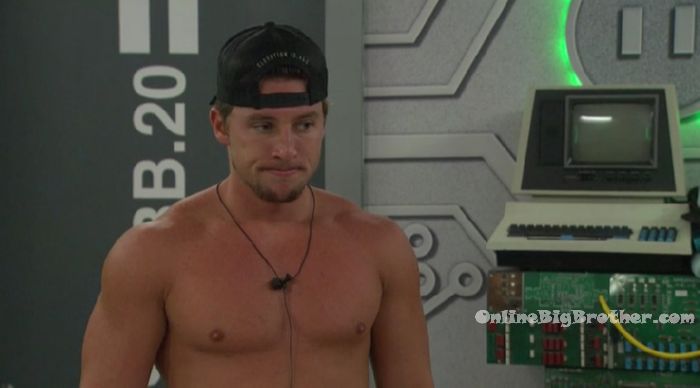 11:10pm – 11:33pm HOH room. Fes – Sam's been acting really weird. You want to start studying? Haleigh – no, I've wanted to all day and you didn't want to. Fes – you would be good at survivor?? Haleigh starts studying the days / events of the season. (Haleigh doesn't know the days / events) Haleigh – I'm really bad at this.. I have a bad feeling about tomorrow. Fes – about what the HOH. Haleigh – yes. She can't win (Sam). Fes – literally anyone else win and she goes home. Haleigh – except Brett. Fes – yeah. If Tyler and Angela pair up with us .. they know sh*t. JC doesn't know sh*t. Brett is just a goober and doesn't know sh*t. Sam just held on to something because she is crazy.

11:55pm HOH room Fes and Haleigh. Fes – I didn't want you to ever question what we have. Its real.. its real real. What me to go downstairs and tell everybody? Haleigh – no! Stop. Fes – I will. Haleigh – you want everyone to know so bad. Fes – yes. I've got the baddest girl in big brother history. Haleigh – shut up. Fes – I don't want to brag but it only took me 54 days to kiss the baddest girl in big brother history. Haleigh – should we meet each others families before they meet. Fes – I think its going to happen simultaneously.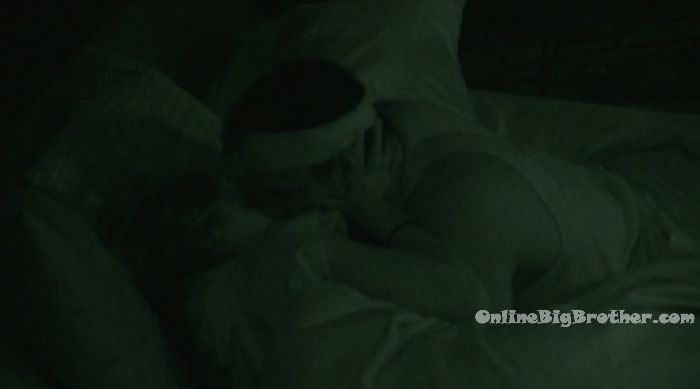 12:08am Havenot. Tyler and JC.
JC -I still can't believe this.. Like we haven't won HOH. Tyler – and we still come out on top. JC – that's what I was laughing with Angela. JC – Do you remember yesterday and I told you something .. Brett said in front of Angela that he didn't want a relationship because he wanted to focus. And then you said are you creating all this because you want to bla bla bla.. I am like I don't go around creating sh*t. Tyler – shut the f**k up. And then what did you do.. you went to him and said lets go to Tyler and make sure you say that again. JC – what?! Tyler – f**king don't f**k with people. JC – are you that paranoid? I would never. JC – I would never. If I said that I would jeopardize my game and your game because then he would be like why do you want me to do that. He's said that like five times… one time was for Angela. After that she's been more distant with him. Tyler – I don't care. I promise you it is not that big of a deal. We are no where close to being a f**king showmance. I swear! I swear dude. I don't even talk to her that much. JC – what are you talking about every time I walk into a room. Tyler – that's because you notice it now. JC – every time I walk into the room.. you're there with her. Tyler – because that's where I hang out. Its not like I am sitting there confessing my love for her. I just sit there and talk to her. JC – but you're building up, building up.. five weeks is a long time. Tyler – so what? JC – that is a long time. Tyler – you don't have to question it. I'm not stupid. JC – you really think I would tell Brett. I would come to you.. slap you four times and then go into the DR. Tyler – you are going to look back 3 months from now at how you and I are final two and you'll be like wow I was an idiot for ever getting mad about that. JC – no I just want to protect the game. I know how thing get out of control. Brett- says that he thinks Haleigh and Fes are in a showmance. Tyler – we've know that. JC – he hasn't told me anything about it. Tyler – you should go do this sh*t to him. JC – he is not my husband.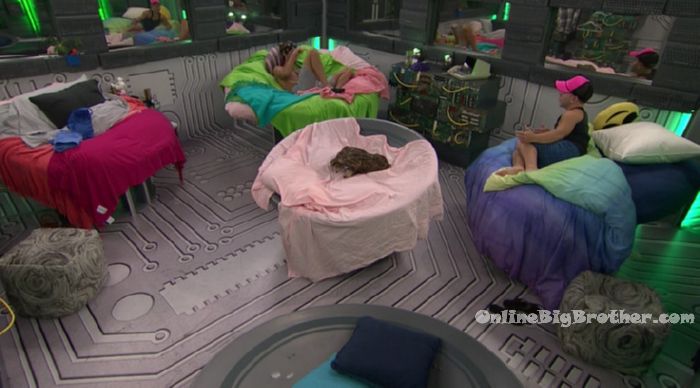 1:45am Sam …

3am – All the house guests are sleeping..
10:15am Big Brother wakes up the house guests. The house guests slowly wake up and chat in the kitchen while eating breakfast.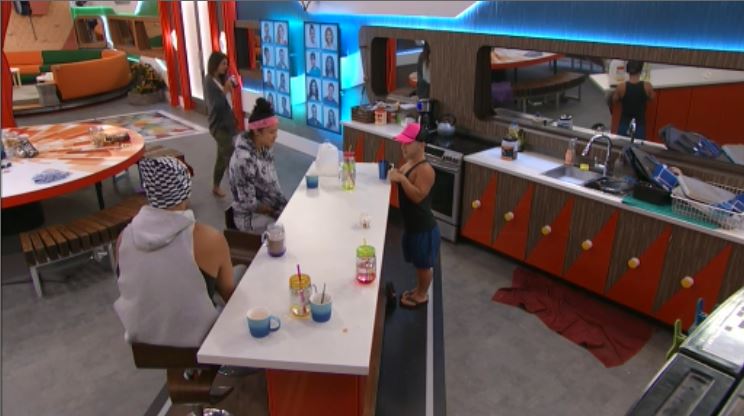 11:15pm Big Brother switches the live feeds to BB re-runs..
12:31pm Still blocked..
1:10pm Still nothing..
2:42pm Sam's cleaning out the dead cat from the vacuum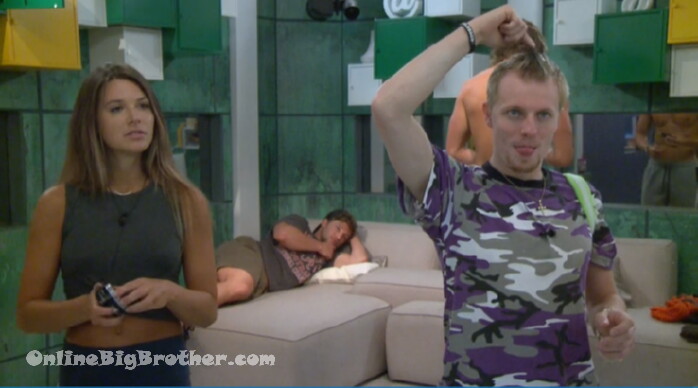 3:15pm Scottie and Tyler 
Scottie says he hates being up against Kaycee it limits his options. Scottie warns them that Fes has memorized all the days like the back of his hang if they let him get to that point he will rocket to final 3.  Scottie makes clear he's targeting fes. Tyler says he'll talk to Haleigh right before to see where her head is at.
Without your support this website wouldn't be possible. Please consider making a donation. Any amount is greatly appreciated. All donations go directly to paying the considerable costs associated with running this site.
Rank the houseguests!
Easiest way to Rank the house guests use link below