Watch the feeds for free from the US using a VPN. We recommend HMA https://www.hidemyass.com/vpn/r16399/
Spoilers
Dillon evicted 2-0
Demetres win the HOH
Ika and Karen
More retells.. more makeup.. more pain to watch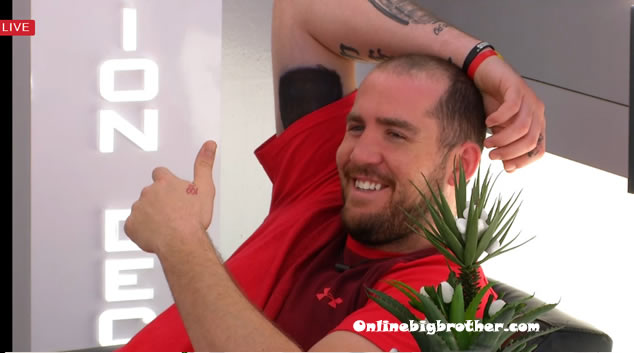 Dillon and Demetres
Chit chat about owning a yacht and a Helicopter

Demetres and Karen Kitchen
Demetres saying he's not a good liar.
Demetres – imagine your skillz after this game.

Demetres HOH Room
Ika and Kevin both volunteer to go on the block.
Ika yelling – Just so you know you didn't win! And we didn't win either! Karen – did you just shoot another shot of tequila? Ika – yeah. Karen – I wondered what was happening. Ika – I know, I was holding hands with Kevin Martin. Karen – you were actually smiling. Slithering around the house. Kevin Martin still slithering around the house on day 62.. still slithering. Ika – oh he wanted to get us out just as bad as we wanted to get him out. Kevin, I mean we're all still here so we haven't won yet. Karen – he for some reason wanted to take me out.. I don't know why?! Ika – don't say its three against one Kevin. Karen – he had an opportunity to take you out. Demetres – yes he did. Ika – YES! Karen – dumbest game move Kevin Martin. Ika – you had two chances to get one of us out of here Kevin. Demetres – leave the poor guy alone. Let him shed his skin .. or whatever snakes do. Ika – oh no he's coming for us .. he's a good competitor. Demetres – yes he is. Kevin asks them if there is any floss. Ika – just use your snake skin. Kevin do you think we'll be best friends after this? Kevin – probably not. But if you ever want to drink I could use some of my hundred thousand dollars to buy one for you. Ika – Kevin, Kevin if you want me to pay for your mental health after this, I'll pay for it with my hundred thousand dollars. Ika – will we at least be acquaintances after? Kevin – yes, I actually .. you're likable. Karen is not. Karen is not likable.
Kevin alone in the storage room. Saying how bad of a play it was to put Dillon on the block. He thought Karen would vote out Demetres. Says that Karen was guaranteed final 2 with Dillon left in the game. goes on to say that Karen only wants to see him lose and the live feeders must be laughing at him right now. Kevin says he now has to win his 3rd POV in a row.
[polldaddy poll=9740150]
[polldaddy poll=9740155]