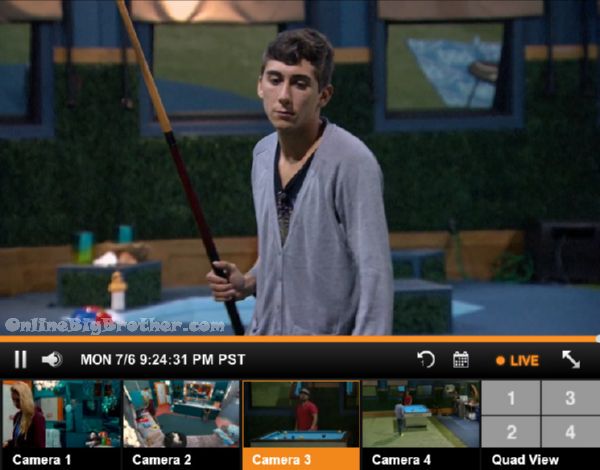 9:23pm Jams and Jason
James saying there's a skinny Liz and a heavier set liz. Points out one of them talks to her the other doesn't.
James – We're going to have to plant the information.
(Sounds like James is noticing liz looking different at times but doesn't think much about it )
Jason – one of them wears more clothes one of them wears more Bikinis ..
Jason – can we keep the Bikini one
James – ya right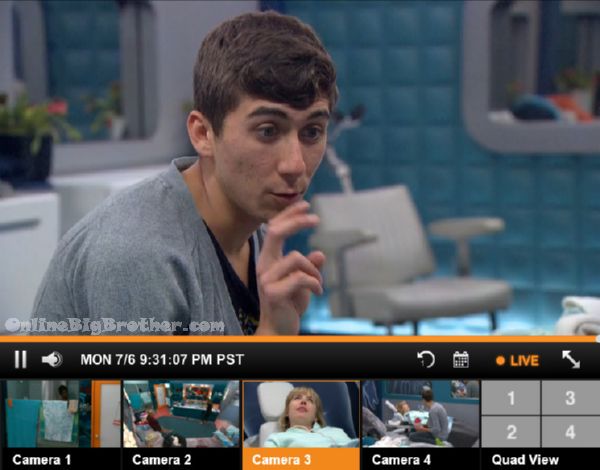 9:30pm Meg and Jason
Fills her in that he thinks Liz has a twin one heavy the other skinny. Tells her to be on the look out. Meg asks if he's talked to James because she's always staring at her.
Skinny liz is not friendly Heavy liz is
Jason – Not heavier.. just thicker.. I swear if there is twins in the house it's her I'm positive.. the minute you start to look at them there is a big difference.
Jason says the one out there right now is Skinny liz the one last night was heavy liz.
Jason points out Heavy Liz has a deeper mouth. Says he told Skinny Liz today she was looking good and she looked at him like "F*** off"
Jason – Skinny Liz doesn't speak a word with me.
Meg had a long conversation with Liz last night she'll ask Skinny Liz about it.
Jason says he was crazy when thinking johnnyMac had a twin but he's not crazy with this.
Jason – I've been Harriet the spy starring at that b1tch (liz)
Jason really started noticing by the weight difference between the two.
Jason says they have to get Liz out otherwise they are dealing with strong pair that will never put each other up.
Meg says she's a bit worried about the vote now with the twist. Jason doesn't think the twist will make any difference.
Jason says he would love for her and Da to stay but it's not going to happen.
Jason – I will be very very very surprised if Day stays over you.. I'm still going to vote for Day.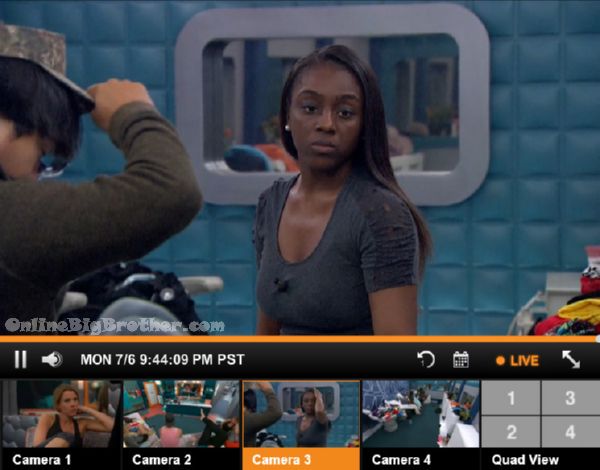 9:45pm Jason, James, Meg and Da'Vonnetrying to figure out why the person that got the vote power isn't making it public
Da tells Meg she knows Meg is staying but she can't go home to her daughter without at least asking people for their votes. Meg understands.
9:51pm Have nots Jason, Meg and Da'vonne
Jason – Shelli ruined the Kathy Griffin twist. they all agree the twist won't make a difference.
Da and Jason continue to list off all the differences of "Thick" and "Thin" liz
10:36pm
Not a whole lot going on..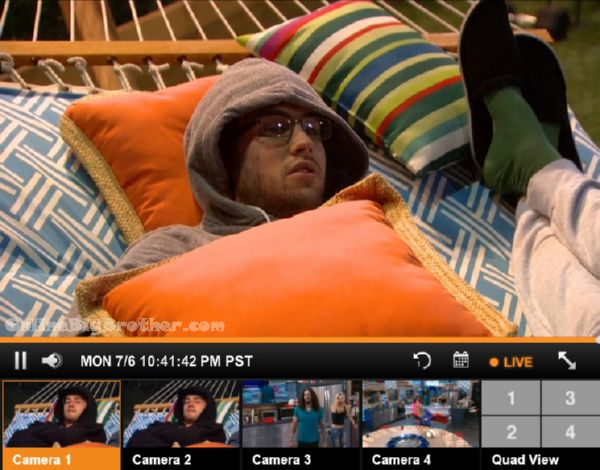 10:39pm Clay and Steve getting to know each other
Steve says he doesn't have any guesses of who won the phone calls. Steve heard his name being thrown out there as someone that won. He tells Clay he didn't win it, "I don't think it will affect the vote"
Clay says Mef shouldn't go home. He asks if Steve is voting out Da'vonne. Steve promised Shelli his vote and that is who she wants him to vote for.
They start talking about the votes
Steve – There's 9 votes in the game this week
Clay – so you need 5 votes
Steve – I think next week is going to be simple too (To get Audrey out)
Clay agrees.
Steve mentions how Audrey is trying to work her way out, 'She's looking for cracks'
They agree Audrey has lied to a lot of people.
Clay – when this drama started Da and Audrey split
They agree there will be less "Petty Drama" and more 'Game Drama" once Da and Audrey are evicted.
Steve doesn't think anyone will nominate Audrey straight up they will backdoor her, 'If she wins HOH she'll be dethroned"
Steve brings up liking Jace in the beginning but then having to distance himself for game reasons. He's doing the same thing with Audrey now.
Talk becomes more casual.
Clay says the S5 is better than the iphone 'People don't know…. if you sneeze on a iphone it cracks"
Clay – I have a galaxy s5 but I like the power
Steve – they're easier to use.. my mom has a iphone she's 60
Steve says his Note has 3Gigs of ram and the iphone 6 only had 1 gig..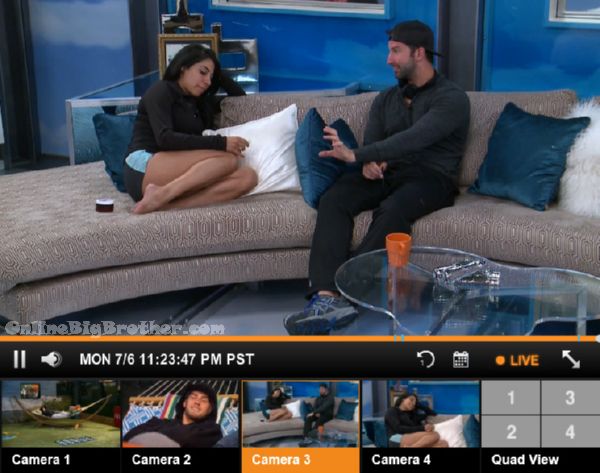 11:12pm HOh Jeff and Jackie
Jackie says it was ballsy of Shelli for pulling off what she did this week
They agree the house will want to break up Clay and Shelli. Jeff warns her that Meg won't make it to the end because everyone knows if she makes it to the end she'll win.
Jeff doesn't know about Clay anymore.
Jackie says she's OK with Da leaving because Da was the one person she wasn't close to. Jackie mumbles something about Jackie needing the money to. (Da is playing the angle that she's trying to win for her Daughter)
Jackie brings up Da talking sh1t about LAPD and both Jackie's parents are LAPD
Jeff – unless you do illegal things all day you have no run ins with the police
Jeff – If anything Vanessa isn't being completely honest with who she is
Jackie – People are reading a little more into it
Jackie says Vanessa can't speak properly that is why she's in the HOH all the time. Jackie adds Vanessa is uncoordinated she say her work out, "I do not wanna work with her what does she bring"
Jackie says Liz is coordinated but she's not sure how smart she is.
Jeff brings up that Liz only cares about getting to Jury so that is what they are going to give her.
Jackie doesn't want to work with Clay or Shelli either
Jeff wants to bring JohnnyMac to the end. Jeff and Jackie both don't like Steve. Jeff says Steve has no backbone. Jeff likes Jason says he brings a wealth of BB knowledge to their group.
Jackie says Austin is hilarious
Jeff says Vanessa is on to them that they are closer than they making apparent.
Jackie says she's gotta go "She's not doing anything.. pisses me off "
Jeff says Vanessa thinks she's working with Shelli
Jackie – they are getting close
Jeff thinks he'll continue the ruse that he's working with Vanessa.
Jeff fells the house is making him out to be a bigger target he really is.
Jeff tells her Steve is the only person that wouldn't be Audrey up if they
Jeff – Steve is such a little wuss at least talk some game with me
Jeff calls Steve's game "The classic Mirror approach"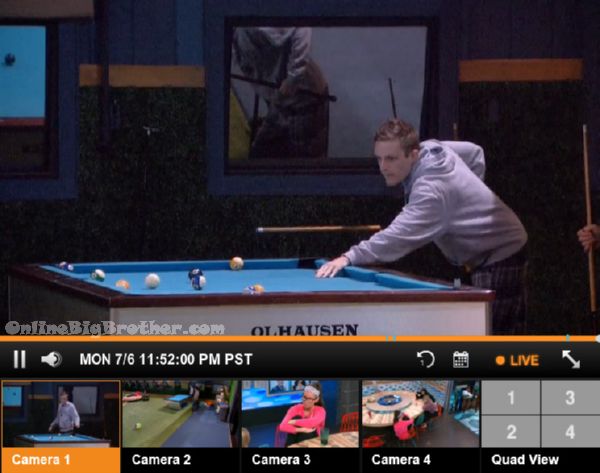 11:47pm Steve and JohnnyMac playing pool
Steve saying he's hoping that next week is what this week was supposed to be. (Get Audrey out)
Steve says he lives so close to Canada that it's not uncommon for the local stores to accept Canadian Currency.
Midnight Waiting around for the Podcast to start (They're going to do a mock podcast tonight) .. Clay asking everyone if they have shot a gun before.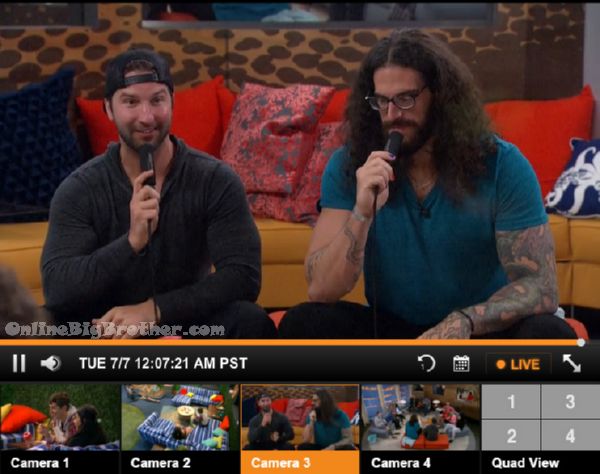 12:10am Podcast time
(Fake podcast for the fans)
12:10am BAckyard Jason and Jackie
Jason says even if Da has the power to nullify 3 votes she still doesn't have enough votes to stay. Jason says he overheard JohnnyMac and Steve talking game at the pool table.
Jackie says Jeff was telling him how "F*****g annoying" Steve was when he wouldn't talk game to him.
They head inside to listen to the podcast.
Live Feed subscription gives you CBS All Access thousands of archived shows. Live Shows like Big Brother, all the Big Brother Seasons, and 24/7 coverage of what is happening inside the Big Brother House. Plus there's flashback that lets you go back to any second of the feeds and rewatch what happened. Simon and Dawg will index the season just watch the parts worth watching. All this for $5.99 a month try it out 1 week free. Support our efforts and get your feeds via a link on this site. Live feed subscription Sign up
[polldaddy poll=8961340]
Share it YO!
Tweet