POV Holder:
JohnnyMac
Next POV
July 13th
POV Used
Yes
POV Ceremony
July 6th
HOH Winner Team 1:
Becky
HOH Winner Team 2:
Shelli
Nominations 1 :
Steve, Jason
Nominations 2:
Day, JohnnyMac
Battle of the Block Winner
Steve & Jason
Next HOH/ Next BOB
July 9th / ?
Original Nominations:
Day, JohnnyMac
Current Nominations:
DaVonne, Meg
Have Nots
Steve, Jason, James and Meg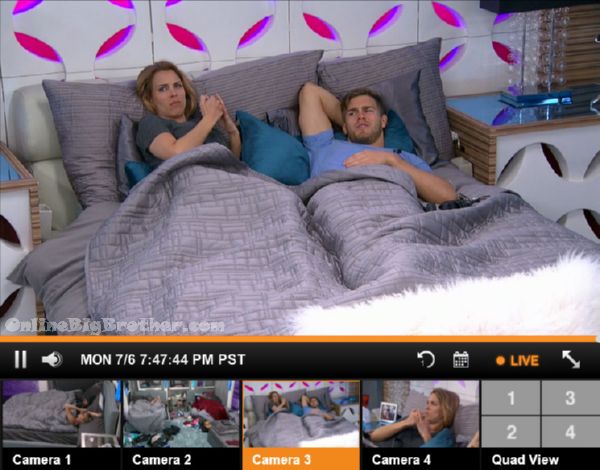 7:45pm HOH Shelli and Clay
Clay warns her Audrey will flip on them to stay in the game. Clay thinks the number 7 was given the power because it's Big Brother 17.
They start talking about Da'vonne having the power. Right now they have 10 solid votes to evict her if she has the power she can remove 3 of those.
Shelli – 'Shelli need to flip 4 votes.. but then they'll be voting out Meg.. that's why I choose Meg'
They agree Meg going up was the best thing especially now in light of this twist. They are sure Da'vonne would have been able to flip the house if she was up against anyone else. (Especially Liz/Julia)
Clay thinks Production set it up for Da'vonne to get the power says it's rigged. Adds that the game as a whole isn't rigged just little parts of it.
Shelli – that's why I said it doesn't matter what number you're getting if you get it you get it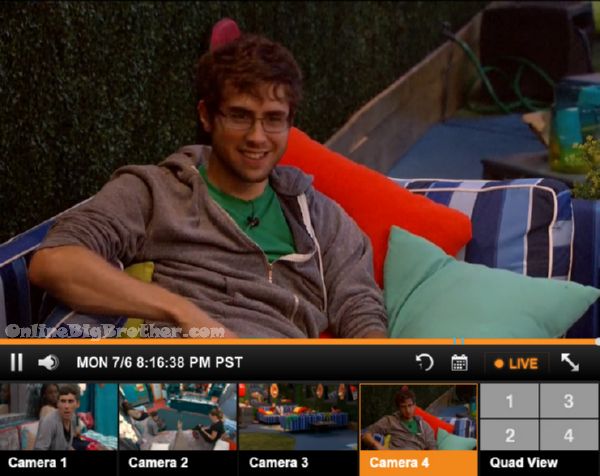 8:13pm Steve and JohnnyMac
John tells him that Da'vonne is questioning what Steve does outside the house. Steve says why would he lie. He told everyone he's an engineer who went to cornell. Explains that usually people who are engineers doctors say they're something else. Brings up Season 12 there was a podiatrist that said he was shoe salesman.
Jonnymac and Steve both say they are voting out Da'Vonne this week.
Johnnymac – Not to be a dick but a podiatrist is the lowest form of doctor
They start talking about highschool. Steve says he's got a horrible vocabulary doesn't read very much.
Steve – Spark noted everything in highschool
Steve – didn't work at the college
Johnn says he was a finance major and took all the science credits.
JohnnyMac – I wanted to know about money I love money
Steve – why did you go into dental school.. cause you loved money
JohnnyMac – sweet cars..
Steve asks why didn't he go to medical school
Johnnymac – md's don't make that much.. DMD more money
Steve – do you like being a dentist
John – It;s ok.. makes the money that's for sure..
JohnnyMac explains the only way to make money is to do good work so he does good work to make the money.
JohnnyMac says after all his expenses are paid at the end of the month 4 grand goes towards paying the student loans.
Jason joins them. Tells them about a scam that took place where a dentist was removing extra childrens teeth to scam insurance.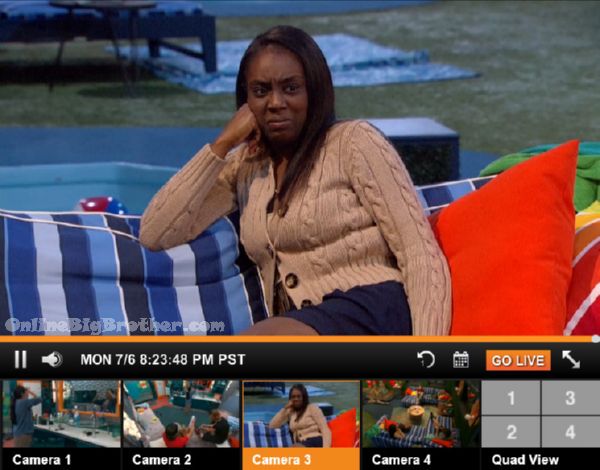 Da'vonne joins them. Johnnymac starts talking about how tough it is removing some adult teeth when the root is wrapped around the jaw and they have to cut it out. "The roots are locked into the jaw bone.. it's probably not a good sound" (The conversation was cringe worthy.. see image above. Check out the animated gif of Johnnymac going through the cutting process.. )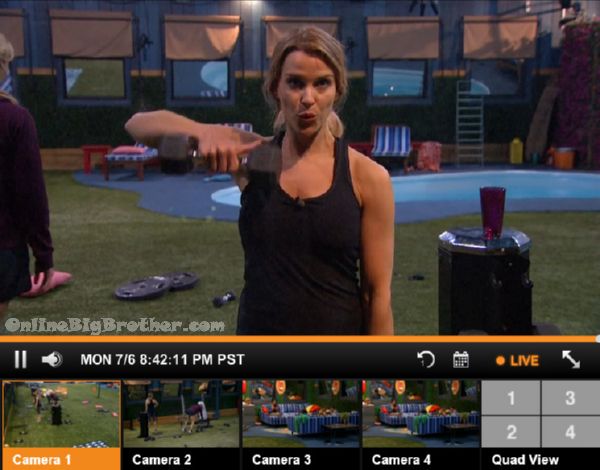 8:42pm Shelli and Vanessa working out
Shelli saying Clay and Austin are such good trainers, "They're so patient"
Venssa – aren't you glad you put Meg up.. makes is so much easier
Shelli says if Liza was up she would be freaking out right now. Adds that it's a good thing JohnnyMac won the POV because if he was still on the block he would be going home.
8:58pm Jackie and Da'vonne
Da – even if I don't win I wanted to make it to Jury.. For the money .. that would help me.
Da'Vonne – "Even if I do want to campaign and get votes I like Meg I don't want to campaign against her"
Jackie asks if she's talked to Shelli.
Da says once Shelli put up Meg beside her Da knew what Shelli wanted to do, "It';s done.. She put someone up close to me.. we have nothing to talk about"
Da is pissed because Shelli made her feel like Audrey was the target.
Da says the only people she thinks will vote for her will be Jason.
Jackie wonders if someone will 'Cross out" James vote.
Da thinks that will be cruel to cross ou her only vote.
Da says they gave the phone call to the fan favorite and that is Steve Audrey.
Jason joins them
They're shocked that Audrey is still in good with so many people in the house. They list off how Audrey acts like the HOH is hers.
Jason says it's awkward to tell someone to leave the room thought so Audrey is just lingering.
Jason says he never goes to the HOH unless he's invited.
Jackie – I don't go up there to the batrhroom and lurk around
[envira-gallery id="119431″]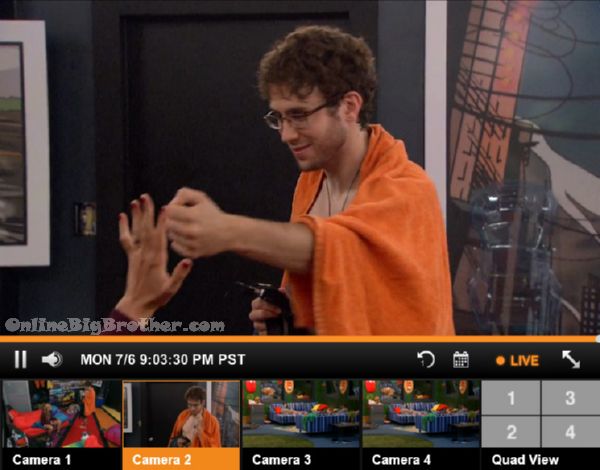 9:03pm Steve and Vanessa
Forming an alliance called S.O.S
It's Steve alliance name "S.O.S.. Students of Sounds" Vanessa says she loves it.
Steve asks her if she's in any other alliance. She says no.
Steve says the biggest problem he's facing right now is Audrey always coming up to talk to him. Everyone see it and it's making him look shady. Vanessa recommends he talk really loud.
Steve tells her he's known as Stephen outside the house he's never gone as steve. Explains the reason is Stephen and Ian sound too much alike
Share it YO!!
Tweet