Help support OBB by making your Amazon purchases through our link below. It doesn't cost you anything and we get a percentage of what you buy.
Amazon Canada
Amazon USA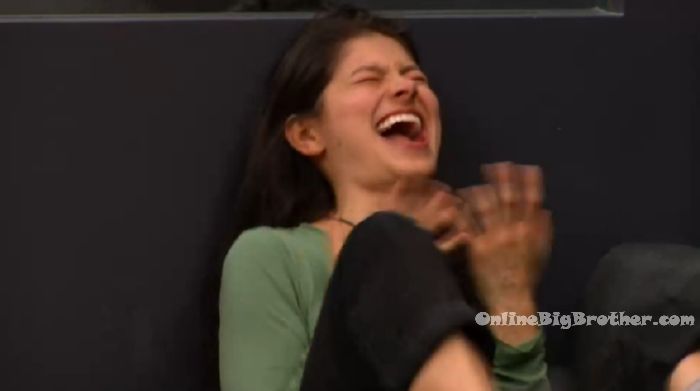 9:50pm Blood Veto room. Adam and Esti.
Adam – I just don't want next week to be like whoever wins lets just go after Adam and Sam. Esti – no. That's the thing that I was thinking. If its 5 of us, if any other of us wins .. like lets say the other people win. And they want to put one of us up.. as long as its another person from the other side .. we will have the vote. Sam joins them. We just have to convince them to put one of them up. We will have the votes for at least next 5 people that leave. Sam gets her to re-explain it. Kiki joins them. Esti – I think that we will win back to back, back to back, back to back to get them all out. Adam – Cory is worried as f**k about what we were talking about. People are trip'n that we don't talk. Sam – everyone but you guys have come in my room. ..ever time someone comes in my room, I am like that showed me so much! Esti – yup, they're worried. Every week who is the one campaigning for them to stay… I don't want to keep fighting their fight. If they want you (Sam) out, don't do it through me and don't do it through Kiik. Like why would I keep them safe? They wouldn't do that for me! Who wouldn't want a veto?! Like why wouldn't you fight for a veto!? I'm so mad! I'm so angry! I haven't been this angry in so long. Kiki – if you're not going to fight to be here.. then leave Dane joins them. Sam – I think back dooring is better for this type of move just because this conversation can happen now but things flip flop so much. I just know with the week Maki went how things changed second to second. I'd like to know that if we nailed something down that it wouldn't be worried about all week. Dane – so what's the backdoor option? Sam – well the only options would be Cory, Anthony or Damien. Or Kyra but I think we can all agree.. Dane – we need to flush that veto out. Sam – Kyra is a good person to have in your head.. she has a lot of incite into this game. Emotional and some times a little bit annoying. We have to keep in mind of that group ..if they were to stay who would have the best option of winning next week. And that would be Cory.. so the best option to back door would be Cory.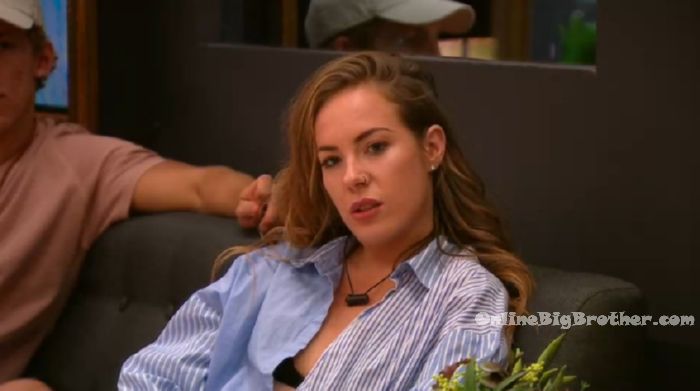 10:13pm – 11:43pm Big Brother blocks the feeds.
Havenot room. Mark, Dane and Anthony. Mark – damn, I even gave her the opportunity to change her mind and she didn't.
Dane and Esti in the havenot room. Dane – don't tell anyone this ..after I heard Sam was going to put up Mark and Kiki. I went back up there and I was like if you want me to vote Mark .. sure, If you want me to vote Kiki yeah sure. If I play in the veto sure I'll use it or don't use it. EThen she (Sam) was like who do you feel turned by? I was like I don't feel turned by anyone. When you entered the house everyone bowed down to you… then as soon as Cory came into this house, who . I whated to be liketook over your game. Dane – I think Sam is lying to Anthony. Esti – yeah Sam is a little snake.