Head of Household Winner – Cody
Have nots – Nicole
Nominations – Christmas & Tyler
Power of Veto holder – Cody
Power of Veto Ceremony – Cody did not use the veto
Live feeds —-> Grab your Live feeds here. Try it free.
Rank the houseguests —-> Big Brother 22 Ranking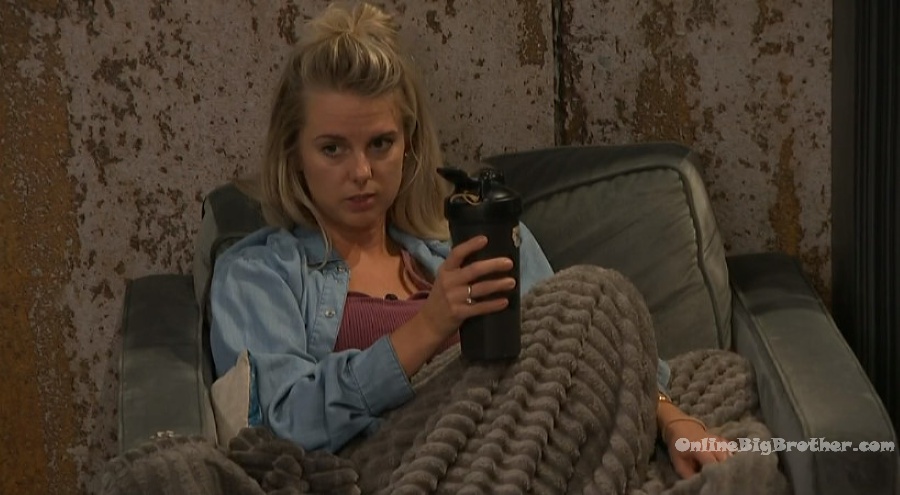 7:15pm HOH room. Nicole and Christmas.
Nicole – I think she (Dani) was shocked. Christmas – she was pissed! Nicole – that's why she went straight for the door. I didn't believe anybody. I was like I am over this! I don't know what was going on. I thought Tyler wanted her out but at the same time I was like I don't know. Christmas – I thought they were working together in the beginning .. like hardcore together. Nicole – Who? Tyler and Dani? Christmas – yeah. And then I thought this whole thing with Bay and Day but like wasn't Dani .. Dani was really saying those things. So that's what confused me. Nicole – yeah that is confusing. Christmas – then he wanted us to backdoor them.. I'm like that f**ks me because now I have two girls I just put on the block for our alliance. Nicole – you don't want to get rid of an alliance member. Christmas – even if he wasn't an alliance member.. Nicole – you have two people gunning for you. Christmas – right! Now I have to dodge two bullets instead of one. Nicole – I really want to watch that week because I really have no idea what was going on.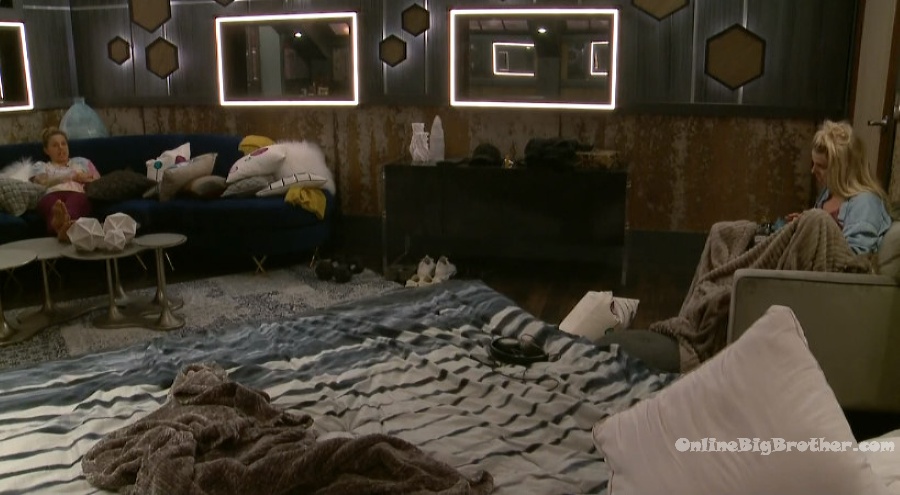 8:30pm HOH room. Enzo and Cody
Enzo – I was like you and me .. if we win HOH what are we doing? He was like I would put up Christmas and Nicole.. And I was like I don't know about that YO! I was like I don't know YO! Alright we'll do that then. I would put up Memphis and Christmas. Cody – yeah. Enzo – do you trust if you're on the block with F**king Christmas? That's his number .. he knows that Christmas is taking him (Memphis) to the final 2. He is not going to cut her over you. Cody – but here is the thing if I am on the block next to Christmas .. he is beat. I doesn't matter. Cody – my thing is.. Tyler joins them and the conversation ends. They talk about how bored they are.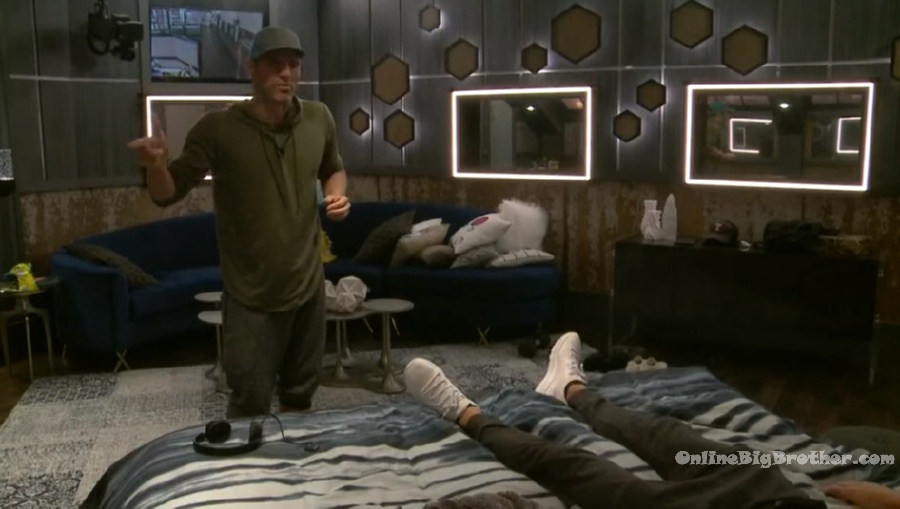 9pm- 9:40pm Big Brother gives them alcohol. They head up to the HOH room to hangout and chat about random things.
10pm – 10:40pm HOH room. Enzo and Cody.
Enzo – Yo man, I'm starting to get confused now. Cody – yeah I don't know what the right choice is. Enzo – yo if we keep Tyler he will probably go after Memphis and Nicole but then after that it might be you on the block with one of them come off. Cody – yeah but at that point we're in the final f**king four, final three. Cody – but for me Memphis obviously has a f**king thing for Christmas.. What does he say to you about Christmas? Enzo – he says if he wins he is going to put up Christmas and Nicole. I believe that he is going to do that. He is just going to tell Christmas that he is the pawn and he wants Nicole out. He wants Nicole out bad yo! Cody – oh sh*t because he tells me that he wants Christmas out. Enzo – see that is what I am trying to say. Now okay if we get rid of Christmas .. we f**k him.. but do we f**k ourselves at the same time? Cody – he might put up them too.. he might put up them two but if he wins the veto he might put up me and then he will choose who goes home. And to be honest I wouldn't be surprised if he sent me home.. because he views me as harder to beat than all of you guys .. in his head. Enzo – has he made like a final two with you? Cody – not like a final two but like he wants final 3 with me, you and Enzo. Enzo – that's what he said to you. So his final two has to be with Christmas then.. it has to! Because YO! he knows that Christmas will take him to the end of this game. He wants Christmas in the end of this game. Why would he want me and you .. because he knows me and you are taking each other. He (Memphis) is going to want to come after me next week. She will want to do it and he'll want the easiest path in his mind to win the game. And in his mind his easiest path to win it to beating you and Nicole because he beat you guys in all competitions and Christmas he doesn't think she is that great. And Tyler he has a hard time beating and who is the next person after Tyler that he has the hardest time beating… Its me! He's competed against me a f**k ton of times and I've beat him a f**k ton of times. Like in HOH's and Vetos .. There have been a ton of times that we have been in competitions together and I have beaten him. So in his head he f**king views me as the next hardest person to beat so he will want me to go. And then he will just think oh I'll just beat them in competitions and then I will go to the final two. That is what is going through Memphis's head. That is how this dude thinks. He is a macho man arrogant .. like I can beat everybody. Enzo – exactly. He is saying that if he wins the veto that he isn't going to take Christmas down.. but I don't believe him. Cody – I don't f**King believe him. I think if you win HOH, his a$$ goes on the block. Enzo – that is what I am saying .. I put him (Memphis) and Christmas up. Nicole joins them. They talk about when / whether or not to tell Tyler that he is going. Nicole – he is just being so nice to me .. it makes it so hard .. why can't everyone be a jerk. I don't see Christmas taking a final 2 chair .. but with Tyler he will sit in a final two chair. We had a shot to get him out and this is our last shot. Ian said if he is in the final two he will vote for him too. Cody – okay, done .. he (Tyler) goes. Cody and Nicole head downstairs..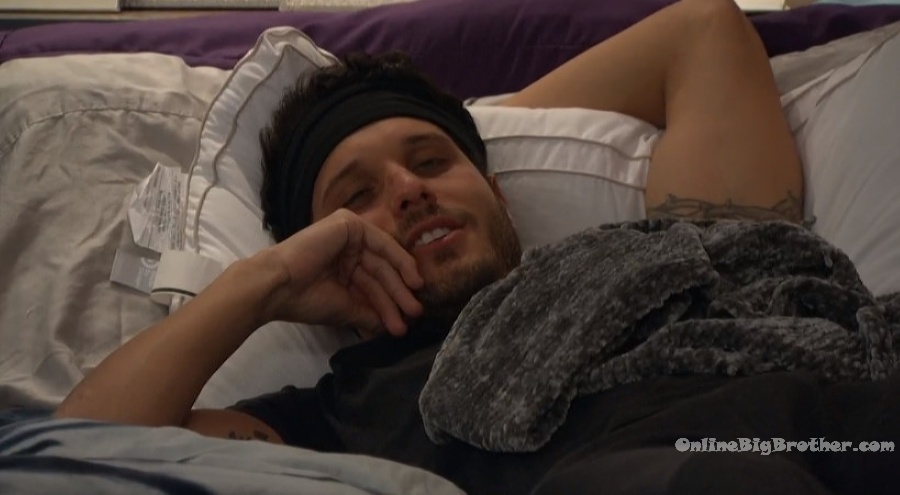 10:50pm – 11:15pm HOH room. Enzo and Cody.
Enzo – he (Tyler) always asks me what is going on .. did you talk to Cody? What do you want me to tell him then? I just keep saying its up in the air. Cody – stick to that. Enzo – I'm a say he is working on Nicole. Cody – say he is working on Nicole. I think we're good. Enzo – yeah. That's it Yo! Cody – but this is what we've been playing all season for .. this is it. Like under pressure .. give us that comp! Enzo – I just don't want Christmas to win this HOH. That is that last person I want to win. I think we will be alright but if its endurance I don't know what the f**k she is going to do. I am telling you I am f**king ready to win something YO! Cody – I know you are. I don't even have a doubt. YO I win this one and then get clipped in the final four.. f**k it .. at least I made the final four. Cody – ain't going to happen. Enzo – but if we take out Memphis this week .. on my HOH! I would love to see that.. bringing his f**king head like YO I brought you final two! I brought Memphis's head YO! That is it! Yo he is funny as f**k .. I love the kid yo! But he is playing a really good game yo!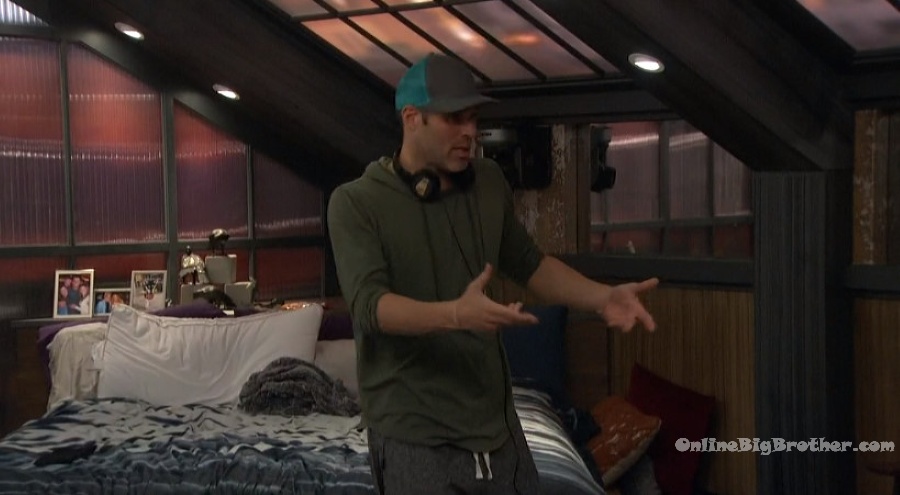 11:20pm Lights out in the HOH room..
Enzo – if I win this HOH that will be two. Cody – two is a lot. Enzo – I really need another W! I'll just tell both of them (Memphis and Christmas) that they're the pawn and then they can compare notes. Whoever wins the POV is the pawn and the other is the target. If they both stay on the block then we figure it then..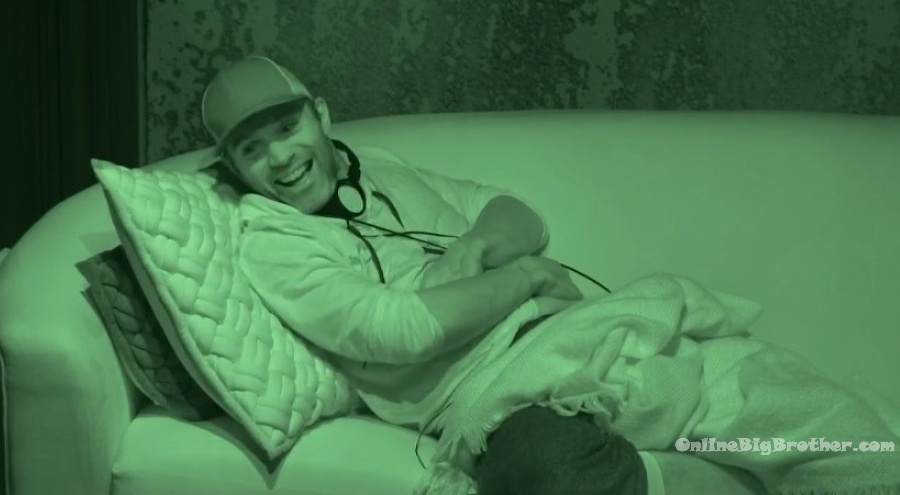 Show your support by making a donation.
If you're enjoying our live feed updates this season, please consider donating.
Any amount is greatly appreciated! Your donations go directly to paying the fees required to run this site.