Head of Household Winner – Cody
Have nots – Nicole
Nominations – Christmas & Tyler
Power of Veto holder – Cody
Power of Veto Ceremony – Cody did not use the veto
Live feeds —-> Grab your Live feeds here. Try it free.
Rank the houseguests —-> Big Brother 22 Ranking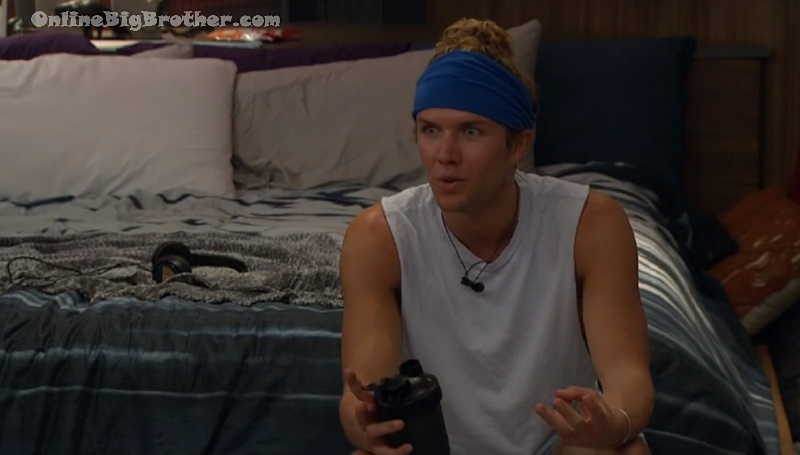 3:45 pm Cody and Tyler
Tyler – I've talked to Nicole and Memphis about their votes. Memphis told me he's voting me out. He said he wants to..
Tyler – I don't want to tell Nicole or Enzo this he said he's scared of me and wants to have weaker players in here.
Tyler – He said he wants to have Enzo, Nicole, and Christmas in here to go after you. He didn't say that verbatim but he said he's trying to knock out the strong players so he can win easily
Tyler – I don't know why he's being so honest with me.. he said 99% voting me out
Tyler – Nicole said as long as you and Enzo want her to keep me she'll do that so she doesn't piss you guys off. Have you talk to her about it?
Cody – I didn't want to say too much to her because it was too early in the week. I didn't want sh1t to go around
Tyler – you can force it too much
Cody – that's why I'm saying like dude like I feel good about it you know what I mean? Like and the thing is like I feel like Memphis you know is like kinda playing that whole like he wants the weaker players in here but .. he's like.. he's so jaded on his version of weaker players like.. like.. you know what I'm saying like (Holy cow that was a quote)
Cody says Nicole beat Memphis in that last veto by a minute and 20 seconds "like.. bro you aint' like.. you know what I'm saying.. Like.. like there's been plenty of comps where like to like Enzo threw that first thing"
Tyler – in the triple
Cody – yeah.. like YO alright now you don't view Enzo that great. Its like Yo people play this game not to just win comps
Tyler – I know
Cody – you know what I'm saying
Tyler – if it's Memphis and Christmas in here and one of them wins HOH the other one is not seeing the block. They'll put up you and Enzo the two biggest threats..
Tyler – if the noms stay like that there's only two votes. Say Christmas votes out you and then Memphis decides it
Tyler – he's assuming I'm 100% going so he just spilled it..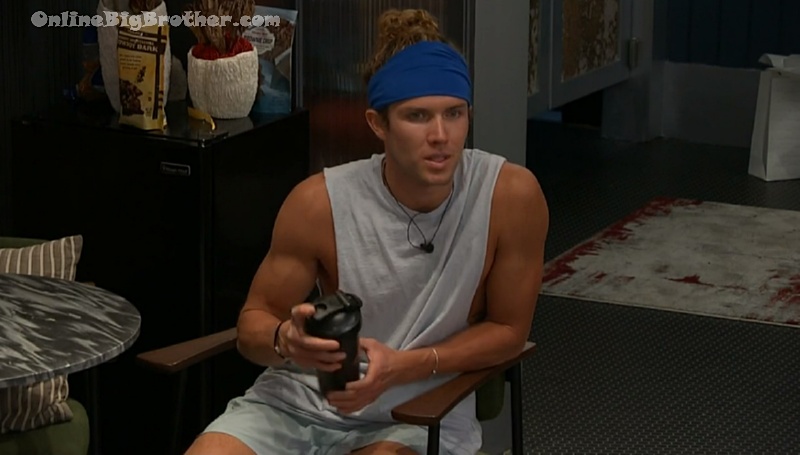 Cody – I don't know if he's like kinda like umm… like I don't know what his like.. like what Enzo was saying because Christmas was walking around like.. I was just like you seem a little like confident so I feel like Enzo just says all the bullsh1t which probably .. the bullshit that makes her feel she's good so she acts some type of way. She has no idea what is going on
Cody says Nicole is just trying to not be a target right now. He doesn't see Nicole as a weak player because she doesn't win Competitions
Tyler points out that Nicole has already won the game.
Cody – she's won the game.. Like YO.. and that's .. I feel like Dani always use to talk to me about this when she had conversations with Memphis. He comes across like that egotistical arrogant like ohh I did it in this amount of time like.. there's no way.. everything is a comparison to him being like
Tyler – MACHO
Tyler – If I stay it's 4 VS 1 if I go it's 3 vs 2
Cody – yeah
Tyler – if one of them win HOH like.. you know what I'm saying you'll be gone unless you win Veto
Cody – Like.. I feel like I will go if I don't win the veto
Tyler – not with me.. You, me, and Enzo.
Tyler says he's all about them three.
Cody – why didn't you come to me about Flipping the vote
Tyler – because I went to you first and I heard about it then I went to do all the talking Then we got called to the couch. I was hoping we crossed paths in the hallway
Tyler – that's all I got it was literally just that
Cody – yeah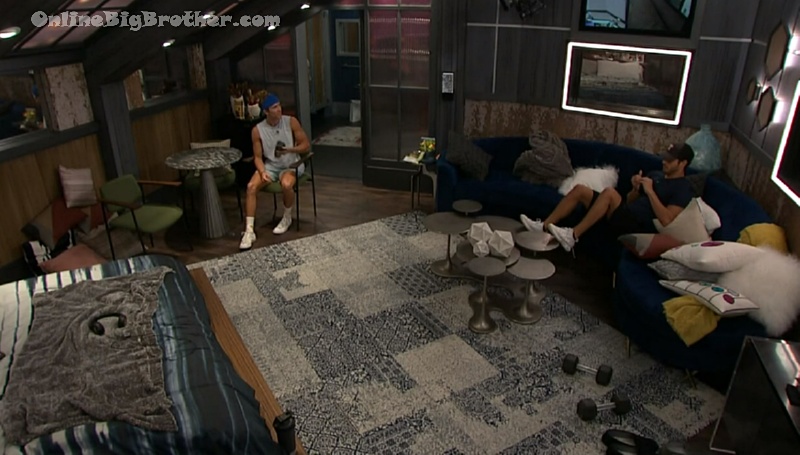 Tyler says he needs Cody and Enzo to vouch for him with Nicole
Cody – yeah
Tyler – it'll be us four vs Memphis and Memphis is a tank
Cody – yeah.. yeah ..
Cody – Christmas she's just.. she gets on my nerves.
Tyler – that's the thing the two of them for sure are putting you up
Cody – yeah
Tyler – Christmas, and Memphis are thinking the same way
Cody – mmmhmmm
Tyler – yeah man
Cody – how was you workout
Tyler – pretty solid I did a full circuit.. like three rounds it was a full body ..
Cody – I feel like I don't do f***ing sh1t
Tyler – I had a dream Nicole was keeping me so I felt good today
Tyler – you guys do want to keep me though right?
Cody – yeah bro
Tyler – like you really do?
Cody – I told you you're my boy man
Tyler – I know man that's why I'm like if you don't want to I'll understand I won't be pissed.
Cody – I know.. I know.. I know that but I told you in the beginning of it I'm like YO you just gave me a f***ing thing ok whatever.. now with the noms staying the same like it is like it's nothing like crazy .. and that is why I'm like I'm not going to f**ing pull you down to make like I feel like with Enzo and Nicole like you have the votes anyways to do it like ewwww… (not wanting to use the veto)
Tyler – I know I get that
Cody – I don't know what this next HOH will be
Tyler – if Memphis wins we'll be on the block together. If Nicole wins it'll be me and Memphis. If Enzo wins it'll be Memphis and Nicole.. I think he's all about it you know.
Cody – yeah it would be Memphis and Nicole
Tyler – then we just send out Memphis
Tyler – I feel good I feel confident I just need you guys.. I've put my 2 cents out there unless there's something I'm missing that's how I feel things are going. (You're missing a pregame alliance)
Tyler – Memphis wants people he can beat..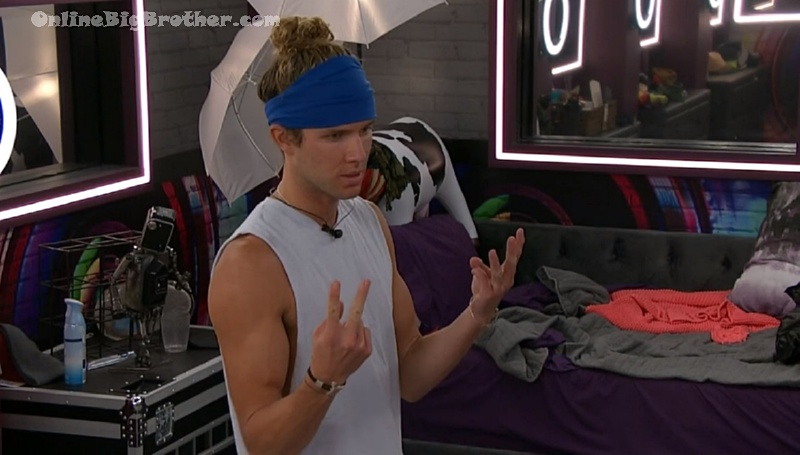 4:07 pm Tyler and Enzo
Tyler – Nicole told me if you and Cody want me to stay she'll just do that
Enzo – yeah
T – she doesn't want to make you guys mad.
Tyler says he explained to Cody if they want him to stay he has to tell Nicole that. He said he would.
Enzo – we'll see ok..
Tyler – I guess you have to tell her too have you talked to her?
Enzo – I have to talk to her YO. She's f***ing hiding all the time
Tyler – I was telling him YO if I stay it's us four vs Memphis
Enzo – that's what I'm saying
Tyler – If it's Christmas stays its Christmas and Memphis vs you three. So there are better odds right there.
Enzo – that's what I'm saying man.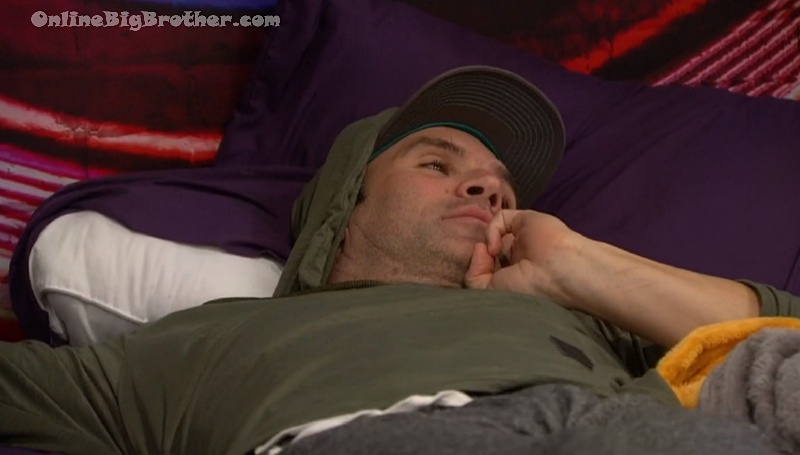 Enzo says every time he tries to talk to Nicole Christmas comes out from somewhere
Tyler – Christmas is hovering over her like a hawk
Enzo – crazy yo
Tyler – have you talked to Cody at all?
Enzo – I was going to but Christmas came up there.
Tyler – what was he saying
Enzo – I don't think he even knows YO.. I think it's up in the air man that's what I keep thinking.. I don't know what he's telling Nicole. He's telling me what he's telling you.. you know what I mean. I think he knows I'm a vote for you
Enzo says only Nicole and Cody know what is really going on when he talks to Nicole she just says what Cody told her to say and when he talks to Cody he just hears what Cody has been telling Tyler.
Tyler warns if he goes…
Enzo – I'm in a mess I know
Tyler – you gotta be vocal about me staying … a little bit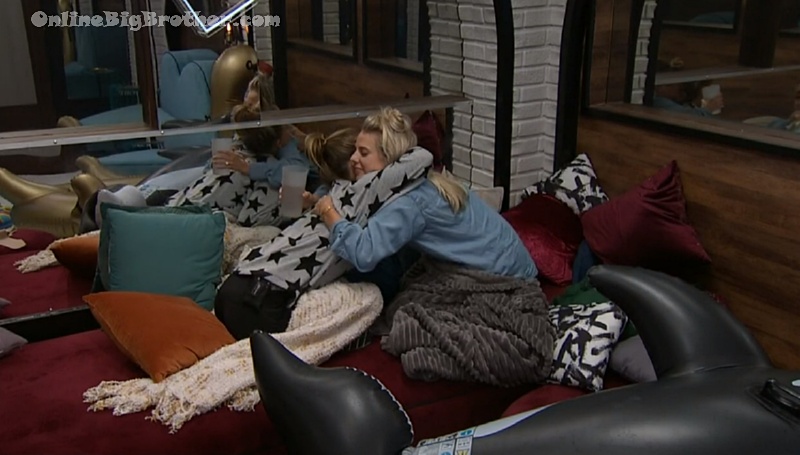 4:10 pm Nicole and Christmas are starting from day one and hashing it all out… Nothing worth listening to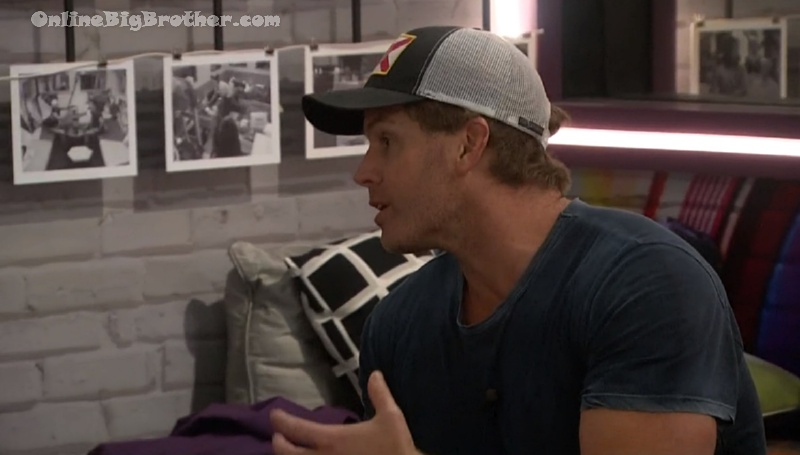 4:25 pm Enzo and Memphis
Enzo complains that Tyler keeps asking him "yo" he keeps saying "it's up in the air YO"
Memphis – I told him I haven't made a decision yet but I told him yesterday I'm leaning to get rid of you (Tyler)
Enzo – yeah.. it's up in the air YO that's what I keep saying.. up in the air YO
Enzo – my thing is this.. If me and you win HOH we put up Christmas and Nicole
They talk about sitting Cody down and being LIKE "look YO she's already won"
Memphis – him wanting her to stay.. I don't like that (you and me both gramps)
Memphis says next week they win HOH hand send Nicole home
Memphis goes on about the wise guys getting to the final 2 "All day long"
Memphis leaves..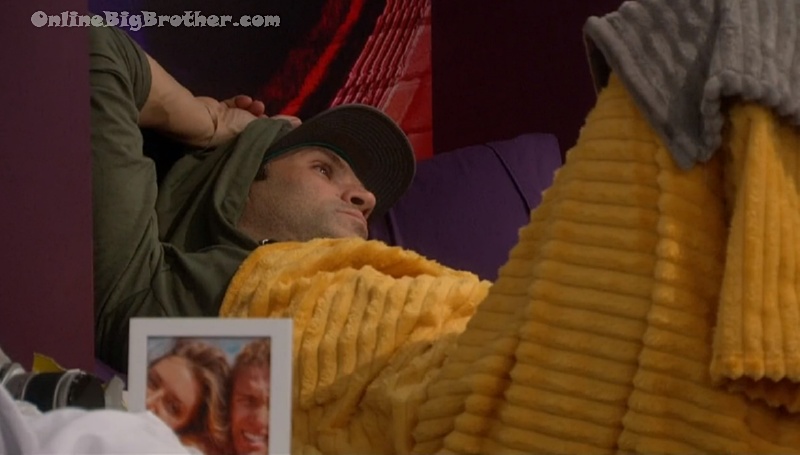 4:28 pm Enzo alone YO
Enzo – he has a final 2 with Christmas it's better off to get rid of Christmas now than next week. I got Cody's final 2 deal and I have Memphis' final 2 deal they're going to get rid of F****ing Nicole for me.. man I don't know man. I'll have to see how this rolls..
Enzo – if Memphis wins (next HOH) I dunno. He wants to keep Christmas as much as he can because he knows Christmas got his back.
4:45 pm Cody and Memphis
LIKE LIKE YEAH … YEAH … YEaH…
Memphis plays up that Christmas isn't as good at the competition as Tyler points out the HOH she won she didn't do much in. Adds that Christmas isn't the person to throw competitions so they know she's been gunning for them and hasn't been winning them.
5:00 pm Christmas keeping busy ruining all the fruitloops making a happy birthday message to her son thanksgiving day.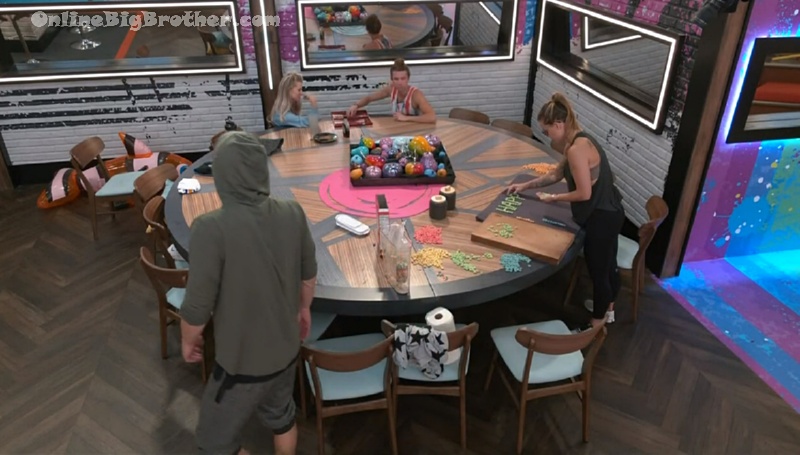 5:14 pm its end of season feeds this is expected..

6:11 pm Nicole and Cody
Coins says BB16 was the most fun. BB22 was teh second most fun and BB18 was the least fun. She then says this season may be the worst it was emotionally stressful She'll tell Cody at the end.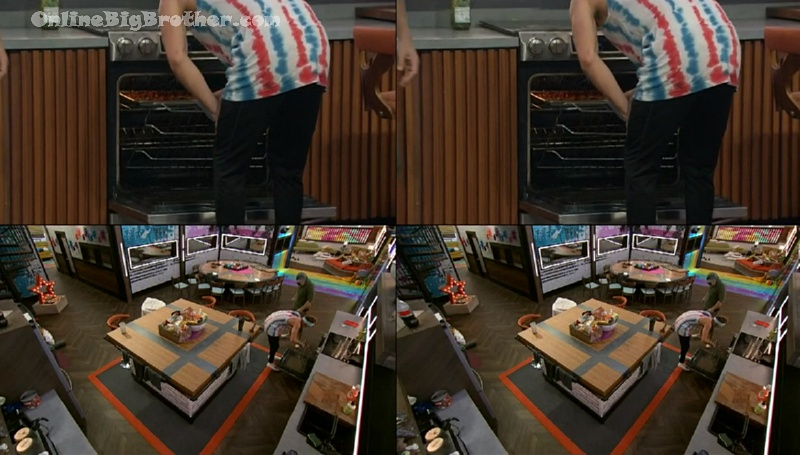 6:36 pm FEEDS!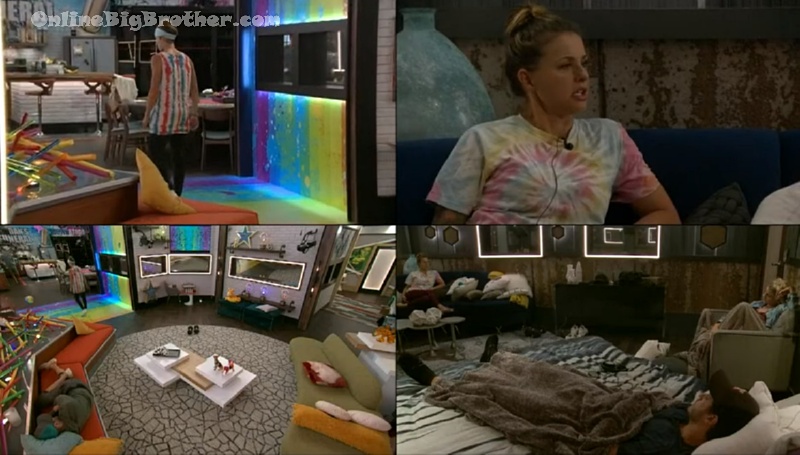 7:00 pm