POV Holder:
Gary
Next POV
April 20th
POV Used
Yes
POV Ceremony
April 22nd
HOH Winner:
Emmett
Next HOH:
April 25th
Original Nominations:
Gary and Andrew
Current Nominations:
Andrew & Talla
Last Evicted Houseguest
Peter
Have Nots
Gary
Stay connected and interact with other Big Brother Fans on our Facebook page.
And Follow: @BigBspoilers and @Dawgsbigbrother on twitter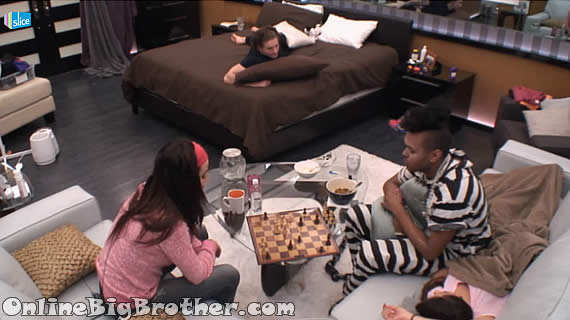 11:20AM Gary, Jillian and Talla Playing chess for the last 30 minutes nothing but Chess talk going on.
Emmett joins them, Jillian says she's "Doing Good" but doesn't want him hovering over her with his "Judging Eyes". Emmett starts giving advice to Jillian and Gary. Gary jokes around doesn't like it when Ememtt does that "Emmett thinks he's a chess change.. b1tch you can't beat someone in three moves."
11:40AM Jillian is called in the Diary room .. Emmett wastes no time in giving Gary some hints (Gary has just hi king left). Andrew joins them starts studying the chess board..
Gary doesn't really want to finish the game because there isn't much he can do. Emmett thinks Jillian is good at making moves but has trouble seeing the grand strategy of the game. Emmett mentions how Talla can get away with sleeping the entire time( She's on the couch sleeping while they play chess) Gary drops a bit of water on her to wake her up. Talla says she's not sleeping just resting.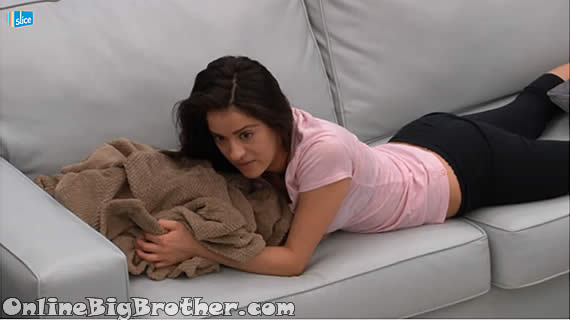 12:00pm Talla and Emmett
Talla asks if Andrew thinks he's staying. Emmett jokes "Yes same as you think you are staying"
Talla: "Are you going to say anything to him tomorrow"
Emmett: "Dunno"
Talla briefly talks about lat night and how drunk she got. Asks him who washed her face last night. Emmett: "You did.. we just watched"
Talla starts talking about Game etc.. doesn't make real sense.. (LOL I've given up trying to understand what she says)
Talla says she's lost her train of thought, "Where was I going with it"
Emmett :"No where.. Talla you are fine.. you don;t need to win any competitions"
Emmett: "You are playing Will Kirby's Game"
Andrew joins them.
Talla: "you want to hear my dream"
Andrew: "GOD NO"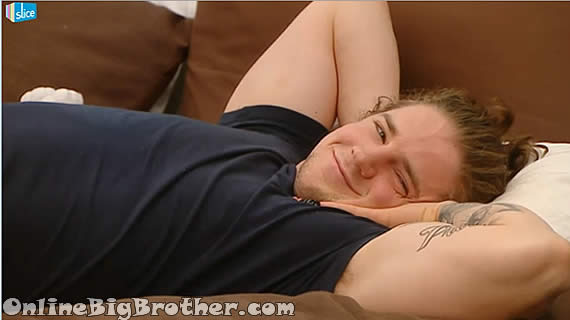 12:12pm HOH Back to chess
Talla: "Oh my gosh wave pool is awesome.. So we're allowed to sing"
Gary: "original songs we're allowed to sing"
Andrew: "Of course.. but you have to know anything you create on here is now the property of Big Brother"
Talla: "Cool"
Gary: "What would be funny if it was on iTune I would die.. as long as I can perform it on SNL
Andrew starts laughing "WHAT SNL"
Talla: "But Gary I have to be there I have to be in a little baby pool" (Actually that would be funny.. )
Jillian beats Gary at chess..
(Gary is in for the shock when he finds out after a month tops his Big Brother Fame only exists with the Big Brother Fan community)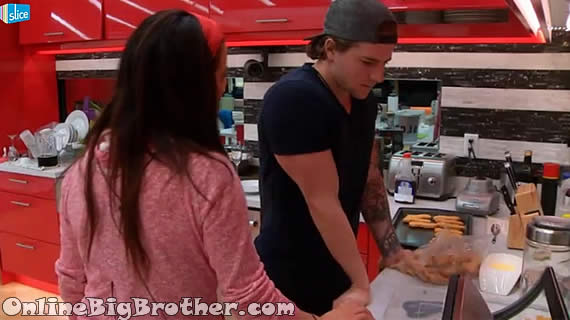 12:24pm kitchen milkmance whispering
Jillian relays her conversation she had with Gary.
Emmett instructs her to go up in the HOH and make sure Talla and Gary don't talk more than they have to.
12:40pm HOH We're back to chess Jillian Vs Emmett with Andrew watching from the bed.
1:00pm Emmett beats Jillian at chess
1:07pm Emmett and Talla play chess.. (This might be a tough one to call)
1:24pm Talla Farts and clears the room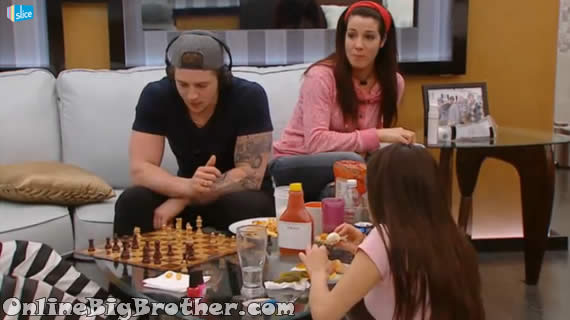 1:40pm Chess and Chit chat.. with the occasionally Fart from Talla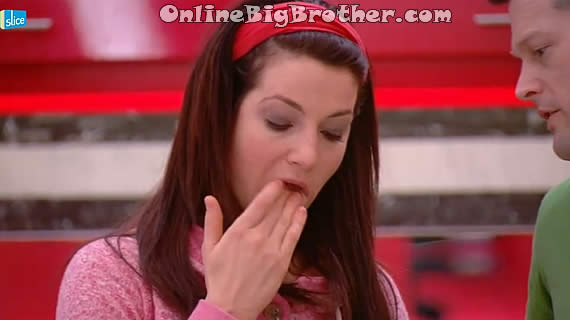 1:46pm Kitchen Andrew and Jillian Andrew tells her he's talked to Gary. He threw it out there that it's obvious Emmett and Jillian are out there. Andrew adds that he hinted at getting rid of Emmett if he won POV, Andrew knows if Gary runs off to tell Emmett he's gone but he had to make a play for Gary.
Jillian doesn't think Gary and Emmett even talk game. Andrew isn't sure.
Andrew: "You would know better than me"
Jillian: "NO.. I don't believe they talk"
Andrew explains if Emmett talks to him about it he'll tell the truth say he's trying to stay in the game so the beast coast can make it to final 3. "I had to make a play with Gary.. I just wanted you to know what I did"
Andrew: "The only thing that matters to me is you and me"
Jillian: "OK"
Jillian: "Obviously the three of us are all going to talk about who we are voting for.. I would think then Gary would mention it to us"
Andrew: "I don't think so it wouldn't be smart.. I had to make a play with Gary it wasn't really a heavy one. "
2:10pm HOH BAck to Chess..
Gary says he's had temporary boyfriends for weekends when he lived like a gypsy.. "Kinda fun actually not knowing where you are going to be the next day"
Gary says he's in the "ballroom scene" and the ballroom scene doesn't like Madonna because she copied "Voguing". Gary doesn't think anyone has Vogued of Big brother
Andrew: "There's never been someone like you on Big brother Before.. for god sake"
Gary: "Marcellas was like me"
Andrew: "He was black and Gay but nothing like you.. Glitter Gary"
Gary says he wants to get his degree not for himself but for his family he says everyone in his family has one.
Andrew: "I don't have a degree and everyone in my family has one"
Gary: "I want to own a museum later in life.. A museum and art gallery"
(Groan)
If you enjoy the content at this site Please consider donating It's what keeps it running
[polldaddy poll=7054334]