POV Holder:
Gary
Next POV
April 20th
POV Used
Yes
POV Ceremony
April 22nd
HOH Winner:
Emmett
Next HOH:
April 25th
Original Nominations:
Gary and Andrew
Current Nominations:
Andrew & Talla
Last Evicted Houseguest
Peter
Have Nots
Gary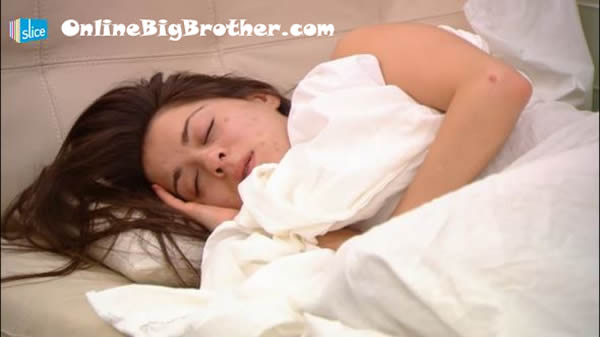 8am – 9am Emmett and Jillian are awake getting ready for the day. Talla is sleeping all over the house. Andrew tells Emmett I don't know why they keep letting her.. Andrew heads up to the HOH room. Emmett says that he doesn't get it, why isn't she getting buzzed! Andrew tells Emmett that some people are just special. Big Brother then wakes up Talla again with the alarm. Talla continues to sleep. Big Brother turns on the alarm again. Andrew says this is why some people shouldn't have booze! The alarm goes off a number of times again.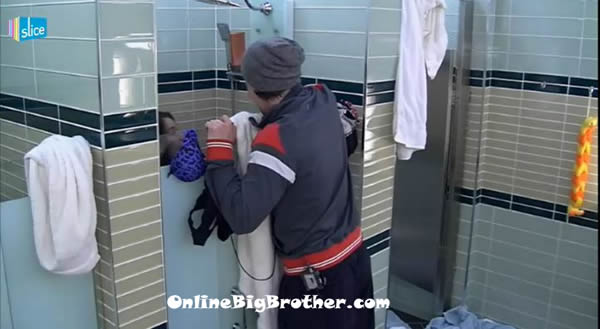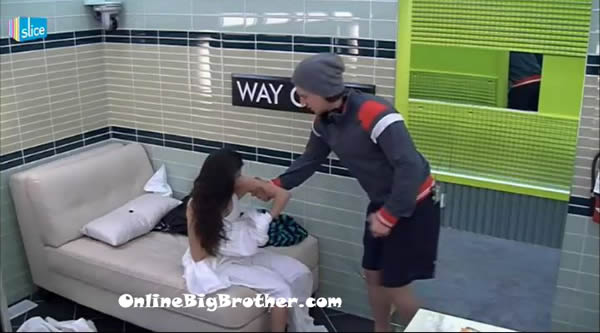 Emmett and Andrew are up in the HOH room playing chess. Jillian comes up with her breakfast. The wake up alarm sounds all over the house. Andrew says see Jillian this is what drives me nuts! Emmett goes down and tells Talla to get up! They are buzzing us all over the house now, if you don't get up they are going to punish us! Talla asks what do I do? Emmett says you are hung over! If you don't feel good then go talk to them. Talla says help me. Emmett tells her to go shower and get cleaned up! Emmett helps her up and puts her in the shower. Emmett says Talla I am not mad but don't come out of the shower until you are awake! He then turns on the shower and tells her to not come out until she is clean. Big Brother cuts the feeds. When they come back Andrew says to Emmett I don't know how you can go out for a drink with her. Emmett says yeah, no. Andrew says last night when he came out there they were pouring out wine, the whole bottle of white. Big Brother cuts the feeds again. When they come back Andrew talks about having a little blow up with Talla. Emmett says that he thought Andrew was going to get into it with her last night about how she is a useless tit in this game. Andrew says na, I was trying to compose myself a little bit. When someone starts going at you .. you just want to say FU*K YOU! I was just trying to help .. I raised my voice a couple times. Emmett says it was good, had a little blow up there.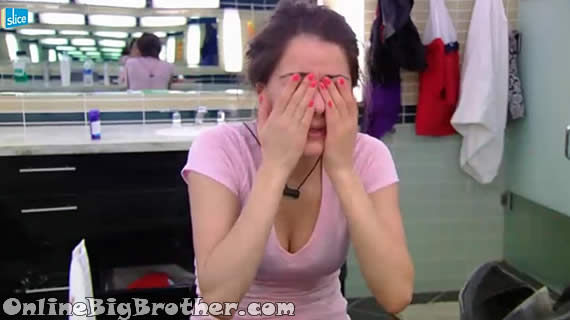 9:34AM Talla lost her earring last night.. she tired, still drunk from last night and PI$$ed off. Talla wanderers around the house looking for it.
Talla: "I don't know where it is and I need it.. I'm functioning on 4 hours of sleep.. It's gone.. my earring is gone it just doesn't make sense"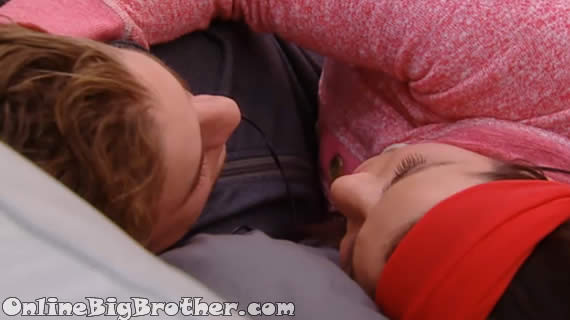 9:51am HOH Milkmance
Jillian tells him she knows one way that they both are safe.. Emmett: "No you don't you think you do"
Emmett is saying he would like to keep Andrew but it's just too risky.. Jillian points out that sooner or later Talla is going to win a competition. Emmett isn't sure she will he still thinks their safest bet will be to get rid of Andrew even though personally it's something he doesn't want to do. Emmett says If Andrew wins the final HOH he'll take Jillian over Emmett.
Emmett says they need to distance themselves a bit to make Gary think "Hey maybe they are that close"
Jillian points out that Talla will beat her in the endurance during the final HOH
Emmett: "that is why we are taking Gary"
Jillian: 'Talla will win HOH tomorrow.. thats just our luck"
Emmett :'That's fine you can beat her in endurance"
Jillian: "No I can't"
Emmett tells her to start getting ready for the final HOH Endurance.. they need to train for it.
Emmett is going to try and get Talla to drop out of the HOH tomorrow night.. He instructs her to change her social game.
Emmett: "Andrew is going home you have to get it through your head.. you stop hanging out with Andrew cause it's not benefiting your game.. get closer to Gary and Talla"
Emmett adds that Gary and Talla are very weak players much weaker than Andrew and that is why they need to get rid of him, "Andrew is leaving because he's such a strong player"
They run through the jury votes they have..
(The milkmance is in for a surprise)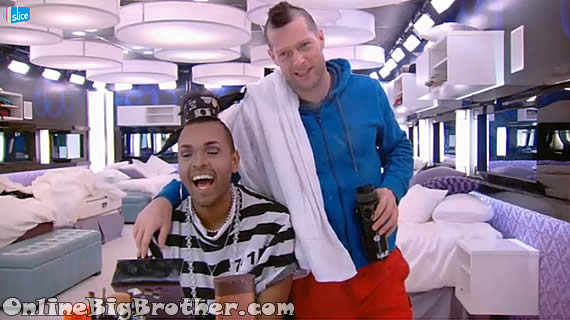 10:00AM Gary and Andrew
Andrew basically explains to Gary what the final 7 days is going to be like hinting at the advantages of having Andrew stay in the game.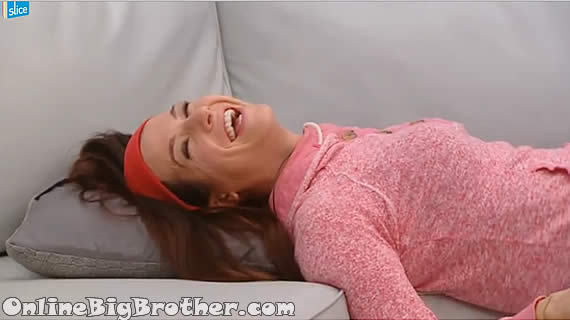 10:20AM Talla and Jillian
Talla is campaigning a bit says she's sick of Andrew saying he's pis$$ed and wants the Big Brother Experience to end.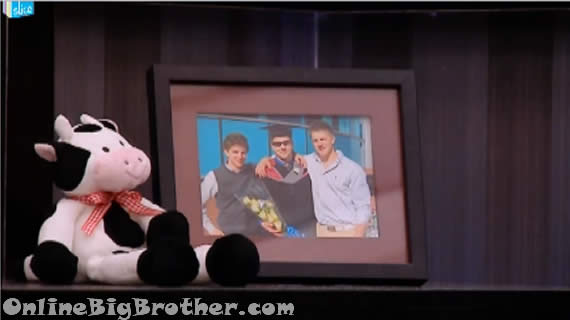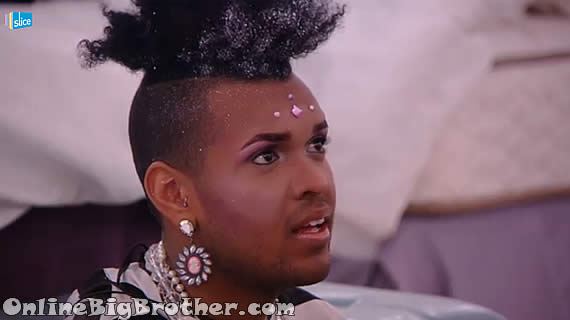 10:32am Gary and Jillian
Jillian tells Gary she'll throw HOH to him if he throws POV to her. .
Gary: "If you throw HOH you won't even go on the block.. Yeah I'll throw the POV if you throw the HOH"
Gary: "I'm fine with winning 20 grand.." Gary explains that he doesn't have enough Jury vote to win this game but Jillian does. Gary: "Alec is bitter as f*** .. You don't understand Jill the people in the house are mature they respect you for getting them out"
Gary: "I'm mature for my age.."
Jillian jokes that if it's her and Gary in the final 2 the jury house will abstain their votes.
Gary says if he wins the 20 grand he'll buy a puppy get an apartment, go on a vacation for a year and pay off his debt.
Jillian and Gary agree that they do not want to Talla to win the game. Gary doesn't want Andrew to win either because he's already won 10 grand, "He's going to jury and he's going to have fun there.. trust me it's living in the lap of luxury"
They both say how excited they are about going to final 3, Gary: "It's final three no ones cracking"
Jillian hints that Emmett is here to play the game and he might take Talla. Gary doesn't think so I think they are locked in.
They agree that the Top priority is for Talla not to win the HOH.
(Video uploading)
If you enjoy the content at this site Please consider donating It's what keeps it running
OnlineBigBrother.com
Stay connected and interact with other Big Brother Fans on our Facebook page.
And Follow: @BigBspoilers and @Dawgsbigbrother on twitter