POV Holder:
Gary
Next POV
April 20th
POV Used
?
POV Ceremony
April 22nd
HOH Winner:
Emmett
Next HOH:
April 25th
Original Nominations:
Gary and Andrew
Current Nominations:
?
Last Evicted Houseguest
Peter
Have Nots
Gary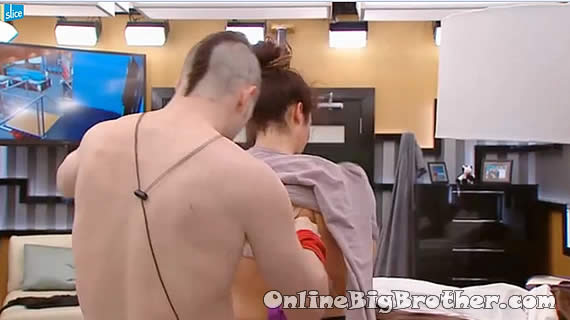 6:10pm HOH Jillian and Andrew
They both complaining about being so tired and not allowed to nap. Jillian jokes that she wants a power that overrides the power of veto.
Jillian says that Dan told her when people are let back into the game they usually leave shortly after.
Andrew says it would have been better if it was Andrew and TAlla on the block and they told Gary Andrew was the target. Maybe Gary would have not tried so hard in the Power of Veto competition if he didn't feel threatened. Andrew: "Can we have a rewind with that"
Andrew is pi$$ed that Talla is going around acting like she has some sort of Deadly Game player, "Dan walks through the door and all of a sudden your the game player of all game players.. You said Love it and Busy … Bite me"
Jillian: "I choose to ignore that bit"
Andrew hatches a plan to get Gary to not use the Veto. Something about Talla and Jillin voting Andrew out and the following week it's Jillian, Talla and Gary competing in the HOH. THey can get Emmett out. Andrew adds that Emmett has won a lot of Competitions it'll be easy for Gary to realize he's a major threat that
Andrew: "Does that make sense"
Jillian: "Ya but does Gary know that the POV is the most important"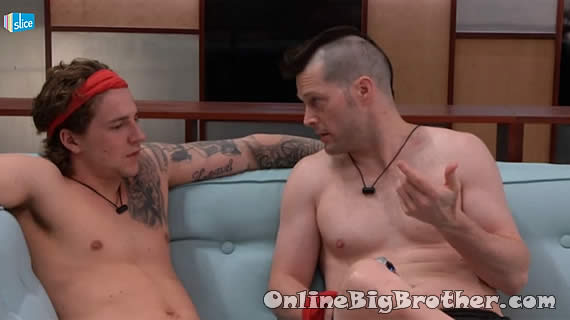 6:15pm Living Room Emmett and Andrew
Emmett: "what if I tell you.. listen Andrew you're going home and I do it openly where he can hear"
Emmett adds that he'll start swearing to Andrew saying things like "F**k you.. I thought we were working together"
Andrew: "Ya we could do that.. I was just telling Jillian her and Talla could go to Gary say to him if he keeps the nominations the same they'll vote out Andrew and target Emmett next week. (Andrew is telling Emmett the same plan he told Jillian)
Emmett doesn't think it makes sense..
Andrew explains again his plan. Emmett mentions that they can really stress to Gary how much more exposure he'll get by being on the block during the eviction show than if he uses the POV.
Andrew: "Have you told Jillian that one.. or did you just make it up"
Emmett laughs "we Gotta make it work or we'll have to send your a$$ home"
Andrew says in all honesty what are their chances of getting Gary to not use the Veto. Emmett: "I dunno.. you have to look at it like what does GAry benefit from not using it"
Emmett asks Andrew what makes him think Talla will go with his plan. Andrew is positive she will because if the plan doesn't work Gary uses the POV Talla is the replacement nominee and either Andrew or Talla go home.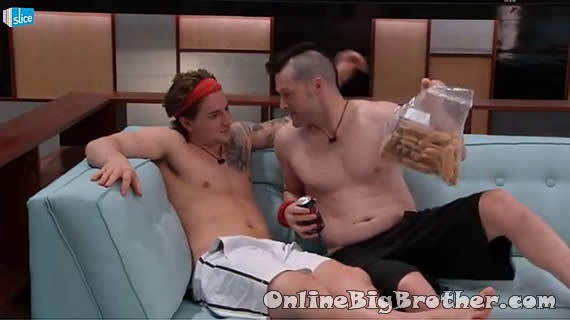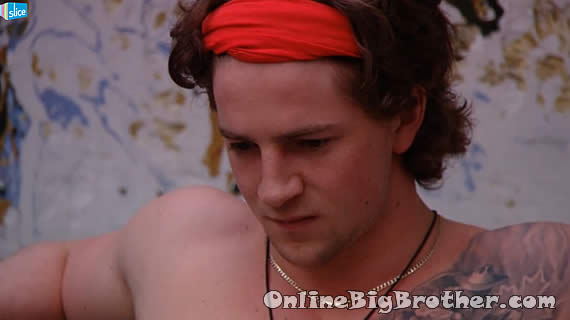 6:30pm Talla and Emmett Hot tub
Emmett tells her there is advantages to Keeping her and Advantages to keeping Andrew.
Talla: "So what do you want"
Emmett: "I don't know yet.. I just want you to know that I've never lied to you"
Emmett tells her if she wins HOH next week he's 100% OK with that.. He points out that he cannot compete in the next HOH.
Emmett: "Gary gets two competitions to save himself next week I only get one"
Talla: "So.. um OK.. So it's kinda like.. "
Emmett: "This is what I want you to do.. Just play your game and make no promises.. Right now you're fine and i'll let you know if that is going to change"
Emmett says that Jillian fully trusts Talla.
Emmett mentions that Tom pulled Gary off the block and the next week Tom was sent home when Gary was HOH. Emmett doesn't trust Gary. Talla agrees, says her and Gary are friends, "Girl talk and stuff" but she doesn't trust Gary at all , "He fu***ing stabbed Tom in the back"
Talla: "Who do you want to be in the final 3 with, Me you and Jillian or you, Andrew, Jillian"
Emmett stresses Talla not to talk to much just sit back and listen. Emmett: "If I have to send Andrew home this week it'll be a very hard thing for me to do.. it's a tough thing I like him"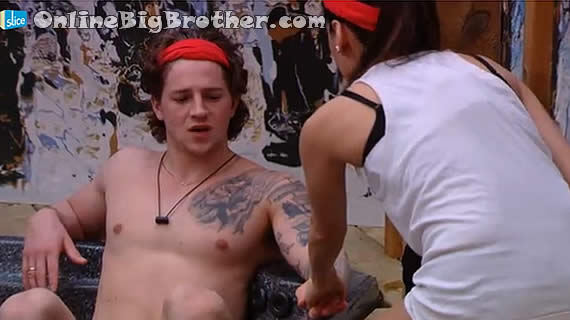 7:06pm Jillian and Emmett
Jillian: "Gary scares me "
Jillian understands they cannot get rid of Gary this week but she wants to make it clear that Andrew will take them to final 3 for sure especially if Talla is out of the picture but Gary will not he'll bring Talla.
Talla: "I would put a million dollars on Andrew taking you to the final 3"
Emmett: "Yeah.. but you are going into a mental comp with 3 f*** people.. he has a one in three chance of winning that's it"
Emmet: "Those odds are not Odds I want to f*ck with"
Emmett says if Gary wins the next HOH and Andrew is still in the house there is a good chance Andrew would win the POV whereas Talla doesn't have as good of a chance.