POV Holder:
Next POV
March 16th
POV Used
POV Ceremony
March 18th
HOH Winner:
Gary
Next HOH:
March 21th
Original Nominations:
Current Nominations:
Last Evicted Houseguest
Aneal
Have Nots
Jillian, Emmett, Talla and Alec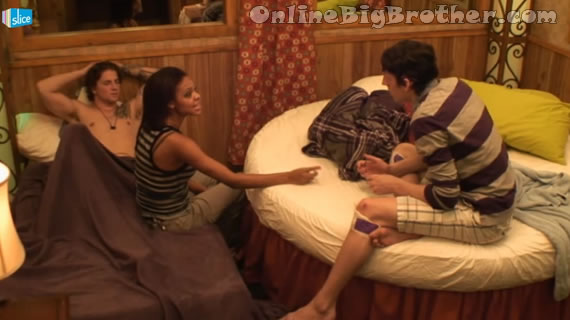 1:07AM in the Have nots room Peter, Topaz and Peter
Peter tells them that Gary wants to put up Emmett and Topaz. Topaz says that's not true he's lying to you because we all think you have a secret alliance with Liza. Peter swears he doesn't have anything with her restates that they only talk about personal things with her. Topaz explains that the entire hose thinks he's got a thing with Liza.
Emmett warns him not to be associated with Liza because it's trouble. He thinks Peter needs to start to distance himself from her.
Emmett: "Pete she's poison man"
Emmett: "I told the DR she was poison man.. and I was going to put her up before I lost my power"
Peter: "I'm not use to getting attention from girls and she was giving me attention"
Topaz says that at the beginning of the game she (Liza) tried to get close to Alec, Emmett now she's close to Tom and Peter.
(Peter may be acting like Liza has been playing him or he's genuinely upset about it)
Emmett: "Just start to distance yourself from her"
Peter asks them if Liza is using him because "that's seems to happen all the time:"
Emmett explains that Liza is using Peter and Tom, she's playing the game.
Alec comes in
Topaz says that Liza is playing too hard too fast, everyone is seeing it, "everyone is catching on that Liza is poison.. except for Tom" Topaz tells them if Gary puts up Tom and Liza then they're good as long as liza doesn't win POV. She's worried if Liza is up against a pawn and Tom wins POV he'll save her.
Emmett instructs Topaz to keep "getting Liza out" on the downlow. Peter asks them what he should do. Alec says get convince Andrew and AJ not to vote out Tom to vote out Liza.
Topaz says don't talk to AJ or Andrew yet nothing is finalized.
Talla joins them and the group breaks up.. Talla alone: "NOT COOL"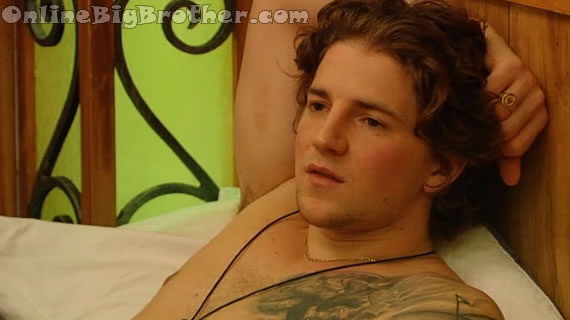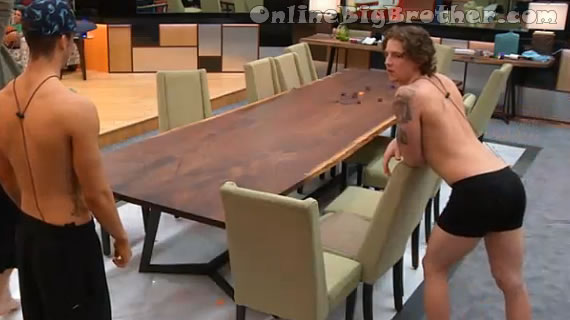 1:30AM Storage Room
Emmett: "After this week we'll keep Gary safe for awhile.. he bring him in"
Alec: "I agree.. Alec This whole fu*king thing has flipped the house right up.. We need Liza out"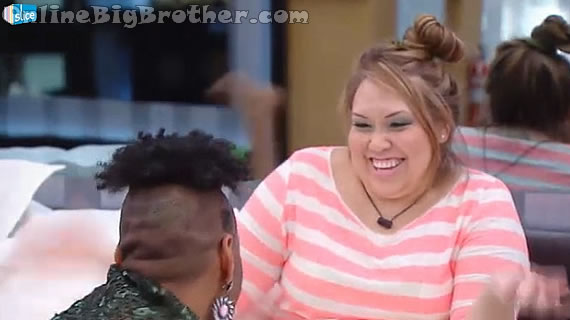 1:40AM HOH Suzette and Gary Suzette says that Liza came up to her and was trying to get information. Liza said that the entire house thinks Gary is a wild card.
Gary: "Canada loves us.. "
Suzette: "Canada loves us.. ahhahahahah"
Suzette wants him to make a big move, Gary says he does to. Gary tells her he's not going to tell her his nominations because he doesn't want her to have the burden while talking to people. Suzette wants it that way she say she's trying to "Flt under the radar". Gary: 'i want to try a clean HOH" Suzette agrees that is a good idea.
Gary says he's getting a lot of good intel from the house. Gary wants some names. Suzette is worried about Alec and Peter. Suzette: "I asked Alec to save me and he was Straight up NO". Suzette thinks that Tom and Emmett are more straight forward they will show emotion.
(So suzette wants Alex or Peter out.. interesting)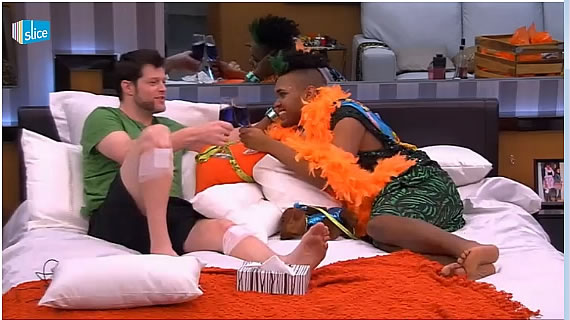 2:14AM HOH Andrew and gary Andrew is talking a mile a minute he's obviously stressed. Andrew is wanting Emmett or Tom out.
(This is a long conversation.. Andrew is freaking out and Gary is owning this HOH) They do talk about Emmett losing his HOH and how his "Rum" was taken away. Apparently Tom wants to talk to Gary again but it's getting late and he's only letting the houseguests talk to him once tonight.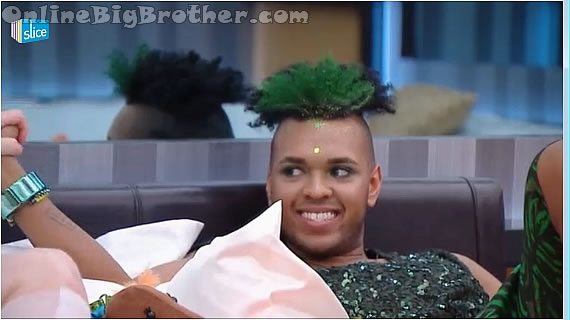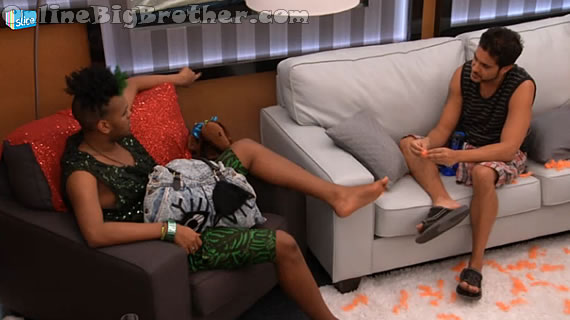 2:27 HOH Aj and Gary Aj says there's a lot of couples in the house.. Aj throws out Emmett and Jillian's name.
AJ says that Tom is someone "absolutely" he wants in the game. Gary wants Name. Aj says Emmett and Jillian if the POV is used than Suzette. Aj says he doesn't know where Liza stands she talks to a lot of people. He's not sure about her. Gary asks him who would he most want out Jillian or Emmett. Aj says he would pick Emmett to stay.. Gary is surprised. AJ: "I flip flop.. Emmett is the bigger threat.. maybe Emmett. I can't read him about sure if he loves me or hates me. Aj brings up that last week after the Suzette blow when he asked Gary what he thought of Suzette Gary said he didn't like "The B1tch" Aj wants to know if that is still how he feels. Gary has said a lot of bad things about suzette and he didn't like what she said last week but on the flip side he knows that people have said thing about her worse than what she has said. he adds that that Suzette just had a baby and is going through post postpartum depression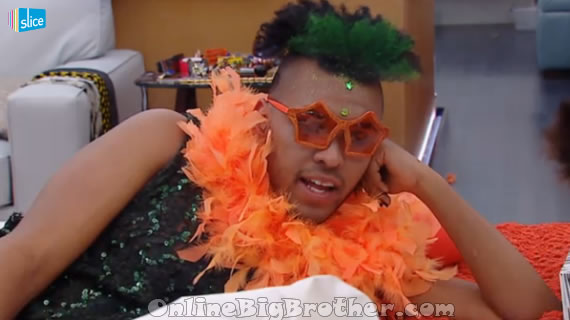 3:00AM HOH Alec and gary Alec wants Liza gone and he tells Gary he can protect him from Tom. Alec wants Tom and Liza up. Gary: "Thats a Big Move Alec.. but I don't know if I have Emmett"
Alec: "If you don't have support from Emmett than don't do it"
Gary says he wants protection if Tom wins HOH next week. He wants confirmation that Alec will use the POV on him if He's nominated up against Topaz. Alec says he's going to have to talk to Topaz about this. Gary: "I'm sad I have to play this dirty but this is a big move Alec"
Gary: "Why is taking Liza out good for my game"
Alec: "Liza is against Me and Topaz and that hurts your game"
Gary says putting Tom and Liza up is the biggest move he could make Tom is going to make the house very uncomfortable for everyone in the house.
Alec: "No that isn't the biggest move the biggest move is putting up Tom and Emmett up.. then POV is played and you have both of them pissed"
Gary says he wants Tom gone next week and wonders if Alec can make that happen
Alec: "Don't tell anyone this but I will win HOH and put him up"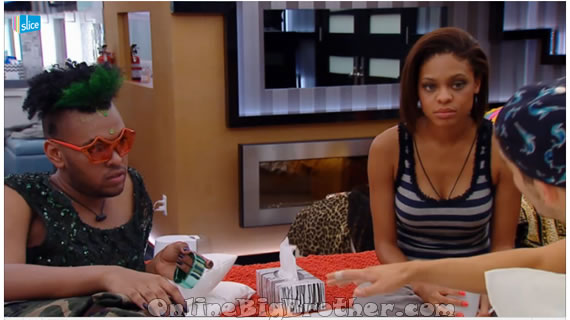 3:16AM Gary and Topaz
Gary asks Topaz if he puts up Liza and Tom up, Liza goes home, Tom wins the next HOH and puts Gary/Topaz up i sit OK for Alec to win use the POV on him. Topaz says yes. Topaz: "I don't give a f****** I want one of them gone and if I go home the following week whatever" Gary is freaked out about these nominations.
Topaz: "I have a strong base at home and i'm mainly here for the experience.. if i win the money YA but it's not my main thing.. I know you need the money I know you want to be on the show for as longs as possible and you want all the fame"
Gary: "I'm not going to do a AJ or Suzette.. i'm making a big move"
Topaz says she had to lay it out for Peter and explaining to him about Liza and he started to cry.
Gary brings up that Alec would not make a deal that jeopardizes Topaz unless Topaz was privy to it. Gary says that this was a test for Alec and he passed with flying colours, "we can test that MotherF***** ".
Gary asks her if Emmett and Jillian will "pluck his ass off" or if he can trust them. Topaz: "you've been the target Day one and you know who started this .. it was Tom" Gary: "Sue said it was Tom"
Gary thinks Kat had said a derogatory comment about gays.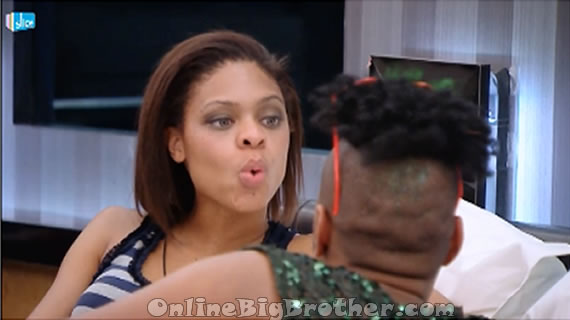 3:57AM HOH Gary and Topaz Gary is proposing that they get Tom out instead of Liza because Liza isn't going to win sh!t. Topaz thinks Liza is still the better choice because Emmett won't be on board to getting Tom out. Topaz bring sup how happy she was when Suzette was back in the house because thats another person on their side. gary says Suzette mentioned Topaz didn't look very happy when she was brought back into the game. Topaz was very happy. Gary thinks Topaz better talk to Suzette about it. Topaz points out that Suzette really doesn't know how to play the game she doesn't realize you have to hid your emotions. Gary agrees.
(Gary and Topaz are close.. )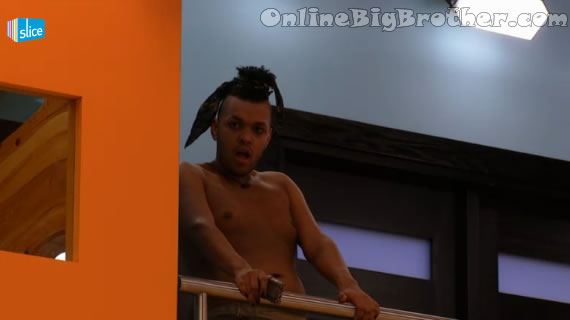 4:32AM GO TO BED
4:40am Gary and Topaz (Gary debriefs Topaz of the day)
Gary starts with Andrew, Says that Andrew is a vote against Tom.
Andrew doesn't see Liza as a threat
Topaz: "thats because Liza is on his DICK"
Gary explains that Aj was trying to get Suzette up and save Tom.
Gary says Talla wanted Emmett and Jillian nominate.
Liza wants Emmett and Jillian nominated.
Gary mentions that Aj is totally onboard with Tom, Liza and talla. (It sounds like Gary wants to take out Tom he doesn't see Liza as the bigger threat"
Share it YO!!
Tweet