POV Holder:
AMANDA
Next POV
Aug 31st
POV Used
POV Ceremony
Aug 26th
HOH Winner:
Elissa
Next HOH:
Aug 29th
Original Nominations:
Aaryn and McCrae
Current Nominations:
Last Evicted Houseguest
David, Nick, Jeremy, Kaitlin, Howard, Candice, Jessie. Helen
Have Nots
1:05am Judd and Andy head down from the HOH room after talking with Elissa. Andy says that was really weird. Judd says I don't think she wants to put up Ginamarie. Andy says I know. Judd says first she didn't put up Amanda and McCrae, then this happens and now she won't put up Ginamarie. Andy says I couldn't tell if she was being sarcastic or not. Judd says she was pissed. We just have to be on it all day tomorrow and I guess we have to say it in front of Ginamarie. Andy says do it without me because she trusts you more than she trusts me. Say Andy is solid you can trust him. Judd says if she would just trust, we could have a solid final four. Andy says I know. If she puts me up, I go home! Oh my god! Judd says what she doesn't understand if she puts up Ginamarie we could have a very easy week. Andy says exactly. If she puts up you, then we will be harassing Ginamarie all week and so will Amanda/McCrae and all of them. They hear Elissa come down the stairs and leave the lounge. Andy says Hi to Elissa and she doesn't say anything. Elissa says she thought she left her E bracelet in his room but cant find it. Andy says he will look for it.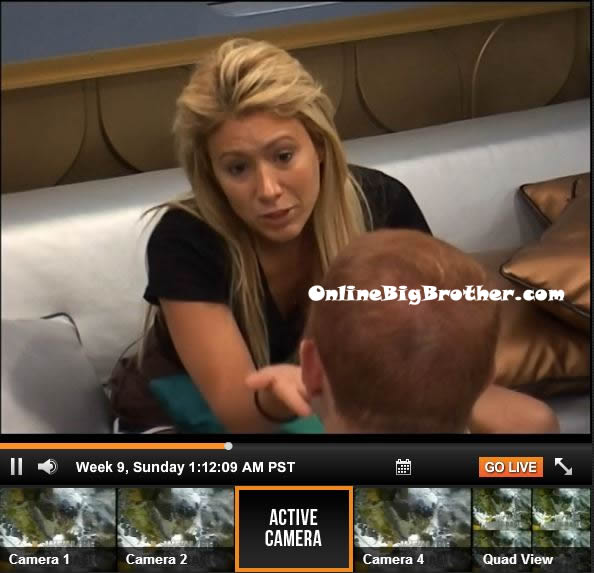 1:10am Andy talks to Ginamarie in the lounge room. Gina says that she will tell Elissa that I came into the house alone and I am leaving alone. Even though I would hate to do it I will vote Aaryn out if she is up against you because she is Elissa's target. Andy says okay. Gina says because if I don't then Elissa will put me up because I went against her. If Elissa wants Aaryn to go, then I will have to listen to her. Andy says yeah. Gina says that's why I need to know if I go up, that I have you. Andy says if you went up, you would have me, Judd and Spencer. Gina wonders if she would have Spencer because I bug him a lot. Andy says he has you. Gina and Andy leave the room. Andy heads outside with Judd. Judd asks Andy if he is stressed out. Andy says yeah and I just talked to Gina but she isn't going to tell me to my face that she is going to vote me out. You need to hammer it home to Elissa tomorrow. Judd says Elissa thinks I am still with them (Amanda/McCrae) and I am not. Judd says I was hoping that when I came back someone would need my help and both you and Spencer approached me on separate occasions. Judd says I gave Elissa my moms coin and told her she could keep it if I was lying to her. Judd says if you leave my days are numbered. I refuse to be up McCrae's a$$. Judd says we should get up early and talk to her. Andy says if I go home with Elissa as HOH and Ginamarie being the swing vote, I am going to kill myself. Judd and Andy both say they would never put each other up. Andy says he doesn't get it Gina and Elissa haven't been friends until 2 days ago. Gina also voted out Helen like I did. Judd says that McCrae and Amanda want me up on the block with Elissa next week. Judd says I should just hang out with Elissa all day and wait for them to ask me if I am working with her and I will say yeah just like you are working together then Elissa will trust me that I am not working with them. Judd says then we get out Aaryn and we will have the numbers. Andy heads to bed.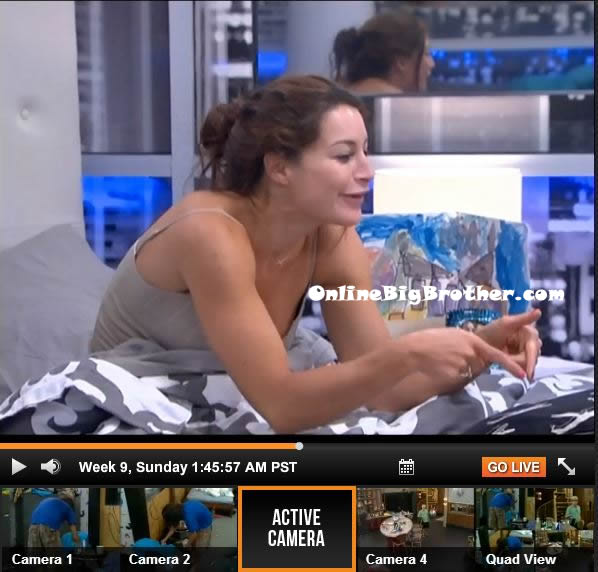 1:45am – 1:50am Up in the HOH room – Elissa talks to Ginamarie. Elissa tells Gina that they are trying to have the Moving Company like 4. Gina says don't tell me that please! Elissa says we have to pretend like we don't like each other. Elissa says that they keep trying to get you put up and that's why Judd is saying that you and Aaryn are close. I know you're not going to vote with them. I trust you. Gina says let me tell you something. I like Aaryn. Elissa says that Judd is trying really hard. They want me to put you up so they can have me against you. That's why I said that in front of Spencer because I want them to think we are mad at each other. Gina say oh okay. Elissa says we just have to pretend so that they are shocked when I put Andy up. Gina says I like Aaryn, but I came in this house by myself and I have to leave by myself so its my game to stay here longer if I have to vote her out, I don't want to but if that's what I have to do. That's what I have to do. It sucks but I have to do it and I hope she forgives me. Elissa says I know you will vote her out. They are just trying really hard to pit us against each other, we just have to be really smart moving forward. Elissa says Judd, Spencer and Andy are working together and they want me and you against each other to get Amanda and McCrae out. I saw that they were trying to get me to put you up instead of Andy. Elissa tells Gina to pretend like she might be going up. Elissa says I just don't want them to think that we have any kind of relationship. Ginamarie says if I get HOH, I am not putting you up, I pinky promise you! Gina brings up how she found out that Amanda was 3 days pregnant the week before she came in here. Gina says whatever you need me to do, I will do. Elissa tells Gina to tell people that she (Elissa) is acting weird around me. Gina says yeah I will. Elissa says just make sure you press to the guys that Aaryn is dangerous. Amanda will stop at nothing, she is nuts and so desperate. Gina then heads downstairs.
Big Brother 15 Live Feeds FREE TRIAL: FLASHBACK FEATURE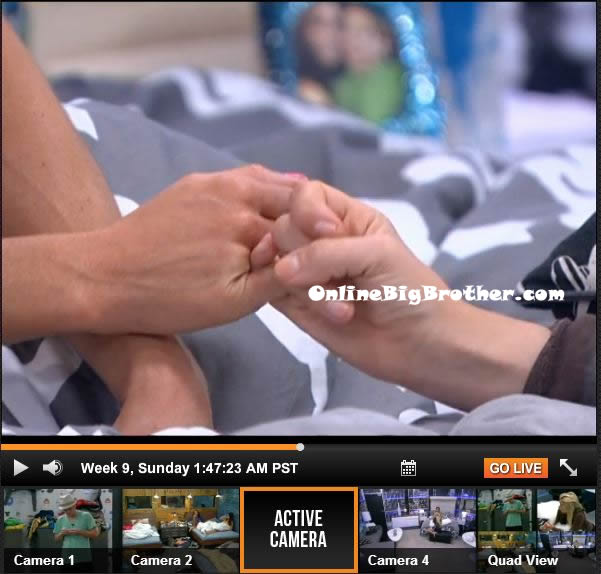 2:10am In the bathroom – Spencer and McCrae are talking. McCrae talks through scenarios for the weeks coming. Spencer says yeah if you could mastermind that, but right now Elissa is HOH. McCrae says if we can successfully do this, next week it will be 5 against 1. The odds are in our favour. McCrae says that it would have been nice to bring Gina to the final five but after today she is such a good competitor. Spencer says yeah well I just don't want to go up. McCrae says I don't think you would go up. McCrae says that he knows Judd is working with Elissa this week but that he can't really next week. Amanda knows he's working with Elissa too and is calling him out on it. He is going to be coming after me and Amanda 100%. Spencer agrees. McCrae says it would be awesome to have the 5 people going after those 2. McCrae says I don't trust Aaryn at all but we can use her. Spencer says if you say so. McCrae tells Spencer you have me and Andy 100%. McCrae says it would be awesome if Judd was the one to go up as the replacement. Spencer says we should just wait and see what happens, it could change tomorrow and again on Monday. Spencer says if it's Andy he can't go. McCrae agrees and says there is no way Andy will go home. McCrae says we have been loyal to Andy since week 2, Aaryn doesn't mean sh*t to us, we just picked her up along the way. Spencer says well I just want to see what the joker is going to do. McCrae says f**king clay face! McCrae tells Spencer to just keep playing his part. It's going to be the best because Elissa said she didn't want to waste her HOH.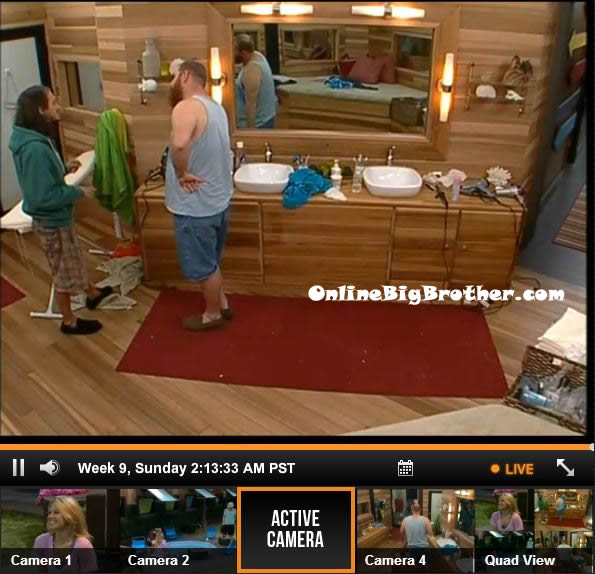 2:20am – 2:50am Aaryn and Ginamarie are out in the backyard talking. Aaryn tells Gina that Elissa is brainwashing you. Aaryn says 100% I have made my own decisions and Amanda doesn't control me. I have to be nice to her because I can't have her targeting me. Gina agrees. Gina says I am not wanting my name to be mentioned because I am a vote for you to stay. Aaryn says that there has to be away to get Judd or Spencer nominated. I don't know why she wants to work with Judd. It's not fair to have Judd here in the house after coming back. She hates Spencer also I don't know why she won't put him up. Gina says I know when it gets to the final four Amanda/McCrae will back each other and you and I will back each other up. I will be taking you to the end. Aaryn says that's why we need to get out the middle people out, Judd, Spencer, Elissa.. Aaryn says that if I do go to jury I will not vote for someone that blind sides me. Gina agrees. Aaryn says it is imperative that you or I win HOH next week. Gina says as long as I don't go up, you are 100% not going home. Gina tries to remember why Elissa wanted Judd out in the beginning and how can we remind her of that again. Aaryn says that Helen wanted him out, remind her that she needs to get him out for Helen. Gina says if Andy does go up I will lie to him. The only reason why I would lie to him is because he did it to me about Nick. If you lie to me I will do it even harder to you and rip your a$$hole to shreds, you know what I mean! Aaryn says just don't push for something that isn't believable. They agree that Gina should wait until Sunday night to be the last one to talk to Elissa. Gina says that she is going to pretend she is sick, to have a migraine and stay in bed till 2pm and avoid the photo booth so that I can avoid Elissa. Aaryn and Gina head inside to eat cake. Aaryn heads to bed. Gina sprays her face and then blow dry's her face. She is the last one to head to bed.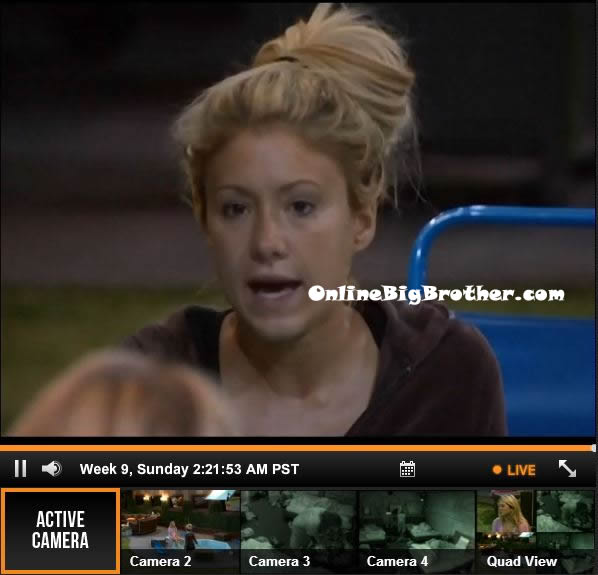 4:15am All the house guests are still sleeping..
10:15am Still sleeping..
10:30am – 10:45am Big Brother wakes up the house guests..
Use the Big Brother Live Feeds to FLASHBACK to SEE what they can't show you on TV: