POV Holder:
AMANDA
Next POV
Aug 31st
POV Used
POV Ceremony
Aug 26th
HOH Winner:
Elissa
Next HOH:
Aug 29th
Original Nominations:
Aaryn and McCrae
Current Nominations:
Last Evicted Houseguest
David, Nick, Jeremy, Kaitlin, Howard, Candice, Jessie. Helen
Have Nots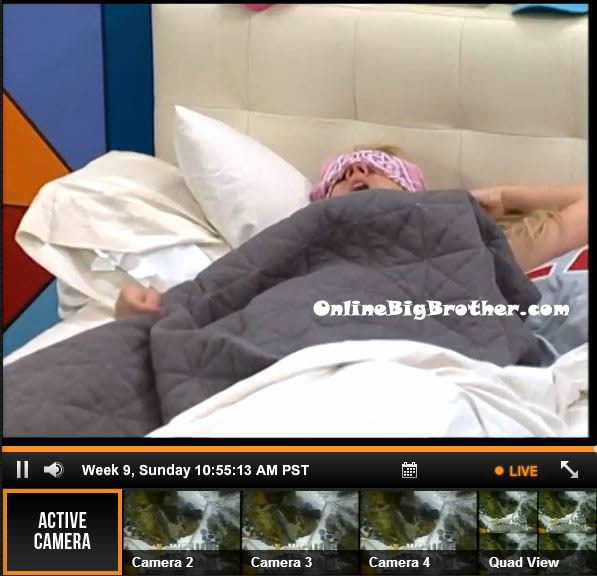 10:30am Big Brother wakes up the house guests. When the live feeds return – Gina comments to Judd that the wake up music is the best part of her day. She then goes back to bed and tells Andy "Oh my god my shoulders hurt from pop, lock and dropping." Andy brushes his teeth and then goes back to bed. Up in the HOH room – Elissa gets ready for the day and heads downstairs.

11:15am In the kitchen Elissa and Judd talk about how they got to see Zingbot and baby Zinbot. Judd says it was great except for the fact that he was dehydrated and needed medical attention. Elissa and Judd head out into the backyard. Judd notices that Andy had put the hose into the hot tub to fill it up and left it running while he went back to bed. The hot tub completely over flowed and water is all over the backyard couch area. Judd shuts off the water and pulls the hose out. Elissa goes to tell the dairy room. When she comes back out she tells Judd they want us to go inside so they can take a look. Elissa and Judd head inside and up to the HOH room.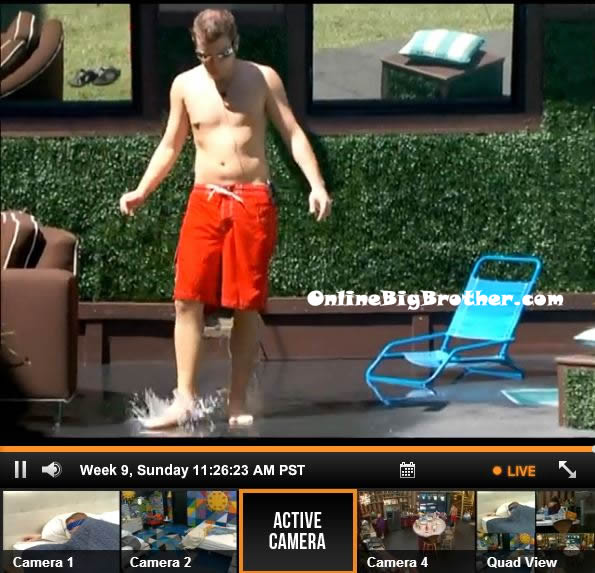 11:30am – 12:05pm Up in the HOH room – Judd and Elissa talk. Elissa asks if anything happened last night. Judd says no, just Gina came down and I asked her if everything was good after talking to you and she said no. Elissa says yeah I told her I still hadn't made up my mind on who I was going to put up. Judd tells Elissa that he will vote out Aaryn because that is her target. Judd says he knows Amanda/McCrae want Aaryn here. Elissa says yeah because they control her. Amanda is disgusting. Elissa laughs at how Aaryn's goal in life is to go to a Playboy Mansion Party. Elissa says that's not a good life goal and sorry but Aaryn doesn't even compare to those girls. Elissa says that Amanda and Aaryn are mean girls. Amanda is disgusting I could talk about her flaws all day long. Elissa says I don't like anyone in the house but you, Ginamarie and Andy. Judd says and Spencer. Elissa says he is all right. Judd says that's why I want it to just be me, you, Andy, Gina and Spencer in the house. Judd says we have me, Andy and Spencer to vote out Aayrn. Judd brings up how Aaryn puts Gina on the guilt trip and I don't like that. We could call Gina up her and all tell her that we would be keeping her so that she wouldn't come after you next week. Judd says that Aaryn won't go after Amanda/McCrae she will becoming after you. Elissa says yeah that's why she has to go. Elissa tells Judd that Amanda was trying to convince her to put you (Judd) up to next to Aaryn. Elissa says that Amanda actually thinks I would be stupid enough to listen to anything she says. Elissa says of course they wanted you to go Judd. Elissa says that Amanda is a crazy crazy girl, like literally crazy and not even in a fun way crazy any more. Judd tells Elissa he thinks Gina should go up. Elissa says that it comes down to who I trust more and Andy is just as impressionable as Ginamarie is. Elissa says I should have put Amanda/McCrae up together and I wish I would have done that. Elissa says the best case scenario would be for us to be here and for Amanda/McCrae to sit their butts in jury. Elissa says Amanda you are like a trend they think it would be fun to try you and then they realize you were the worst mistake ever! You are a trend that will never come back in style. Judd says that Spencer despises McCrae and I think Andy is realizing that too. Judd says if it was Aaryn and Amanda in the end I would vote for Aaryn to win. Elissa agrees. Elissa says if Aaryn doesn't go this week they are going to win, they will have the numbers to win. Elissa tells Judd that Andy had just as much influence in you going home, he knew about it.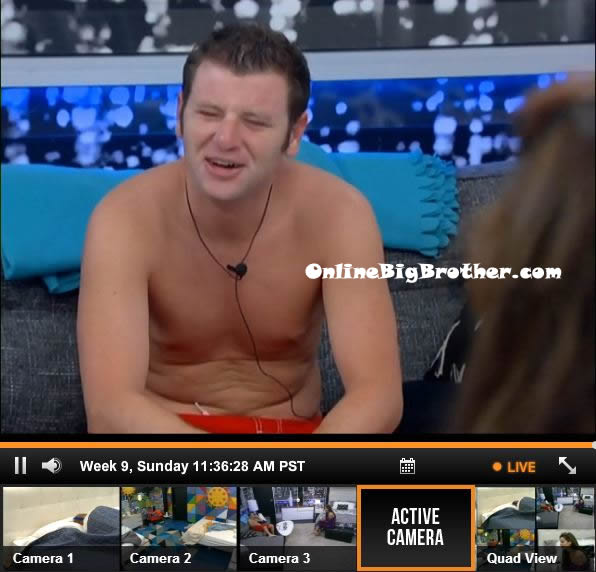 12:15pm – 12:40pm Elissa says that she thinks they (Amanda and McCrae) made up the thing about Howard using the bible. McCrae just brought the bible for something to read. When you pray to the big brother gods, that's just not right. Elissa tells Judd you should have seen Amanda/McCrae's wedding, it was so sacrilegious it was disgusting! McCrae is sacrilegious which is disgusting. Judd comments that McCrae has cartoon characters drawn in his bible. Elissa says that's not right. They talk about whether or not Howard said those things to Amanda. Elissa says even if he did it was because Amanda was flaunting her boobs in his face. Judd says he doesn't think he said it because McCrae would have been mad at him and he wasn't. Judd thinks Amanda made it up and told McCrae and that's why he wasn't mad at Howard. Elissa says that McCrae likes that Amanda is sleazy. Judd says that last night Amanda says what got me out was my lies and I said to her I would like to shake the hand of one person that has made it through this game without lying. Judd says that she was quiet after that. Elissa says I have never been around people that suck this bad at life. My dad warned me that I have been sheltered and wasn't prepared for these types of people but I think I am cultured. I have never been around people that are this disgusting. Like people that have no integrity. Elissa says I can't believe she insulted my husband, I think he is hot. I don't care what she thinks about me. I want to be everything that you are not. Everything that you stand for I want to stand for the opposite. Elissa says that Aaryn is disgusting she looked at Britney Haynes girl parts online and said that she tried to look for Rachel's but couldn't find any full frontals. You are disgusting. Judd says honestly in my heart I think you should put up Ginamarie. Elissa says I see why you would say that. Judd says we could all just talk to her and make her feel safe. Elissa says it's my decision and I would like to build rapport with her to see if she would be loyal.
12:40pm – 1:05pm Judd says if Andy and Aaryn are up, then I think Andy would go home and then it is just you and I which I am fine with. Elissa says yeah. Judd says I think this is our time to flip the house. Judd comments that Gina is close with Elissa. Elissa says no not at all. I think Amanda is just saying that to make Ginamarie the target. Judd says oh. Elissa says whoever I put up and if Aaryn stays we might as well self-evict because Amanda and McCrae are going to win the game. Judd doesn't think Andy should go up. Elissa says I don't know why you trust Andy, it makes me question your judgement. Elissa says I can't wait for Amanda to use the veto to take McCrae off the block so that I can say unfortunately I can't put up the person I wanted to put up so I will put up the person they suggested I put up (Andy). Elissa says Andy just makes me so nervous. If Andy won next week I still think he would do whatever Amanda/McCrae want. I am not afraid of making people upset in big brother. Elissa says I told Andy if he voted out Helen and I won HOH, then he would be my target even though he's not my target this week. Judd says I know you will do what you want to do, I just hope you do what is best for both of us and not just you. I am just on a mission to get rid of Amanda and McCrae. Elissa gets called to the diary room and they end their conversation. Judd says I am with you and Spencer. I don't want you to think that I am with Andy. Elissa says yeah that would be the worst move of your life! Judd heads downstairs.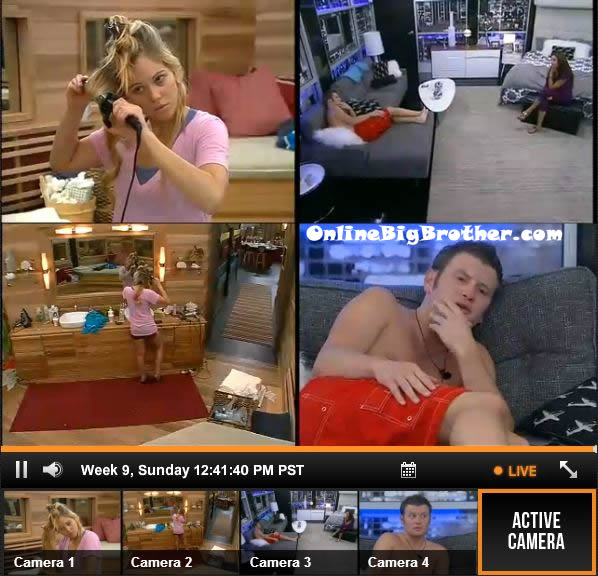 Use the Big Brother Live Feeds to FLASHBACK to SEE what they can't show you on TV:
BB15 N!p Sl!ps / N*des