POV Holder:
McCrae
Next POV
Aug 31st
POV Used
YES
POV Ceremony
Sep 2nd
HOH Winner:
GM
Next HOH:
Sept 5th
Original Nominations:
Amanda and McCrae
Current Nominations:
Amanda/Spencer
Last Evicted Houseguest
Aaryn
Have Nots
1:45pm – 1:50pm In the kitchen – Elissa talks to Andy about keeping Amanda in the house. Elissa tells Andy that she thinks that Judd is definitely working with Spencer. She says they are going to try and get rid of us. He (Judd) has already said that everyone likes you in Jury so he wouldn't want to take you. Elissa says with Amanda and McCrae here it keeps their loyalty intact with you. Andy says yeah, yeah. Elissa says I just trust them way more. Elissa asks so we are voting out Spencer. Andy says yeah. Elissa says oh my god!! Andy says I'll do it. (Andy is lying to Elissa he isn't really going to vote out Spencer he is Elissa says okay. Andy leaves to go to the washroom.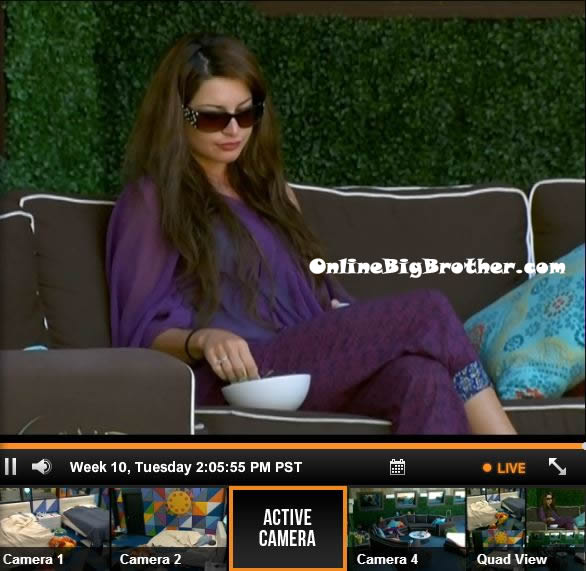 2:15pm – 2:25pm Big Brother calls for an indoor lock down. Elissa heads inside. Elissa talks to Ginamarie about how she just got the HOH camera but they can't use it outside. Andy and Elissa head up to the HOH room to take a few pictures Ginamaire. Elissa says these ones are for Nick. Elissa says I need a tan, to be spray tanned, to be 50 shades of orange.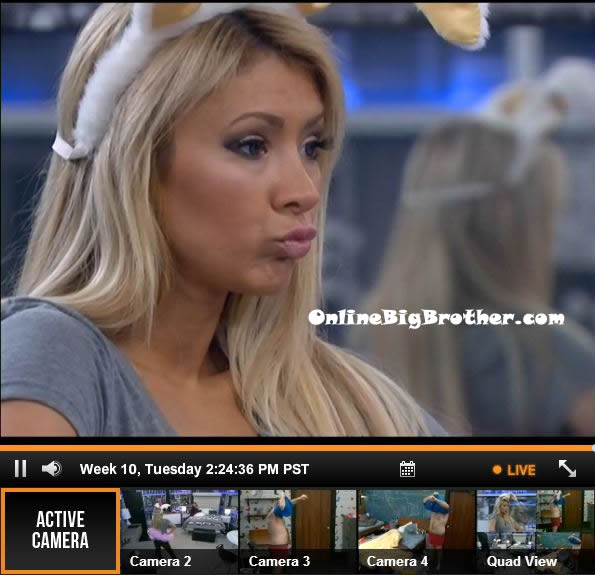 The Exterminators Plan – Andy is lying to Elissa, Amanda & McCrae telling them he is voting out Spencer when he will really vote out Amanda. McCrae and Elissa will be the two votes for Amanda to stay. Judd and Andy will vote out Amanda. Ginamarie will then break the tie to vote out Amanda. Andy then plans to act shocked and upset blaming it on Elissa so that McCrae thinks that Elissa voted out Amanda. This will then make McCrae target Elissa over the members of the exterminators alliance (Judd, Spencer, Andy, Gina).

Up in the HOH room – Andy, Spencer, Gina and Judd take "The Exterminator's" photos. Andy tells them that he can't wait until Thursday. He tells them that he told Elissa that he is voting out Spencer. Andy says he just hopes that Elissa or McCrae don't win HOH because I will be going up for sure. Spencer says I just really don't want to go out during their administration. Andy says I can't wait for it to be a tie and for Ginamarie to break it. Both Gina and Spencer agree.

Meanwhile in the bedroom – Amanda and McCrae are getting up and talking about how Andy and Elissa voting to keep her. Amanda says Andy better vote for me after all that we've done for him. McCrae says so who do we put up in a double eviction. Amanda says Ginamarie and Judd with Elissa as the replacement. McCrae says that scares me. Amanda says well me going home scares me more.
2:55pm – 3pm Up in the HOH room – Spencer says that it would suck for him if he went out during Ginamarie's HoH week all because of the plan of an idiot (Elissa). Judd says he doesn't think that it's her own plan. He says that she always comes up with new ideas after being in the diary room. Andy says Elissa has put him in a compromising position with Amanda and McCrae. Judd leaves. Andy talks to Spencer about how he is worried that this is putting him in a compromising position on Thursday and just hopes he isn't put up. Spencer says he has Andy's back and will help try and deflect attention from him.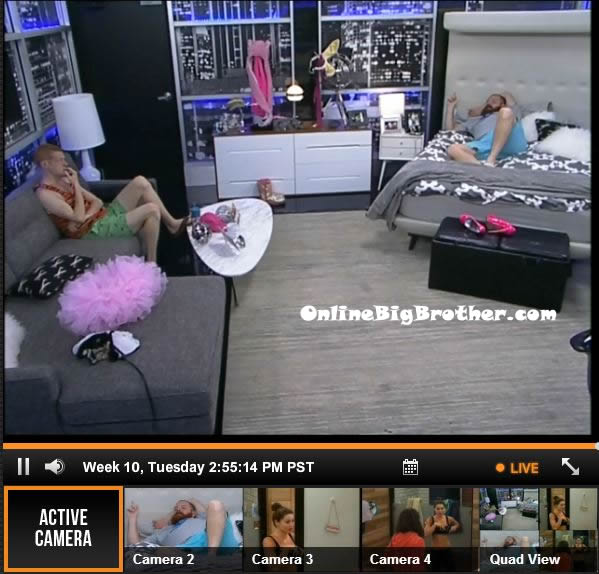 3:10pm Andy and Amanda head into the havenot room. Amanda shows him Elissa's wedding ring that she gave her to hold onto to prove that she is going to vote out Spencer. Amanda tells Andy that it's a real ring with the white gold stamp on the inside. She compares it to her diamond ring and says look even the diamond is real. Andy says this is going to be crazy! Amanda hugs Andy and they leave the room. Amanda then goes to put the ring in the dresser by their bed.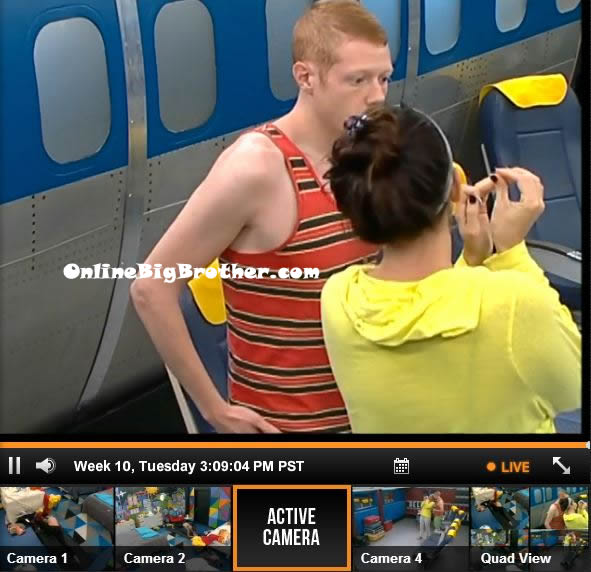 3:15pm – 3:20pm In the rainbow room – Elissa tells Judd that she is just nervous that he might put her up. Judd says nooo.. I would never put you up. Judd says he can't vote to keep Amanda because it would make him sick if she stayed and made it to the final two. Even if she made it to the final two she would deserve to win. I just couldn't vote for her if I was in the jury. Elissa tells Judd that she feels like he are going to work with the guys over her. Judd says absolutely not, I am not sexist. Judd comments on how BB is already building in the backyard. He says if it was a double those are really easy sets so he wonders why the are building it now.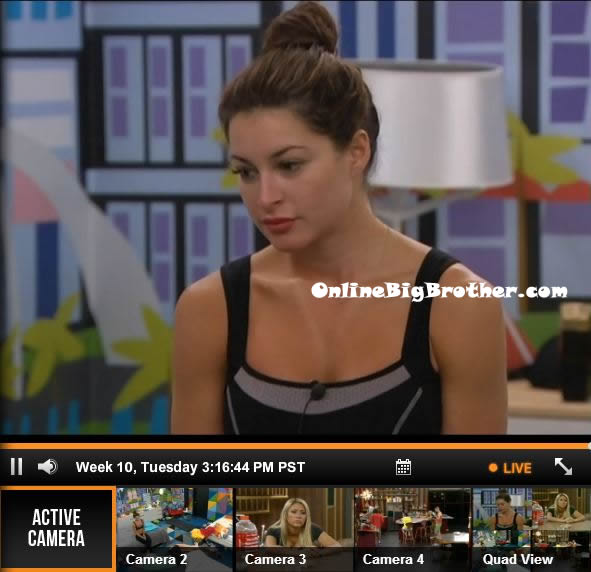 3:20pm McCrae goes in to the rainbow room and with Andy and talks to Judd. McCrae asks him what he was talking to Elissa about. Judd says he was just talking to her about what she would do during a double eviction. They talk about how Elissa is a wild card and how they never know what she is going to do.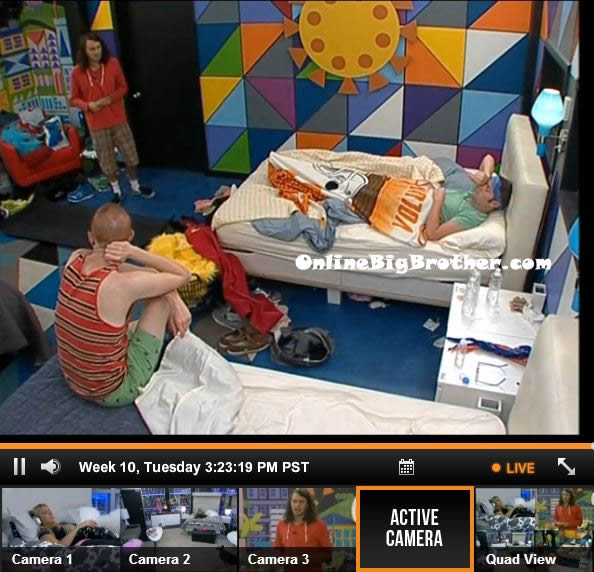 Amanda tells Elissa that this better work. Amanda says if it does she will be loyal to Elissa till the final two because this is a game and they didn't save her. Amanda heads out to the backyard and talks to McCrae in the backyard and they talk about how they don't think Elissa is lying because if she was they would be able to tell because she's a bad liar.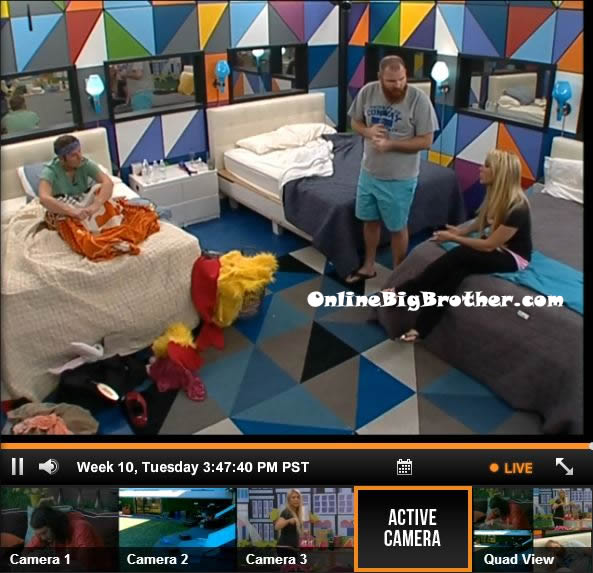 In the rainbow room – Andy tells Judd and Spencer about how Amanda now has Elissa's wedding ring in her possession. Judd calls Elissa a stupid b**h a bunch of times. Andy tells them that she want's my organ t-shirt to hold on to too. Andy laughs and says it's a $20 shirt I don't care about it. Andy and Spencer head into the kitchen and Andy tells Gina about the ring and the organ t-shirt. Spencer tells Andy that if Elissa win HOH we need to tell her that McCrae wants an all boys alliance because she is scared of that. Andy says he will back that story up with Judd. Andy tells Gina that he has never wanted HOH more than this one. He says that he wants to send Elissa packing. Andy heads into the bathroom and talks to Amanda. Amanda says that Elissa is swearing up and down that she is keeping me. I have her diamond ring. Andy says yeah the only thing that is scaring me is that I was target number one of hers and now I'm all of a sudden not. Andy says the only person we don't want to win HOH is Judd and comp power house Ginamarie is out.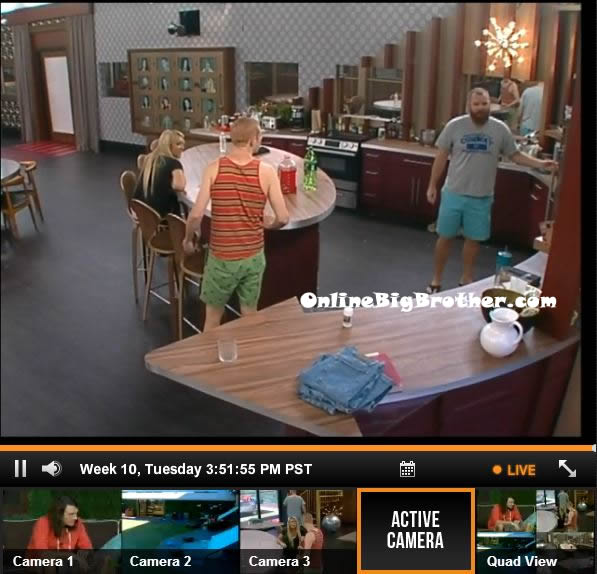 4pm Amanda and Elissa are in the bedroom talking. Elissa asks Amanda did you get Andy's shirt? Amanda says no not yet but he said he would give it to me. Amanda says this is so huge! Elissa says that Ginamarie told her that she can't sleep out here in this bedroom because of her foot. She says that Gina said the only bed she can sleep in is Nicks bed. Amanda and Elissa laugh at how crazy Gina is. Amanda reassures Elissa that Andy is 100% down with keeping her.
Big Brother 15 Live Feeds: FREE 2 DAY TRIAL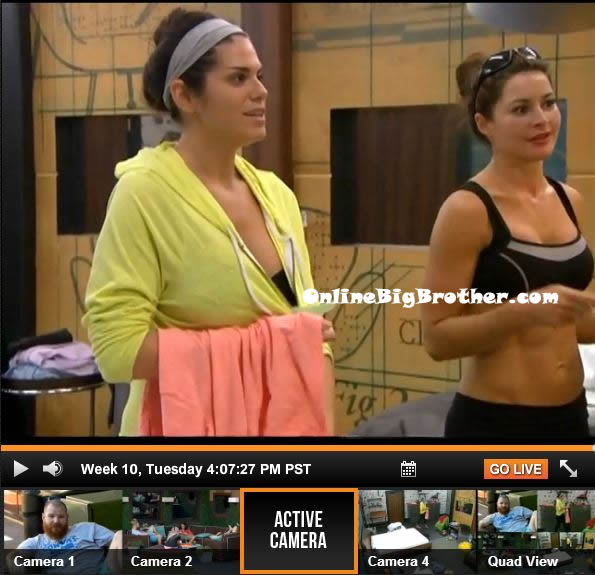 4:10pm Amanda, McCrae, Gina, Spencer and Judd are sitting on the backyard couch talking about random things. Meanwhile Elissa is doing yoga out in the backyard. Judd asks Amanda if she'e ever had a driver? Amanda says no. Judd asks do you have a house keeper? Amanda says no, but I probably will need one if McCrae moves in.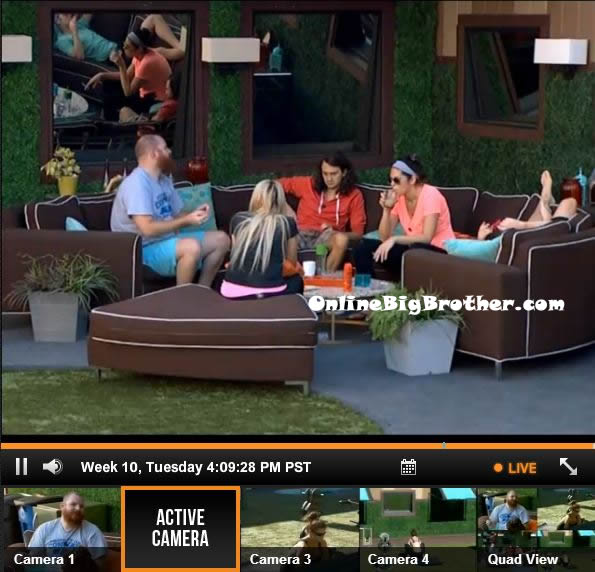 Please consider donating. Simon and I work 24/7 all season long to bring you all the live feed updates and spoilers. ANY amount is greatly appreciated, your donations go directly to paying the server and bandwidth fees needed to run this site.
[polldaddy poll=7368019]
Use the Big Brother Live Feeds to FLASHBACK to SEE what they can't show you on TV:
BB15 N!p Sl!ps / N*des
Share it YO!!
Tweet