POV Holder:
AMANDA
Next POV
Aug 31st
POV Used
YES
POV Ceremony
Aug 26th
HOH Winner:
Elissa
Next HOH:
Aug 29th
Original Nominations:
Aaryn and McCrae
Current Nominations:
Aaryn and Andy
Last Evicted Houseguest
David, Nick, Jeremy, Kaitlin, Howard, Candice, Jessie. Helen
Have Nots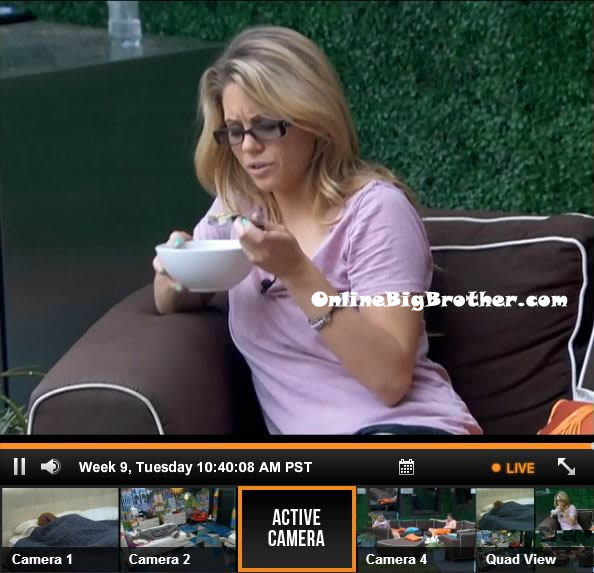 10:40am Big Brother wakes up the House Guests. When the live feeds return – Gina, Judd and Andy are out in the backyard finishing up their dance party to the morning wake up music. They head back inside and Andy and Gina go back to bed. Aaryn and Judd bead back outside to talk. They both think something is going to happen today like a luxury competition or Pandora's Box. Aaryn asks what if something does happen from that photo booth session. Judd says yeah, we took photos with all the props. We took them together, we did everything we could do. Aaryn and Judd head back inside. Judd goes back to bed. Elissa comes down from the HOH room. She makes coffee and then check to see where Judd is and says she was going to ask him if he wanted to sit out side but tells him to go back to bed. Judd gets up anyways and joins her outside to talk.
Big Brother 15 Live Feeds: FREE 2 DAY TRIAL
11:10am – 11:30am Elissa tells Judd my gosh I missed you so much. Judd says I missed you too. We just need to get those two out so that it is just me, you, Spencer, Andy and Ginamarie. Elissa comments how Aaryn doesn't even like big brother she wanted to be on The Real World. Judd says he was glad to get Helen out because she was such a dangerous player. Elissa brings up how Amanda apolosgized last night but kept making up more lies and said that if Andy stays its because of her and McCrae. Judd says oh yeah just like how we threw that POV to her. Elissa laughs. Judd says Amanda better not do that to me, I will make her cry. If that was a guy doing that I would have cussed him out. Elissa says I can't believe McCrae, wouldn't you be embarrassed if that was your girlfriend. Judd says McCrae thinks it makes her look like a better player, like an evel dick. Elissa says she thinks its funny now that Amanda's Botox is wearing out and it looks like her eye is drooping. Elissa says its funny how she thinks she can do that and just apologize the next day. She said it was all because of something I said which was something that she brought up to the whole house (Amanda's abortion before coming on the show). Judd comments on how McCrae only washes once a week. Elissa says that Amanda said I bet your husband would love me and my breasts. Elissa says my husband thinks you're disgusting. Judd asks Elissa how good does it feel to make it longer than Rachel Reilly did on her first season. Are you going to brag to her about it. Elissa says oh yeah. They talk about Hayden being on Survivor. Elissa says that he made it far, he was like final 4 when we came on the show. (FLASHBACK time stamp 11:26am) Big Brother cuts the feeds. Elissa says I want to know who won. If he made it to final 4 before we came on here he probably made it to the final 2 or 3. Elissa says I would love to do survivor. Elissa asks Judd if they have bottled water. Judd says no they have to boil it. Elissa asks what about a bathroom? Judd says you have to dig a hole. Elissa says oh my gosh I don't think I want to do it.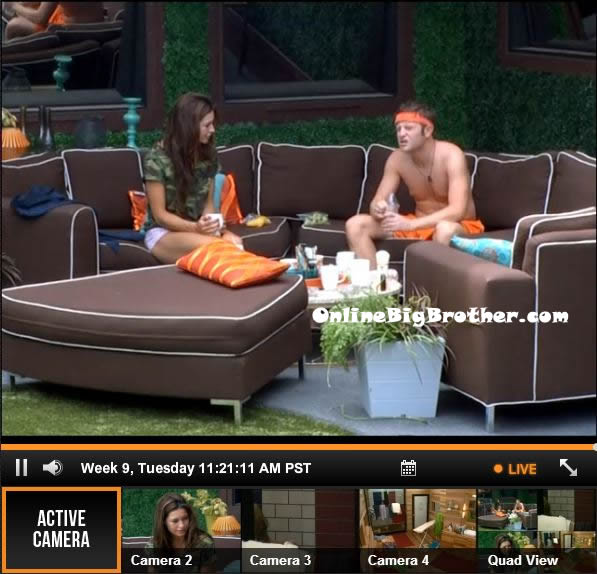 12pm Elissa asks do you think Andy trusts like Amanda and McCrae. Judd says he is going to act like it and I'm going to too. Elissa says yeah I told them how much he trusts them. Elissa says I don't want him to be mad at me but it was the only way. Judd says no matter who went up it will work either way. Elissa says Amanda is so gross. Judd says I almost feel bad for her, she is never going to be able to sell houses and stuff you know. She is going to have it rough when she gets out, I would never hire her. Judd comments that Aaryn said she thinks she would be good with Candice in the jury house. Elissa comments that Aaryn was trying get attention yesterday and pulled her thong up into her butt. Elissa says she is going to try and hook up with you. Judd says she has already hinted at it but I think it was just to make Jessie jealous. Elisssa says you think Jessie is hotter than Aaryn don't you. Judd says yeah. Andy joins them. Andy says I know I am staying, I am just so nervous. Elissa says she was just so scared and didn't want to put him up. Andy says so I am 100% staying? Elissa says yes. Judd says yeah it should be unanimous. Elissa says I feel just so horrible for doing it but I think you had to see how horrible Amanda and McCrae are. Andy says I understand. Elissa says you have clout in the house but Gina doesn't no one would listen to what she says. Andy heads back to bed. Elissa and Judd talk about Gina's comment to Candice when she was evicted. Judd then heads back to bed.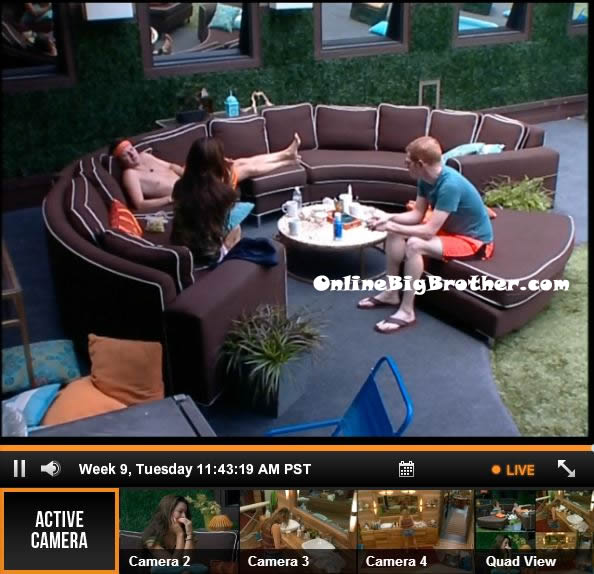 12pm – 1:20pm Aaryn doing her makeup/hair while the other house guests continue to sleep.. Elissa is now in the kitchen making her lunch. Aaryn continues to do her make up.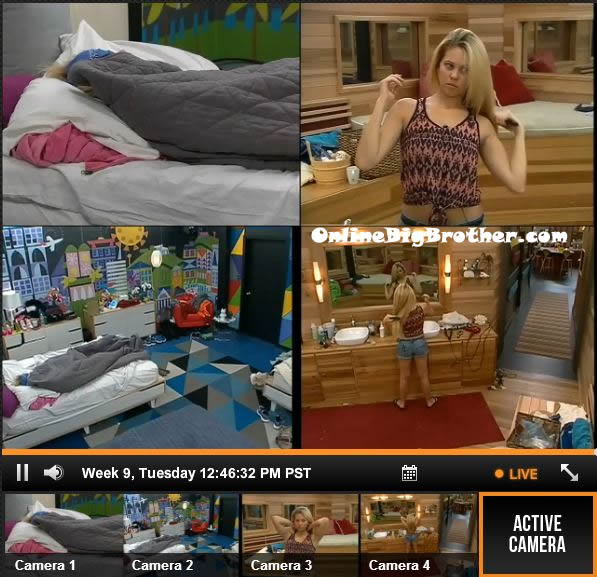 1:25pm – 1:40pm In the kitchen – Aaryn talks to Elissa. Aaryn asks Elissa did Andy tell you that Amanda said I would go home? Elissa says no. Aaryn questions it. Elissa say no actually she did say that. Sorry she did say that, her and McCrae. Aaryn asks so basically they've been working with you to get me out? Elissa says I told you McCrae wanted to get you out. He is mad that you might leave on my week, he wanted to put you up. Aaryn asks Amanda wanted Andy up because they wanted me to leave over him? Elissa says yeah. Aaryn sighs and walks out to the backyard.
1:45pm In the kitchen – Judd and Elissa talk about the HOH blog. Elissa says she just did hers. She asks Judd if he talked about game in his. Judd says yeah. Elissa says aw I want to do another one now. Oh well at least I can when I do my tweets. Elissa says I will tweet #teamJulissa.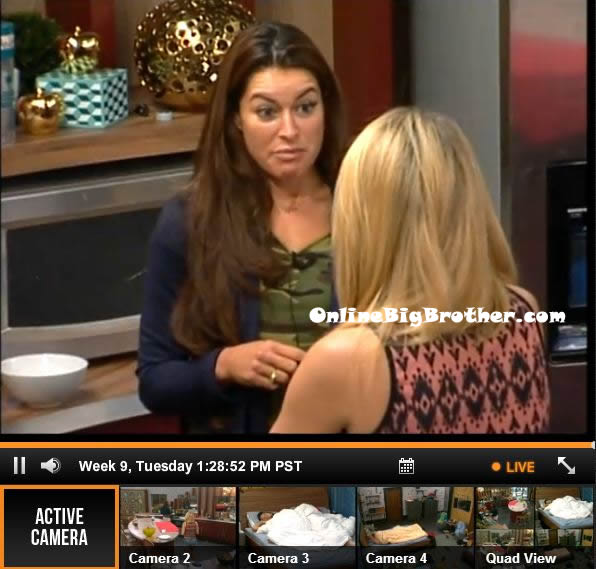 2pm – 2:20pm In the rainbow bedroom – Judd wakes up Gina and Andy. They talk about random things and about clownie. Andy says that Candice will never live down going out as her arch nemesis Clownie. She was the sleep master, she would sleep 21 hours a day. Judd says I wish I had a pen I want to write down a dream I had. Gina laughs and asks who did you f**k in the a$$? Judd says no it wasn't a $ex dream. Amanda joins them. Judd talks about wanting to use the drawer in the bed but Amanda tells him he can't because it has their condoms in it. Amanda then tries to blend into the wall. Amanda leaves. Judd, Andy and Gina talk about random things.
2:25pm – 2:50pm Elissa asks whos ready to take HOH pictures!
Use the Big Brother Live Feeds to FLASHBACK to SEE what they can't show you on TV: