POV Holder:
AMANDA
Next POV
Aug 31st
POV Used
YES
POV Ceremony
Aug 26th
HOH Winner:
Elissa
Next HOH:
Aug 29th
Original Nominations:
Aaryn and McCrae
Current Nominations:
Aaryn and Andy
Last Evicted Houseguest
David, Nick, Jeremy, Kaitlin, Howard, Candice, Jessie. Helen
Have Nots
12:30am – 12:50am In the bathroom – Gina and Amanda are hanging out talking while Gina does her hair. Gina says there are 75 of these in a bundle. Guess how much they are? Amanda says I don't know. Gina says $250 a bundle but I got a deal from my friend. Gina tells Amanda that Aaryn is trying but Elissa ain't budging. Amanda tells Gina that she apologized to Elissa. Gina says its cool that you did that. Gina talks about Nick and how she really fell in love with the kid. I haven't felt like that since my fiancé. Gina continues to talk about her ex and how they met. Amanda starts talking about Elissa again and says that she has been gunning after me this whole game for no reason. Gina says yeah. Amanda says that she tried to explain to Elissa that nothing I said was personal until she tried to use something so personal against me. (Amanda's pregnancy) It's not my personality to hold a grudge. Gina says yeah its good you squashed it. Andy joins Gina and says that it looks like Elissa and Aaryn are doing a lot better. Gina says yeah but Elissa's mind is pretty much set. Gina says that Aaryn knows there isn't really any chance she will stay.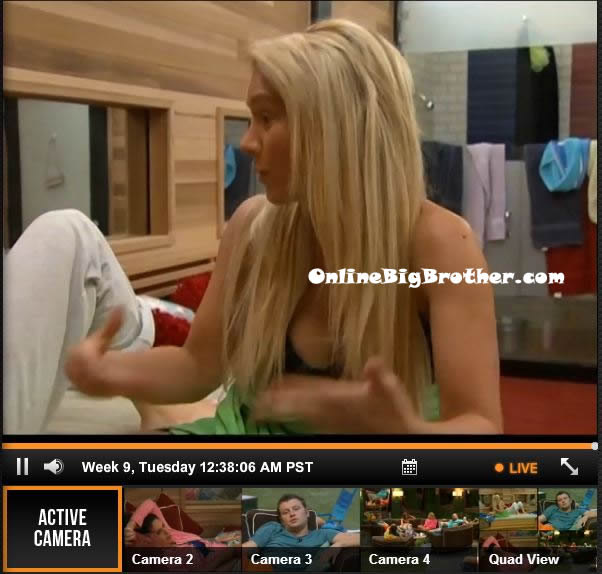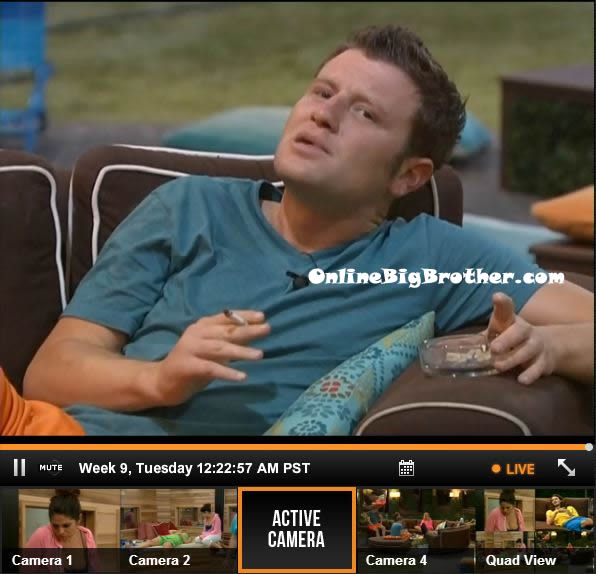 12:40am Meanwhile out in the backyard – Elissa and Aaryn are on the backyard couch talking about whether or not they might get a luxury food competition. Elissa asks McCrae when they would usually get a luxury food competition. McCrae questions what a luxury food competition would be but says if they were competing for food it would be for the whole week. Elissa and Aaryn talk about how they want something exciting to happen. Aaryn says even if it's Pandora's Box with a punishment.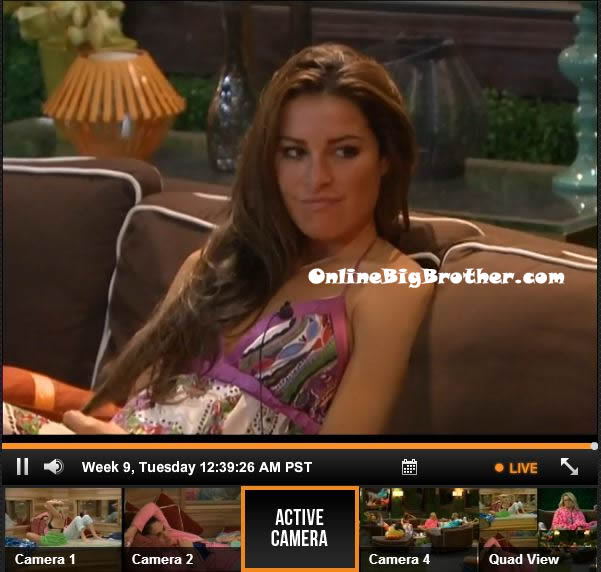 1am – 2am Spencer and McCrae set up for a game of pool. Andy heads out to the backyard. Andy says I hope we have a luxury comp tomorrow! Amanda says yeah. Amanda says we better get one or I will kill myself. Andy asks Aaryn if she had a good conversation with Elissa. Aaryn says no it was a really stupid conversation about her telling me why I would be good on The Real World. Amanda looks over and says loves her dirty little monkey. Aaryn asks Amanda if they will still be the same in the real world. Amanda says yeah. Aaryn says I can't wait to fall in love. Aaryn and Andy are alone on the couch. Aaryn says I have respect for you even more respect than the respect I have for Gina. I am still going to try and stay but I am not going to campaign against you. Andy says yeah. Aaryn heads inside to be. They all sit around talking about tv show and what characters they would be off of them. Spencer joins them. They all laugh about how Ginamarie used his tooth brush for something dirty and threw it out. Spencer says she thought it was her tooth brush. Spencer says it has my dentists name on it. Spencer bring up how a number of times he went to brush his teeth at night and it was wet. My tooth brush looks nothing like hers. I can't believe she was using my tooth brush to brush her nasty a$$ teeth. The conversation turns to talk about how Amanda is like a jack rabbit and wants to have $ex all the time but that McCrae keep denying her. Amanda says if you do use it, you lose it. They all make fun of McCrae for not being a good liar when he says they haven't had $ex. Amanda heads to bed.
Big Brother 15 Live Feeds: FREE 2 DAY TRIAL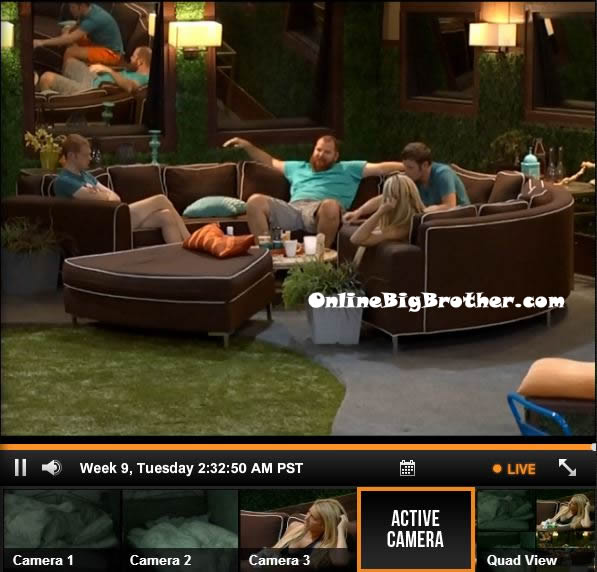 Andy, McCrae, Judd and Spencer all talk about how if they're going to get a Pandora's Box this week it will be tomorrow. McCrae says he doesn't think they will get one. McCrae comments and tries to be cryptic how they had to do a "Shoe d'etat" in the diary room and that Elissa had to do it too. That's why I don't think she would get a pandora's box. Andy and Judd don't understand what McCrae is talking about. McCrae doesn't really say much Andy gets it but Judd doesn't at first. Big Brother tells McCrae he is not allowed to talk about his diary room sessions. McCrae says he thinks they might get a luxury competition tomorrow. Spencer says America has voted and there is another veto in play. McCrae says I could see that happening. They talk about how it happened last year where there were two vetos in play and how it could happen again. McCrae heads to bed. Andy, Spencer and Judd talk about their exterminator alliance (Spencer, Judd, Anyd, Gina) and how perfectly it worked out forming it last night. They discuss how Gina will be loyal as f**k after Aaryn leaves. They talk about who should go first McCrae or Amanda. Spencer says Amanda has the ability to bond with Elissa if McCrae is gone.
2:30am – 2:50am Judd says that he will make Amanda cry if she ever did to him what she did to Elissa. Andy heads inside. Spencer says if they (Amanda/McCrae) win HOH and take out Elissa. They are taking out the only possible person they could work with. Judd agrees. Spencer says they we have a clear path. Judd heads inside. Spencer asks Andy about how Aaryn told Amanda and McCrae that you and I had a final two deal. Andy says I haven't ever said that, I don't know where she would have gotten that. Spencer says I need to be able to know what to say to people if they question me. Andy says I literally don't think I said that and if I did it was to down play it. Gina and Judd come back out to join the. They talk about how Aaryn is trying to persuade the them to keep her. They all talk about how Aaryn has already tried. Gina tells Andy that they really think you are with Amanda/McCrae. Andy, Spencer, Judd and Gina all have each others backs and that their alliance is solid. Andy and Gina head to bed. Spencer explains past events while Judd was in jury. They talk about Aaryn pulling out all the stops to stay. Judd says she was cussing me out just yesterday and today she was trying to make an alliance with me. Judd and Spencer continue to talk about past events.. Spencer heads inside to get ready for bed. Judd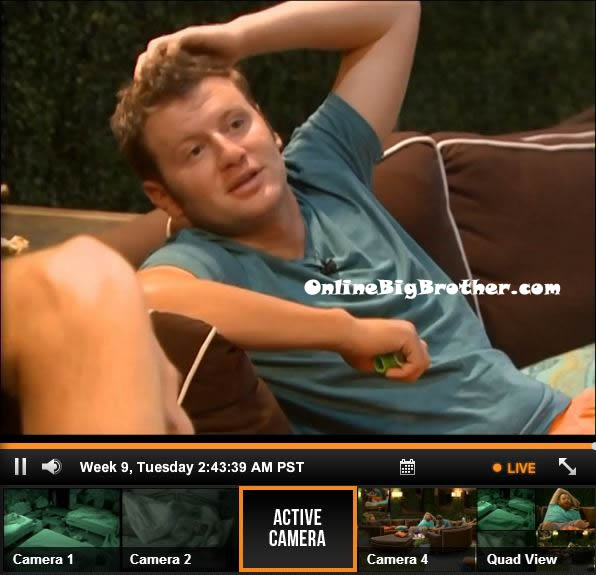 2:55am Gina still doing her hair in the bathroom..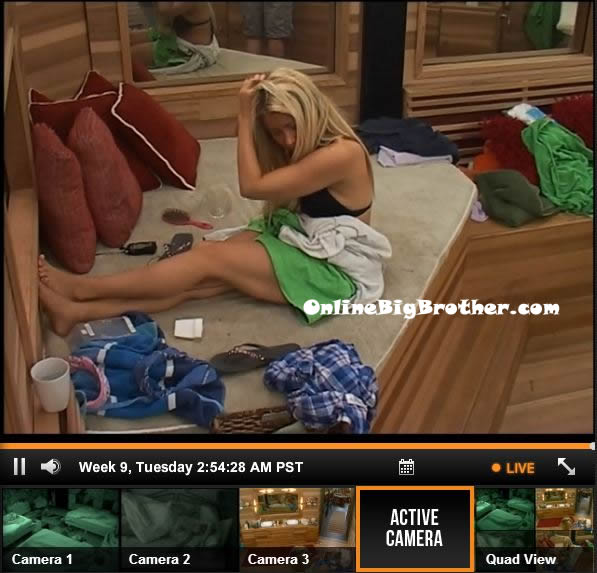 10:05am All the house guests are still sleeping..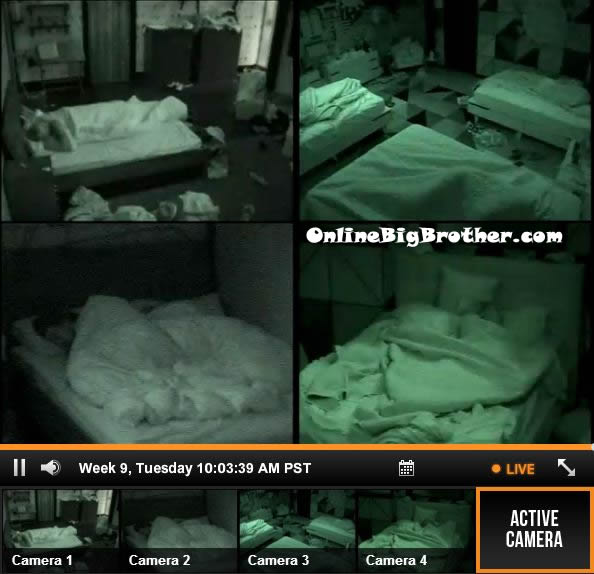 Use the Big Brother Live Feeds to FLASHBACK to SEE what they can't show you on TV: