POV Holder:
AMANDA
Next POV
Aug 31st
POV Used
POV Ceremony
Aug 26th
HOH Winner:
Elissa
Next HOH:
Aug 29th
Original Nominations:
Aaryn and McCrae
Current Nominations:
Last Evicted Houseguest
David, Nick, Jeremy, Kaitlin, Howard, Candice, Jessie. Helen
Have Nots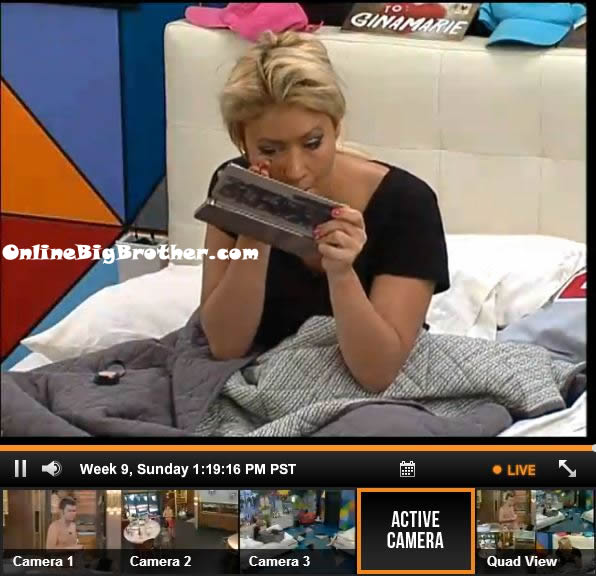 1:15pm – 1:40pm Judd and Elissa head out into the backyard. Judd comments on how you can't even tell now that the hot tub overflowed. Amanda is now up and in the kitchen. She comments to Judd that she doesn't sleep well with all the animosity in the house. Amanda heads outside. Andy joins Judd in the kitchen and comments that if I am going up, I am going up in style! Judd and Aaryn head out to the backyard and join Amanda on the couch. Aaryn says that Gina said she went upstairs and she (Elissa) said us throwing the parachute off the balcony was childish games. Judd says there is nothing better to do in here. Aaryn says that Gina said she was going to stay in bed and not talk to Elissa until late tonight and then tell her whatever she wants to hear to stay off the block. Andy joins them. Amanda says that Elissa was pretty adamant about her not going on the block. Aaryn says she bit her lip on the inside and now there's puss.. I think its infected. Amanda says it's probably a cold sore. Aayrn says it's not a cold sore. Spencer joins them. Aaryn tells Judd about how they are thinking about getting a party bus to go to Vegas together. Judd says he would be down with that. Spencer says he would do it but would probably rent a car with Mari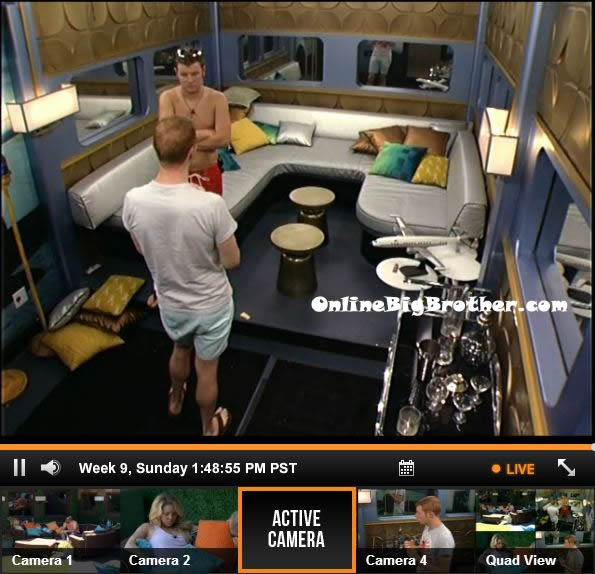 In the lounge – Judd has a quick conversation with Andy about how he tried to talk to Elissa this morning and she pretty much said Andy would be going up. Andy says that he will try to talk to her today but that he thinks once her mind is set it is set. Judd says we need to stay close to Ginamarie today too. Andy agrees. They leave the lounge. Andy then goes into the lounge with McCrae and says that Elissa has had another melt down and I am probably going to go up again. Amanda joins them. Andy says that Judd has been working her hard and she basically told him I am going up. He has been fighting for me to not go up all day. If I go up I need to tell Judd that this is all fake because if Aaryn tells him before I do he will know I have been lying to him this whole time. Judd trusts me and will vote to keep me if I am 100% honest with him and tell him everything. Amanda tells Andy to walk around really unhappy and upset today. Andy says it would be so perfect if Gina just went up. Andy says I have to tell Judd that I am coming after you two. Amanda says what if he wins HOH then he will be coming after us. Just wait to tell him anything. Andy says okay.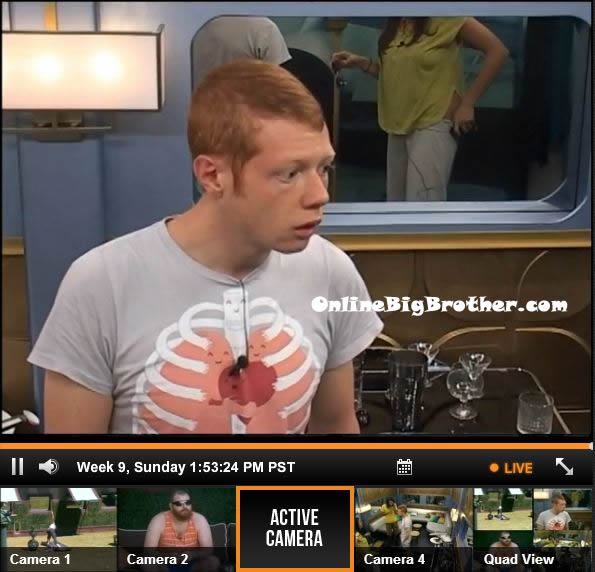 2pm – 2:10pm Spencer and Andy talk in the lounge. Andy says Elissa shook my hand and promised me I wouldn't go up. Spencer comments that he can tell Andy is stressed because he is cleaning. Andy says I want to tell Judd that it was all just an act but Amanda and McCrae say that I can't because then they will be pissed at him. Spencer says you could just tell him that you didn't know. Andy says yeah, I just need to tell him before Aaryn does. Spencer agrees. Spencer and Andy head to the kitchen. Amanda joins them. Spencer tells Amanda he was going to Howard her. Amanda asks what does that mean? Spencer says I was going to tell you I was going to f**K the sh*t out of you. Amanda says oh. Amanda tells Andy we just need to be the last person in her (Elissa) ear tonight and tomorrow. They head to the storage room. Andy says I just need to know how to work it so that I am not throwing you and McCrae under the bus. Amanda says yeah just be the last one to talk to her tonight and tomorrow. Andy agrees.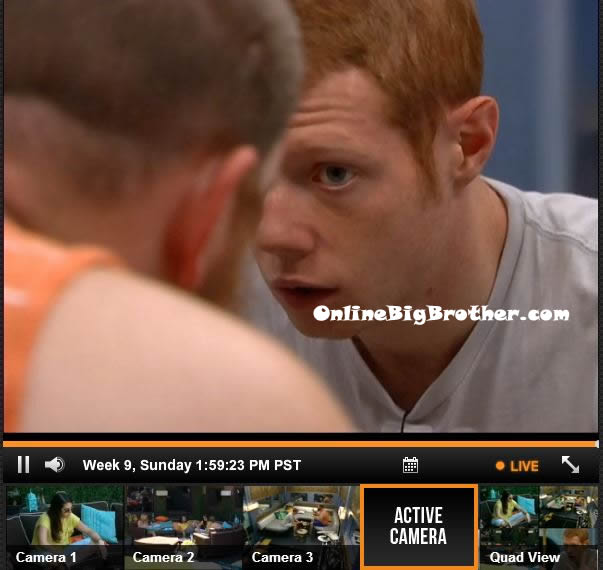 Aaryn tells Gina I have good news, Elissa is 100% putting up Andy. Gina asks what's the good news. Aaryn says that Andy would be going home. Aaryn says that she would rather Spencer go up and he go home. Aaryn tells Gina to talk to Elissa and comment how I have come back from the dead so many times that it would be a shame for Andy to go up and go home.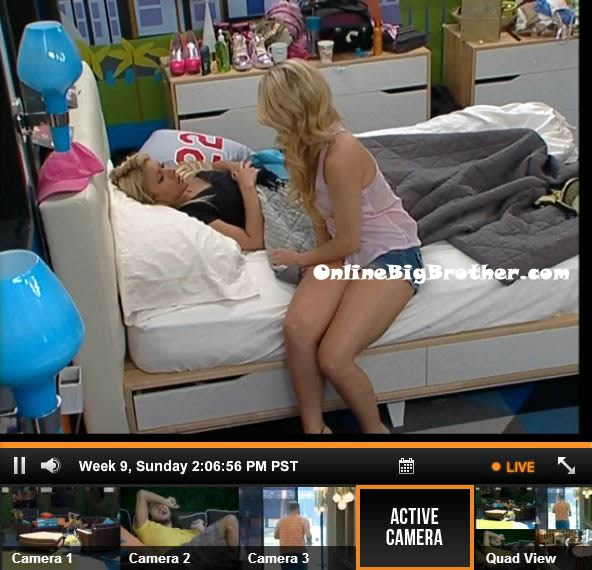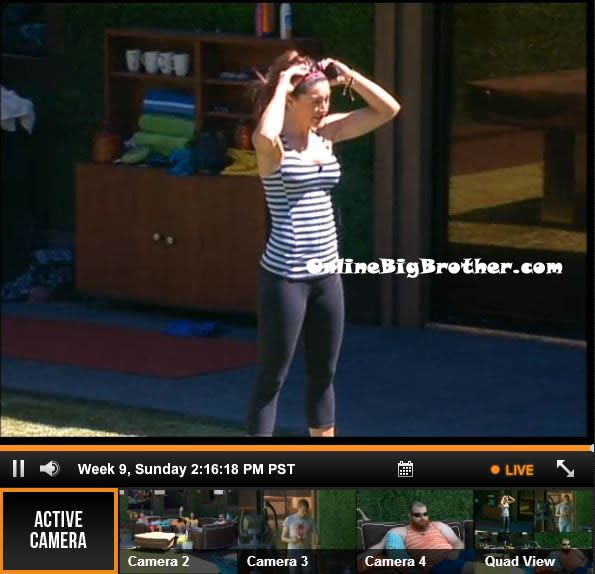 2:15pm – 2:30pm Elissa goes out into the backyard and tells McCrae to tell his girlfriend not to touch my sh*t! McCrae starts yelling really loud. McCrae says shut the f**k up! She never touched your sh*t! It was Ginamarie last night to took your ball. McCrae says if you keep saying sh*t you are going to get the pitbull! Elissa says well I hope I do! McCrae says we never touched your sh*t. Elissa says if you touch my sh*t again I will tell the diary room. We are on a tv show and you can't mess with my stuff! McCrae says I am going to tell production right now! McCrae runs inside! (LOL) McCrae comes back out and says they told me you can't touch my stuff. Elissa says you have dirty clothes and you take up more drawer than any one. McCrae says you have fifty million drawers. You went through my stuff and moved my clothes without asking. Elissa says don't touch my things. McCrae says it was Ginamarie that took your ball. You are look at that wrong person to blame! Elissa says don't touch my stuff. McCrae says I wouldn't want to touch your upper class bullsh*t stuff! Elissa says I wouldn't want to touch your dirty clothes either. Amanda comes out and McCrae tells her not to touch Elissa's stuff. Amanda says touch her stuff, why would I want to do that. Amanda says you never talk about your step son, who knows whos mother he has, you're a great step mom that never talks about her step son. You tell Ginamarie about my pregnancy which all of America already knows about, nice one. Amanda says you should have been a bl*w j*b Elissa.. you got caught in the wrong hole! Elissa starts running in the backyard and doesn't say a word. Amanda heads back inside. Gina comes out and asks if McCrae needs any laundry done. McCrae says no thanks I like my sh*t dirty!
Big Brother 15 Live Feeds FREE TRIAL: FLASHBACK FEATURE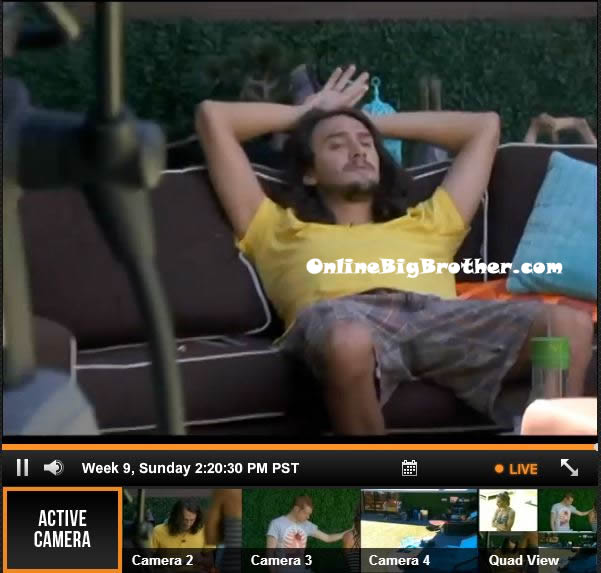 2:35pm – 2:40pm In the bathroom – Amanda tells Aaryn oh my god I was so harsh to Elissa but she deserved it! Aaryn says her husband's teeth are yellow. Amanda says that is a sugar daddy if I've ever seen one. Aaryn agrees. Amanda says I am going to go touch Elissa's stuff. Aaryn says I don't get that touching sh*t stuff. Amanda says I will go put her sign on the toilet. Amanda then goes to grab Elissa's love letter from the OTEV competition and puts it on the toilet. Aaryn says oh my god. Amanda goes out to the backyard and tells McCrae and Judd she just put Elissa's love letter on the toilet. McCrae says don't touch her sh*t. Amanda says if she wants to be mad about me touching her sh*t I will do it.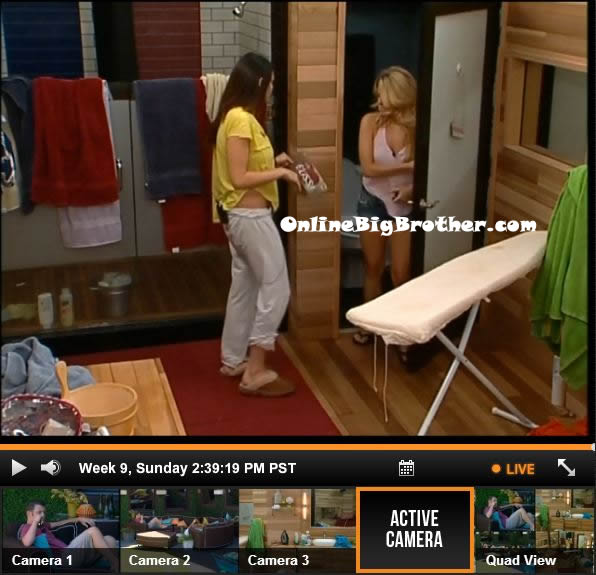 2:45pm Gina, Aaryn and Amanda play with feather earrings pretending to be Candice. Lots of get my name out of your mouth and screaming going on..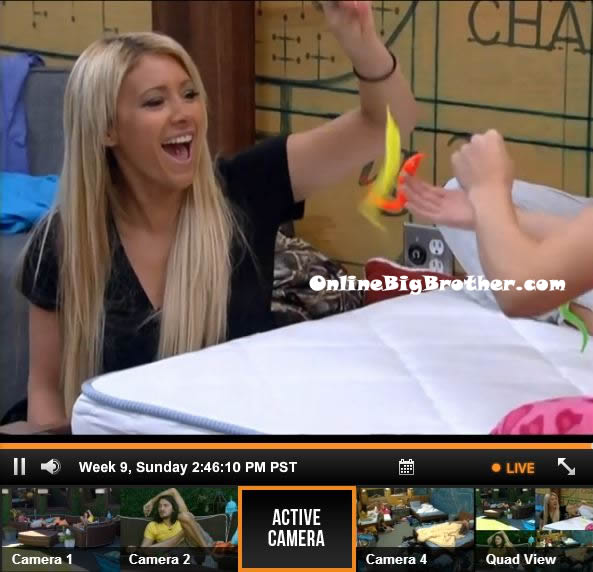 2:50pm McCrae and Judd on the backyard couch. Judd is asking McCrae why he didn't campaign to keep him. McCrae says we just thought you were so dangerous. Judd says I was working with you. McCrae says yeah not me. It was Helen and Elissa pushing for it real hard. I wasn't on board. If I had won that HOH I told them that you would not have gone up and they were pissed that I said that. And you can ask anyone about that.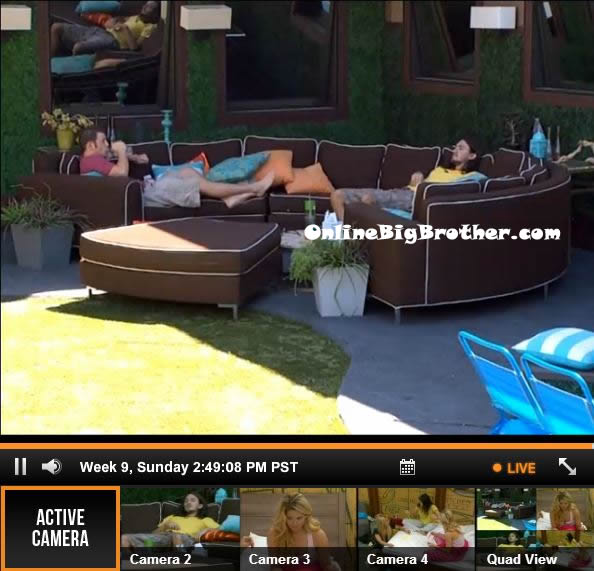 2:55pm Gina uses the toilet and leaves Elissa's OTEV love letter in there. Amanda comes in and checks that it's still there. She says great, just checking that no ones moved it.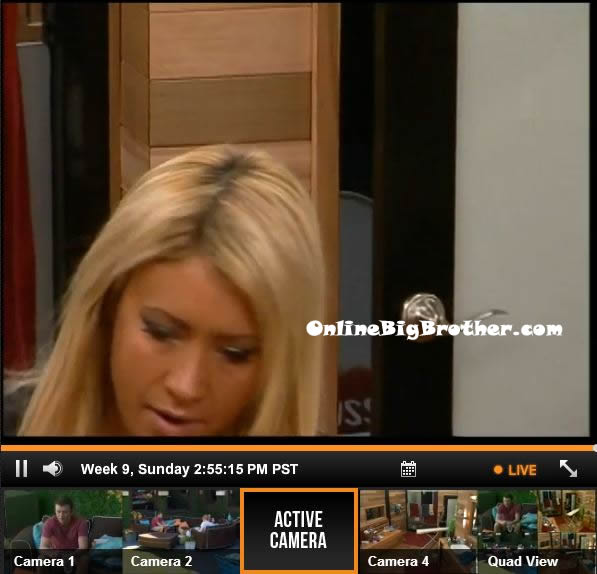 Use the Big Brother Live Feeds to FLASHBACK to SEE what they can't show you on TV:
BB15 N!p Sl!ps / N*des