POV Holder:
Shane
Next POV:
?
POV Used
YES
POV Ceremony
Sept 10 (Monday)
HOH Winner:
Ian
Next HOH:
?
Original Nominations:
Jenn and Shane
Current Nominations:
Jenn and Danielle
Last Evicted Houseguest
Frank And Joe
9:02AM Cam 1-2 Danielle and Shane
They are crapping their pants about being woken up so early. Danielle thinks that it's goign to be a fast forward. Shane says 2 double evictions and a fast forward in one season is TOO MUCH.
Jenn joins them asks if they will have a luxury competition this late.. Danielle doesn't think so because there has been so many prizes lately. Jenn thinks it will be a fast forward.
Jenn says hopefully Big Brother is going to let her pack her Sh!t at least before they start evicting people
Indoor lockdown..
Ian is roaming around tells them that the HOH room is still open. He walks over to the backyard sliding door and listens.. doesn't hear anything.
Dan is still in bed while the other houseguests are frantically trying to get ready. Over the speakers Big Brother keeps yelling at him to get up and change his batteries.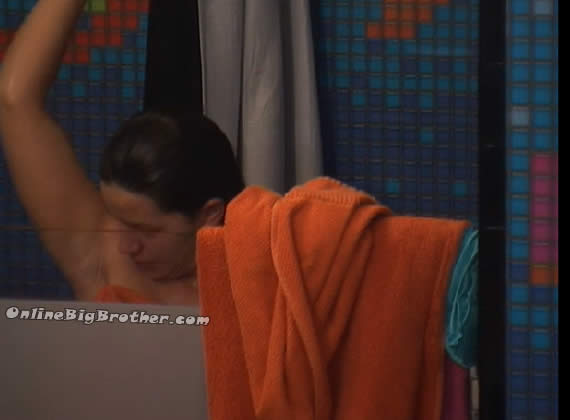 9:22AM Cam 3-4 Danielle and Shane are in the bathroom. Danielle is showering.. She tells him her eyes are killing her. Danielle is worried about what is going on. Shane is certain it is a fast forward. They have a eviction today.
Shane: "We are obviously playing HOH tonight than to"
Shane explains that they will be down to 3 players next Tuesday.
Danielle: "I know it's not luxury.. there is too few people"
Danielle brings up that Dan is the biggest baby she has ever met "EVER". She brings up how women are as strong as men because they can handle more pain. Danielle continues to brush her hair tells Shane "This might be a good hair day.. it's already shiny" She now starts to complain about her finger nail hurting, then moves onto the tooth paste, then apologizes for complaining so much.
Jenn joins them tells them she's going to feel like she's 50 years old when she gets out of this "joint". Shane mentions that this must be the most stressful season ever to be a player. Jemm leaves.. Ian joins them.
Danielle asks him what is going on. Ian doesn't know he hasn't been told to pack nor had he had a chance to blog or take HOH pictures. The Diary Room did give him the camera though. (Cameras change to Jenn packing her clothes)
9:56AM bathroom Danielle and Shane Danielle complains that the cameras in the house are always on her they never give her a break. Shane says he'll take a movie of her instead. (Shane has the HOH camera) Shane: "I can't believe Dan is still sleeping.. I took a picture of home in his cocoon"
Danielle: "My complexion looks like crap"
Jenn joins them and they start chatting about 9/11 and were they were when it happened. Shane asks Jenn if she was in the city when it happened and how close. Jenn: "Close enough.. I don't want to talk about it anymore" Danielle says she was skipping honours English at the time.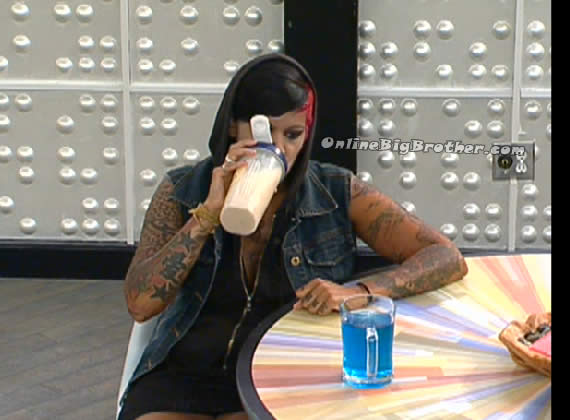 9:30AM Last day in the BIG BROTHER HOUSE for Jenn. (On a side not Jenn has given up she accepted the fact she is leaving.. she did very little campaigning last night and this morning said to the cameras she is looking forward to eating tonight)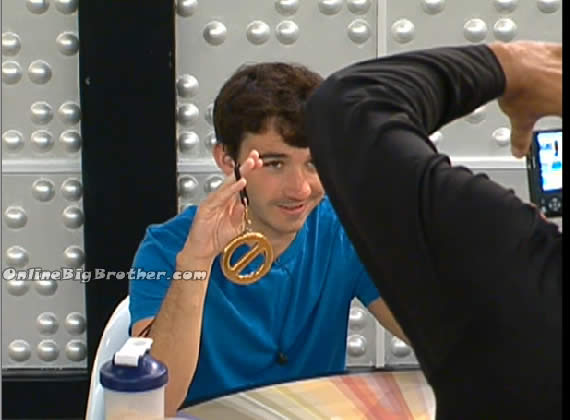 9:50AM Cam 3-4 Ian and Shane in the kitchen. Shane is posing for pictures with the Power of Veto. Ian does to.
10:07AM Cam 3-4 Ian and Jenn Ian thinks that it might be a celebrity visitor or a luxury comp. Jenn doubts it, she's thinking fast forward.
10:19AN Ian comments that there is a lot of noise coming from the backyard. "Sounds like they are drilling a hole to china"
Jenn: "House guests first person to make it to china and back win head of household". Danielle has joined them after about a hour of putting on makeup she says she's ready for pictures. They decide to go into the bedroom and wake Dan up.
10:24AM kitchen table Jenn and Ian chatting about Matt and Kim, Jenn really like that daylight song (https://vimeo.com/8201078). Danielle joins them and is munching on fruit loops.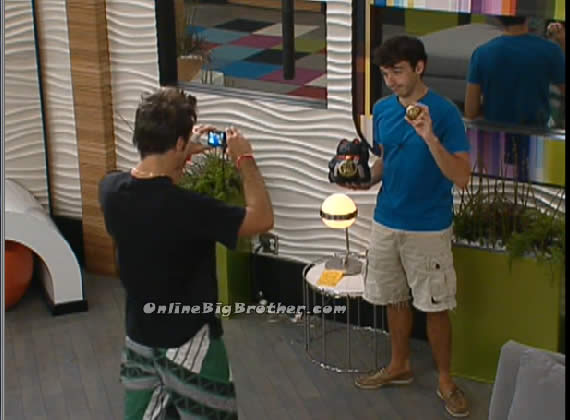 10:38AM Dan's Ralph MAcchio play dough figurine fell in a glass of water.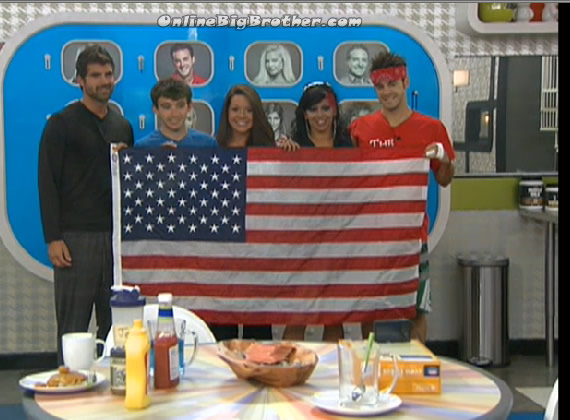 10:55Am
Cam 1-2 Danielle and Shane in the living room
Cam 3-4 Jenn and Dan looking at the memory wall
SILENCE
11:11AM Danielle, ian and Shane are trying to take a nap in their rooms. Jenn is looking at the memory wall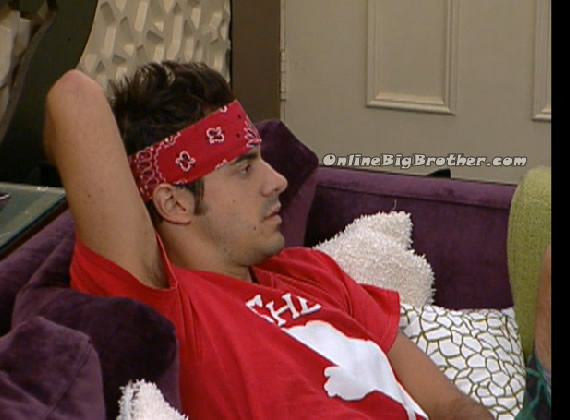 11:13AM Cam 3-4 Dan and Ian HOH
Dan says that he feels like he hasn't been in the HOH room all week.
Dan: "what do you think is going on"
Ian: "Someone is going home tonight.. I think it will make sense.. get a body out"
Dan: "Then what.. HOh tonight.. Veto Wednesday.. veto Meeting Thrusday
Ian: "HOH tonight.. Veto Wednesday.. Veto Ceremony Thursday"
Ian corrects himself sas HOH tonight, Nominations Wednesday, veto comp Thursday and Veto Ceremony on Thursday.
Dan isn't sure what they will show on the live show on thursday.
They are trying to figure out what is going on and why they were woken up so early. Ian is starting to think they will have a luxury comp soon. Ian says he's done the tweets and they told him he gets to blog later today.
Dan: "I had a weird dream that Ashley, Boogie, Frank, Wil and Janelle came back into the house and we played a comp"
Ian: "If there is a eviction tonight tomorrow's wake up music has to be ducktales woohoo"
(Ian and Dan are having trouble figuring out the next couple days.. it seems like they are certain there will be a eviction and HOH today)
Dan mentions how Frank must be so biter in the jury house. Dan wonders if Frank will be asked back for future episode. Ian is certain he will. Dan thinks that Dan and Ian got bashed in Frank's exit interview with Julie. Dan: "He probably said I hope Jenn wins this entire game"
Ian: "that is when you know you are super biter when you say Jenn should win this game"
11:41AM SLEEPING all 4 Cams
11:55am The live feeds switch to TRIVIA…
12:25pm TRIVIA..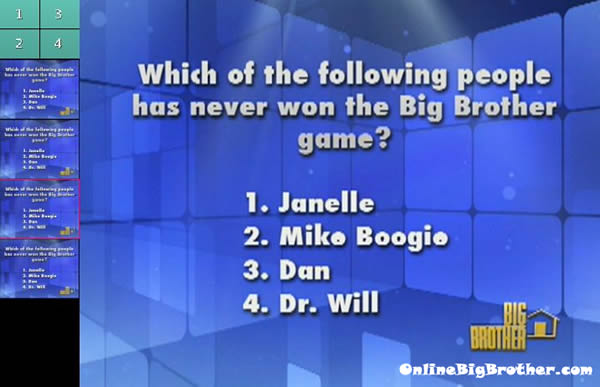 Share it YO!!
Tweet