HOH: Xavier
Nominations: Kyland and Azah
Power of Veto: ?
Power of Veto Ceremony: ?
Big Brother 23 Houseguest Rankings – – RANK THE HOUSEGUESTS –
View the previous day ranks on the – Ranking Grid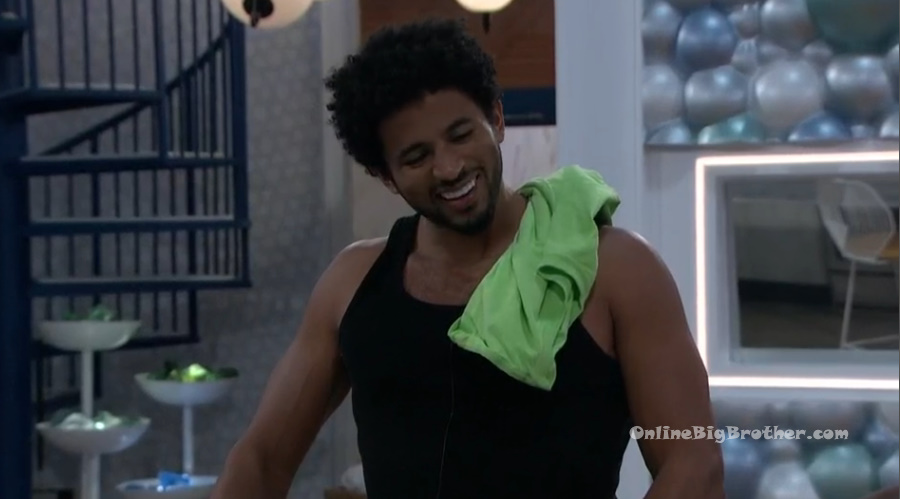 7:03pm Kitchen – Kyland and Big D.
The live feeds return to Ky and Big D talking in the kitchen. Azah is sleeping in the back bedroom and Xavier is laying down in the HOH room.
Big D – I will say.. I tried to talk to her (Azah) but I think she is still just so mad at me. Ky – I'm sorry. Big D – Its alright, its fine. She'll be alright. I'll try my best, that's all I can do. Ky – I think the reality is as soon as we hit six, everyone …everyone had other people game in other peoples lives. Its just kind of the way it played out. Big D – well the good thing for you if she wins veto… Ky – no. Big D – if she wins veto she is not going to take me. Ky – no, no she will because she wants to get to two. She has a better show with you to get to two. Big D – The conversation I just had with her… Ky – I get what you're saying.. Big D – just an open door for you if I don't.. Ky – no I would never. Big D – just in case you're down to your.. hopefully it doesn't happen but.. Ky – no, I would never. That is not how I am. I think none of us are like that. Big D – no I ain't like that either! I ain't kissing nobody's a$$! If you want me, you want me, if you don't, you don't. That is how I look at it. Just think about it, I just told her earlier I was willing to get rid of her. And you think she would keep me?! Ky – its not like that. Big D – I just told her to her face. Ky – no, it doesn't change it. Its like about how to get further. They start studying the days / events of the season.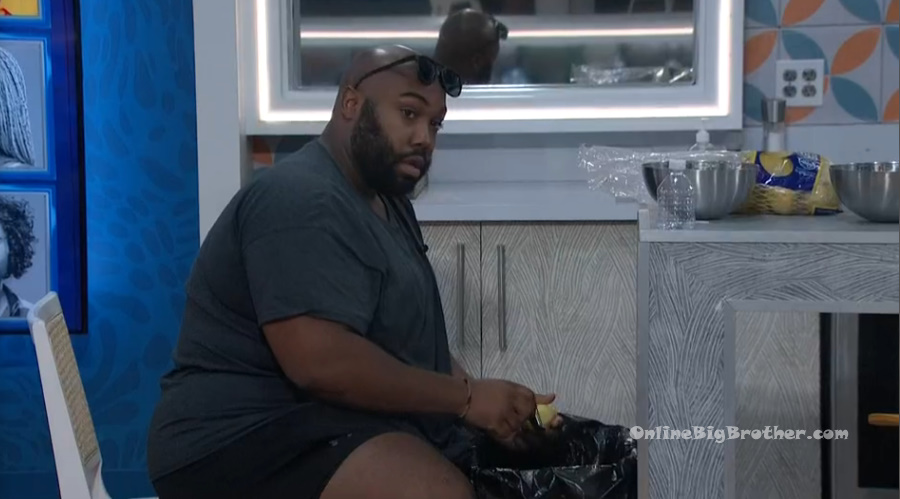 7:45pm HOH room – Xavier is laying in bed looking at the spy screen of the memory wall. He's going through the days / comp / events of the season.
7:56pm – 8:05pm HOH room. Azah and Xavier.
Azah – during my HOH ..just having no problem putting Big D up…. remember the reason why I put you up was because I thought he would never have Big D go up on the block. And he was just like Don't give a f**k! That man if f**King savage. Xavier – That is kind of the game he is playing.. that's the thing about him is he makes moves that he thinks no one like knows his underlying reason for why he did them but we all do. Azah – no I know. Xavier – no I am just saying generally. I feel like he wants to be this like big mastermind .. but when I think about Will and Dan, Derek.. I think they were all very covert. Like they were doing things but no one really knew they were doing them until it was already too late you know?! But with him he is doing them way too publicly. And truthfully I don't know if he would have made it this far without the cookout. I think that could be said for just about all of us but other people in particular just because of how he has rubbed people the wrong way.. but I don't think he has played a bad game though. Azah – No, I don't think he's played a bad game. Xavier – I just think his social game definitely needs work. Competition-wise he is a great competitor. Socially at times he .. I think because of how he played the game .. when he would try to be social with people .. one when he would try to be social with people it would still seem like he was still trying to play the game.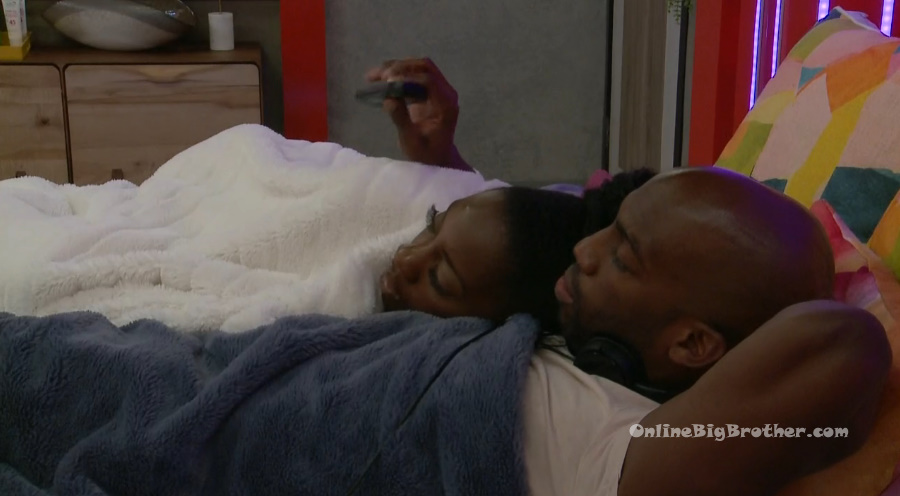 8:46pm – 9:05pm Living Room. Big D and Azah.
Big D – I am proud of you. Azah – what are you proud of me for? Big D – I am just happy. Azah – why are you happy? Big D – oh girl.. this tone! I'm scared! Azah – why are you scared? Big D – I am so scared of you girl! Nothing is more scary than a black woman who is on a mission! Azah – on a mission for what?! That d**K!? Big D laughs – oh my god! Azah how did we get ourselves here?! Azah – I don't know! Big D – I love you. Azah – I know that. Big D – and I don't know what I am going to do when I get the veto. I really want you to know that. I am not settling and taking this motherf**ker! And I don't know what I am going to do. Azah – okay. Azah gets called to the diary room. Xavier joins Big D. Big D – she is pissed! Xavier – at what? Big D – me. Xavier – what did you do? Big D – I told her that I was considering sending her home. Ky – just for considering ..even though you switched back? Xavier – well maybe stop talking about it! Big D – yeah I'm going to leave it alone. I had a good setup and now I'm f**ked. Xavier – she asked me if we had a final two. I told her that we just agreed to look out for each other .. and that's what you should be telling her too. Big D – yeah its just tough because now I just shot myself in the f**king foot! Because if she wins this veto, she is not going to take me, she is going to take Ky… which would force you to take her. Xavier – so you think she is going to cut you? Big D – Yup! Xavier – I don't see that happening. Big D – I think I am accepting that I am probably going to be the one to go home. Xavier – lets see how the veto plays out. Big D – I probably just kissed my chance of being in the top 3 goodbye. Xavier – you still have a chance at winning the veto. Stop selling yourself short. Me or him winning the veto .. that's a good thing. Big D – yeah.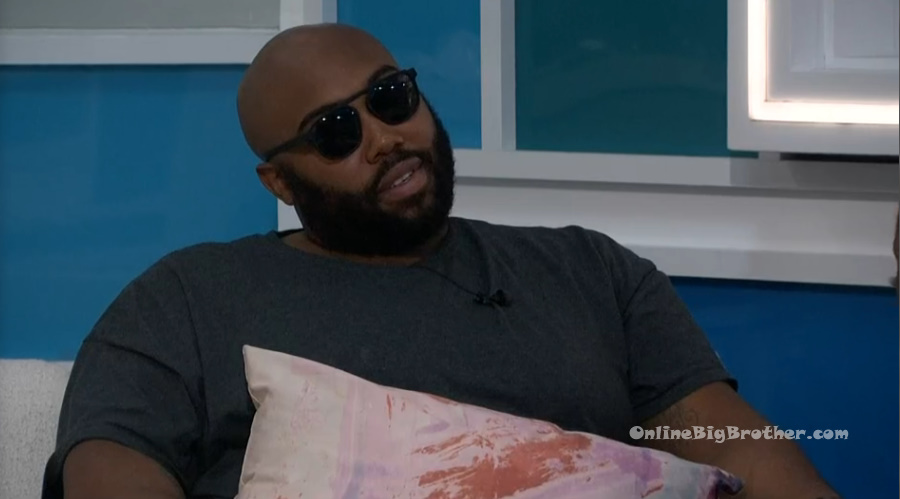 9:56pm Azah is still cooking their dinner.
10:35pm Dinner time..
11:18pm HOH room. Kyland and Xavier
Ky – I was just sitting there and felt like a little bit of an a$$ in the sense that I was talking to myself about .. man when is the last HOH .. you know like locking final three essentially is locking you and I into a final two. And I think that with the mood of the loss and the double and everything else .. I think that part didn't get to be celebrated. I am happy for you. And I said congrats but it wasn't fully celebrated. Xavier – no you're good. I did the same thing with Azah.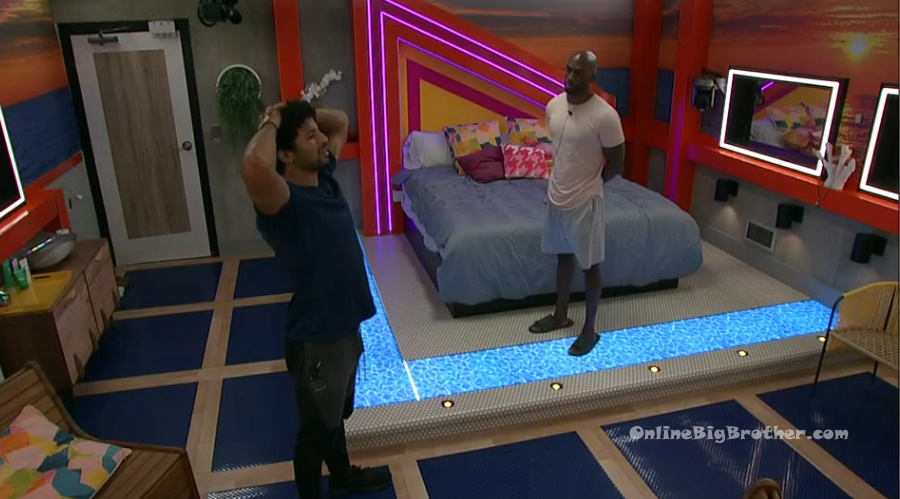 11:50pm Kitchen – Ky and Azah.
KY – it feels like in some technical terms it seems that the two who most immediately responsible for … or who had the most immediate impact to make it to four are suddenly the two people that have the lowest probability of going to three. Azah – I am sorry .. the two people that had the what?!? Ky – the two people that had the most immediate maybe call it agency or call it .. most immediate impact in who made it to four … are suddenly the only two people without a guaranteed spot in three. And I think that feels like… you know get to 6, get to 5, and then suddenly only Xavier won but it feels like the only two people that have to win to move forward are you and me. Is the perspective that I am getting and I could be wrong but that is the feeling. I am trying to not .. trying to see the objectivity of that perspective and ignore it. And I try to ignore it but then I get annoyed. But also not disregard that or any alternative or anyone elses perspective. I think that got to me in weird waves from last night to this morning.. and then the last six hours I felt pretty good. Ummm.. how about yourself? Azah – honestly I don't know how I feel. I feel kind of numb to be honest. I've been asked questions about it and I just feel really just numb. I've done everything I can to get to this moment and its either going to happen or its not going to happen. I don't know its because I am on the block because I haven't been on the block but I can't explain it. I am just like okay! I feel like every week I have been able to look forward or see what the next week could look like and its like just blurry. If my journey is over now .. then whoa.. damn!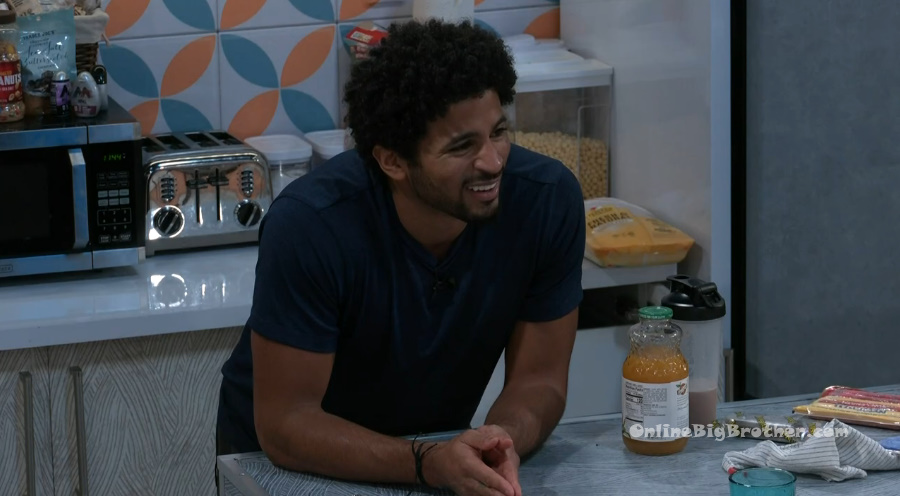 1am Kyland studying the memory wall.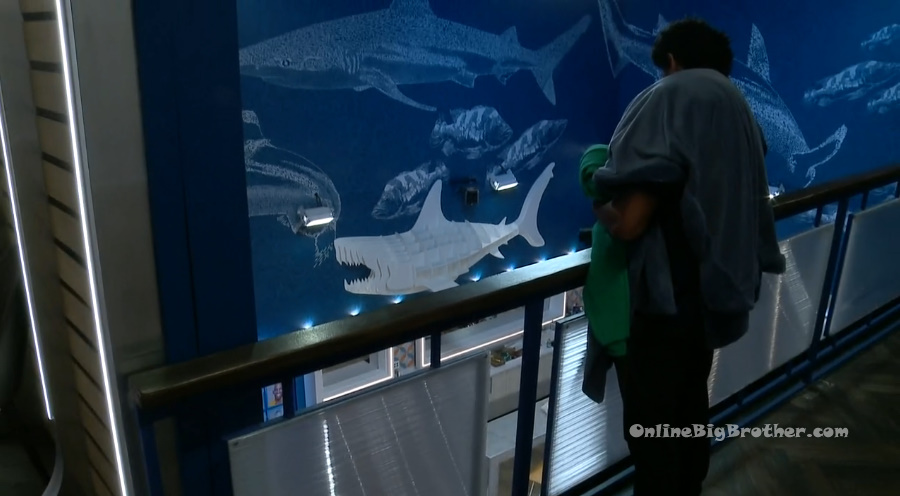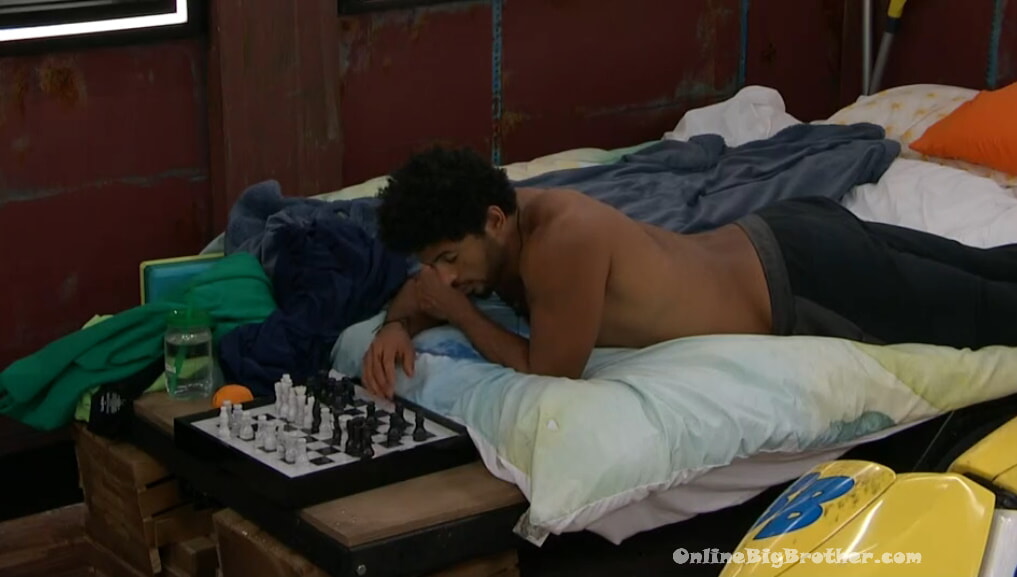 1:13 am with few people to do late-night one on one's with Kyland does them solo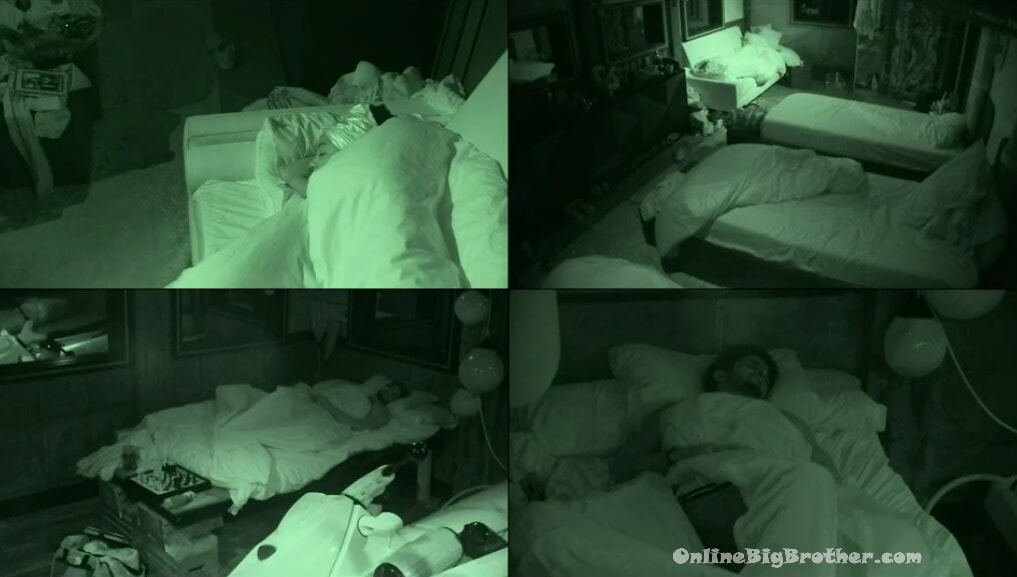 1:25 am zzzzzzz
5:50 am zzzzzz
Show your support 🙂 Without your support this site and these spoilers wouldn't be possible.
Please consider a donation to keep the madness going.