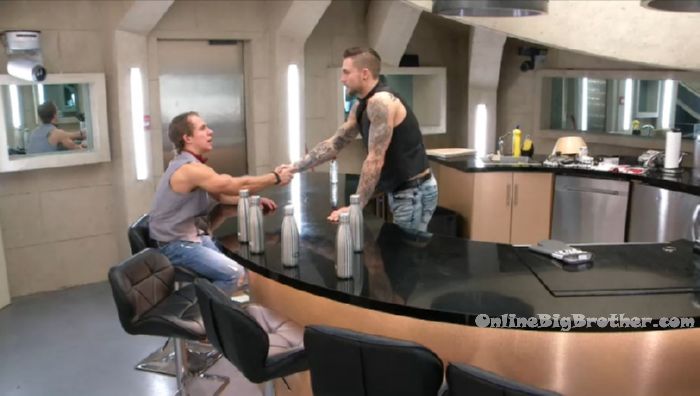 10:04pm Kitchen. Adam and Dane. Dane – you have to also talk to kiki. I mean, I know you guys hashed it out now. But I was like honestly Adam came to me and he was like crushed. Like Adam thought he was really bonding with Kiki and then all of a sudden Kiki does that. Adam – she won't even look me in the face the last two days.. after that conversation. I thought that conversation went well. Dane – let me work on them. Adam – and then then next two days they've been up Maki's a$$. She won't even look at me. Its weird. Dane – let me work on them. Lets not pull triggers yet. I've for sure got SD. But those two before I got in their ears .. they didn't talk game. They were just hanging out. I was like are you guys playing? Do you guys know what Big Brother is?! Adam – I think they're just here and want a free ride. Dane – I think we should still ride it out 4, 4 here. Adam – if it comes down to it and we have to take out Kiera and Damien .. then we'll get 8.. you know what I mean. Dane – that's fine.. drop one and one or like .. just kind of like I want to get you and Sam to jury. I want to get SD there too. Adam – Oh I agree on that. They shake hands. Adam – I know you want to take her out but I would appreciate at least taking her (Sam) to jury.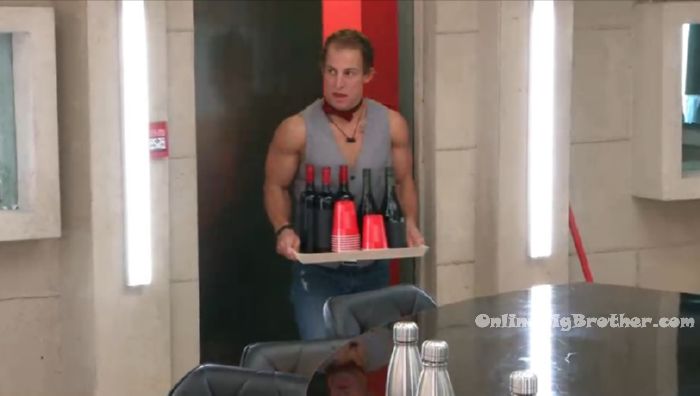 10:18pm
Storage room. Dane comes in and collects all the wine and beer.. Dane comes out and tells everyone to get down to the kitchen. All the house guests come down and yelling and hugging.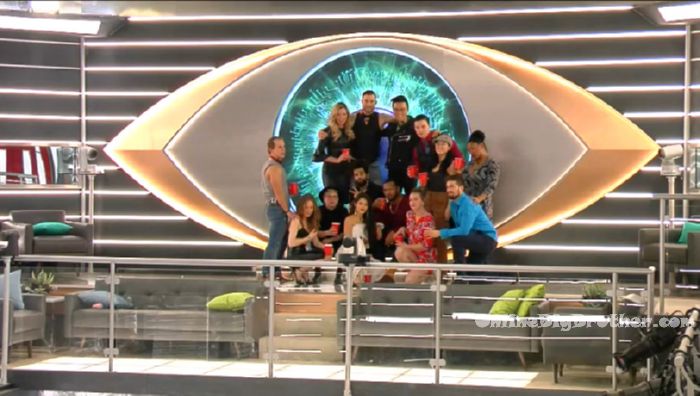 10:49pm They play spin the bottle. Adam spins the bottle and it lands on Mamma K. Mamma K tells him to keep spinning .. you can't handle this. They decide not to play spin the bottle and start dancing / rapping. Damien is drumming on pots.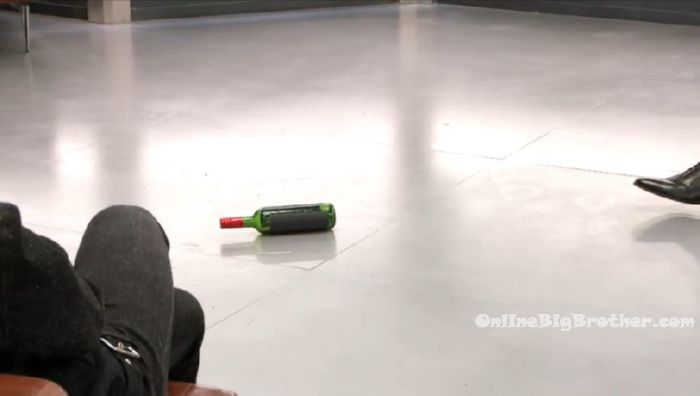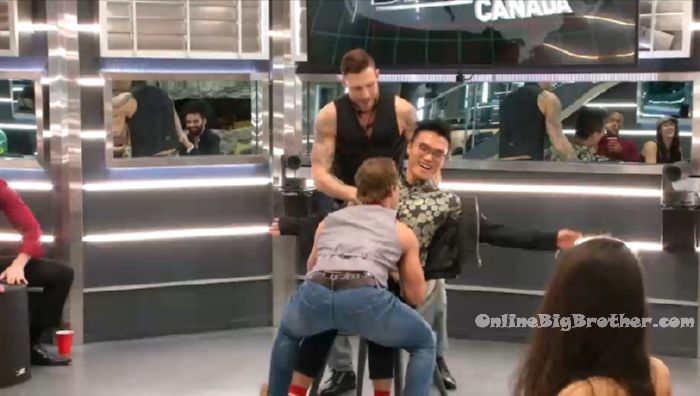 11pm Storage room. Sam writes on Dane and Adam's chest – "The Great Dane! BBCAN7 I Heart Eddie." They head out into the living room and start giving Eddie a lap dance. Big Brother blocks the feeds when Adam starts pulling his pants down. When the feeds come back Dane asks Eddie if he will be his prom date. Eddie says yes. After Dane – you're supposed to catch the teeth. (Dane threw out his fake teeth during the lap dance.)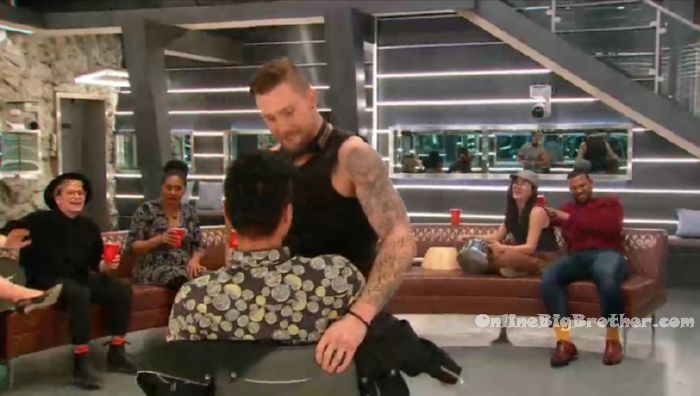 11:30pm Hot Tub Room. Dane, Adam, Mamma K.
Adam – before I even knew she was from Newfoundland. Mamma K – yeah you were drawn to her. Couples that work… they look alike. Adam – she is definitely a girl that I would go for. Mamma K – you know what sealed the deal for me? The sharing of food. Big Brother blocks the feeds.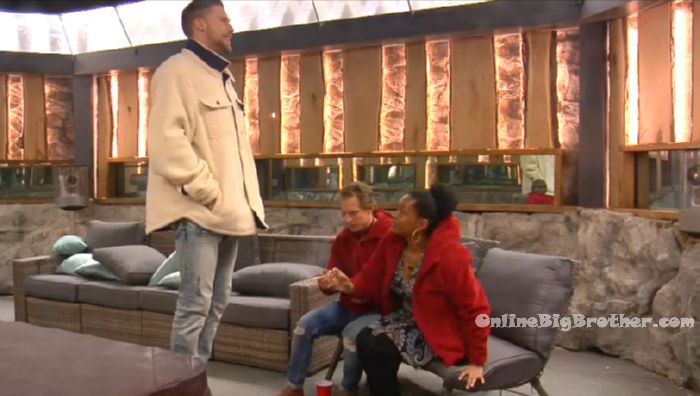 12:15am The live feeds return. The house guests are still drinking and chatting out in the hot tub room. They get in the hot tub and start playing the never have I ever game.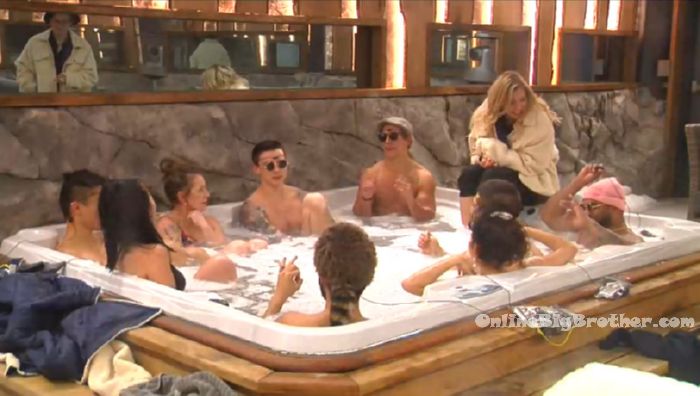 1:05am Mark and Damien. Mark – your name isn't coming up at all. Like you are so off everyone's radar. Vancouver – Montreal man. Like not even close. These next two days are going to be bloody hell. In fact the next three days because its going to escalate and escalate. Damien – well hang in there the nest you can. Maki and Dane join them.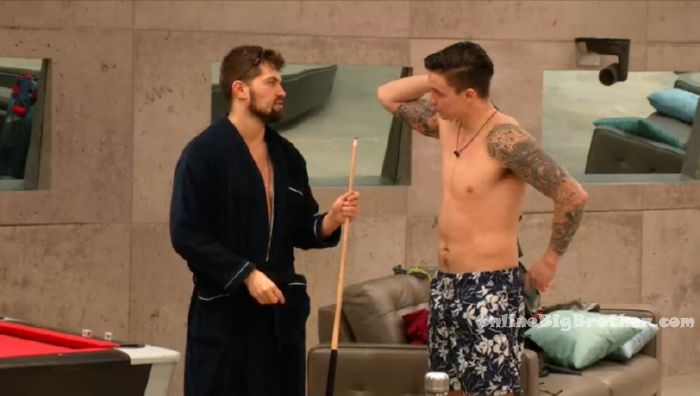 1:10am Storage room. Anthony and Dane.
Dane – outside Mamma was like outside this house would you ever pursue Sam? And Adam was like absolutely. He said he would definitely try and go for dates and stuff. I was like don't say that. Anthony – that has nothing to do with what is going on right now.. we have to separate this.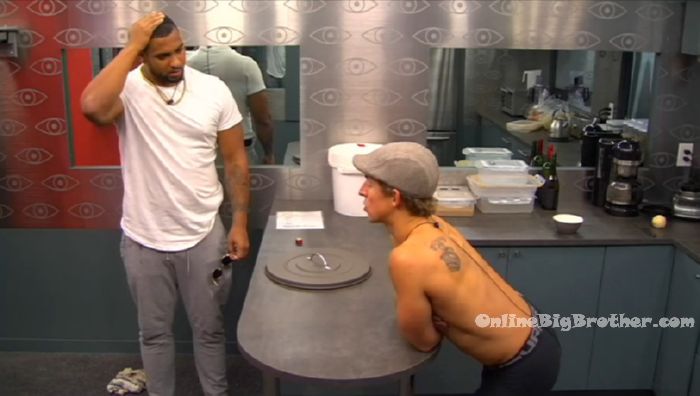 1:20am Storage room. Anthony and Mark.
Anthony – yo I could tell already from Adam's face.. Adam was red in the face. Its like Sam is speaking for him. Mark – tell me what is going on and I can tell you how we can get out of it. What's going on? Anthony – I walked into the room and the whole conversation switched. They're dumb but they're not dumb. As soon as I walked into the room.. Ma was like what you see is what you get! Adam is sitting there red in the face. If she goes to Sam and convinces.. Yo me and Maki. Maki package deal. Sam doesn't know anything. Adam is not dumb. He's dumb but he's not dumb. He isn't going to tell her about the four. Why would Adam be red in the face? Mark – Adam probably knows he's put himself in big trouble. He knows he has to get rid of Sam. Mark – we need to sleep on it. Anthony – yeah I'm going to go to bed.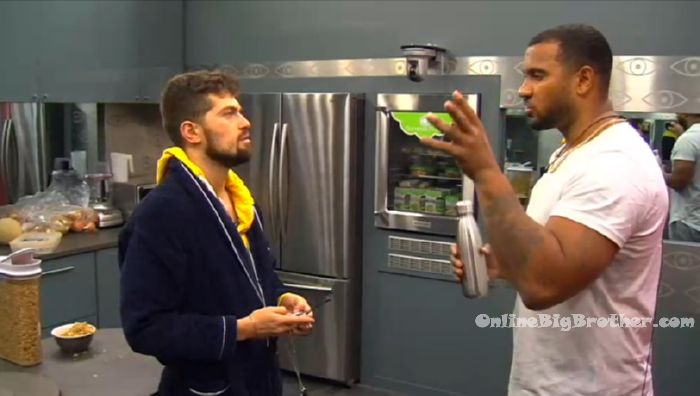 1:38pm Mamma K and Anthony. Anthony – are you okay. It looked like she was bad mouthing you. Mamma – who? Anthony – when I walked in the room. Mamma – no I was telling them truth. I wasn't gunning for them until I heard they were gunning for me. I was like watch Chelsea. I know you like her but she told them I was gunning for them. I planted the seed with Chelsea to see if it would grow. And the minute you guys couldn't look me in the eyes.. I knew! I knew! The whole thing is .. I speak truth. I said the same way Chelsea is speaking sweetness in your ear .. she is speaking it in my ear too. Devil doesn't always come looking at you like the devil.
Support the site and purchase your Amazon goods through our link below. It doesn't cost you anything and we get a percentage of what you buy.
Amazon Canada
Amazon USA