How does the final HOH work
All three players compete in part 1. (Cody wins part 1 )
The two losers of part 1 compete in part 2. (Derrick wins part 2 )
Derrick and Cody compete in part 3. The winner of part 3 gets to decide Who to take to the finale.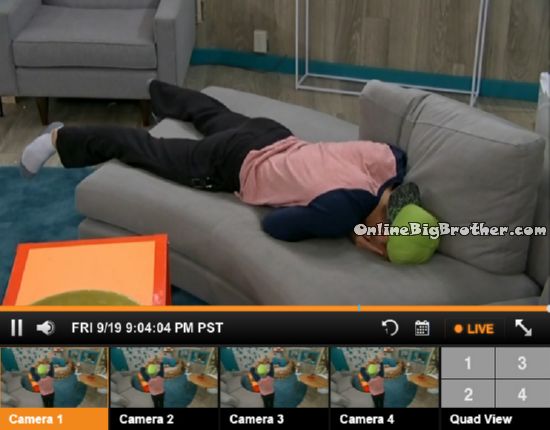 9:01pm Feeds back Cody in the HOH playing lime toss "Buckets.. What is this nonsense.. he grabs it.. he gets it.. he puts it up.. BUCKETS>… "
Cody – Ohh my god my wrist still hurts
Cody – He's coming around on a inbound pass.. pass around Game DIRTY
Cody starts talking about his Jury votes when he makes it to final 2 with Derrick.
Nicole no, Victoria no, Caleb no
Christine Yes, Donny yes, Hayden?
Cody thinks he might be able to get Hayden's vote with the right speech. Thinks once Hayden finds out Cody and Derrick were working together he won't take it so harshly.
Cody going through his game.. Highlighting why he deserves the money.
Cody – Man I fuc*ing crushed them .. flipped the script on Nicole.. flipped Christine back after they Flipped her.
Cody – God what a smooth game please have Derrick win this competition so we can CRUSH it in the finale"
"Ohh my god how long is this" (9:19)
"Ohh my god Derrick you better have won"
"If Derrick didn't win this competition that will be terrible"
COdy continues to practice his final 2 speech.. "Be nice because my parents are watching"
"Is this the worlds longest competition" (9:39pm)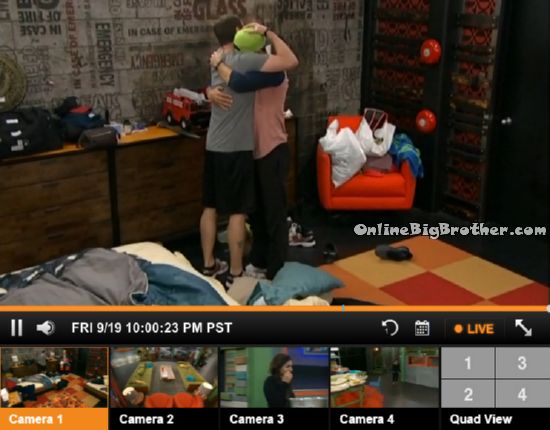 Derrick wins
Derrick – "We did it we're guaranteed 50 grand dude"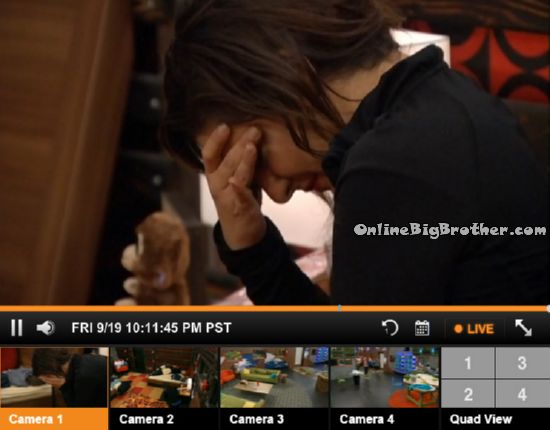 10:08pm FIREROOM Derrick, Cody and Vicorira
Telling Cody about the Competition. Victoria begins to cry says she thought she had it she never questioned herself once (Her time was 30 minutes)
Derrick and Cody comfort her a bit then leave. She sobs alone in the Fire room. She regains her composure and joins the guys in the kitchen.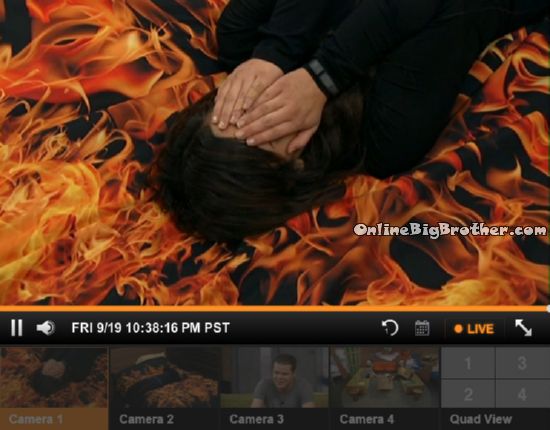 10:39pm Victoria continues to cry. She really thought she did well in the HOH competition. (I think Derrick was 15 minutes and Vicotira was 30 minutes)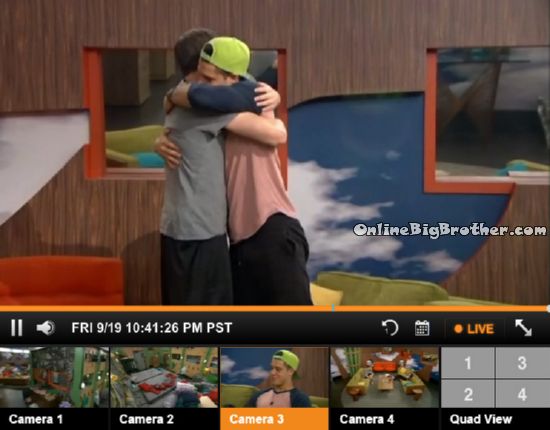 10:42pmm Derrick and Cody Hug
Derrick says Cody is like a brother to him he says the person that wins 500K will buy the other person drinks all night. they go on to talk about who has more Jury Votes. Sounds like they think the other one will win in.
Derrick says he gained a brother this season.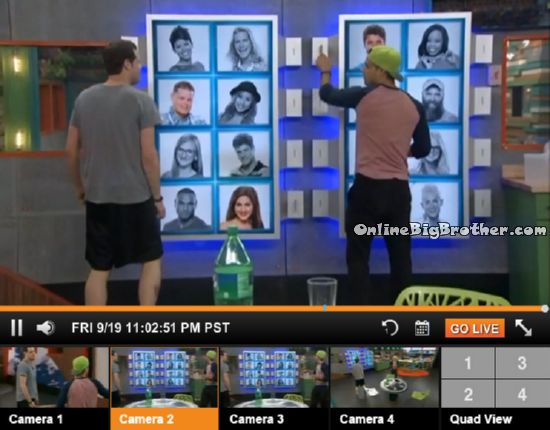 11:00pm Kitchen Derrick – we have to watch out because they are going to try and embarrass us" Derrick warns Cody he better be ready because Frankie is coming for him on finale night he's going to try and make Cody look bad with his jury questions. Cody is ready says he's got a million things for Frankie, Frnakie's game was so transparent everyone saw it even Brittany and that girl didn't even know her own game. They think the jury is going to be bitter but they have to vote for one of them.
Cody about Frankie – "YOU suck! Sucks to Suck.. Go roll off your sister's piggy bank that's what I'll say" and if Frankie tries to start something with Cody "I will f******g punk the sh*t out"
Derrick going one about how they are going to be famous like the renegades. Says everyone remembers the renegades.
11:20pm Derrick says if the Jury chooses Cody as the better guy he can live with that "Might hit you up for a loan"
11:40pm Cody and Derrick going over the season talking about the highlights and the pivotal moments. Derrick thinks the Deviled eggs HOH competition was a major turning point for them If Jocasta/Brittany had won all guys would have gone up.
Again Cody talking about the hitmen and how popular and remembered they will be…
(Liked the spoilers all season? Please consider a donation through PayPal)
Make your Amazon purchases through the links below it Supports this site
[polldaddy poll=8244330]