HOH: Derek X
HAVENOTS: Christian, Xavier, Alyssa
Nominations:
Power of Veto Players:
Power of Veto:
Power of Veto Ceremony:
FYI – Teams are done, Wildcard comps are done, Twist next week with Fan involvement
Big Brother 23 Houseguest Rankings – – RANK THE HOUSEGUESTS –
View the previous day ranks on the – Ranking Grid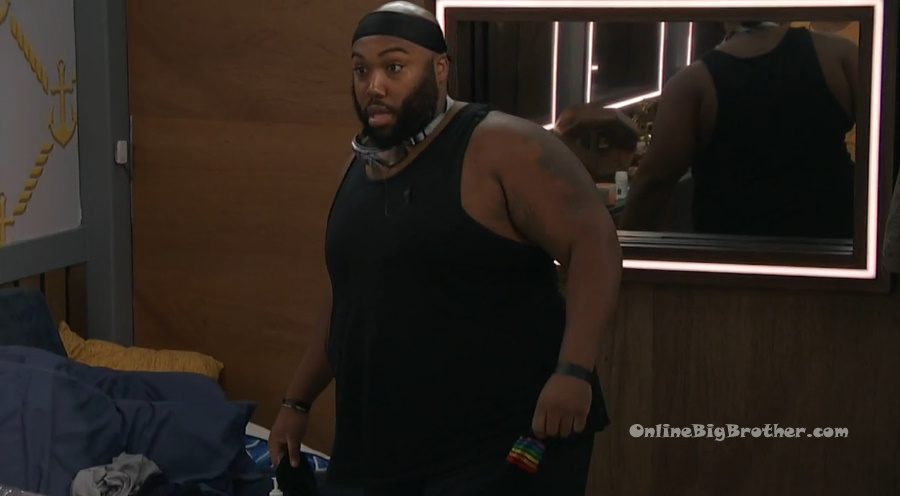 7:40pm The live feeds return with all the house guests now inside the house. They're all still dripping in slime and talking about the comp.
Bedroom – Xavier and Big D.
Big D – he might put us up on the block. Xavier – if he is putting you up, who would he put you up next to? Big D – I don't know. I didn't do nothing to him. Xavier – who would he put you up next to where you would go home? Who is voting against you? Big D – I don't know but I am going to try and avoid that block. Xavier – I'll help you. Big D – thank god I have you.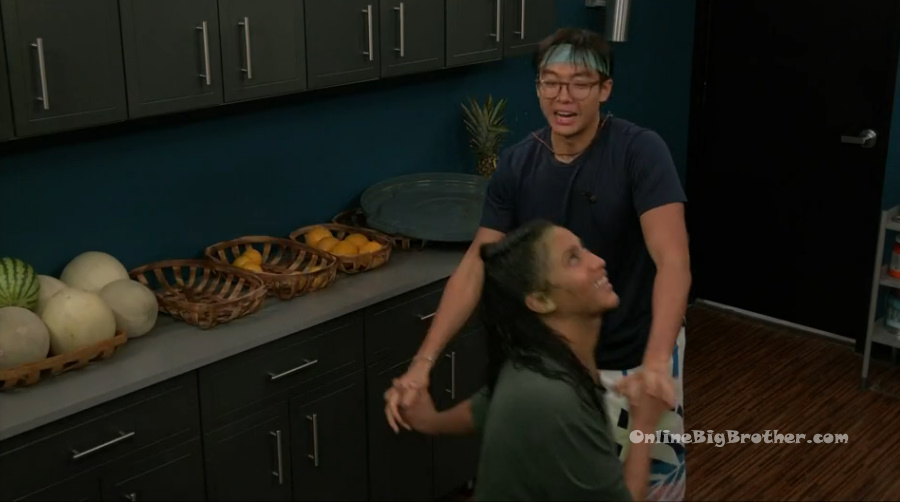 Storage room. Hannah and Derek X celebrate his HOH win.
Hannah – I am tired from carrying you on my back. Derek – can you carry your own weight. Hannah – can you pull your own weight? Derek – remember you asked me … like I wanted to fall. Hannah – okay, my eyes were closed the whole time.. I didn't see who fell or when. I didn't even know Claire was out. And I fell right after SB because I slipped. The slime and the water were too much. I looked and SB was on the ground and then I looked at you.. all you had to do was to out last Alyssa. And then you did!! Hannah – its the bling around the neck. Derek – its the safety for me. I need to figure out what the F**k …Like Alyssa is definitely not hitting the block. X isn't hitting the block. And then that is the only things that I agreed to up there. And after X fell to what we agreed to he said also I don't want the kings to go up. He was like I don't want any of the kings to go up. So I don't know I am going to have to talk to X. So that is all I agreed to. Hannah – do what is best for your game. I am so proud of you. You deserve it. They celebrate making it to jury. Hannah – We made it to jury!!!! Derek – holy sh*t! Hannah – I haven't done anything. Ky joins them. They celebrate again. Derek explains how X asked for the kings to be safe after he dropped. Kyland – I am not saying you have to do it. I still think we do the same thing that we already talked about. ..And then just figure it out after the veto. Like basically we're with the Flush and then you can figure it out after the veto. We still have a whole f**king day. A free day. We can talk about speech… I've been thinking through speeches since yesterday. Derek hold up the HOH key – just take this, just take this already. Ky – you earned that.
Derek X and Hanna celebrate his HOH win! @bigbspoilers #bb23 pic.twitter.com/x032Dd9tUo

— Dawg (@DawgsBigBrother) August 6, 2021
Storage room. Tiffany, Claire, Derek X and Kyland celebrate Derek's win and making it to jury.
8pm Storage room. Azah and Derek.
Azah – I am so happy for you!! Genuinely Happy! And you can do whatever the f**k you want. Derek – I think I can .. I definitely agreed to a lot up there. Azah – you agreed to not put up Alyssa? Derek – I agreed to not put up Alyssa, and that I wouldn't put up X. Azah – you can take whatever shots that you want. I don't care what happens .. I don't care if you are like Azah I am putting you up. I actually like you. From the bottom of my heart I am so happy for you. Derek – you've been there for me. They hug. Azah – this is a great come back story.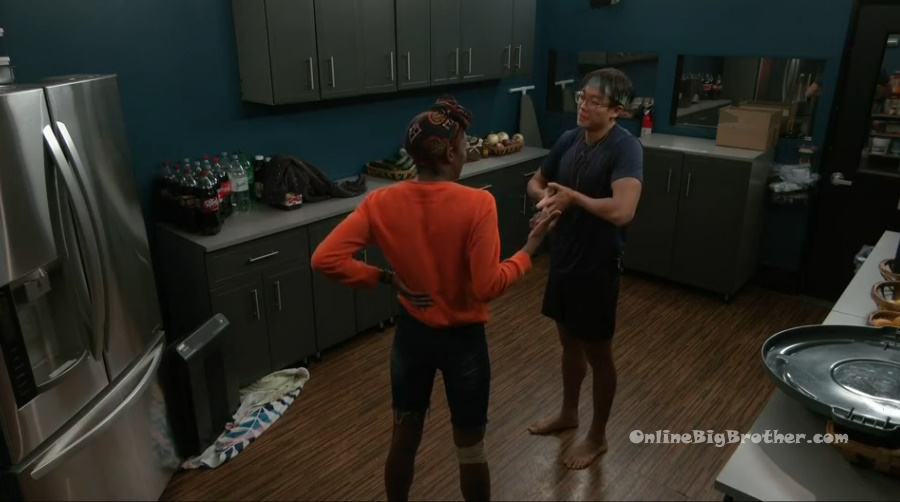 Bathroom. Alyssa, Christian and Xavier.
Alyssa – Derek X was like don't put up me or Hannah. I said I won't put her up as a pawn or a replacement. And I am like why the f**k are you worried about Hannah?! That is the only deal he wanted. Why the f**k are you making sure Hannah is fine.. its an alliance. Xavier – I wasn't going to last again if it dropped again so I made the deal .. then after I fell I sprinted over to him and said you're not putting up any of the Kings and he was like deal. Christian – there could be a plan to backdoor a king. Alyssa – he is a part of it .. I don't see him putting up Azah. Would he put up Big D? He f**king better! If he puts up one of f**king us… He will not put me your you (X) up because we made a deal.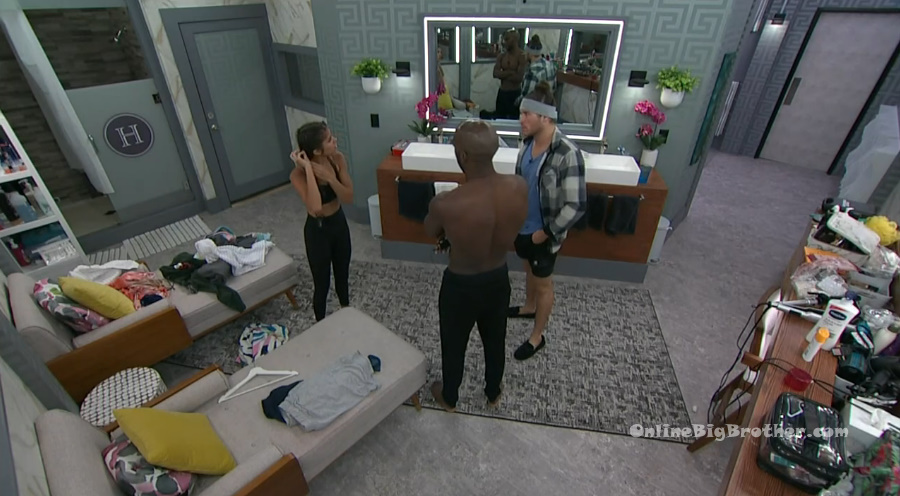 8:20pm Bedroom – Tiffany, Azah, Brit and Claire.
Brit – We should all be set up for this week. I feel good with him I do.. its just I haven't talked any game with him this week. Tiffany – I am just so proud of him because he's been scared since day 3. Azah – day 2. If he needs to put my up, either way I know I will be sitting next to someone that is definitely going to go home. Don't say that to anyone but if I am up there I won't hold it against him because I know where his head is at. Brit – I am definitely going to remind him of our conversation where he said that he wouldn't put me up if he won.

8:25pm The house guests are still cleaning up and sitting down to eat dinner.
8:40pm – 8:55pm Living room. Xavier and Alyssa
Xavier – you did amazing. Alyssa – you did too. Ky said that he is going to volunteer as a havenot but I want us three to do it together. I don't want to be in that bedroom with Ky. If its 3 it makes sense for me you and Christian to do it. Xavier – he is going to want to talk game all night. Alyssa – I am not doing that. I want my boys in there, I don't want him in there. Xavier – if it is just three we can make it us three. Alyssa – I wanted a girl to win it. Xavier – that's why I was ready to drop. Alyssa – I know you were. I am fine with him winning it. As soon as Azah dropped he said we're good, we're good. I am just being selfish I wanted to win. Xavier – you will get your win. Big D made it 3 minutes. Derek X joins them. They talk about doing one on ones to more so that it isn't obvious for them to talk. The other house guests join them and the conversation turns to talking about the HOH comp.
9:18pm The live feeds switch to the kitty cam to for Havenots to be determined.
9:29pm The feeds return – Christian, Xavier, Alyssa are havenots for the week. They volunteered to be havenots.
9:35pm Chess room. Alyssa and Christian.
Alyssa – I don't really care what people say anymore honestly (about them shomancing). Hannah and Derek were just giggling in there dancing up and down. Christian – they were giggling, dancing up and down .. and did you see them this morning? Alyssa – no. Christian – they were just like this (See photo below). They talk about how Christian will act a little stressed to show others that he's worried he could go up. Christian – I wanted him (Derek X) out week one and he wanted me out week one. Alyssa – yeah but he is not going to take you out this week. Christian – I got to play in the veto. I am going to try and win every veto I can. Alyssa – Mmmhhmmm. If Brit is on the block tell her to pick you. Christian – MMmmhhmm. So it sounds like he wants Azah? He was happy when she dropped? Alyssa – no he was just happy that we were all left. He is probably going to put up Big D and Brit. Christian – my two final twos. Alyssa – Sorry, Sucks to suck! Christian – That's fine if someone else has to take them out. I'd just rather they were in jury. Alyssa – I mean you can try to persuade him for Azah.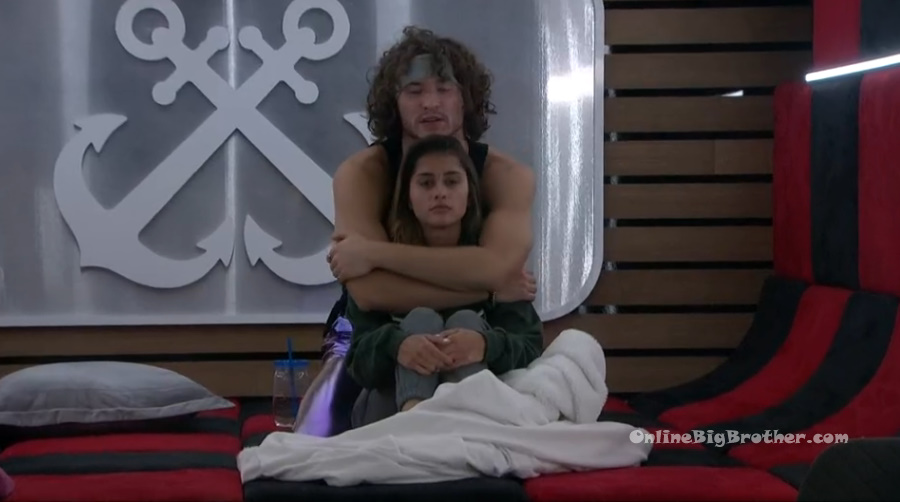 Bathroom. Kyland and Hannah.
Hannah – okay you're suggesting that two jokers go up and they would be made aware that both of them are pawns. Kyland – I would not tell them actually. Don't make them aware. There is just too much risk. Let them play. Let them think they need to live. Hannah – it is going to crush Britini. Kyland – it will, her going home is going to crush her no matter what. Its going to happen. Hannah – if a king gets chosen for example Christian, and wins and keeps noms the same then Britini goes home. Ky – yup. Hannah – that is a waste of a week. Kyland – well its not because Britini going home is still better then Alyssa going home.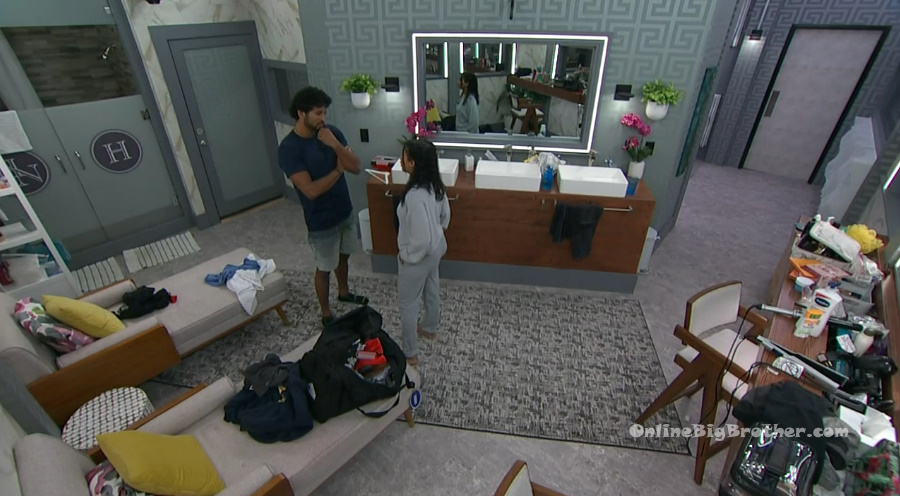 10:45pm Bedroom. Azah, Claire, Derek X, Tiffany, Kyland.
They're all talking about the HOH competition.
11:25pm Bathroom. Tiffany and Derek X and Tiffany.
Tiffany – I was just talking to them (Christian and Alyssa). I was trying to get them to relax. Yeah you guys have nothing to worry about. I can't forget what we said yesterday. If you win this then you have to take your shot. Its a sign. You won this, you have to take your shot. If you're comfortable doing it or we can ride the Royal Flush I don't know.. Derek – take the shot, a backdoor with two jokers? Tiffany – yeah. You don't want to compete against him in the final four veto. Its too risky.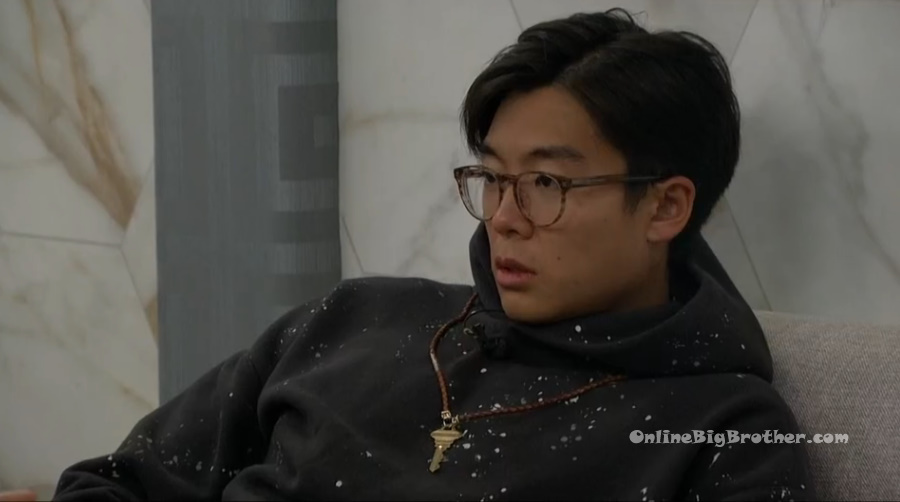 12am Chess room – Christian, Alyssa, Kyland and Xavier.
They talk about Whitney being gone.

12:32am – 1am Derek X comes out of the diary room. Derek X – who wants to see my HOH room!!! All the house guests head up to the HOH room. They all rush in and look at his HOH photos. Tiffany pick up a photo. Derek X – see I told you I have black friends! He then reads his HOH letter.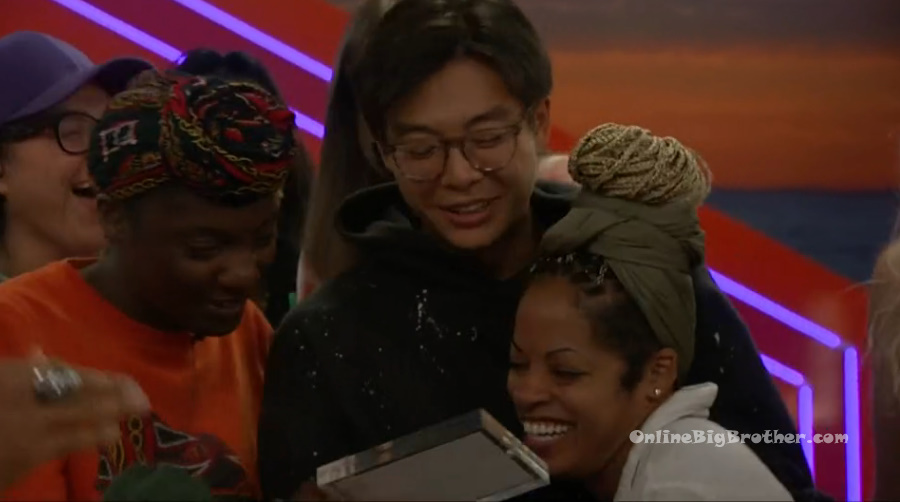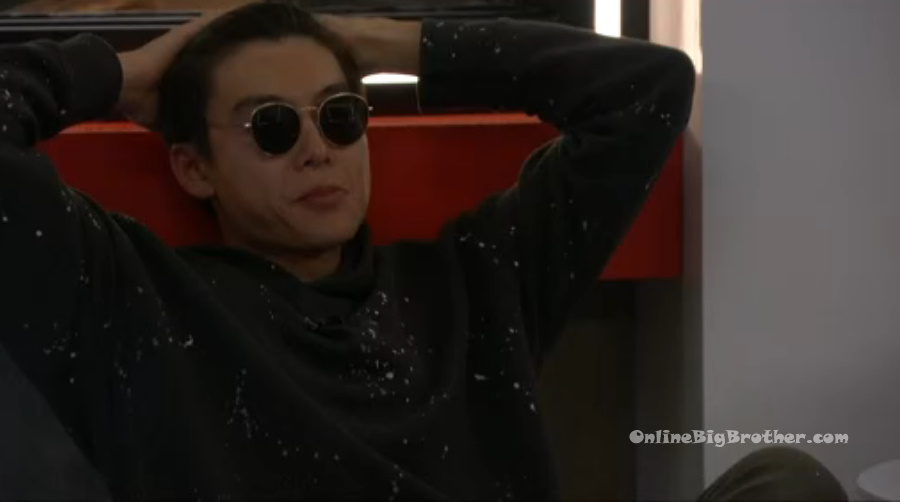 Show your support 🙂 Without your support this site and these spoilers wouldn't be possible.
Please consider a donation to keep the madness going.