HOH: Derek X
HAVENOTS: Christian, Xavier, Alyssa
Nominations:
Power of Veto Players:
Power of Veto:
Power of Veto Ceremony:
FYI – Teams are done, Wildcard comps are done, Twist next week with Fan involvement
Big Brother 23 Houseguest Rankings – – RANK THE HOUSEGUESTS –
View the previous day ranks on the – Ranking Grid
Big Brother spoilers – Brit and SB are being nominated if Veto is played Christian goes up if Christian wins Veto and uses it Alyssa goes up.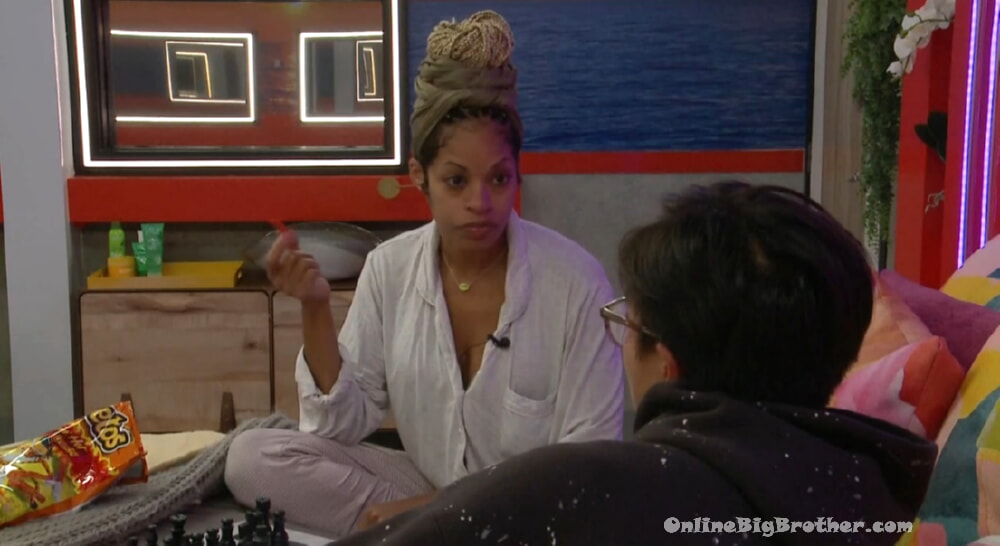 1:21 am Tiff gets set up in the HOH with the chessboard and cheesy
DX – ideally if we can set something with X this week
Tiff – Christian is going to be gone X will have to solidify something else
Tiff says she brought up the royal flush to Hannah accidentally
DX knows she brought it up to him.
Tiff adds she explained it like a cover so that they weren't targeted during the Kings' HOH reigns
Dx brings up making the deal with X on the wall for personal safety but after they fell X told him he wanted the king's safe as well.
Tiff – then you should have stayed your a$$ up on the wall
Tiff says if Alyssa won the HOH and X and Christian told her to put DX up they would put DX up right now.
DX says he wants teh final three to be him, Tiff with one of Azah, Claire or Hannah.
DX would like to have Ky but he thinks Ky or himself will be take out soon. The next nominations will be two strong guys
Tiff – if I win HOh SB can go I'm not looking to take out no guys. I'm looking at SB, Alyssa Brit.
DX – that's my next three weeks.
Tiff – I'm still cool about the detectives
DX – keep the detectives.
DX wants to pull Hannah in with them.
Tiff – Claire would be ok with that. Hannah would be cool with that because she doesn't have anything
DX – my five now are me, Tiff, Claire, Ky and Hannah
Tiff says Ky builds alliance with people and then you don't see it anymore. She points out hot the detectives never meet.
Tiff – me and you on a daily basis. I know he (Ky) talks to SB daily he's not talking to me.
They go through all the scenarios and possible nominations using the chessboard. They end with Britini and SB going up.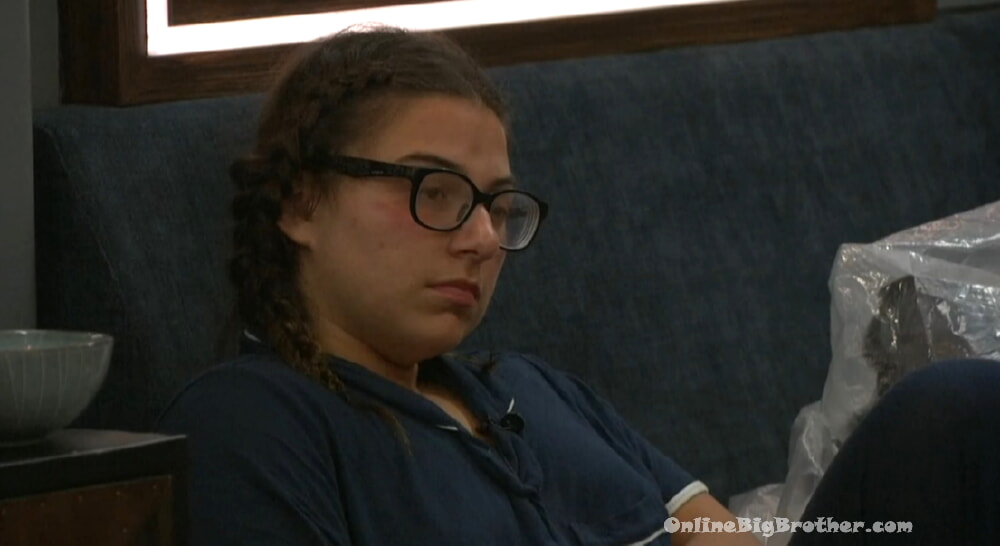 1:26 am Brit and Azah
Brit – why put up a pawn. If his target is Christian you can beat him why not beat him like a MAN
Azah says she wasn't planning on putting up Christian or Alyssa if she won HOH.
Azah – a KING is going on the way out and is a target. if he puts me up as a pawn I'm not going to be mad or sad I am going to chill.
Azah – make sure to view things when you talk to him try to keep in mind that he's playing his own game he has no alliance to us and now everybody in the house is cool with each other. It's set in stone he wants to go after the kings.
Brit – I'll be honest with you if you want to get out a king SB is your pawn.
Brit plans to tell DX – I really hope you're not the one that puts me up the 3rd time in 5 dams weeks because I will be pissed at you trust me when I tell you.
Azah says don't say pissed "don't use threatening language"
Brit brings up DX telling her last week if he won on week four she wasn't going up
1:35 am
DF and Ky
DF going on about Tiff not wanting to be "the angry black girl" but she's walking around giving off that "Stigma"
DF – I told her 'you have a little bit of an attitude when I was talking to you'
DF – I was like Baby girl don't do that with me. You flipped out on Derek about the dishes you flip out on everybody else about the dishes. Girl nobody has to do the dishes the way you want them to do them. let people do the dishes if you don't like it guess what you tell everybody you will do them.
Df thinks Alyssa should go if Alyssa goes that will hurt Christian the most.
They wonder if DX will put a cookout up as a pawn. Ky says they control the target but not the pawn.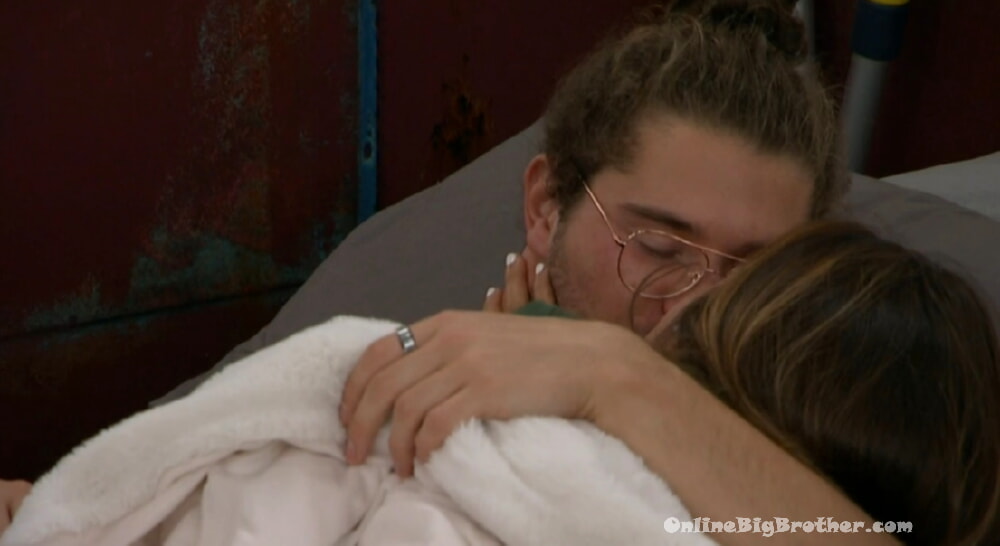 2:15 am Showmanceing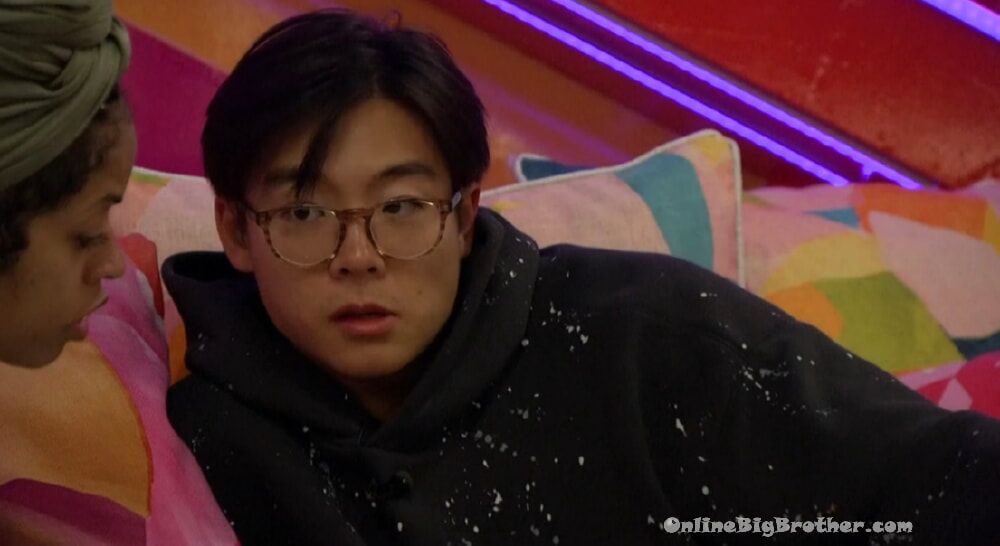 2:28 am DX and Tiff
They have the chessboard out working through scenarios.
Tiff – I know Ky wants you to take a shot at Christian has he not said that to you?
DX – pretty explicitly
Tiff says she's surprised Azah gave her a run for her money today in the HOH competition
DX says if he's being honest he's surprised Tiffany gave Azah a run for her money "Azah bikes across the country and I know Tiffany never left Detriot before (hse laughs)"
DX says SB and Brit are a good pair to put up. "Make BIGD happy make Azah Happy"
DX – If BIGD hits the blook my ass will be cooked.. He's playing a good game he put the fear of God in me
Tiff – everybody scared of him
Tiff – After next week the royal flush is dead.
DX – this is perfect, X is already onboard with this
Tiff – I could get him to relax and get comfortable that SB is the target because he already knows I want him gone.
DX says if SB gets houseguest choice she's picking Christian "F** it maybe Brit too? I don't know they might both pick Christian"
Tiff – you need someone on the block you can trust
DX – if he takes SB off
Tiff – who would you put up?
DX – goddamn I would have to put up Alyssa
Tiff – yes, That weakens Christian
DX – she is just isn't a threat
Tiff – she was up there with you giving you a run for your money
DX – if I take Alyssa out I'm dead
DX – Britini and SB is fine.. actually damn maybe Christian won't even use the veto he would keep Alyssa over SB any day of the week I can convince him if he uses the veto I will put up Alyssa..
Tiff – he won't even use it SB goes home and he buys himself another week
DX – SB goes home that's not bad
Tiff – damn it took us a whole hour and a half to get there.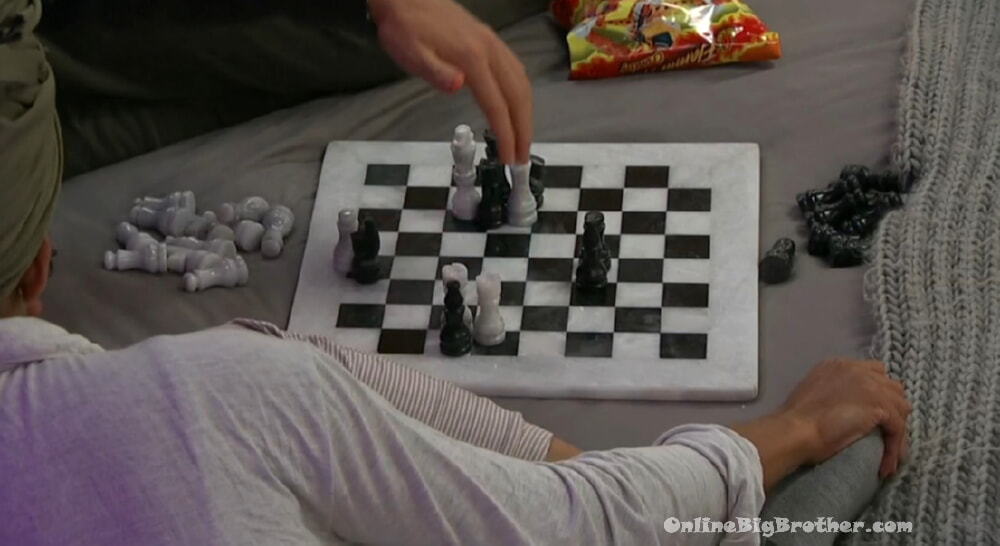 Tiff – that's your best option right there..
DX – he won't use it
Tiff – either way if he uses it on anybody Alyssa goes up .. that's it.
TIFF – she's coming for you she's saying your name..
DX – in what context.
Tiff says she wasn't told it directly he best talk to another detective that's not Ky and he'll know. (Claire)
They go back to looking at the chessboard.
DX wants to throw the POV to Ky "so he gets another comp win"
Tiff – he'll use it to pull SB down
DX – ohh f***
Tiff -t hat's good you can then backdoor Christian.. that's the point
DX – ohh yeah
Tiff tells him in the nomination speech to say he's heard both of them say his name as targets. So both Brit and Sb are his targets.
Tiff – Brit you tell her in private she's not your target
Tiff – you talk to Brit she can keep it quiet she's been doing this sh1t since week 1 (Umm Yikes)
DX – my conversations are tomorrow.
Tiff – talk to Britini last
Tiff instructs him during his one on one's listen more talk less take a page out of Ky's books, "Have people make deals with you even if it's a one week deal doesn't have to be final anything or an alliance"
Tiff – use this HOH to put yourself in a position of power. Don't tell them anything that you don't have to even KYLAND
Tiff – KYLAND.. his… valuable source is information and the more he has the better he places this game. He kinda reminds me of Derek from Big Brother 16 if you give him information you become COdy. You do not want to give him all your information so you can be Cody BB22.
DX – Damn we are Derick and Cody ..
Tiff – not anymore..
Tiff – SB is going to roll with this royal flush just so you know. That is the song she's singing right now. That is the thing about an alliance people can hide behind it.


DX says production told him he shouldn't tell who is going on the block. "I'm not telling anyone who my nominations are"
Tiff – I'm so surprised nobody is knocking at your door. Do they think you're in bed? (Some people like to sleep at 3am!)
Tiff – Ky hasn't come up here
DX – I talked to Ky
DX – Me, Azah, Brit, BIGD have not talked one one one.
DX – I'm not doing team interviews.. *(Hurray)
DX – who are you scared of in this house?
Tiff – you want to use the word scared? who do you feel is the biggest threat.. who is the most threatening to your game?
DX says he'll tell people "I will honour the deals aI made on the wall.. ON the wall"
Tiff – after nominations you don't have to explain anything to anyone.
They go over the questions he asks tomorrow.
Tiff to production- you can turn off the lights in the coral room if they requested I'm not planning on going to bed anytime soon (yikes)
DX – Azah would give a one week deal and she'll respect that.
Tiff – deals are meant to be made in the Big Brother house this new BB where people feel like if you make a deal it has to be a full alliance to the end that's no it
Tiff – we can make a one week deal, two week, we can make whatever deal that will work for us. I like a nice one week deal
Tiff – I was just waiting for Alyssa to fall.
DX says Alyssa told him she was waiting for Azah to fall
Tiff – Damn
DX – I think Alyssa would have nominated Azah.
DX says that Alyssa did not try to get Christian safety on the wall she just asked for her own safety.
Tiff – Brit pulled me to the side and said don't you find it weird that X made a deal for himself and not his team. I was like the teams are not valid anymore.
Tiff – she said as soon as he said himself he fell. I was like he was about to fall anyways.
Tiff – when you are on that wall and you are struggling the real you came out. she couldn't think about his team and she couldn't think about Christian.
DX – Alyssa knows it's a game and she will accept if Christian went. She did not try to cut him any kind of deal.
DX – she still believes in the flush
Tiff – they do .. they only believe in the flush to keep Christian safe.. the flush protects them
DX – and Christian protect them.
Tiff – in the double he's coming for you there's no benefit for you to keep him.
Tiff tells him not to think too much he needs his rest. He should be happy with his win.
DX – I can't be in this game without you
Tiff – you got a plan. sleep on it tonight.. Dream about going fishing tonight. You know what you have to do
DX – thank you this is super helpful
3:16 am Tiff leaves.
4:30 am everyone sleeping
9:00 am Houseguest getting up
Show your support 🙂 Without your support this site and these spoilers wouldn't be possible.
Please consider a donation to keep the madness going.