Spoilers
Gary was evicted
William is HOH
Next week is double eviction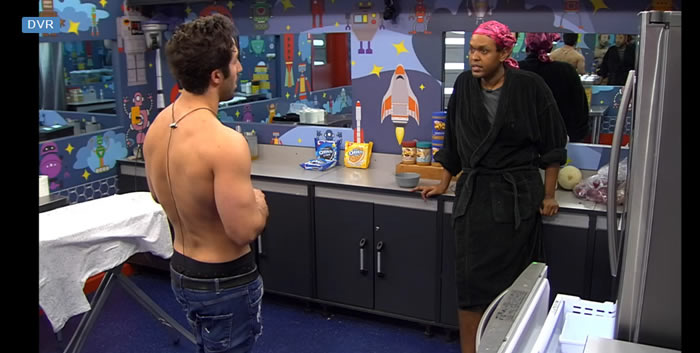 10:00am Gary and Demetres
Demetres – I'll have to vote you out.. .. Its a numbers thing..
Gary – why
Demtres – you're the hardest person to vote out
Gary – Demetres you don't have to do this
Demetres – I'll tell you if anything changes
Gary – you told me 100% on the couch you told me that..
10:41am HOH Demetres sad
Bruno says they have a high chance to win the HOH this week.
Demetres – I can't believe I signed up for HOH
Demetres says he thought there was going to be more of a twist this week.
Demetres brings up Dre thinks William is going to throw the HOH.
Bruno – sweet
They talk about the Cassandra vote. Bruno says that Cassandra thought she was safe.
Demetres says it's because she thought Ika and Demetres were voting for her.
Demetres says he told Gary this morning.
Demetres say they can't control Gary.
Bruno – you guys have it good with Dre.. she trusts you guys
Demetres says she trusts Ika.. Demetres doesn't talk game with Dre
Bruno says Jackie winning HOH isn't that bad. It's bad if Dillon wins, "Obviously one of us has to win"
Bruno keep saying as long as only 1 of them go up they control the votes.
Demetres brings up the HOH competition and how Kevin just kinda dropped. Even if he knew he didn't have a chance to win he would have still hung on as long as he could. Says there's a pride thing.
Adds that he noticed all the guys had dropped off
Demetres – I can't tell how bad the chicks are hurting
Before he knew it he was one of the last one standing.
Kevin joins them they start to study.

Kevin and Demetres HOH
Kevin says after today they have the majority every week as long as they win HOH.
Kevin says Ika is such a good alliance member "She's a beast and she lets you know where it's at"
Demetres points out that Ika is stressed she has 3 people going after her playing for the HOH. (Jackie, Emily, Dillon)
Demetres – I told Gary
Kevin – what was his reaction
Demetres – he's pissed.. I had told him I would keep him before the comp
Demetres adds that Gary stormed out called him a "F***G liar"
10:38am Sindy and Kevin Storage room
Kevin – Ika is not happy with me
Sindy – she's calmed down now..
Feeds are down.. Probably won't be back up until after the show.
[polldaddy poll=9712548]