Head of Household Winner – Dani
Have nots – Da'Vonne, David, Ian
Nominations –
Power of Veto Players are –
POV Host: –
Power of Veto holder –
Power of Veto Ceremony –
Powers – Christmas, Dani, David
Live feeds —-> Grab your Live feeds here. Try it free.
Rank the houseguests —-> Big Brother 22 Ranking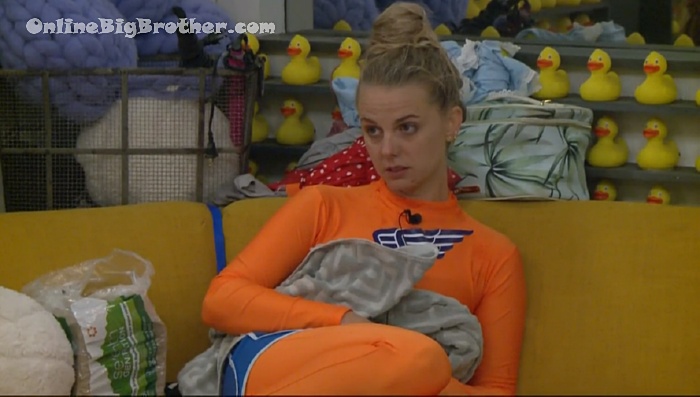 7:44 pm feeds return..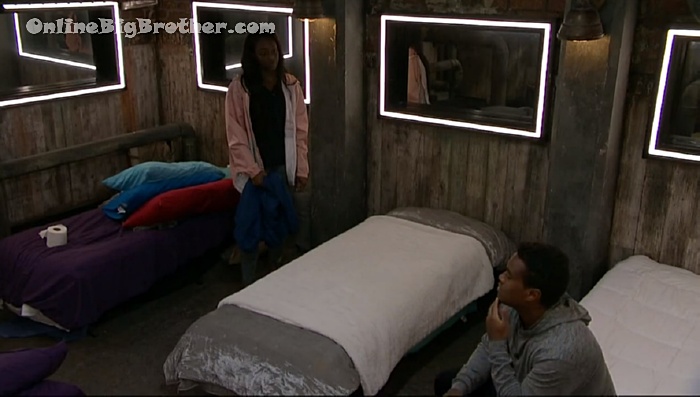 7:47 pm Da'Vonne and David
Da'Vonne – we can come up here and strategize and no one will know the room is soundproof.. He's (Ian) is gong to be down there with them that gives us time to find plans to move forward
Da'Vonne – how close are you with Dani
David- not close
Da'Vonne – I am I'm going to try to work you and to work Kevin to make sure she don't put you guys up.. If there is at all a crack in that alliance somewhere she's the one that can be planted.
Da'Vonne – you have a rapport with Nicole though.. right?
David – not strong.. not on any type of game level
Da'Vonne – Tyler. aren't you good to Tyler..
David says he doesn't know what "all that works"
David – she is tighter with Memphis, Christmas, Tyler and all of them.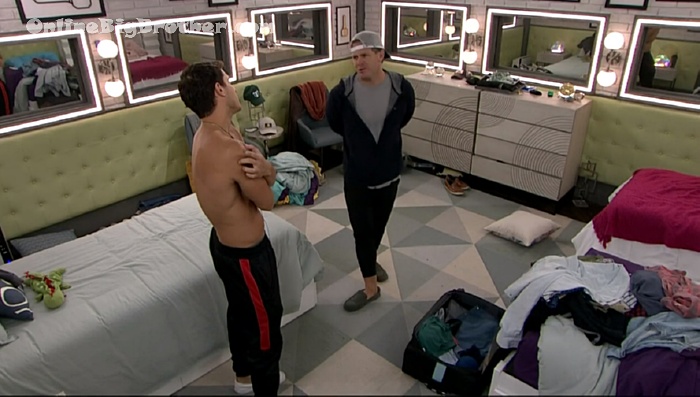 7:51 pm Memphis and Cody
Memphis is suspecting Ian threw the competition. Cody isn't sure says Ian is known to be good at competitions "wouldn't be a good look"
Cody – dude we're in such a good position. we get to play in the double that is the most important competition
Memphis – the committee is crushing it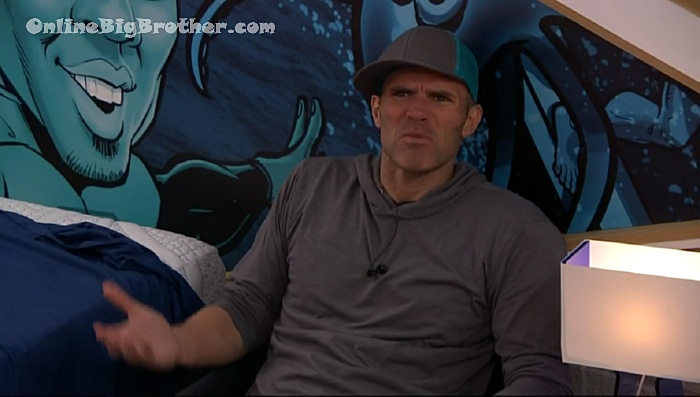 7:58 pm Enzo and Cody
Enzo – first time I've done the wall.. I liked it YO. F***ing fun man
Enzo – Da'Vonne was up there for 5 minutes. It was crazy yo.. 5 minutes if that.. what the f***
Feeds cut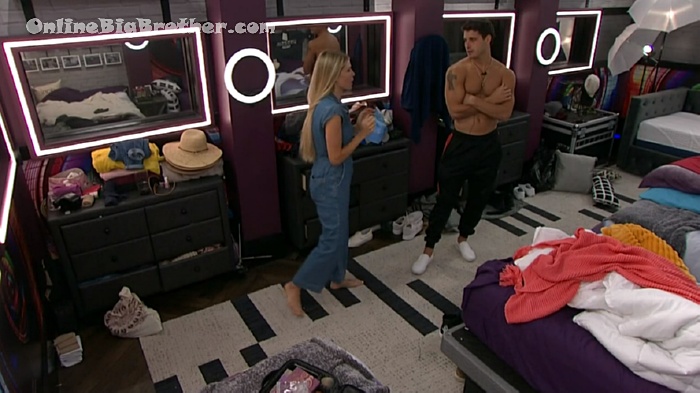 8:05 pm Dani and Cody
Cody – do you think Tyler threw that
Dani – NO
Dani asks him what Tyler whispered to him in the bathroom. Cody says he has no idea what she's talking about. She says it was after the eviction he ran to the bathroom and Tyler whispered something to him.
Cody – are you sure you're not making this up.. are you having a power-trip already .
Dani jokes says she's already told everyone she's having one on one meetings starting in 1 hour,.
Cody – you're going to be that
Dani – my name's not Christmas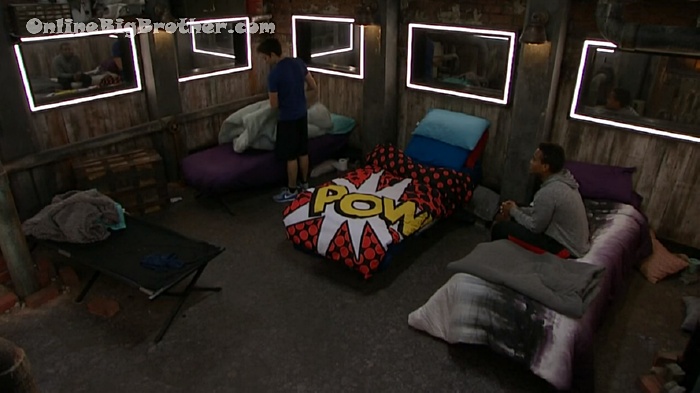 8:12 pm Ian and David
Ian saying 8 years ago he would have been on the wall a lot longer. Ian says you don't throw the HOH when you can be a Have not.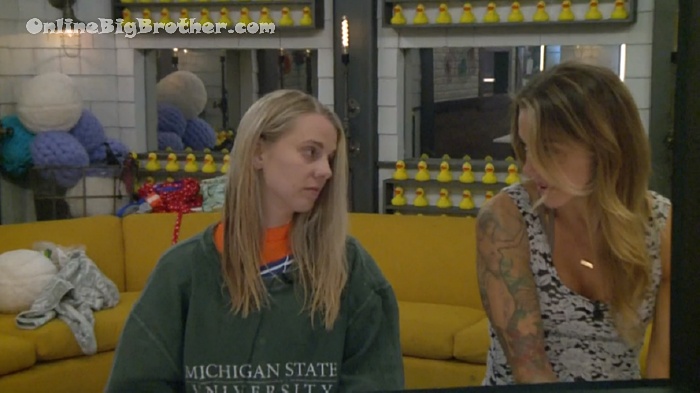 8:14 pm Nicole and Christmas
What happens when all you Makeup affiliates drop you.
Talking about beds..
8:26 pm Where in the world is Carmen San Diego?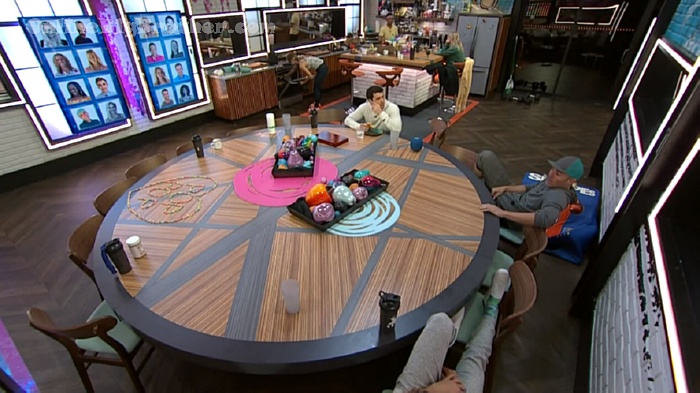 8:40 pm Chit chat about the competition.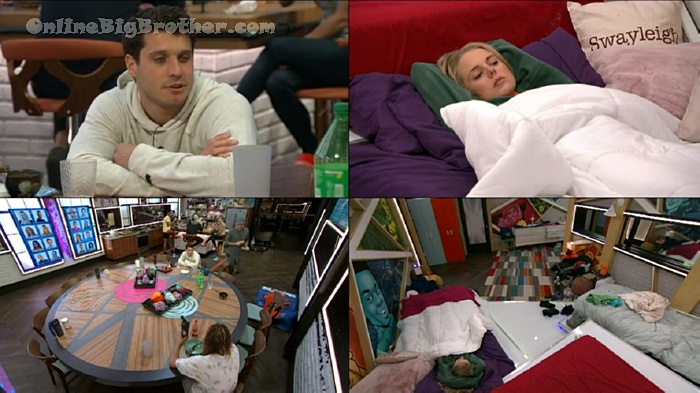 8:55 pm Chitchat on some feeds. Coins resting on another