POV Holder:
Paulie
POV Competition
July 1st?
POV Used
Yes
POV Ceremony
July 3rd?
HOH
Paulie
Next HOH
July 7th
Roadkill Competition Winner:
Victor
Original Nominations:
Paul, Bronte and Tiffany
After POV Nominations:
Tiffany, Bronte, Victor
Have Nots
Da'Vonne, Paul and Zakiyah
Big Brother 18 Alliances Help Guide
1:22pm Victor and Frank
Frank says he promises to vote out Tiffany as long as it's not a vote against the house he won't do if it's 9 to 1.
Victor – you still voting for Tiffany
Nicole – ya that's the plan
Frank – as long as we're not stuck out they're by ourselves.
Nicole agrees.
Victor says he's got Corey, Natalie and Paule that gives him 5 he needs 6.
Victor is going to talk to Paulie make a deal maybe in case the vote is a tie.
They fist bump all around. Victor says he will keep them safe, they hug and fist bump.
Victor playing it cool getting "Votes" all over the place. #BB18 @DawgsBigBrother pic.twitter.com/s5eH8AB0xW

— OnlineBigBrother.com (@bigbspoilers) July 4, 2016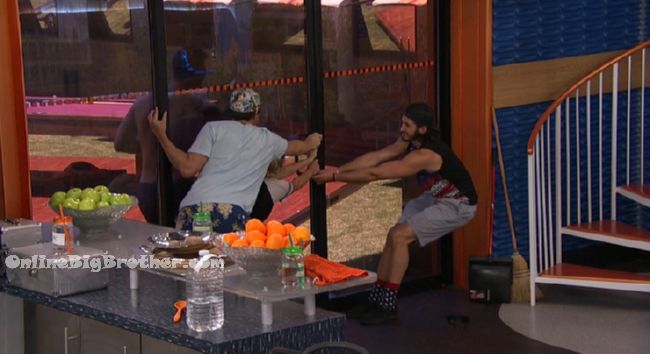 1:25pm Nicole, Victor and Frank holding the door closed but saying it was just Nicole. (You can't see from the outside in during the day)
They tease Corey saying he can't hold the door open helpd close by a "little Girl"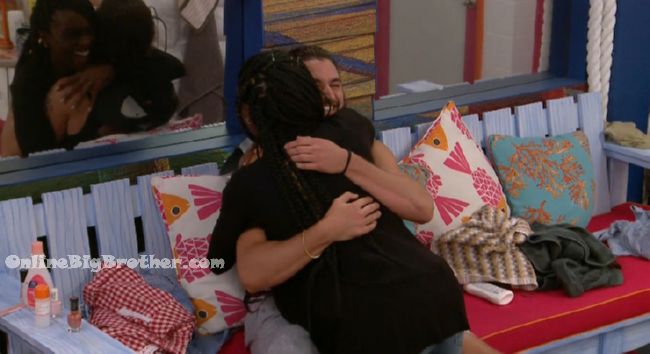 1:26pm Victor and Da'Vonne
Victor working on getting Tiffany out.
Da'Vonne – I don't have a need for you to go
Da'Vonne – I want her out.. I want her out
Victor – I'm not coming after you.. Not at all.. I'm one of the strongest people in the house I can keep you safe..
Victor says he was the one that won the Road Kill and put her up. Da'Vonne hugs him.
Da'Vonne – I want her gone
Da'Vonne warns him about talking to Michelle about Tiffany.
Da'Vonne – Don't miss an opportunity if it presents itself.
1:30pm Kitchen, Victor tells Nicole and Frank he just talked to Da'Vonne "She wants Tiffany gone". Frank – I'm down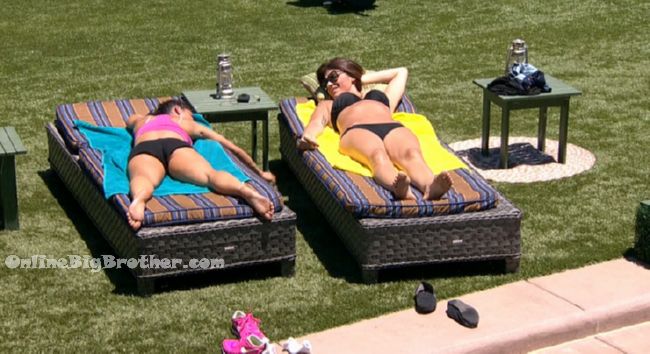 1:31pm suntanning Tiffany and Natalie
Talking about how it's a given Victor is going home. Tiffany says natalie and paul are the only 2 people Victor can talk to right now.
Natalie says Victor hurt her feelings.
Tiffany – you are the sweetest person in this house.. You never say anything bad
Natalie – of course there's too many a$$holes in this world.
Natalie pushing for a girls alliance to at least show America girls can form a group and stick to it. She says it's obvious which girls are the catty girls.
Tiffany asks if she'll put Pauli up. Natalie says she probably would.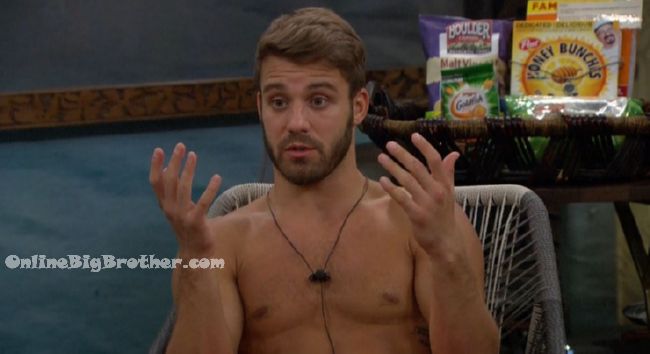 1:44pm HOH Paulie and Victor
Paulie says it was a really tough decision to put Victor on the Block. Victor understands he's not bitter after all he voted Paulie out, It's just a game. Victor says a lot of people want Tiffany gone, he wants Paulie to know he's going to stay and he won't be coming after Paulie. Sounds like Victor is still offering to work with Paulie.
Victor – we can be strong in this bro.. I'm 50% in comps I've only played 4 and I've won 2..
Paulie advices he thinks of his speech carefully you don't want to put heat on yourself. Mentions how Bronte's Speech today put heat on her. PAulie thinks theres other people in the house Victor may be able to sway.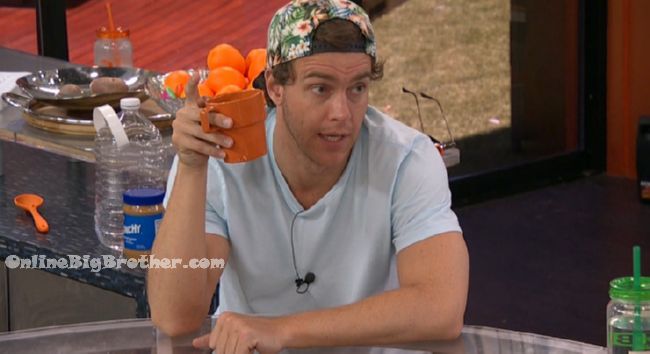 1:51pm Kitchen Frank and Victor
Frank says he'll talk to Michelle and Bridgette to get the votes to evict Tiffany. Says
Victor was surprised when he found out Da'Vonne didn't like Tiffany. Frank adds a lot of people do.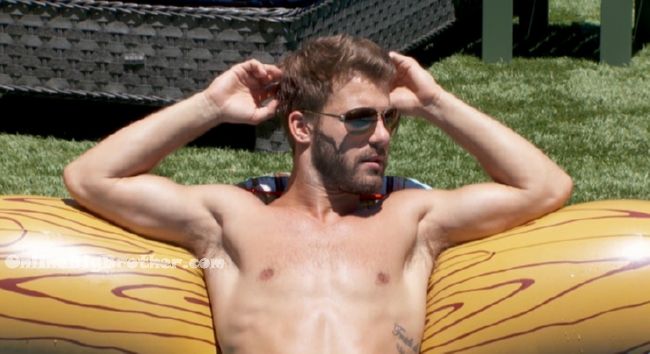 1:57pm Backyard pool picks.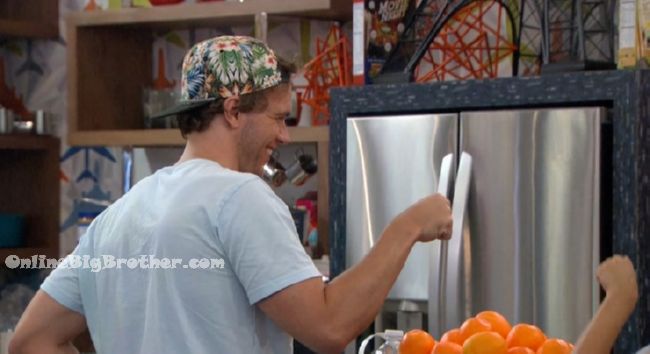 2:07pm Frank and Nicole Kitchen
Frank says he's got a pretty good buzz on. Sounds like a lot of the alcohol had been drank and replaced with sprite.
Hard to hear.. They are talking about Tiffany coming after Frank.
Frank saying "We saw this coming"
2:09pm you can hear music blasting from outside. They're must be a 4th of July party in the CBS parking lot. The feeds cut. They will probably be in lockdown for the duration. Still no word if they are going to get a party.
Sangria flowing #BB18 @DawgsBigBrother pic.twitter.com/xIPjEm2u1i

— OnlineBigBrother.com (@bigbspoilers) July 4, 2016
2:44pm They're in lockdown making nachos, Frank is pretty buzzed. In the Storage room Bronte and Natalie talking about Victor. Natalie is pissed at Victor says he is being very fake right now.
Bronte is sure Victor is going to really turn up the charm for votes.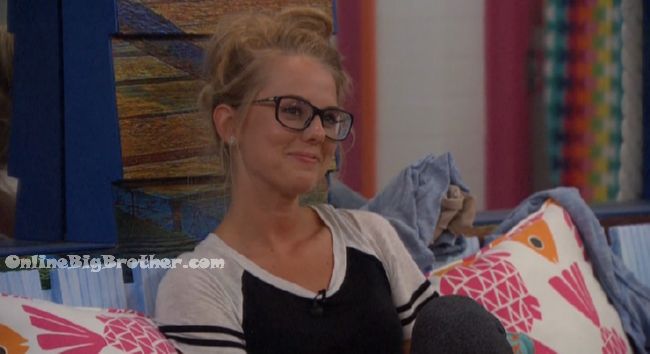 3:00pm Da'Vonne and Nicole
Da'Vonne trying to convince Nicole that Corey likes her.
Da'Vonne – You got him.. you got him.
Da'Vonne brings up Natalie flaunting her "Boobs" and 'A$$" and Corey doesn't pay attention. She's the one he's interested in.
Da'Vonne leaves and Corey comes in.. Sounds like they had a silly bet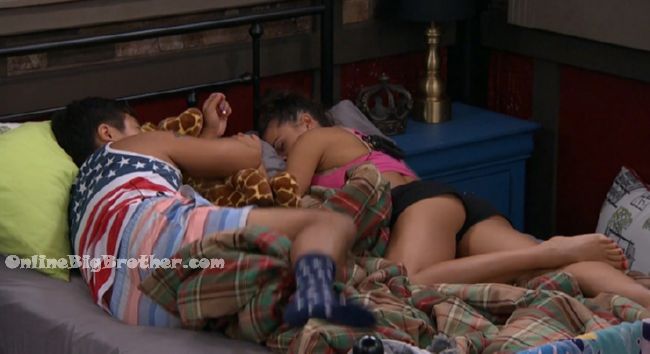 3:26pm Natalie and James
Flirty … Natalie saying how annoying and Fake Victor is being right now.
James tells her Victor is going home Paulie did a lot of work to get him on the block he's going to go through with it.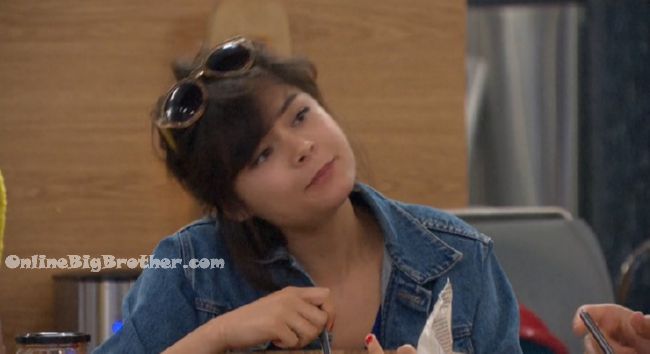 3:35pm Kitchen Frank and Bridgette
Frank asking her if the girls want him out.
Bridgette says he hasn't talked to her on over a week
Frank – talk to me
Bridgette – you talk to me..
Bridgette says she has nothing to say all she knows if from keeping her ears and eyes open. Says the girls want the strong players out Franks along with others are strong players.
Frank – you don't think i'll keep you safe .. You Absolutely you what's going on
Bridgette – I have inkley of ideas but people don't include me..
Frank really pressing her to tell him who the girls are targeting.
Bridgette won't give him an answer says some people would say Frank because he's such a strong player. Frank is getting annoyed by this wants her to give him a straight answer.
Bridgette – I trust you Frank I just want to be more involved
Frank – you are involved
Frank says to her that he's told her a million times his team is first and foremost.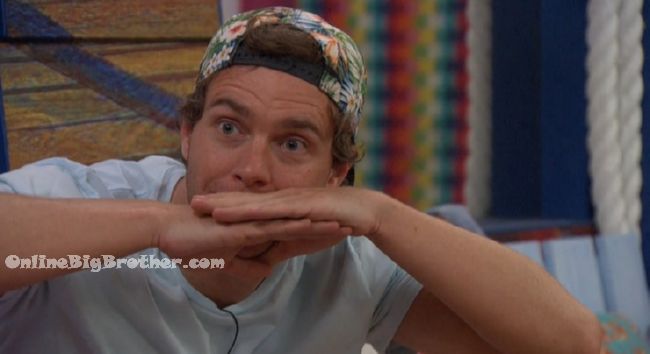 3:49pm Bathroom Frank, Tiffany, Da'Vonne and Zakiyah
Frank brings up Bridgette not telling him who the girls are targeting, she told him she's out of the loop. Frank knows that Bronte and Bridgette talk all the time.
Tiffany asks if Victor is trying to flip the vote on her. Frank says Victor thinks he has Natalie, he thinks he has 5 votes Natalie being one of them.
Tiffany asks him if they are trying to make Victor feel at ease.
Frank – of course, 10 – 0 no chance
Nicole comes in – Michelle has just woke up
4:12pm Tiffany and James Tiffany is working on James asking him if Victor is trying to get votes against her. James tells her she has nothing to worry about.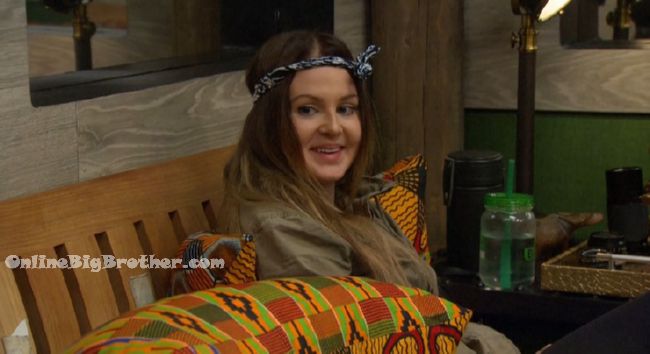 4:30pm – 4:37pm Michelle and Nicole
Michelle having just woke up gets the days update from Nicole. Nicole says Victor thinks he has 5 votes.
Michelle was pissed at something James said this morning.
Michelle asks if they were cuddling last night
Nicole – we started out not cuddling.. thank goodness.. not to me mean..
Nicole – I like to sprawl out.. James is the sweetest guy ever I cannot sleep with him every night.. Vic going to go anyways.. (his bed will be open soon)
Nicole – you know what I mean.. I don't want him to think..
Michelle – Everyday thing ya.. I really hope people aren't calling you guys Jacole.
4:45pm Nicole and Tiffany in the kitchen, Nicole is telling her Victor is campaigning. "I'm 100% voting him out you don't have to worry at all… if you want to check with me daily that's OK but I am not voting you out"
Tiffany thanks her for the reassurance.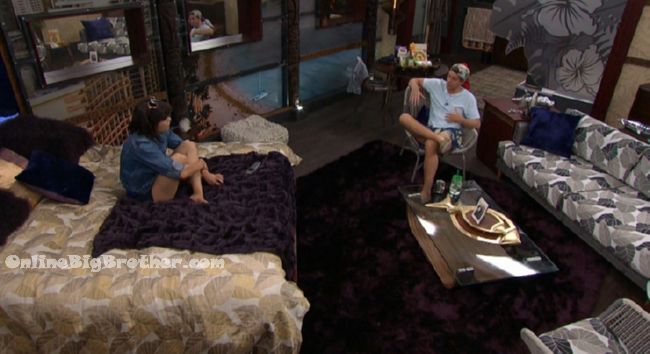 4:46pm HOH Frank and Bridgette Bridgette tells him the girls want to get the guys out, "It's obvious.."
Bridgette says Bronte and natalie's goal is to get to Jury she would like to keep them around until. Frank says 1 of the 2 of them will not make it to Jury.
Frank telling her Tiffany won't make it to Jury and neither will Bronte. Tells her that Bronte leaving will take the heat off Bridgette. Bridgette tells him he's so strong at this game, "I'm at the bottom of the totem pole you are building"
Frank – I don't have a totem pole I think of people I can trust and people I can go to the end with.. you are one of the few people I can go to the end with.
Bridgette says she's been trying to squash the beef with Michelle but it's not working. Frank knows he's noticed that says he wants Michelle out before the end because she's too smart with the game.
Frank says some of the other girls thinks she's acting nice but he doesn't believe it if Bridgette was acting this way it would be exhausting.
Bridgette – I tried to get close with Nicole, She won't talk to me.. She's a ER nurse she's cool as sh1t but doesn't work.. she gets a bit defensive when I hang around Corey.
Frank doesn't think that's the case
Bridgette – she wears her emotions on her sleeve.. She's easy to read
Bridgette says people are worried about Frank and James. Frank laughs says him and James got in it last night doesn't know why people think they have a secret alliance. Bridgette says Tiffany does not like Frank. Frank says she's Vanessa's sister from last season. Bridgette knew this. They are surprised Tiffany hasn't made it public.
FLASHBACK and watch everything you missed: CBS All Access FREE Trial!

[polldaddy poll=9459672]