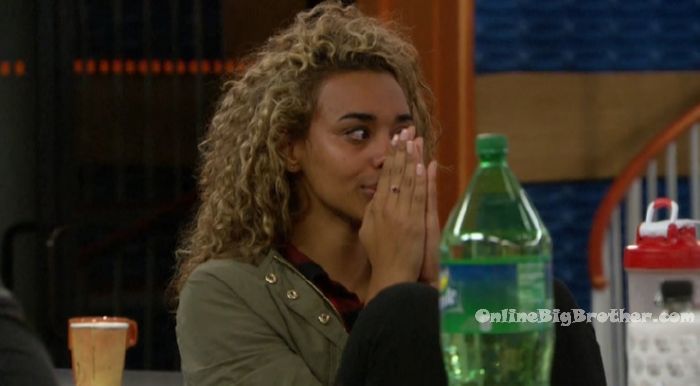 10pm Kitchen – Kryssie and Danielle are talking. Danielle – he (Shane) doesn't want me to know he's stressed. I just feel like I can't even catch a break. You're the only person that can understand because you're in a similar position that I'm in every single week. It feels like an eternity that your life is always on the line. I just can't catch a break. Whether I'm on the block all week long or coming close to winning the veto but just shy and then having a punishment. Then finally being done my punishment and now I'm a havenot. I'm not on the block, he's going to be on the block. Danielle starts crying.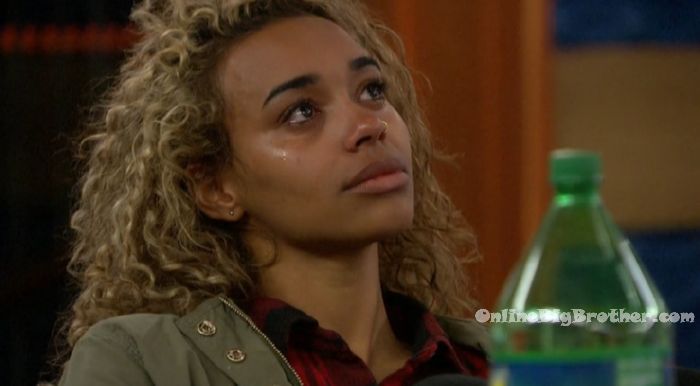 Kryssie – I know its insanely hard. We just have to bust a$$ in the veto and win both of them because if we win both of them we have the numbers, then nothing will happen to either of you. Danielle – I'm not even worried about me at this point, I'm worried about him. I want him to stay and me go. Kryssie – no you don't. Danielle – I know I do. I love the game. And of course I'm going to stay. If he goes, of course I'm going to play. My games going to be the same. You just get attached to people. When I came in here I said I would get in a showmance and use them as long as it benefited me. And as soon as it started to hurt my game I would let them go because I'm here to play the game, not meet someone. It just sucks because he's trying so hard to not show that he's nervous. I don't want anyone from our side to go. Its going to be just as hard to sit and see someone from our side go. I don't want him to see me upset because I want him to worry about his game and not me. I'm just mentally exhausted. They're in there laughing .. they don't know how it feels. They're safe every week and don't have to worry about anything every week. Kryssie – we have to make sure when we're in power, we're as graceful as we can be because they need to see what kind of people they really are. And they won't, they won't until 5 years from now when they watch this all back and are like wow I acted like a f**king a$$hole. We're teaching future life lessons here. Kryssie burps. – I'm not going to go down without a fight. Justin comes into the room and asks what's wrong. He hugs Danielle. Danielle – they're being b***hy little snobs. They don't know how it feels. Justin – I'm sorry. That's crazy. All this sh*t is psychological. Just pray a little. Just try and stay positive. Don't let them see you cry. You got to be a soldier.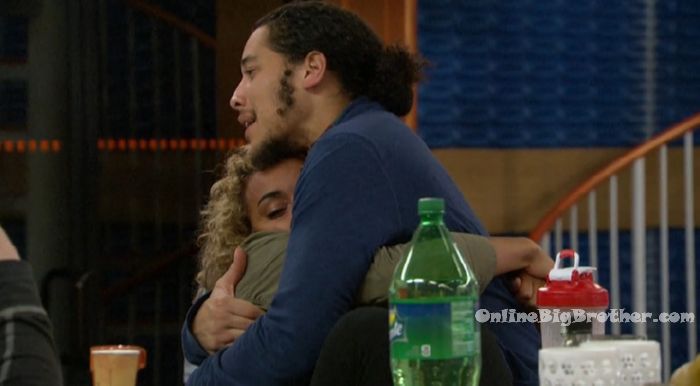 Morgan – that veto through me threw a loop because I was pretty dead set on what he thought he was going to do. Kryssie – I almost quit today because of that laundry sh*t today (someone went through her dirty laundry looking for the hidden crackle).. because if I find out who did it there is going to be a problem. Kryssie – I honestly think he (Scott) has a personal problem with me.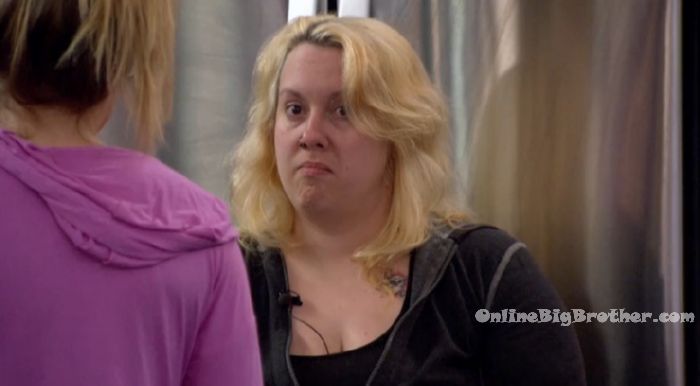 10:25am – 12am Bedroom – Morgan tells Shelby, Alex and Whitney about her conversation with Kryssie. She said she just doesn't get it and says she hasn't done anything to anybody and I'm up every week. I don't think she gets that she's not the target. Shelby laughs – did she forget that she was the one leading the charge against Scott.. like a week ago .. did she forget that!? Morgan – She was like Scott just has a personal vendetta against me. Alex – shes said numerous times that he's a disgrace to this game. Whitney – this season, pawns don't go home. Morgan – she thinks he's (Scott) pissed at her because she gave him game advice. Shelby – why would she give Scott game advice, he's the biggest superfan ever. Morgan – she also said she wanted to quit today because of the laundry thing today. They laugh. Morgan – I was like you're taking this game way too seriously! If someone picked up your period panties would you want to quit? Shelby – I would think its a joke. Scott joins them. Shelby laughs that Kryssie thinks he is mad at her because she gave you game advice. Scott laughs. Morgan – its time for her to chill with the whole personally agenda sh*t. She thinks she the target week after week. Scott – she's gotten zero votes. Justin joins them. They chat about random things. Justin – you (Alex) and Shelby are the most hated by them. Alex – just wait until the next person is HOH and they'll be the next hated person. Whitney I've never been hated by so many people. Shelby goes to hide Shane's blanket because she thinks Havenot blankets were hidden. Big Brother tells her to stop that.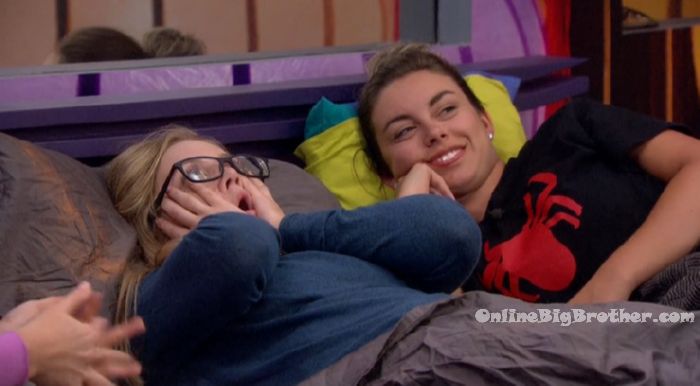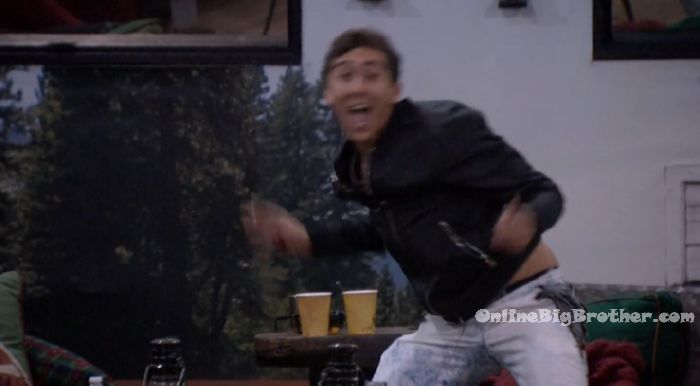 12:15am Backyard – Jason comes out saying that Shelby got in trouble for trying to hide Shane's blanket. She thought you hid the blankets. I told thme you're not hiding them, you're washing them. Jason says that Shelby was asking why Danielle didn't want their blankets. Danielle – 1 Shelby is a grown a$$ woman. 2 if she would have asked me to wash her blankets, maybe I would have put them in there. And 3 if she has a question about the blankets she can come ask me about it. She's a grown a$$ woman and she can ask me herself. Jason – Shelby is just putting on a show. Scott – call a house meeting. Jason – NO, no house meeting has ever gone well. Scott – just to establish some ground rules of what can be hidden. Danielle – why would I wash blankets that I'm not going to use. Jason – Shelby is just making something out of nothing. Danielle – this is why I don't have female friends. They thought Monte was bad!? I'm about to cuss this b***h out! I'm hungry, I'm gassy. Don't f**k with me tonight. Jason – she's just putting on a shot. Let her put on a show for her friends. Kryssie – I really hope she (Shelby) says the wrong thing to the wrong person at the wrap party and gets knocked the f**k out. It's not going to be me, I don't need to spend the night in jail. I just like to see people put in their place. Danielle – She is just acting like this because her side is in power. She's a d**k hopper. Jason – they're switching everyone's beds. Danielle – whatever we'll make out in which ever bed we're in. Jason – just make loud moaning noises.
Watch the BBOTT Live Feeds FREE for 1 WEEK!
Click here for your: FREE Trial!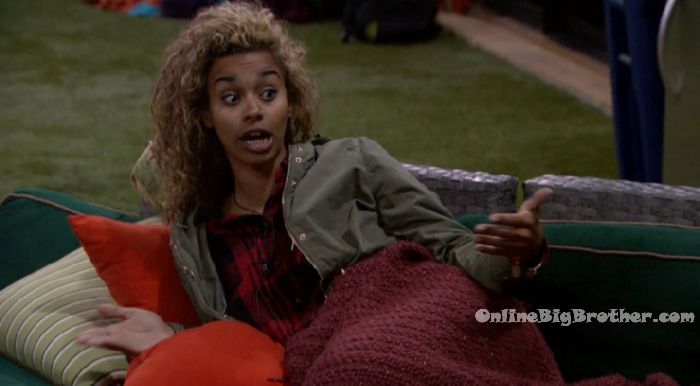 1:10pm Kryssie – My problem is someone rummaged through my personal things and I didn't even get so much as an apology. If we're going to act like adults here. Danielle – they're not adults. Kryssie – Someone owes me a f**king apology. Jason – no one's going to give you an apology. Kryssie – I can't want until all these b***hes go back and watch this and realize I didn't touch any of their sh*t. Jason says well we won today. We reclaimed the coke and the chocolate.
1:30am – 3:40am Backyard – Danielle, Jason, Kryssie and Shane stay up talking about random things like stealing gnomes, spiders, movies, etc. Shane and Danielle head to bed. Kryssie – Danielle is so emotional. She is making me nervous I'm worried they're going to flip the script from Shane to Danielle. Obviously it doesn't really matter. All we need to do is make sure we win the veto. Jason – we just need to make sure we have a good veto draw and America's nom isn't one of us. Then just win the veto and take one of them down and vote out America's nom.
3:50am All the house guests are sleeping..

[polldaddy poll=9552040]