First HOH
Dan
Second HOH
?
Third HOH
 ?
Final HOH
?
Last Evicted Houseguest
SHANE
8am
Big Brother wakes up the house guests. When the feeds come back, Danielle wakes up and tells Ian that she couldn't sleep last night because she had nightmares of Shane being evicted. Danielle gets up and heads to the storage room to change her mic. She then goes to the bathroom where Dan is brushing his teeth. Dan hugs her. Dan heads into the kitchen to make his breakfast and to clean up. Ian gets up and joins Danielle in the bathroom to shower. Dan heads into the stereo room to grab some of his things. Ian comments on how he really wishes they would let them use the washer and dryer. Dan tells him to spray his clothes with a spray to make them smell better.
9am – 9:20am Big Brother then tells them they are on an HOH lock down. Once the house guests head up to the HOH room big brother switches the live feeds to the we will be right back screen.
9:30am TRIVIA…
9:50am – 10am The TRIVIA continues but a feed leak reveals that Big Brother has given the final 3 a breakfast. Dan says it looks so good! The live feed leak is only for a couple seconds and then it goes back to TRIVIA..
11am The TRIVIA Continues..
11:20am The live feeds still aren't back from their breakfast ..
11:35am – 11:40amThe live feeds come back from TRIVIA.. Ian says that was pretty good. Dan asks did you enjoy that experience? Ian says oh yeah. Ian comments that there will be no yard today. Dan says that he thinks he will probably just go hibernate today. Ian says that he figures he will do the same. Dan says 100 bucks we don't eat the leftover food. Ian and Dan are cleaning up the kitchen. Danielle is no where to be seen.
11:45am – 11:50am Danielle is sitting on the living room couch while Dan and Ian clean up from the brunch. Danielle tells Dan that Ian is starting to really irritate her. Dan asks why? Danielle says that she started to say something and he kept talking over her. Danielle says if he wins this thing… Ian comes out of the diary room and joins Danielle on the couch.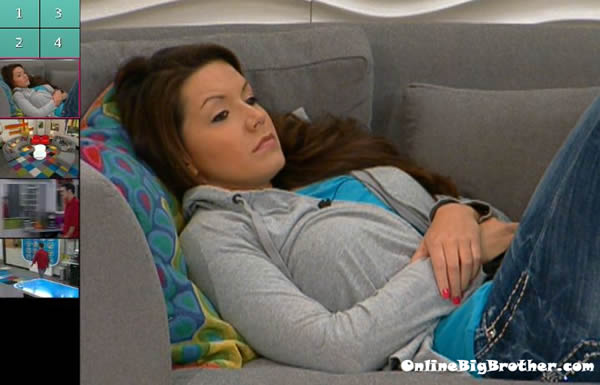 11:55am – 12:05pm Dan tells Ian and Danielle that it will take them 30 days to get back to their normal lives and not wake up in a panic wondering where their mic is or why the lights aren't on. Dan says that other things that are weird are email, phones, news. He says you forget what a lot of things feel like … like kissing your wife. Dan says Ian you know what that feels like right. Ian says I wish I had a wife. Dan tells Ian he needs to sew his wild oats. Ian says he doesn't have a lot of oats to sew. Dan asks Ian if he won would take a year off school. Ian says he doesn't know, he would look into it. Dan asks what if you won the $50,000? Ian says he would probably pay off his student loans. Then he says that the interest rates are so low that it might not even be wise to pay off his loans. Dan and Ian talk about how they can hear BB taking down the HOH comp in the backyard. Danielle comes back out of the diary room and joins them on the couch. They all sit in silence.
12:35pm Dan and Ian are sleeping on the couch..
1:15pm Ian, Danielle and Dan are in the kicks room. Danielle is reading her two HOH letters from her mom and dad. Dan is asking her questions about them. After a few questions they are all lying there in silence.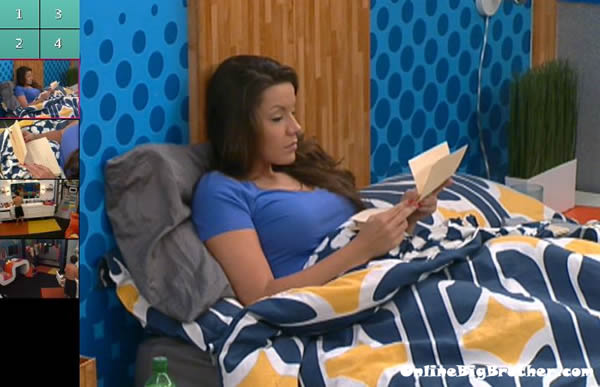 Simon and I work 24/7 all season long to bring you all the live feed updates and spoilers, please consider donating. Any amount is greatly appreciated, your donations go directly to paying the server and bandwidth fees needed to run this site. Donation Link
Share it YO!!
Tweet