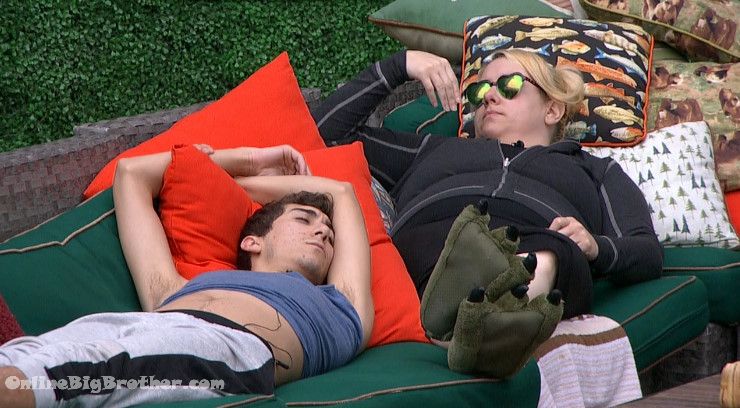 12:37pm Jason is out of Cigarettes. He's asked Big BRother for the patches and they haven't given him one yet. Brings that they told him they had bought them already.
Jason – You know I smoke 4 a hour
Jason corrects that he smokes more than 1 a hour.
Jason brings up how disgusting Shelby is when she eats.
Jason says the two people she should definitely not nominate is Scott and Alex because those two they can flip, "those other ones are unbreakable"
Kryssie – saving those 2 is the only fighting chance if one of us is on the block
Jason says there is no scenario that someone that has already received a care package will be eligible to get another one.
Jason points out no matter if America loves them or hates them they will have give them one of the care packages
Jason – smart to get rid of one of the girls that haven't had a care package this week.. Boost our odds
Kryssie wants Morgan gioen this week
Jason – I would rather whitney not go but it's a game
Jason – I would prefer Morgan over Whitney
Danielle joins them
Jason tells her this week it's best the person leaving doesn't have a care package already.
Danielle agrees, "Morgan was so stupid for sending Neeley home"
Jason – Neeley was confident she was her girl
Kryssie – she had faith and Morgan shit all over it
Danielle says Justin is super nervous he'll get called as HAve not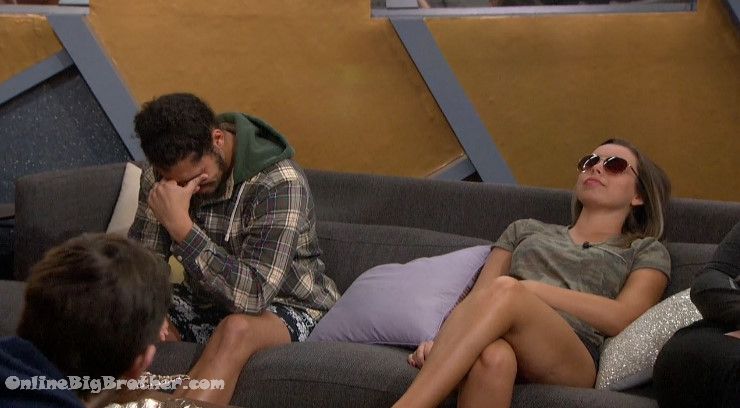 1:01pm Have not time
Whitney, Kryssie, Justin
Justin is signing a song using a nickelback-ish voice
"I don't want to be a have not"
"I don't want to take a cold shower"
"I don't want to sleep on the cobwebs"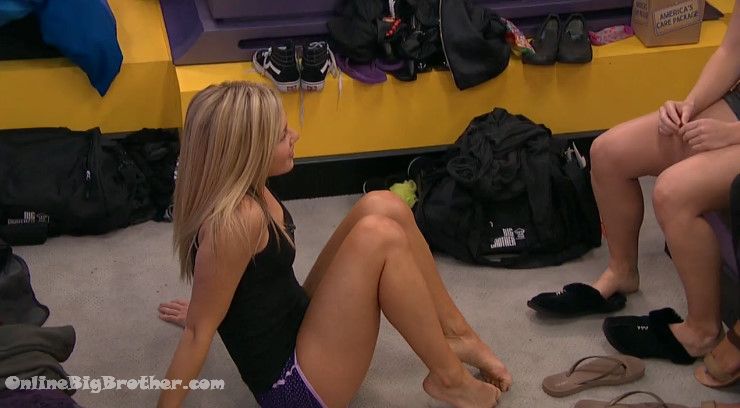 1:08pm Alex, Shelby and Morgan
Alex says America's nom will be either Whitney, Kryssie, Jason or Scott.
Shelby says she's going to talk to Danielle today
Morgan will talk to her after Shelby
Alex – it could be Kryssie .. or Jason (Nominated)
Morgan – that would be ideal
They think the fans might nominate one of them to make this week difficult.
Alex says if they can convince Danielle to put Whitney up than Kryssie would be America's nom
They agree she smarter than that.
Alex – at the end of the day we decide who goes home..
Shelby – no body is gong to volunteer to go home
Whitney joins them.. "My name was called first" (For have nots.. they think the first person called had the most votes but aren't sure)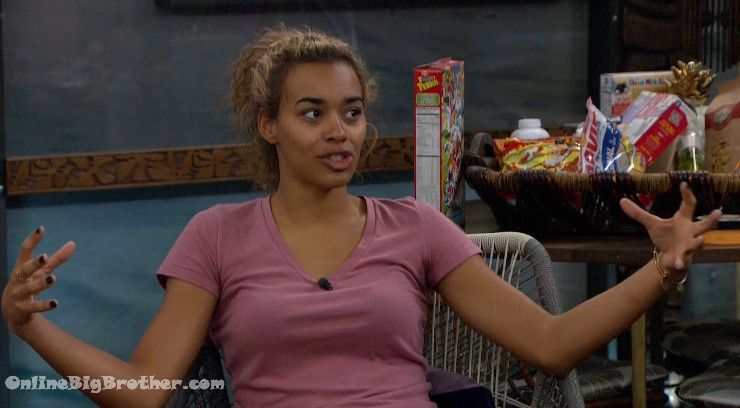 1:34pm HOH Danielle and Shelby
Scott – obviously we've been on opposite side's of the fence this entire game
D – yes
S – I don't think I've ever lied to you in this game .. we haven't talked much game
D – We haven't talked much game and honestly .. you know I think our issues are personal.. I don't even think it's that up until last week I didn't have anything against you .. like you were playing your game and I was playing my game and they were 2 opposite things.
Danielle says she had no clue Shane was working with Scott and Corn she didn't know about the day 1 alliance
Scott – I assumed Shane would have told you.. I wanted it to be me, you Shane and Monte..
Danielle – last week I was prepared to send Neeley home.
Danielle says Neeley was trying to push her out. Scott is surprised thought they were all really tight with Neeley.
Danielle says there was a big difference in the way Neeley acted towards her than 'other people" she adds that Jason felt the same way.
Neeley says she was bullied her entire life, "I don't hold anything against yo"
Scott says he hasn't trusted Kryssie since week 1.
Danielle says in her alliance she's in the bottom of the totem pole. Danielle says from the conversations she's heard from the girls Scott is in the same position as her.
Scott agrees.
Danielle tells him he's no the target this week.
Scott – Excellent
Danielle – If America's noms you and I win the veto I plan on taking you down
Scott – Ohh cool
Danielle says everyone expects her to come after Scott, "But that's not a very smart game move"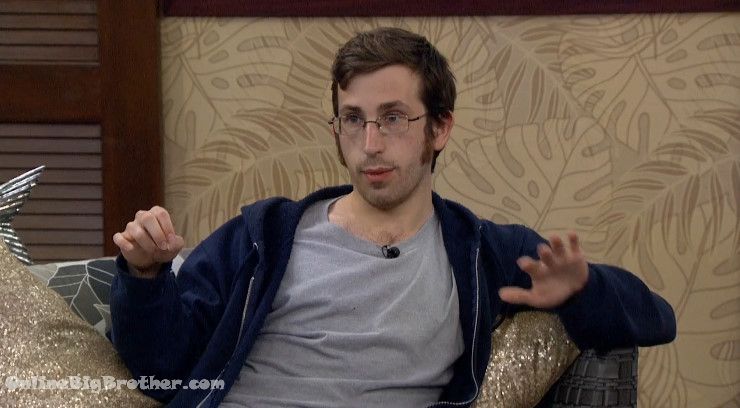 D – I know you have an allegiance to Alex
S – that's the 1 person I won't turn on
D – I know that and I respect that , I want the both of you to know I have a open door
Scott tells her if he wins HOH she's not going up, goes on to say Alex won't put her up nor will Danielle be a replacement nominee.
Scott – if you are America's nominee we would use the veto to take you down
D – awesome
S – if Alex stays off the block at least as an original nom then I'll know 100% that there's real potential for us moving forward deep in the game together.
S – you are not someone I want going home this early, you me and Alex could potentially move forward in this game together
S – Alex is someone i'm not willing to turn on
D – If Shane was still here I wouldn't turn on him
Scott says if she nominates "2 of the girls" and one of them come off she can use him as a replacement nom, "And I'll still hold true to the deal I just offered you"
D – OK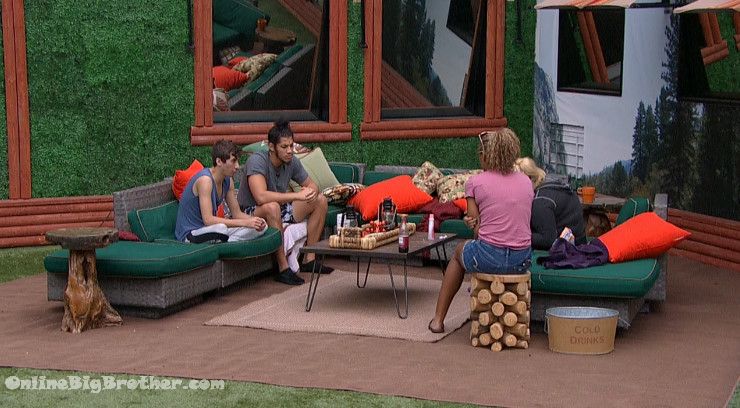 2:14pm Danielle tells Jason, Justin and Kryssie that she wants to put up Shelby and Morgan.
They all agree Whitney won't be too sad to lose Morgan if she can stay.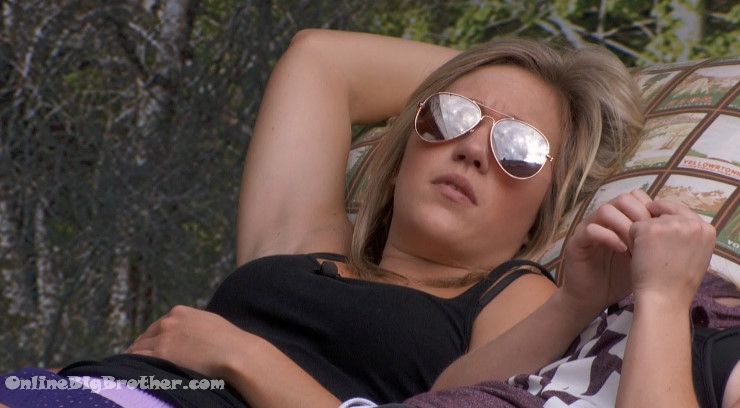 3:13pm Hammock sisters
speculating who America's nom is. Morgan says Whitney is the most in the middle out of all of them.
Morgan wants Kryssie gone becuase she's not adding anything to the game.
Alex – she's kinda mopping around
Morgan – right
Alex – week one she started off being really loud..
Alex – now she's like gloomy and like
Morgan – she's always in a mood.. I don't thin she'll ever recover from Neeley
Shelby joins them.
Saying that Neeley going home on Kryssie's HOH hurt her ego. Shelby says that the other side thought they were the "Golden Children"
Alex impersonates Kryssie "America sees y'all as teh popular kids and we're the misfits they're goign to stand behind the misfits"
Alex – Everyone is kinda a misfit in their own way (Double bold)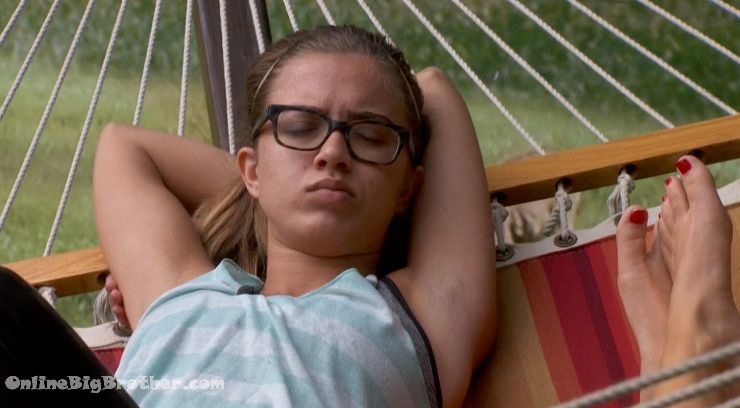 Shelby – they may be the misfits but they are the ones being the a$$holes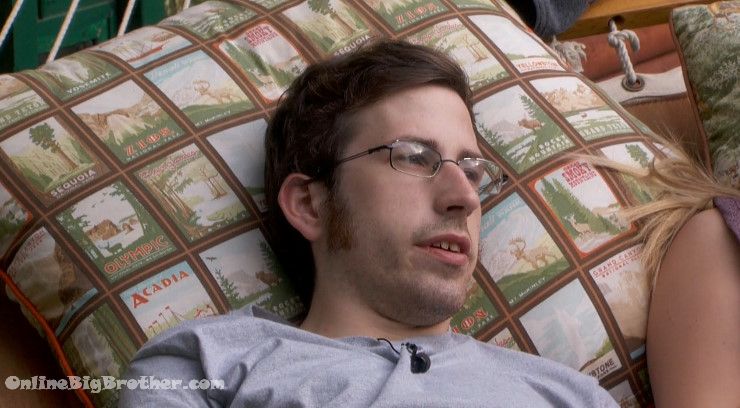 3:42pm Scott and Alex Hammock
Scott is relaying his conversation with Danielle
Alex – interesting
SCott – I'm fine to lying to anyone .. I just want you to know I don't trust him.. (Jason)
Alex says now that Neeley is gone Morgan has no ties to the other people. The only person Alex is worried about having ties is Whitney. Scott agrees.
Scott wants the final 3 to be him, Alex and Shelby.
Alex wants to make up an alliance name.
Scott – I think we should…
Scott tells her he wants final 3 to be him Alex and Shelby.
Alex – that's how I feel about y'all too.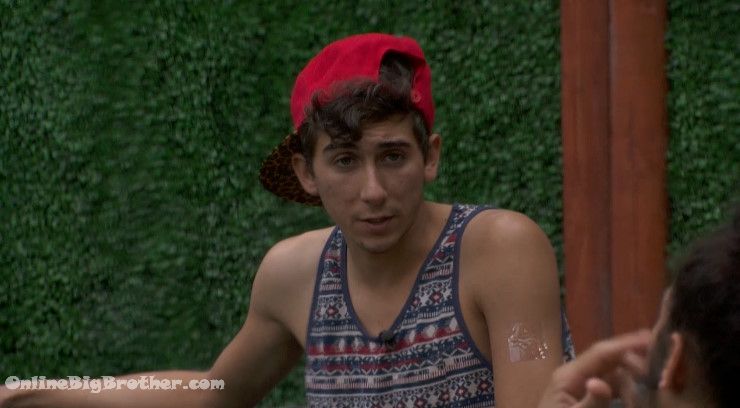 5:20pm Justin and Jason
Jason – Morgan is plan A
Justin Plan A
Jason adds if Morgan wins Veto than Whitney has to go home
Jason agrees..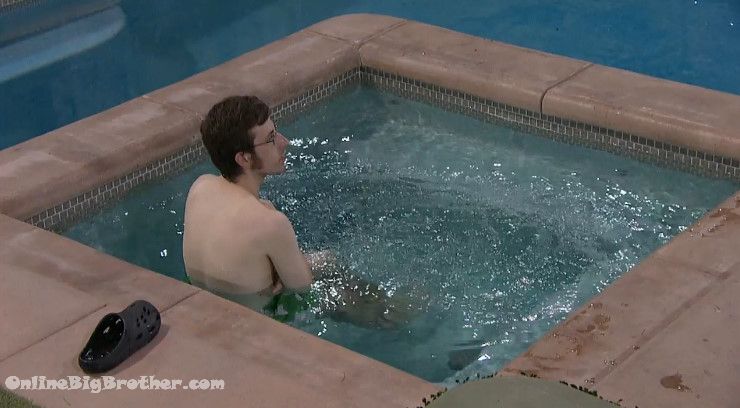 6:46pm ….
Safety Ceremony results Justin, Kryssie and Jason safe.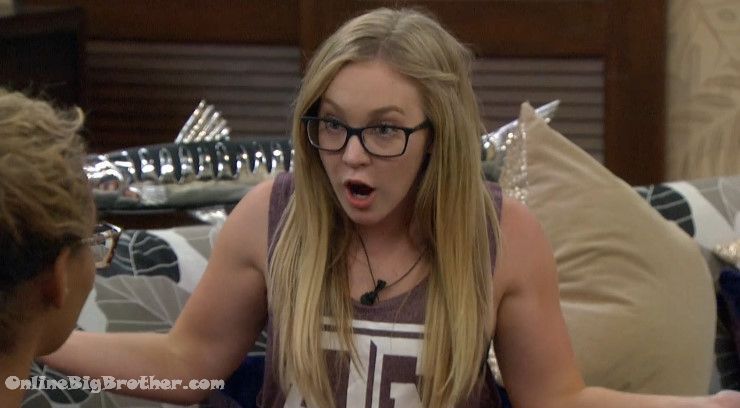 7:20pm
Alex offers Danielle safety next week if she's off the block this week. Alex brings up Scott mentioning a deal between the 3 of them. Points out that no one will see it coming.
[polldaddy poll=9565337]