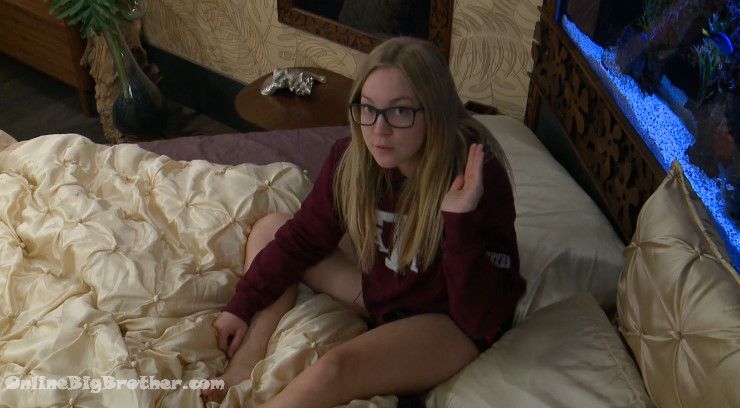 11:16am HOH Alex
Alex – I am a huge huge huge super fan I love this show all of my heart..
Alex – I think that this game .. oh that's morgan coming up.. This week is going to be interesting we can get out a big target this week and make a strategic move.. I plan on working with Shelby on this to make this happen.
Alex says SCott was her main person to talk strategy with now she'll have to do it with Shelby "Can't rely on my sister.. Love her but she's a really loyal person but strategically Shelby is my best bet"
Alex says she's in trouble this week and next week because of the care packages. If MOrgan doesn't get one of the next 2 they at least one of them will be going home.
Alex – Jason is gunning after me then Whitney.. Justin is gunning after SHelby then me or my sister
Alex – Danielle is coming after me.. Kryssie is 100% coming after me.. Half the house wants me out really badly..
Alex – these care packages will either make or break me
Alex doesn't want to go after Justin this week she doesn't think he's coming after her short term. He'll go after Shelby and Morgan first, 'Sooner or later I'm going to have to play my own game"
Alex – I think Kryssie, Jason and Danielle all want me out .. I'm in a sticky situation when it comes to them.
Alex – I know Justin is y'alls favorite player and I'm going to try and not gun after him .. I'm going to try and talk Shelby into not gunning after him this week.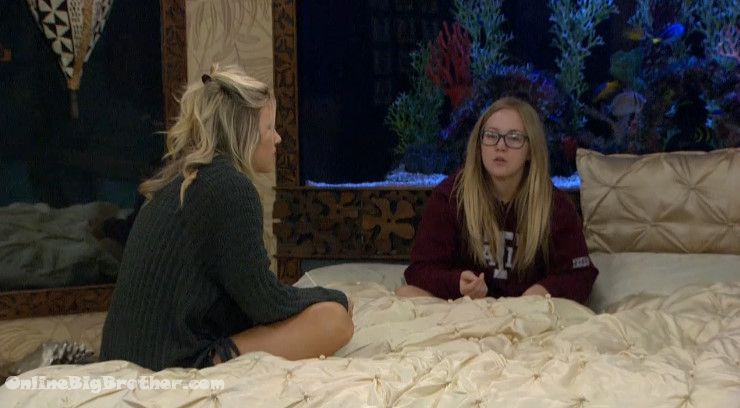 11:22am Morgan comes in
Alex – Jason is for sure coming after me and Whitney..
Alex – Kryssie is coming after me and you.. She's a great person to get out of the house.. At the end of the day she'll work with Shelby and Whitney before us
Morgan wants to keep Danielle this week.
Alex says Jason is the person she has to watch out for.
MOrgan – he's someone we all have to watch out for he lies to everyone
Alex – he does.. People are starting to notice he's really sketchy in this game.. He irritates me
Morgan – if Jason goes that will be a big blow to Justin
Alex says MOrgan's goal should be to get tight with Whitney again.
Morgan says Shelby is really set on putting 2 people up she won't say because it'll influence the Care package.
Alex is going to try hard to steer shelby "the goal is to get one of them out this week"
They agree they'll let Shelby do what she wants.
Morgan – I'm sad Scott left..
They agree he said questionable things but was a good person.
Alex – he was very creative with his strategy in this game
11:31pm Shelby and Whitney come in
Chit chat..
Shelby – they gave me a lot of face scrub.. I get the hint Big Brother
Shelby says her friend Monica doesn't drink she just likes going out to the with them..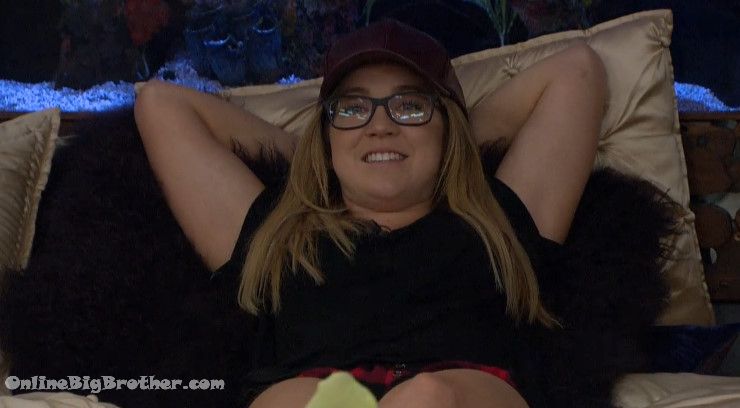 11:40am HOH Shelby and Alex
Alex mentions if America wants the game to be 1 sided they'll give the care package to the other side. Adds that a all girls alliance that started from the beginning has never made it this far before.
Alex and Shelby agree their all girls alliance is shaky but salvageable
Morgan comes in..
They talk about Justin Always saying he will help them but never does.
Shelby Brings up Justin telling her he will help keep scott this week then he voted him out.
Alex says Scott told her that Justin was never helping them. he found this out through Jason, "His word means nothing in this game"
They talk about Kryssie gettign so mad after losing the HOH. Alex points out Kryssie had just won it a week ago and she's up in the HOH crying because she lost the Competition.
Alex – she's a weak girl, when it comes to that.. it's like a every day type thing.. she's mentally not tough not at all
Morgan – she acts like she is
Alex – it's a facade..
Morgan – big and bad knows everything
Alex says Kryssie is the most insecure person in this house
They talk about Kryssie being so sensitive they can't have fun with her. They go over instances of them teasing around with each other but when they try with Kryssie she gets pissed.
Alex – we talk so much shit about MOnte and he was out friend.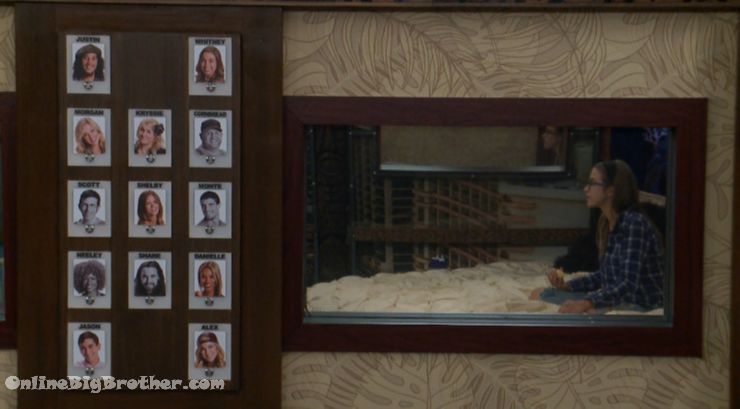 3:03pm HOH Shelby and Alex
Alex tells Shelby when she was HOH everyone told her to put her up, "That was a month ago"
Shelby – finally another ballsmasher is in power..
Alex – hopefully we can keep this going
Alex – you're the best person to get it to make everyone sweat…
Shelby says Kryssie and Danielle are not acting "antsy" so they must know who her targets are and they are right.
They agree not to tell Whitney anything at this point.
Alex – she needs to approach us.. hopefully tomorrow we can have a bonding night again
Alex says she's sitting in the bath tub for Kryssie's and Shelby's conversation.
They mention that the only time Kryssie makes eye contact with them is when she's burping. They agree Jason and Danielle have made very little effort into getting to know them but Kryssie and Justin have.
Shelby plans on having a krackle bar in her bra in case Jason goes home.
Alex hopes it'll go back to old school BNB so they don't have to worry about all these twists.
Alex – could you imagine if we got all the guys out.. it would be so epic.
They talk about how bad Shane's speech was.
Alex – and now Danielle is basically hitting on the other single guy in the house.. sounds like a winner Shane.. she is a winner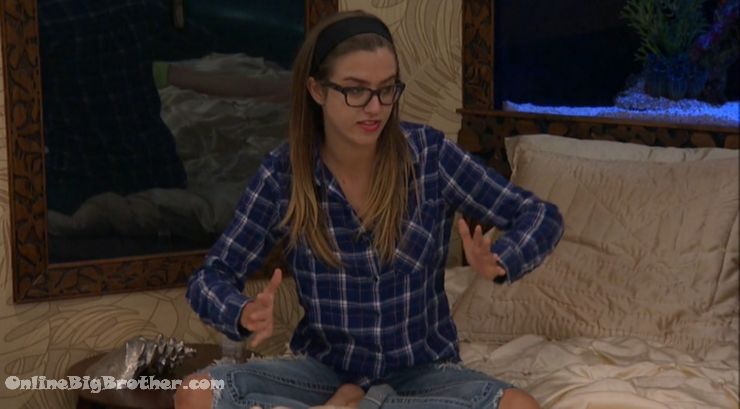 3:17pm
Alex says putting Kryssie up is better than Danielle because "they will all turn on Danielle not Kryssie"
They agree Jason will go over Justin.
Alex tells them Kryssie will never make a deal with them but Danielle would.
Shelby – Jason might work with us but I don't trust a word he says..
They agree neither side can trust each other.
Alex – Jusitn now is completely denying everything he said to Scott
Shelby about Justin – You told me you can't stand my guts and my time is coming and I'm going to say it wasn't my time to go it was my time to win HOH and it's here.
Shelby – you told everyone even Morgan.. you were saying this whole time you were going to target me.. you offered Scott a deal that you would pull him off the block that you deny
Shelby – your side through my name under the bus to Scott when you knew he was going home.. there's not point in that
Shelby – you cussed me out the other day because I wanted to sleep..
Alex – you have 3 solid points you can use against him
Alex – he's about to feel the heat for the first time.
Shelby – you got to want to be in the bathtub this time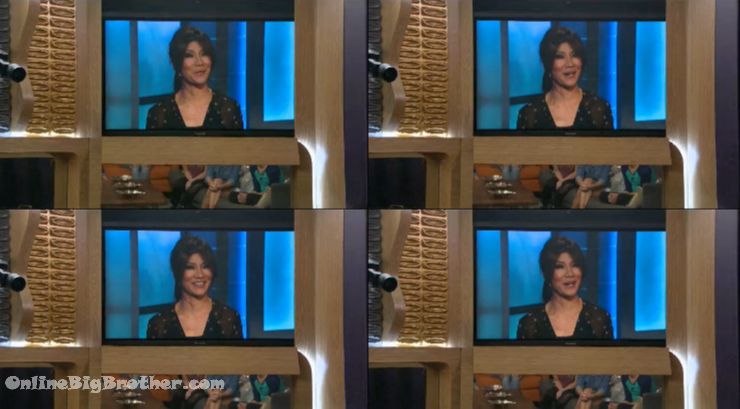 4:06pm Julie's questions..
She tells them on Wednesday they will be evicting 2 people. The first eviction takes place immediately following the weekly episode. The second eviction happen later that night no one is safe from it.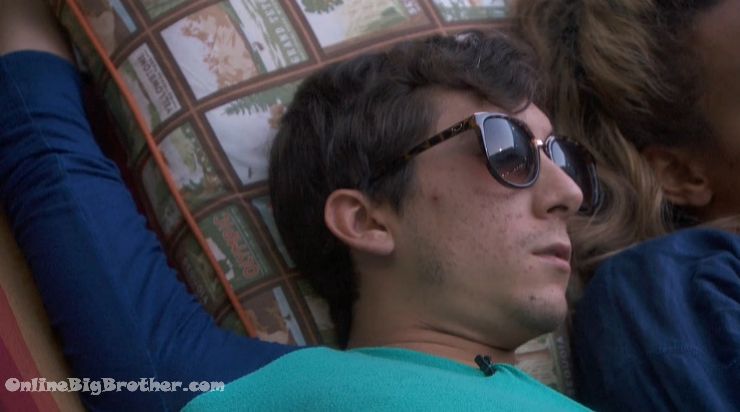 5:00pm Backyard
Jason warns that Alex will keep protecting Justin placing him and Danielle "in the worst spot"
Danielle about the other side "They don't have to face adversity in the real world so they don't know how to face it here.. they don't know how to adapt the way we do.. they don't know how what it's like Ohh sit I don't have enough money to pay this bill and pull some shit together and get it done.. "
Jason says the other girls are young they still rely on their parents to take care of them.
Justine joins them.
Justin says he's not as worried they son't know what is coming up.
Jason – well I'm glad for you Justin the rest of use are stressed out
They agree Morgan won't get the care package she's too much of a "Flat line"
Danielle says if they can pull this off and get rid of someone from the other side "that's 5 of us competing in the HOH" (sounds like fun to watch)
5:45pm Jason tells Kryssie they would be idiots if they took Justin to final 3.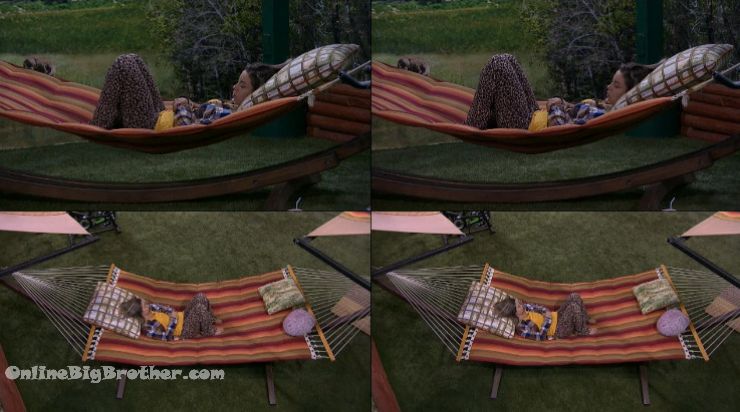 6:40pm ….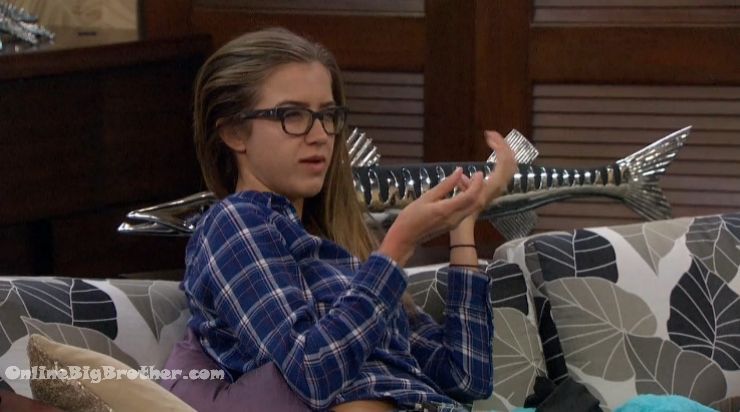 7:43pm HOH Morgan and Shelby
Alex says if they are in the finals with Justin, Jason or Whitney they won't win.
Shelby thinks Danielle has a chance to win 'She's playing the game the most.. like she's won the most comps"
Alex says the one person she wouldn't vote to win is Kryssie, "Someone who has tried to quit multiple times"
Alex – she might have really good DR's…
Alex – if Morgan wins comps to keep herself safe I would give it to her..
Shelby – she needs to make a move soon (Morgan)
Shelby is glad she's won a HOH so now she can make a move
Alex – ideal Final 3 is me you and Morgan
Shelby – we would be the best all girls alliance ever if we made it to final 3
Alex – that would be amazing . .crazy crazy crazy hard battle
Shelby – I think it would be hilarious if we got the 2 boys out consecutively
[polldaddy poll=9569738]