Quick Big Brother Spoilers
Head of Household: Cameron
Nominees: Felicia and Izzy
POV Players: Izzy, Cameron, Felicia, Matt, Jared, Jag
POV Winner: Jared
Veto Ceremony: Veto wasn't used.
Havenots: Everyone except for Cameron is a havenot this week. Everyone is on Slop, Everyone takes cold showers, and they all take turns sleeping in the havenot room.
Lock your ranks in before midnight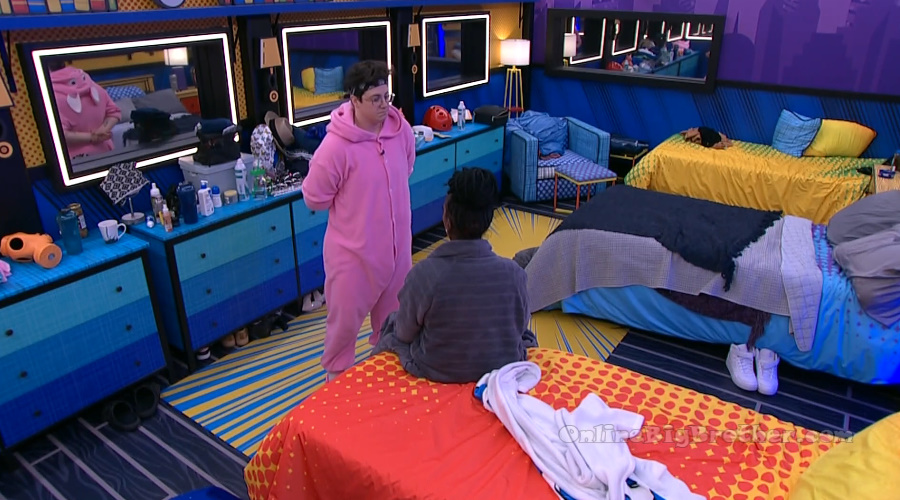 7:12pm Comic Bedroom – Izzy and Cirie.
Izzy – I am f**king nervous though. Cirie – I am nervous too. But the fact that Jag told us makes me feel better. He didn't have to say anything. Izzy – I know but he had already come to me and told me that. Cirie – you think this thing with Cory and America is real? Izzy – he told Jared about it.. see what Jared interpreted it as. Cirie – I think Matt is too much of a stand up guy. I mean I have been rocking with him for a minute. Matt don't want to work with Cameron. Izzy – I know. I hope you didn't joke too much on your goodbye message. Cirie – no all love, no jokes at all. I ain't joking at all right now. Izzy – me neither. Cirie – zero jokes. I just want to talk to Matt. If he was to do this he would lose Me, Jared, Blue.. he doesn't want to work with America. Matt doesn't want to work with Jag, Cam, Cory, America, Bowie. Izzy – and SKEEZY (Cory) doesn't want to be with those people either. I shouldn't have really said what I said to America. Cirie – I wasn't really counting on her. Izzy – no me either.. It felt good. Cirie – she has to know that somebody she was talking to told us.. that she was pushing you up until last night. How did she find out that Meme had told us? Izzy – I have no idea. Like she just came to me like already assuming I knew. SHe is also Hypocrisy Hill. She was trying to fake cry in front of me too. She was trying to muster up a tear. Cirie – well I hope she acts made towards Meme. Izzy – I am not going home tomorrow. I am not going home tomorrow. Cirie – no, you can't. I'll die. No really, I'll shrivel up and die. Izzy – stop, I am not going home.

8:04pm Games Room – Cameron and Matt.
Matt – I am on my F**King A-Game tomorrow. Cameron – good, win that motherf**ker! Matt – this move is going to happen but it would be perfect if one of us wins. And what is ever better is if one of us wins this week.. you're back in to play and the rest of us too. Its nice when you can rely on numbers but also comp players.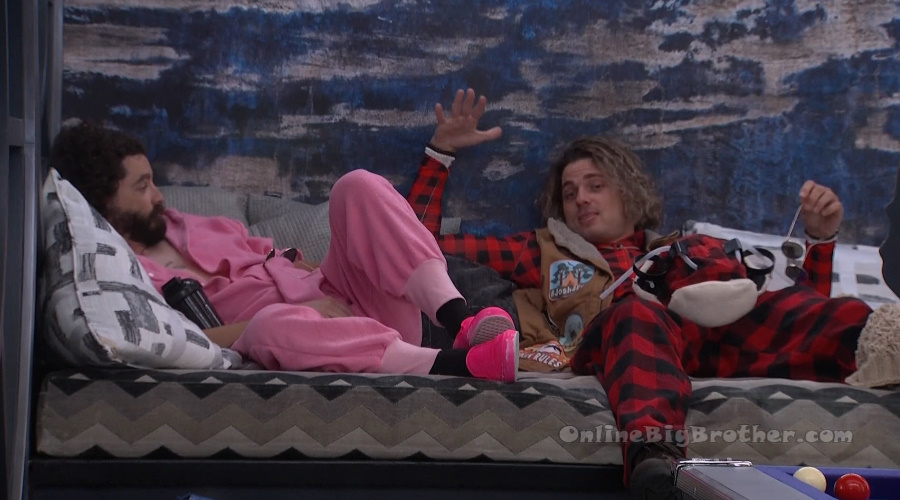 8:15pm Bathroom – America and Felicia.
America – I did want to apologize for earlier. I did not mean to upset you or anyone. It was just prematurely I said something to Meme and I didn't think it was going to get back to anyone. In no way am I saying that everything is set for everyone. It was worded wrong and it might have come off as everyone is set. Its not happening, you know?! So I do want to say I am sorry. Felicia – so you guys are still saying you haven't made a decision? She laughs. I know you have. America – no, I mean I don't have a group. You know?! I don't have a group with anyone. It was just individual conversations. I was just getting the oh I don't know and so I figured it wasn't .. so nothing is set pretty much.. But I just worded it wrong. It was too early. I had this conversation with Meme in the morning today and there was still all of today and there was still a lot of conversations that you had since .. and there are more to be had tomorrow. Felicia – yeah. America – so it was stupid of me. Felicia – no, no worries. America – no, I didn't want you to be upset and I am so sorry. Felicia – no, you're fine.
8:50pm Havenot Room – America and Izzy.
Izzy – I just wanted to say that today I have been feeling all type of ways earlier and I just wanted to apologize. America – no you don't have to. Izzy – No, please please please. No I am just feeling all of the things because I am on the block. I am nervous. I don't want a f**ked up relationship with you. I like you. America – no don't think I feel any type of resentment towards you or anything like that. I just feel bad, you know. Izzy – I just want to say I f**king for give you because I have made so many mistakes in this game. America – don't worry about it. Izzy – that I was honest about accepting your .. and I feel like I've settled and I just want to say that I value our friendship. America – no I do too. Izzy – I have done this to everyone just getting a little heated and intense and I just wanted to say that its not my judgement on you or anything moving forward. America – Izzy you do not have to apologize. You didn't do anything. Its totally understandable. I understand that you're a little bit more on edge because of the situation. Izzy – I am hungry .. like I am so hungry. I was thinking to myself like what a f**king b***H .. I care so much if you vote for me and not because I want to stay but because I care about our relationship. And that was like f**king mean. America – no its okay, its okay. Don't worry about it. Thank you for coming to me.
Storage Room – Cory and Cirie
Cirie – that makes it seem like that was about the game and it was more than just about the game because she made a mistake in the game. And you say now I am done with you, that's some bullsh*t. Cory – no and I don't know if it came across that way .. I try to be as gentle as I can but I am not the most emotionally intelligent person. What I tried to tell her and I don't know if I got this across was that I really do care about you and I do like you. I just don't know if I can do this in this game in this setting. And the reality is like… and this is a question I have for you is do you think I have have that level of connection with somebody and also have them basically working against me and my allies because the reason is I cannot separate the two right now. And do I still like her? Absolutely, but how can I… Cirie – but you don't think a one time thing.. that she is always going to be working against you and your allies? Because if you think it was accidental because I have done things and said things in this game that I am like why the f**k did I do that. Cory – There have not been a lot of people in my ear saying you have to watch out for Cirie. And I have been vouching for you but I haven't had to vouch for you that much. I should go talk to her and make peace because this is big brother and I care about her. Cirie – whatever mistakes she did, I feel like she genuinely likes you. And I feel like you genuinely like her. And for you to say no its over because you made a mistake is super harsh. That's how I would feel if I was her. Cory – you're right, you're totally right. Cirie – you're a human being that likes another human being and I would be able to not judge you and America. Cory – Izzy was adamant that you guys shouldn't sleep in the same bed. BB blocks the feeds. Cory – the other thing about this is this didn't really betray my trust. Cirie – you can still have your relationship with her. Again who's trust did she betray? She really didn't betray our trust.. she was trying to do the right thing. Cory – I am just nervous because I don't know what else she said. I know she .. the optimistic view is that she has loose lips and is impulsive. Cirie – then you just watch what you say, its not like you kick her to the curb. Like that's some stupid sh*t. Cory – no you're right.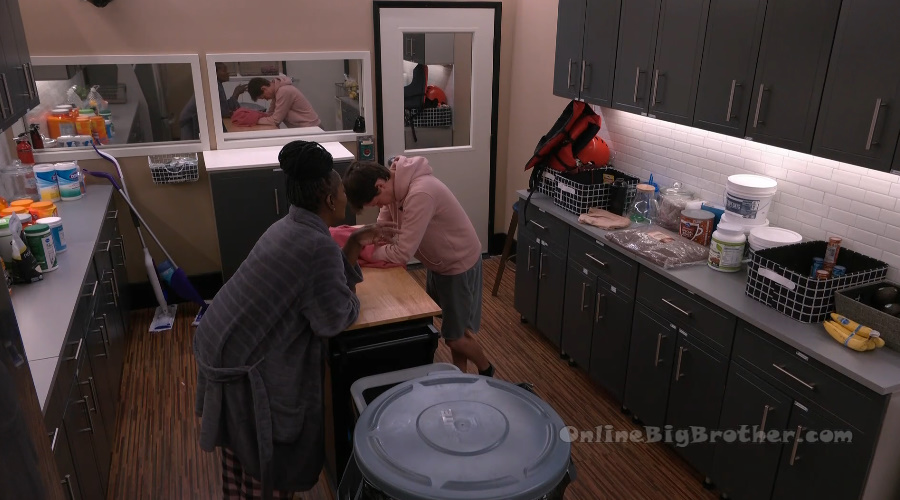 9:17pm – 9:35pm Havenot room – America and Cory.
Cory – basically what happened was I heard what happened with you and Meme and I went straight to the DR .. so I am just literally thinking for an hour basically. And my thought was very simple. I talked to Jag because I knew he was talking to Cameron and I asked him what he was thinking and if he is willing and comfortable enough to tell me he is going to vote out Izzy or wants to vote out Izzy.. we can do it. Because we talked to him last night and he wanted to keep Izzy even though we know he didn't but he was telling me because he didn't trust me. So I asked him and you were there and he said I am considering it and that was that. America – and this is after Cam.. like I am sure Cam made good points too. Cory – I think Cam made good points but Jag does not F**k with Cam. But here is the truth, I don't give a sh*t about Cam in this spot. Cam didn't make good points to me. Him saying Izzy is a bigger threat than Felicia means nothing to me. What means more to me is that I had a path to trusting Jag and Matt now because that was my concern. The second Jag said that and I said Path to Power and then he walked away and I was kicking myself because that was not even the part that matters.. the Seven Deadly Sins is what matters. So then I went down to the bathroom and dumped all that .. You know I don't respect Jag as a player. But then he had a good idea, he was like you have to go talk to Matt first and then I'll come in after and like.. America – I do not respect Jag as a player but you know he is a little bit. Cory – I don't respect Jag as a player, I respect him as a person. And maybe he will prove me wrong as a player. So then I go talk to Matt up here and spill everything! He spills Path to Power to me .. and then Jag swoops in at the end and that helped a lot. I thought Matt was going to tell Jared but now he is not. One nice thing we have is that Cam is on board with the anti Jared sentiment. SO if Jared wins HOH, our pitch is he got to us. He convinced us. And I will tell him exactly what Cameron told me. And it is probably the truth. He will probably deny it. BUT F**K, I feel horrible. America – Izzy just apologized to me. Cory – Izzy came to me and said I know I have your vote and it means the world to me.. AND I don't feel that bad. America – I don't. Cory – I think you understand I want Jared out of this house immediately. I want Cirie out of this house immediately. Izzy not as much. America – I know but Izzy is the one on the block. Cory – do you believe me that I do not have a final two with Izzy? America – I do. I am so excited.
9:53pm Bathroom – Jag and Bowie.
Bowie – I think we just have to be careful to not overplay because that's the mistake everyone makes. Like trying to cover tracks all each way. We will just have to think about how to approach it. Jag – we will think about it. I think yours will be fine because the only person you need to talk to is Cirie. And all you say is literally that. Like look keeping Izzy wasn't.. Bowie – wasn't good for my game. I decided to make a vote for me. Jag – that's it. Literally just that. Because she can't press you for more. Don't even make it like oh you knew the votes were going that way. You did not know the votes were going this way. Bowie – I'll just say I decided to make a vote for me. Jag – especially after last week. Bowie – yes, I love that. Jag – I just made a vote for myself and didn't care what the house wanted.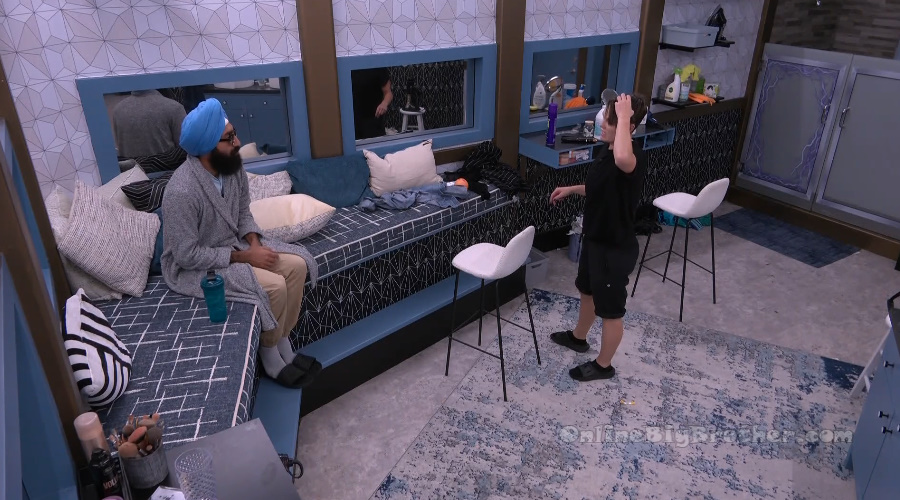 10:20pm Havenot room – Cory and Cameron.
Cory – tomorrow I need it to be 6-3. Hopefully no one leaks this sh*t. The only ones I am worried about are a little bit of Meme and Matt if he gets pushed too far. Cam – I think Matt is okay. I think he feels like he is part of something good now. I think he is finally seeing what everyone is using him for especially Izzy and Cirie. Cory – The way I see it ..Matt and Jag I am trusting more and more everyday. I already trust you. I already trust Bowie. I already trust America. And if you get through this week all of a sudden you're playing in an HOH and you've got a better shot to win it than anyone else. Cameron – that's it. Cory – then all of a sudden, at least for you, you have a path forward because I know for you.. you've been like am I going to have to just win out from the final 11? Cam – basically I was thinking I am just going to rid this thing as long as I can and when I leave I leave .. I was just praying to make it to jury. Cory – and f**k you won two competitions you desperately needed to win to get there. Cam – three. Cory – what was the third one. Cam – I won the HOH, the veto and then the other HOH. I EAT pressure for breakfast. Line me up dude! I will hand them over if I fee comfortable enough. Cory – I am down for an Cameron HOH every other week. That is fine for me. Cam – I enjoy f**king peoples stuff up. I break people's toys. Cory – its been fun to watch.. but now we actually have a bit of runway for the entire season. I think you have way more today than you had yesterday. Cam – oh f**k yeah. I just had to wait. I just had to let everyone realize on their own volition. Cory – all of that doesn't matter if Jared wins HOH. Cam – if any of them.. Felicia, Cirie, Jared, Blue or Meme win. Cory – oh I am fine with Meme. Cam – I am not fine with Meme. Cory – lets be honest, that group or Me, Matt, America, Jag.. pretty solid.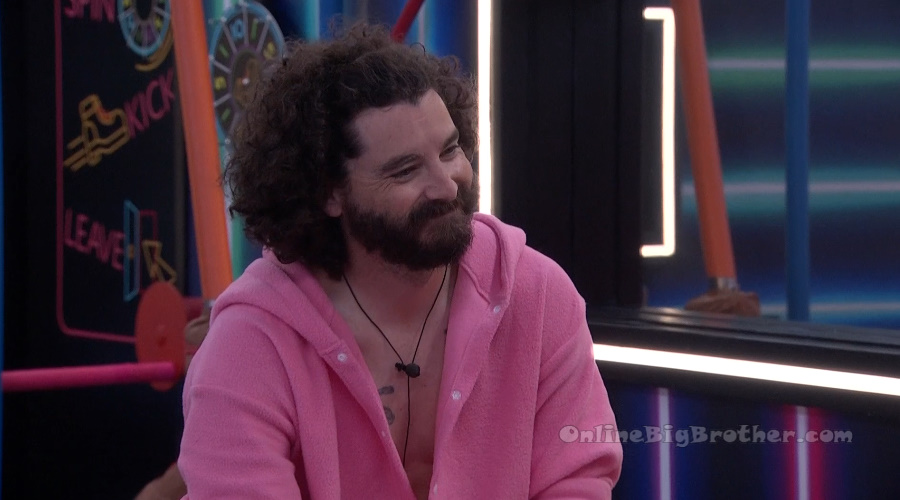 10:50pm – 11pm The house guests are cooking in preparation for being off slop at midnight tonight. Cam brings down all the HOH basket items that he saved to share with everyone once they could eat again.
11pm Comic Bedroom – Izzy and Cirie.
Cirie – I just hope everything is still good with everybody. We'll check in with them later. Izzy – no yeah, now is not the time. I am a little distracted. Cirie – I would be to. I just didn't like the way the Jag and Felicia thing looked. And the way her eyes looked to see if we were both looking. And she probably told him that we said he is with Cameron and that is why he is probably feeling some type a way. But he's got to know that she will say anything right now. I want you to check in on Matt. He is going to expect it from you since you're on the block. Izzy – I know. Okay Okay I will be out in a second. I just want to calm down. Cirie – I think everything is good. We'll check in. Cirie leaves. Izzy – pull it together. F**K! I might be going home.. I might be going home. F**K! Okay, I don't know that for sure…
11:06pm
The house guests celebrate being able to eat…
11:36pm Comic Bedroom – Izzy and Cory.
Cory – Matt is solid. I went and talked to him. I talked to him about moving forward. What our plan is. I want to work with him. We're in a similar position. We both f**k with Jared. Izzy – yeah good. Did he say anything about Jag pressing him? Jag has been spending a lot of time with him. Cory – we had so many conversations about when Jag press us we just have to shut it down. Izzy – okay because I've been feeling really solid with him about this but seeing Jag get all close with Felicia tonight and seeing how much time he has been spending with Matt.. I just didn't know. I've been having the jitters. Cory – I've been feeling more solid with Matt than I ever have. But we're .. Matt's good. Izzy – and Cory I am sorry person to person.. Cory – I forgive you. You're good.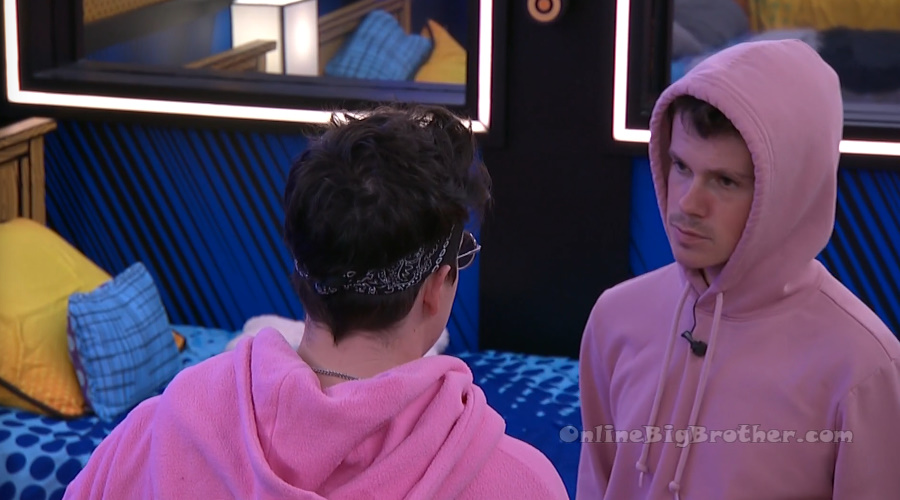 11:52pm Bedroom – Cory and Cirie.
Cory – my talk with Matt was great! We were just talking about moving forward. We're both tight with Jared.. we're both 100% solid and just like reassuring each other because we're both nervous mostly just about each others votes but we should be locked in. I think Jag is starting to get the sense that this is probably not going to happen. Cirie – what's not going to happen? Cory – Like he wants it to be the other way but I think he realizes that is not going to happen. Cirie – listen, I love Izzy but if something changes .. please let me know. We good? Cory – don't even put that out there. Cirie – I am 1000% trusting you. Cory – we're good.
12am The house guests scream and then dig in and eat ..
12:43am Living room – Cirie and Felicia.
Felicia – Cory is going to coast through this whole damn game. He said to me I just sit in a chair and wait for people to come talk to me. He just sends and receives information. That's his game. That's what you're going to hear him say in his speech at the end if he sitting in the chair. I came to be the young kid in the house that everyone just thought was a dumb 21 year old. Cirie – and look at me now. Felicia – he didn't align with nobody. He didn't show his hand. He just received and sent information. I really think part of America's MO is that she just really wants camera time and so the showmance sh*t gives her camera time. That's why she keep splaying with both of them. Cirie – Damn.
12:50am Bedroom – Cirie and Cory.
Cirie – she (Felicia) said we would be stupid to let you and America keep coasting to the end .. not knowing that because America's supposed to be aligned with us in the 6 remember? So stay aligned with them and then put their a$$es up. Cory – and ah .. hopefully she doesn't get the chance. Cirie – I was like oh my god. Cory – that's wild.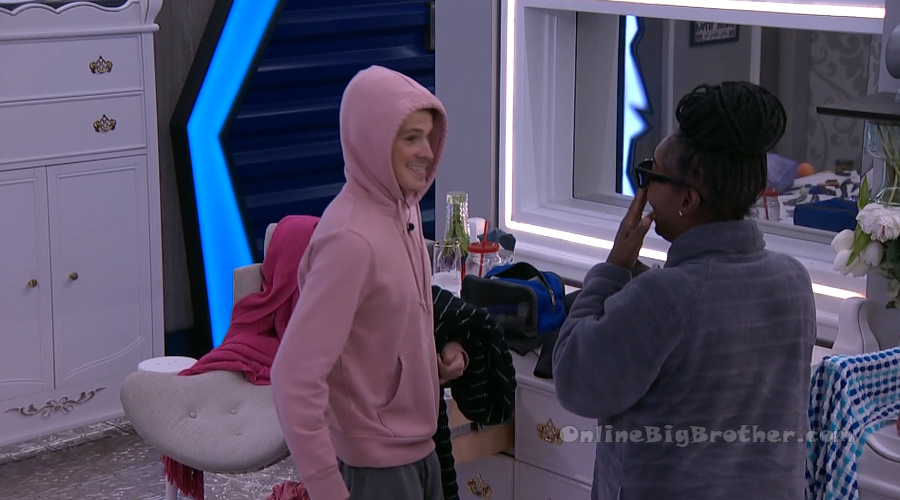 1am Bedroom – Jag and Felicia.
Felicia – so I know you guys are still wrestling with our decision or at least I think you are with you're decision. I just really want you to consider letting me stay in the house. Jag – absolutely yeah. Felicia – this is just from conversations but Matt wants to shift but he wants you to shift. He doesn't want to do it without you. And then Bowie Jane is waiting for the majority. And when I say I won't put you up on the block that is a promise I give to you. Jag – I appreciate that. This last vote we were going to evict you and I convinced them to evict Red. I am just asking for your consideration. Jag – yeah definitely.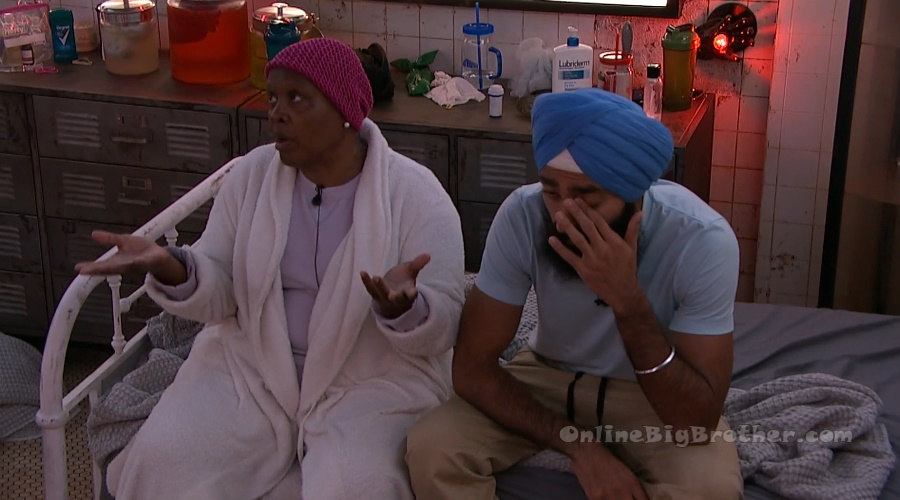 If you've enjoyed our updates this season and want to leave a tip you can do so through PayPal.
You don't even need a Paypal account to contribute. Any amount is greatly appreciated!